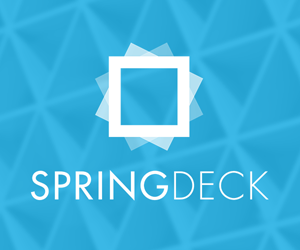 Spring Deck, LLC (SpringDeck) made two significant announcements this week – one sales-oriented, and the other service-oriented. First, the company announced plans to begin hiring sales representative companies around the United States to sell its unique sales presentation software and app to custom integrators. Second, the company announced a new "pilot" or test program, offering an affordable way to access their large database of vendor marketing materials.
See more on these two new unique initiatives…
SpringDeck burst onto the scene last year, offering integrators a new way to streamline their sales presentations with aggregated marketing content from a large group of manufacturers served up via their proprietary software. But much more than simply aggregating material from top industry brands, SpringDeck created a presentation solution that optimizes the sales processes…virtually turning integrators' sales teams into technical/product experts overnight – with the answer to any question right at their fingertips.
Now the company is launching a new service called the SpringDeck Data Access Program that allows anyone to, in essence, rent the keys to the kingdom by purchasing an access code to the database of manufacturer material that the company has spent a year collecting, organizing, and arranging for presentation. This represents an opportunity to access an amazing amount of material…for an incredibly affordable price.
Test program a unique opportunity…
The SpringDeck Data Access Program program, is being tested and may have limited availability. But SpringDeck tells us that for just $97, anyone can purchase access to their database. The fee is a one-time charge, but the purchased access link remains live for multiple sessions.

The key is that the material will NOT be presented on the SpringDeck presentation software system (and app). The buyer will get a link to a special DropBox folder that will get them to the information…but not via the SpringDeck software.
SpringDeck CEO Ryan Sullivan told us in a telephone interview that this program represents an amazing opportunity for those considering subscribing to SpringDeck's package to see the type and depth of information held in their database. Users of this program won't get the full effect…but a taste of why they might want to consider subscribing.
Looking for sales representatives…
SpringDeck also announced this week that it is hiring sales representative firms to sell the SpringDeck solution throughout the United States. To that end, the company announced on Monday that it has appointed Aim High Audio as their representative for the Southeast and Florida.
"We are excited about having the team at Aim High Audio represent SpringDeck software," Sullivan said in a prepared statement. "We are ready to take the value of SpringDeck to dealers and vendors in the Southeastern U.S. and other areas. With Aim High Audio's influence and savvy understanding of their market, we are confident they will represent SpringDeck with the same passion and excellence as we have for our own product."
Sullivan told us that the company is just launching this initiative and has several key territories still open. Sales representative companies interested in representing the brand should contact Ryan Sullivan at (918) 574-6132.
"Aim High Audio is thrilled to partner with SpringDeck to present their offering to our dealer base," said Jon Perry, Vice President of Aim High Audio Sales & Marketing in a prepared statement. "SpringDeck helps reps, dealers and manufacturers alleviate the challenge of needing quick access to content that's relevant and at their fingertips. It provides great analytics to use when creating product content and tracking follow-up with clients, a strategy that many don't utilize today. We look forward to introducing SpringDeck to the Southeast and Florida markets, and have even implemented it for use in our own presentations."
Dealers in the Southeast can learn more about and contact Aim High Audio at: www.aimhighaudiosales.com.
To get more general information about SpringDeck software, visit: www.springdeck.com.
And for specific information on SpringDeck's test Data Access Program, visit this link…