New research that came out at the end of last year shows that most small businesses are turning to social media as their top marketing tactic. This relatively new form of marketing has seen its adoption soar recently, but this is the first time we've seen it ranked as the top choice of small businesses.
See more on this dramatic shift in small biz marketing approach…
The new data comes from research commissioned by Vista Digital late last year, seeking data on how small businesses plan to deploy their marketing. The survey was done with 1,001 small business owners across the United States and it asked about both their online and offline marketing mix. Most of the companies that responded to the survey had 10 or fewer employees.
Surprisingly, more than half (53.3%) identified social media as their top marketing tactic. Even more surprising, this ranked even higher than business cards, which was selected as the top offline marketing tactic by 51.1%.
Online Trumps Offline, With One Exception
Nearly another third of respondents (32.7%) selected their website as a key marketing tactic. Ironically, with this strong showing of online marketing methods, other online tactics like digital advertising and digital directory listings were ranked far lower in the survey, coming in at 6.6% and 5.0% respectively.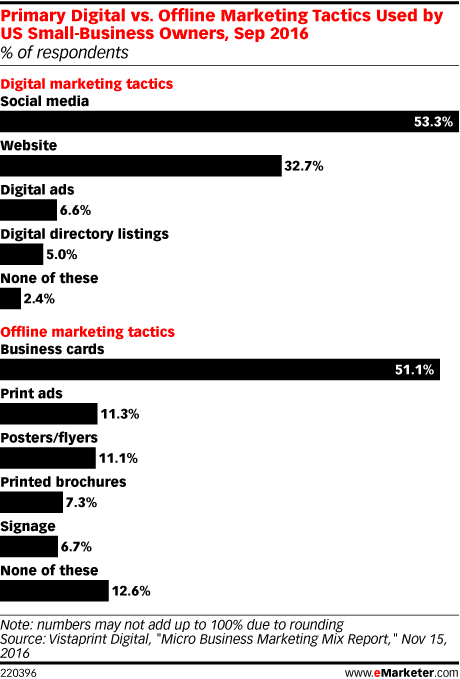 At the same time, offline methods – other than business cards – seemed quite low. For example, print ads and posters/flyers were only selected by a little over 11% of the respondents. This is far below the 51.1% business cards earned as the top offline choice.
The Need for Social Media
The survey, reported on by eMarketer, seems to suggest a greater awareness by small businesses for the need to build relationships with their communities on social media networks. Also, separate surveys have indicated strong growth in social media advertising, which eMarketer says is used for "brand awareness and revenue generation."
At the end of the day, it's all about promoting your company and its products and services. A separate survey by the National Small Business Association found that the majority of small business owners say that advertising and marketing "wold be a major driver for growth."
See more research at eMarketer: www.emarketer.com.