3,000 Sharp European Employees to be Cut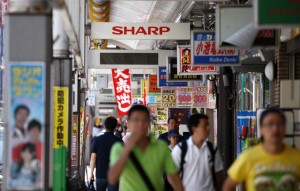 Sharp Corp. said late last week that it has reached an agreement with Universal Media Corp. of Slovakia to license its brand and market Sharp branded products in Europe. As part of this strategy, Sharp will either sell or close its factory in Poland, cutting approximately 3,000 employees in total between their company-owned factory and European operations.
See more on this development, as Sharp pursues a new business strategy….
Although Europe accounts for about 5% of Sharp's total consolidated company revenues, the region has been losing money. We reported earlier this year that the company had decided to implement a new strategic operating plan that represents wrenching change for the troubled giant.
Specifically, Sharp management has decided to aggressively address their losses by cutting support for unprofitable products and markets – and doubling down in products and markets where they remain profitable. As Europe had become a money loser, Sharp management felt the time had come to make their move.
Exiting solar as well…

But not only did the company decide to exit the European consumer electronics business, they also targeted their solar panel business in Europe. Once a division that Sharp hoped would become a significant driver of future revenues, solar panels have become very competitive – and unprofitable – worldwide. Hence, the company will exit that business in Europe as well.
Sharp says that they will refocus their efforts on Southeast Asia, as well as other more profitable markets. Industry observers expect Sharp to book an extraordinary net loss of ¥10 billion ($90 million) this fiscal year…which is substantially more than the ¥2 billion forecast by the company in July 2014.
Deal with TPV fell apart…
In previous reports, Sharp had been said to be in discussions with TPV of Taiwan to take over their European TV business and Vestel of Turkey to take over their household appliance business, also for the European market. Apparently, the company has simply decided to shutter their solar panel operations there, as we have heard no indications of talks of a sale or licensing deal on solar panels.
While the negotiations seemed to be progressing, the Nikkei reported last week that the talks with TPV broke down in a dispute over the terms specifically related to the Sharp factory in Poland. As a result of this, Sharp cut a deal with EMC.
See more on Sharp…
To see all of our extensive coverage on Sharp, simply click on "Sharp" in the Tag Cloud in the sidebar on the right side of our website.