BREAKING NEWS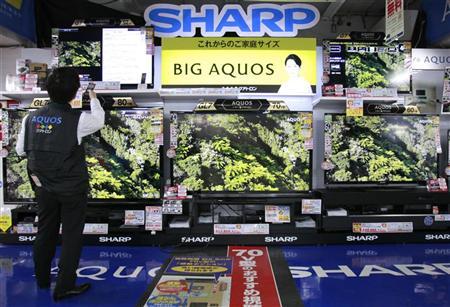 The Nikkei is reporting today that Sharp Corp., the struggling Japanese flat-panel TV manufacturer, is in the final stages of negotiations to merge its television division with China's largest personal computer manufacturer – Lenovo Group, Ltd. If successful, Lenovo could leapfrog the competition to become one of the largest television manufacturers in the world.
See more on this surprise announcement out of Japan…
According to the report, Sharp will sell Lenovo 100% of the shares in a LCD TV assembly plant that is based in Nanjing, China by the end of this year. Furthermore, Sharp will sell a 50/50 stake in its other China facilities which are said to be focused on "development and sales."
The deal is apparently moving quickly as the Nikkei's sources indicate that a memorandum of understanding (MOU) between the two companies could be signed as soon as by the end of this month.
Lenovo's highly developed markets…

Sharp believes that Lenovo, with its highly developed sales network in China, will be able to drive a substantial sales increase in Sharp's China business. The TVs will continue to sport the Sharp Aquos brand name – in China at least. The partners are targeting a worldwide ramp-up in sales, working together to develop emerging markets throughout Southeast Asia and South America.
Sharp will supply the China assembly plant – which, based on this deal, will be owned solely by Lenovo – with panels produced by Sharps LCD plants in the Mie and Osaka prefectures in Japan. With the expected sales increase, the utilization of these factories should improve substantially – or at least it is so hoped.
Selling Malaysian factory as well…
In an action unrelated to this deal, Sharp is also said to be in talks to sell its Malaysian factory to Wistron Corp., a Taiwanese electronics contract manufacturer. Interestingly, in all of these various announcements, no mention is made of Hon Hai Precision Industry Co. (Foxconn) with whom Sharp had originally envisioned a grand partnership. From the looks of these latest moves, Foxconn may be out of the picture.
Although no specifics were mentioned about the level of capital investment that this partnership will ultimately generate for the cash-starved Sharp – that is undoubtedly the primary motivator for this deal. The Nikkei did say that the sale of the two factories – one in China and one in Malaysia – is expected to generate ¥30 billion ($340 million) in proceeds.
The ascension of Lenovo to CE stardom…
The move is sure to represent the ascension of Lenovo into the broader world of consumer electronics beyond its relatively solid base as a personal computer manufacturer. Ultimately, this could become the biggest part of the story.
Also, the deal could turn out to be a major missed opportunity for Foxconn which invested into a joint venture in Sharp's LCD panel plant in Osaka prefecture…and agreed as well as into investing equity into the overall company, in a bid to become its largest shareholder. The factory deal went down, but the investment into the overall company broke down when Foxconn sought to renegotiate the price as Sharp's stock nose-dived last year. Although both companies had claimed the discussions were continuing – it became apparent that Sharp scrambled to locate other interested parties…leading to this deal with Lenovo.
Sharp's not out of the woods yet…
Sharp is not out of the woods yet as it faces a daunting series of deadlines. The company has been losing money for years, and said last year that it expected to book a net loss for the current fiscal year (ending March 31, 2013) of a staggering ¥450 billion ($5.1 billion).
In desperate need of cash, the company had to agree to a series of draconian restructuring cuts in order to secure a syndicated lending agreement for ¥360 billion with Mizuho Corporate Bank and Bank of Tokyo-Mitsubishi UFJ. This loan agreement carries significant covenants – including the fact that the company must show an operating profit for the October-March fiscal semester. Many analysts are skeptical that, in the absence of some major deal, the company can honor this covenant.
But even if they do, it is only a matter of months when the company faces redemption of ¥200 billion ($2.3 billion) of convertible bonds which are due in the fall of 2013. Without some major injection of capital, this will be a tough goal to meet.
The drama for Sharp continues…
RELATED POSTS
Sharp Spike in Sharp's Prospects – Said to be Working with Hon Hai on Apple iTV
The Good News Just Keeps on Coming for Sharp
Qualcomm Agrees to $120 Million in Sharp; Is Sharp Saved?
Sharp Asks 2,000 Employees to Leave – 3,000 Raise Their Hands
Can Sharp Survive? Company's Performance 'Raises Serious Doubts About [Our Ability] to Continue'