A Strata-gee Exclusive Interview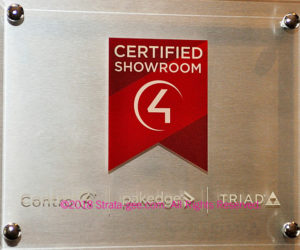 Control4 surprised everyone about a month ago when they suddenly announced the launch of no less than 140 Control4 Certified Showrooms in partnership with certain dealers around the world, including the U.S., Canada, UK, China, and Australia. These showrooms were said to meet "elevated standards" and were positioned with dealers who were "experts in WOW-ing' homeowners through interactive storytelling, visually-stunning displays, and hands-on demonstrations."
At the recent launch of these showrooms on May 31, 2018, in an event called C4Yourself, I had the opportunity to visit one of two Certified Showrooms in New Jersey and to meet with Larry Bennett, Control4's Managing Director of Global Programs. Bennett is the Control4 executive in charge of their global Certified Showroom program.
See what the Control4 exec said was the real purpose behind the program…
We were invited by Control4 to attend one of their Open Houses at a new Certified Showroom in Total Home Technologies of Roseland, NJ. (See: What It Means to Have Your Showroom Certified by Control4.) There we had the opportunity to interview Mr. Bennett about the new Certified Showroom program. Bennett, as Managing Director of Global Programs for Control4, is actually the person in charge of the Certified Showroom program globally. That made him the absolutely perfect person for us to interview.
Bennett started off by emphasizing how Total Home Technologies (Total Home) perfectly represented what Control4 sought to achieve with this Certified Showroom program.
The Initial Goals of the Certified Showroom Program
"Keith [Harrison, founder of Total Home Technologies] is an important guy and he's in an important market for us," Bennett explained. "Our goal initially was to select 30 key markets around the world where we could build critical mass through an aggressive consumer advertising program. But we needed a place to send consumers who responded, so we chose to do a Certified Showroom program to create anchors in each market. Keith [Total Home] is our anchor in this market."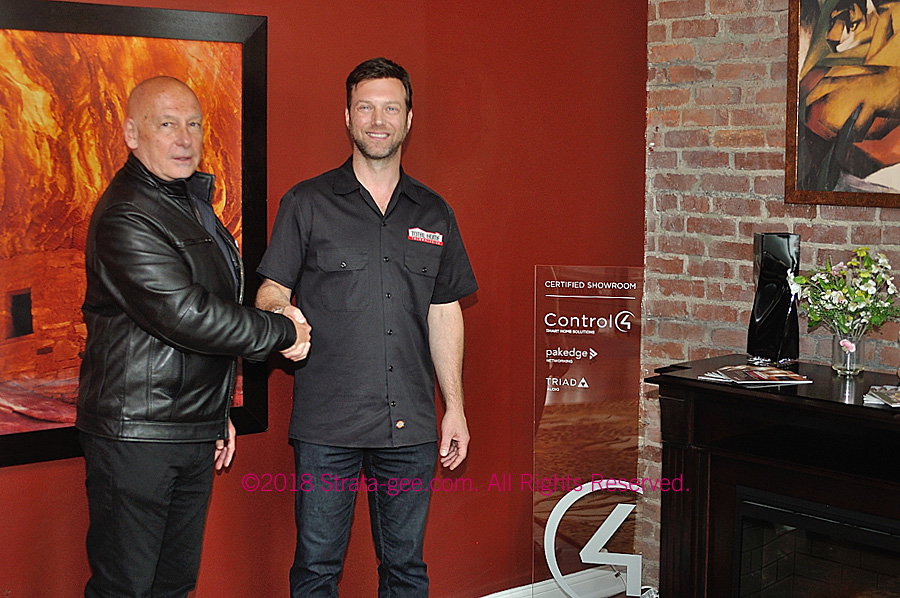 Bennett went on to laud Keith, whom he called "one of the best programmers in the world." Of course, Control4's Drag and Drop software helps – allowing programmers to worry less about the programming and to think more about delivering just what the client is looking for.
The Control4 Managing Director went on to explain some of the requirements for a dealer to be considered for the Certified Showroom program.
Control4 must be the principal choice for any system project including automation. Control4, he says, "has to be #1" for the integrator.
For a dealer to qualify as a Control4 Certified Showroom, "they must be able to put the magic in the system," Bennett added. And by "magic," he means that they have to offer true automation, with one button push, for example, launching multiple actions.
To be considered for a Certified Showroom designation, "It has to be a professional or commercial space that makes you feel good," Bennett said earnestly.
More Requirements for Dealers Seeking Certification
These were their three overarching goals, Bennett told me. But, as I reported in the story on Total Home Technologies, there were some other requirements, as well.
Bennett acknowledged that Control4 did tell those dealers who were candidates for certification that they must support all Control4 brands – including Pakedge and Triad. And while Bennett told us this all went quite smoothly, as Keith Harrison said when we interviewed him separately – this caused Total Home to pause and consider the situation, as they had a firm commitment to a different speaker manufacturer. Ultimately, Harrison found a way to make it work – but we wouldn't be surprised if some other dealer candidates for certification dropped out of the running, preferring to support a valued legacy brand partner.
Finally, I also learned from Bennett that the signage that I had pointed out as prominently displayed all around Total Home's Certified Showroom, was also a requirement by Control4. The manufacturer provided the signage to Certified Showroom dealers, for consistent branding.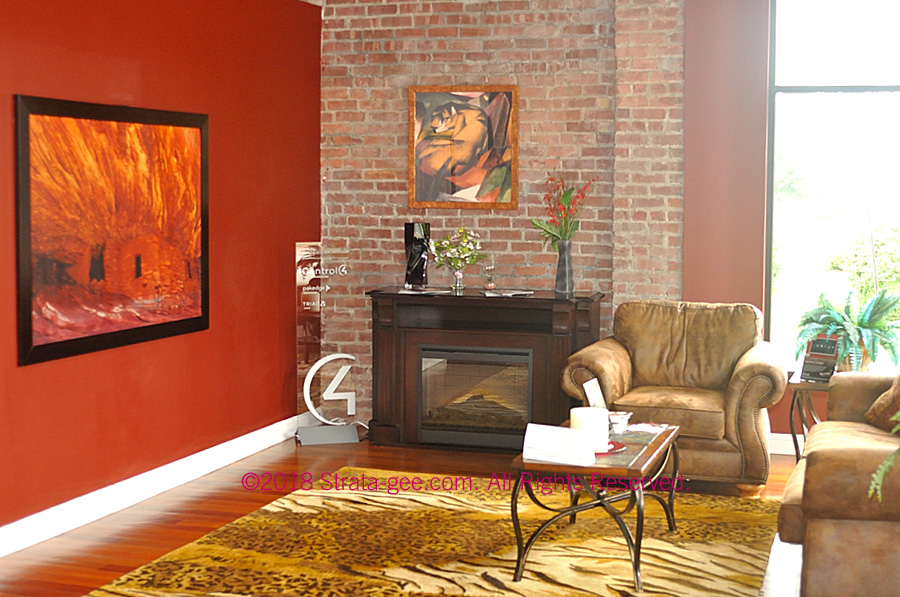 The Signs are All Around You
"We wanted to speak to Keith's clients overtly to show that this is a Control4 Certified space," Bennett told me.
While this requirement to add Control4 signage all around their showrooms may not have cost Control4 any candidates, most integrator showrooms I have visited have little to no signage. Most showrooms today are designed to be "experience centers," with spaces set up like a living room, a kitchen, a bathroom, a dedicated theater, a man cave, etc. They are deliberately designed to mimic a real home – a high end, luxury, high-design home maybe, but a real home. And you don't have signs around your home.
This kind of signage is common in retail establishments, to aid shoppers in finding what they are searching for, but unusual in an integration company. I can't say it was unpleasant…but it does change the feel of the space, giving it a bit more of a sales-y feel.
Of course, as marketers, we can appreciate Control4's desire to brand the showroom as theirs…that came through loud and clear. But it also seemed to be an attempt to control just what is presented and how it is presented. Some of the signs offered explanation's of just what a certain system capability is. Take for example an explanation of why a client should ask for a distributed video system, as shown in the sign below from Total Home.
While the point expressed in this sign about multi-room video is valid, it is a point that is normally expressed by the integrator to the client directly. Here, it seems to be some form of a conversation starter, and yet another Control4 logo on yet another wall around the showroom.
How Control4 Chose Which Dealers to Certify – A Risky Proposition
Control4 began working on this project of setting up a global network of Certified Showrooms more than nine months ago, according to Bennett. The project was shrouded in secrecy, while they figured out the "who's" and the "how's" of the certification program. It was also, according to Bennett, a bit daunting. Control4 has 5,000 dealers – selecting which of them should be a Certified Showroom was no small task.
It is also a bit hazardous. You run a real risk of alienating those dealers you DON'T choose. You are creating, in effect, a two-class dealer base – those you've annoited…and everybody else. Those you didn't choose could feel snubbed – the politics of this kind of program are tricky.
Control4's Plan for World Domination
Control4 started by identifying 30 key markets, really advertising markets, in which they wanted to make their initial mark. Once these markets were identified, the company turned to their sales teams to recommend which dealers should be considered for the honor of this certification.
After the sales team identified those candidates they thought would be appropriate, company executives made a concerted effort to visit as many of those locations as possible. Bennett admitted to me that when they started this initiative, the program "was not totally baked." In other words, the definition of what type of showroom would qualify, or what kind of relationship the company had with the integrator, was not yet totally figured out. There was a lot of discussion and adjustment as the process played out.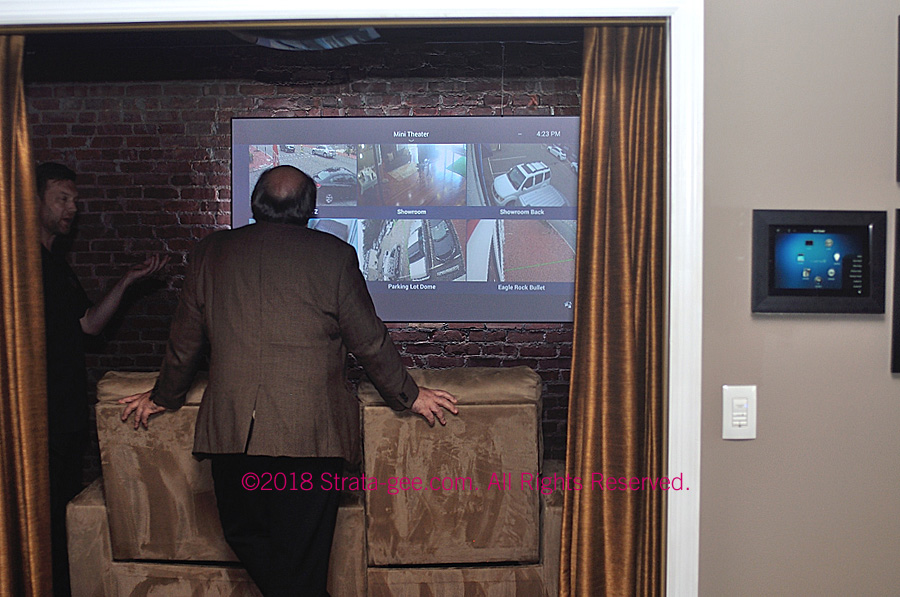 Program Secretly Beta Tested for Months
Eventually, a group of around 150 dealers were selected for a secret "beta" program to test the concept. Of this Beta group, 147 were ultimately accepted into the program. Bennett declined to reveal why three of the original group did not make it to certification.
The official announcement from Control4 said there were 140 participating dealers in the Certified Showroom program, but Bennett said there were actually 147. Since that announcement, Bennett says the number is now more like 160 Certified Showrooms.
In addition to that: "I have another 60 or 70 in process," Bennett added.
Control4 recognized that a cookie cutter approach would not work, there is just too much variability in showroom designs around the world. Even here in the U.S., some markets, while still meaningful, are much smaller than much larger urban or metro markets. And of course, there is just a tremendous difference in design sensibility and local tastes between, say a showroom in Miami versus a showroom in Kansas City.
Flexibility was Substituted for Hard-and-Fast Standards
So while Bennett says the original concept was to have design standards, kind of like B&O stores, they quickly determined that they needed to have three levels of acceptable standards for certification. He referred to these as low, medium, and immersive – with the immersive level as the ultimate goal.
And what does "immersive" mean: "It means that Control4 is everywhere…" throughout the showroom and, presumably, the systems that integrator installs, Bennett told me.
One thought that Bennett sought to dispel is the concept that Control4 just awarded their largest dealers with this coveted designation.
"A very high percentage of dealers who we certified are Authorized Dealers, but not necessarily Premier dealers," Bennett proclaimed, referring to existing dealer designations based on sales volume. "We didn't look at sales volume to choose who to certify, we looked more at showroom profile."
So What Does the Dealer Get for Jumping Through the Certification Hoops?
As we reported in our story on Total Home Technologies, Bennett affirmed that the biggest gain for these dealers is more prominent positioning on the dealer locator page on the Control4 website, as seen in the screen capture below. Certified Showroom locations are shown first and in a very highlighted manner when a prospective client searches for his or her local Control4 dealer.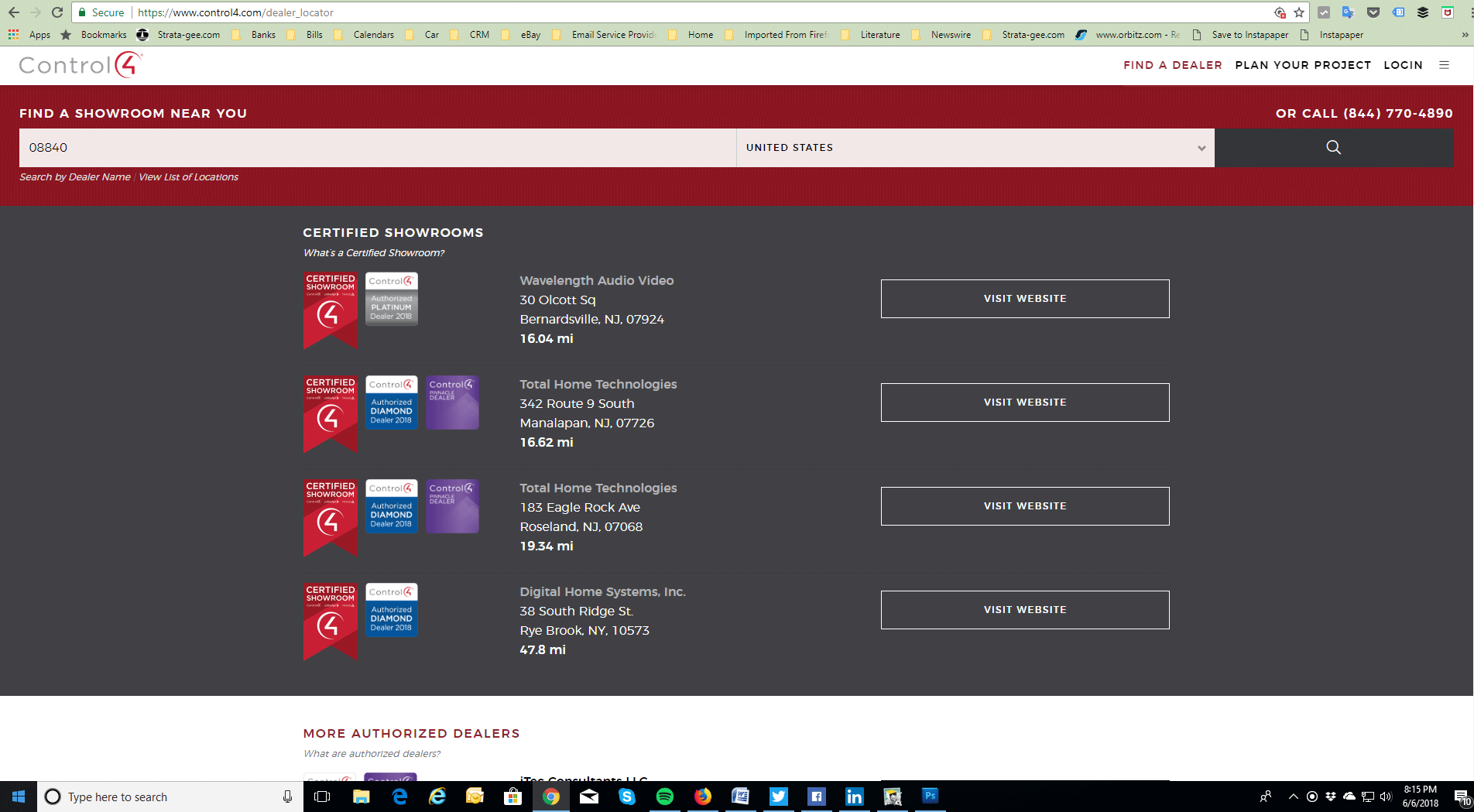 In addition to this, dealers can schedule local events, such as open houses or wine-and-cheese events, on the Control4 website and the company will facilitate the collection of RSVPs. Certified Showroom dealers also get preferential pricing on display stock, though not on normal orders.
Benefits Offered to Certified Showroom Dealers May Get Augmented
Beyond these initial goodies, Bennett tells me the company is considering many more benefits for Certified Showroom dealers that will be rolled out over time. He wouldn't share with me just exactly what additional benefits are being considered, but clearly they are looking to adjust the formula of benefits for the dealer to make sure everybody is happy with the program.
"We needed a template before we started marketing, where we can send people responding to our advertising in the 30 initial markets," Bennett summed up. "What we have to do now is do a good job with this first 30 markets so we can achieve critical mass. It's all about quality, not cutting corners…[and focusing on] keeping the standards up."
Learn more about Control4 by visiting: www.control4.com.
RELATED STORY: For more information on Control4's Certified Showroom program, and to see more pictures from Total Home's Certified Showroom, check out this story: What It Means to Have Your Showroom Certified by Control4