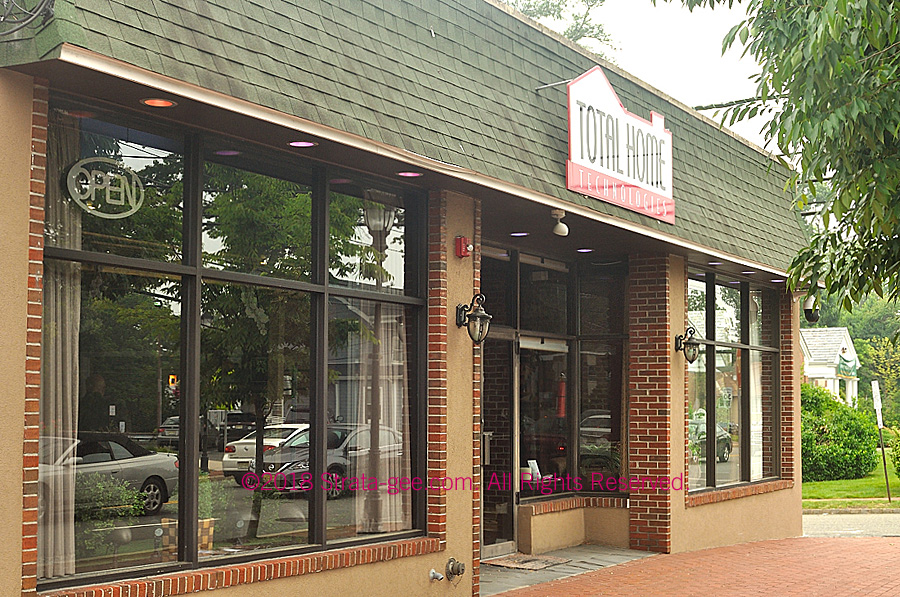 When you first pull up in front of Total Home Technologies in Roseland, NJ, it looks pretty much like any other small town store, blending in perfectly with the feel and flavor of this humble little borough of about 5,800 people located twenty miles west of New York City in a picturesque hilly section of Essex County, New Jersey. That feeling persists when you first walk over the "Welcome" mat and enter through the front door to find a comfortable living room on your right and, somewhat surprisingly, an outdoor backyard scene on your left.
You have just entered a Control4 Certified Showroom, and the show's about to begin…
Like many media outlets, Strata-gee was invited to participate in one of the many C4 Yourself events Control4 had scheduled around the country to introduce their new Control4 Certified Showrooms. Offered a list of four or five locations in or near to our market, and I chose Total Home Technologies primarily for its proximity to my office.
Announced in early May, Control4 says it has partnered with around 140 of its authorized dealers who all have showrooms that meet certain requirements or standards. The company says these showrooms are where homeowners, architects, and designers "can experience Control4 in an ideal showroom environment and find the right installation partner for their needs and lifestyle."
>Click to see a full slide show with more photos from my visit to this Control4 Certified Showroom<
Ready to be WOW-ed
Although the date for the event (May 31st) was not ideal for me as it was already a holiday-shortened work week, I have to admit my curiosity was getting the better of me. According to Control4, these dealers have "met a series of elevated standards." They are also, the company says, "experts in 'WOW-ing' homeowners through interactive storytelling, visually-stunning displays, and hands-on demonstrations…"
I was ready to be WOW-ed.
It was a gray, overcast day with moderate 70° temperatures as I pulled into Roseland. Total Home Technologies (Total Home) is located right on the main road through the small borough, which is surprisingly busy with traffic for such a small village. Total Home has four locations, three in New Jersey (Roseland, Manalapan, Livingston) and one in Manhattan. Of those, two – Roseland and Manalapan – are Control4 Certified Showrooms. Roseland, however, is the headquarters for the entire company and therefore my destination for this visit.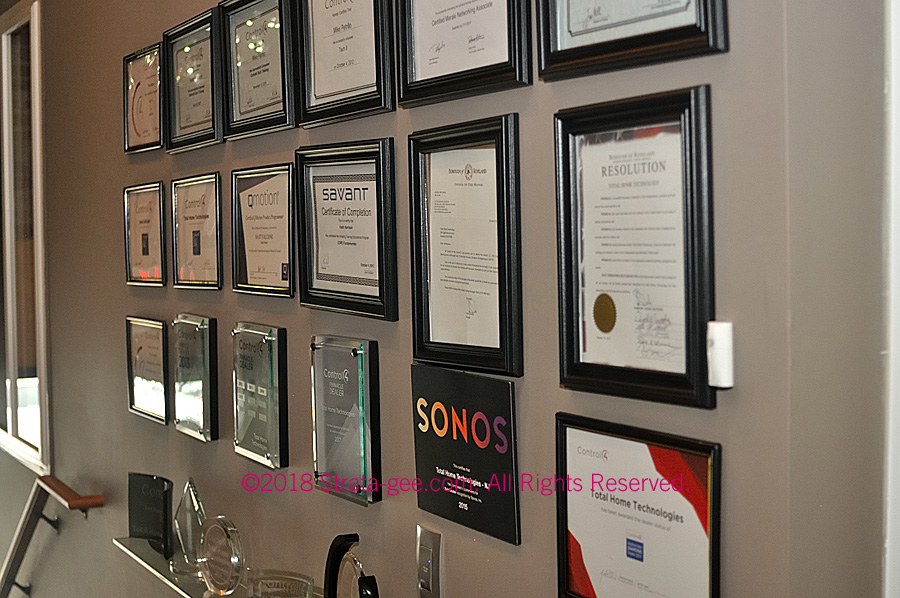 Prominent Display of Credentials
There are two entrances to Total Home in Roseland. One is in the back, off of a small parking lot which brings you up a few stairs and through a short hallway where the company displays it's many awards, commemorative plaques, certificates of completion of a variety of training programs – all designed to portray the credibility of the Total Home team to visiting clients. You emerge into a large open room with various displays and a few adjacent display rooms opposite from where you stand – including a home theater, a small bedroom setup, and a dedicated theater.
If you enter through the front door, the company has a friendly entry way with matching coach lamps on either side of the entrance, and doors that are not that dissimilar from the entrance into a home. On your right is a cozy living room arrangement, complete with over-stuffed sofa, chair, simulated fireplace, and a wall with what looks to be a large work of art, but actually is a hidden TV.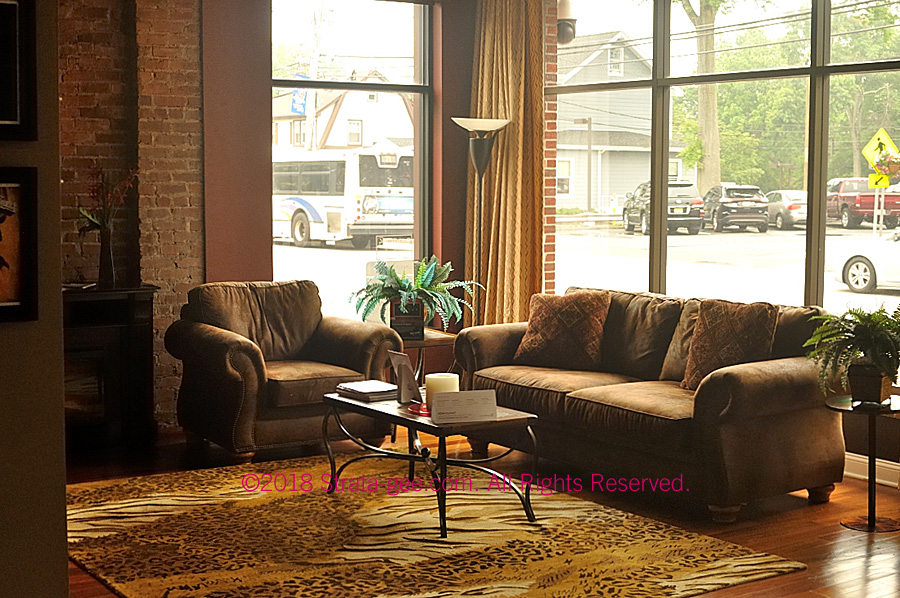 The Founder Could Hardly Wait to Give Me a Tour
I met initially with Keith Harrison, the young and energetic founder of Total Home about two hours before the official Open House was set to begin. Keith could hardly wait to give me a tour of the place…starting right at the beginning in the living room. While Total Home was founded in 1992, they've been in this location on Eagle Rock Avenue for about ten years. This new location was a substantial upgrade over their former facility and Harrison owns the building we're standing in – the showroom – as well as the building next door – which is used as Total Home's office and operations center.
The experience of walking into the Total Home showroom needs to make an impression, Harrison said. But the experience is more than just what meets the eye. "I want them to understand that what we do is a little bit like art, only technology is our paintbrush," Harrison said.
>Click to see a full slide show with more photos from my visit to this Control4 Certified Showroom<
'What We Do' is Deliver Magic
By "what we do," Harrison is referring to everything that the Total Home team does behind the scenes to deliver an incomparable client experience – selecting the right products, extensive team training on the latest technology, superior system design/project planning, and innovative programming – all of which combines to offer the client a seamless and easy experience.
"Let me show you!" Harrison said excitedly. "Before we put together any proposal, we insist that clients come into our showroom…both the client and their spouse – and especially the spouse," Harrison laughed.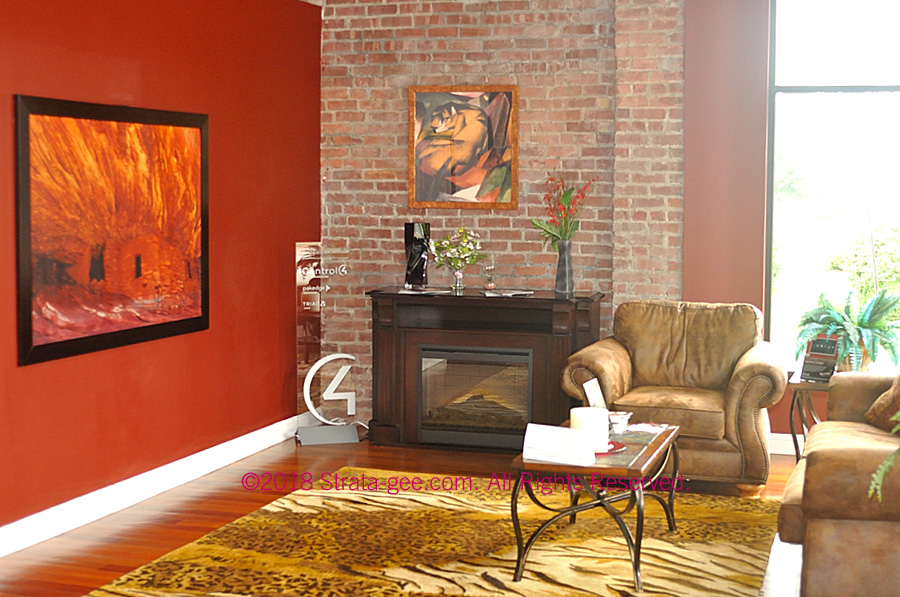 Picking up a small remote, Harrison turned to look at me and somewhat melodramatically pushed one button. Instantly, though silently, the artwork disappeared revealing a large flat-panel TV, the TV turned on to a pre-determined channel (HBO?), motorized shades came down on windows to the side of us, and motorized drapes closed on the windows behind us. It only took a matter of a few seconds and was all seamless, dramatic, and impactful. Almost…I could imagine a prospective client thinking…is like magic.
The Rule of 99%
"We call that the Rule of 99%," Harrison declared.
The rule of 99%, he further explained, is where the client can simply push one button, and multiple events are going to occur. But perhaps more importantly, on another occasion when that same client pushes that same button, a different sequence of events is going to take place. This is because Total Home's programming takes into account variables based on a series of sensors it uses – such as an astronomical clock for the position of the sun, or an occupancy sensor, or a temperature sensor, and more.
It's called the 99% rule, because there will always be exceptions in life where the experience will not be perfect. However, the goal is to deliver the experience that perfectly meets the client's needs at least 99% of the time.
'I Just Want It Simple'
"People always say, 'I just want it simple,'" Harrison said. "I ask them, 'simple to use, or simple in design?' Smart Home is simple, but it is not usually simple in design."
Total Home goes to great extent in their programming to make life easy for their clients. "I know I've got it right when I can hand a remote to a client and, without any further instruction, they can operate the system on their own," Harrison said enthusiastically.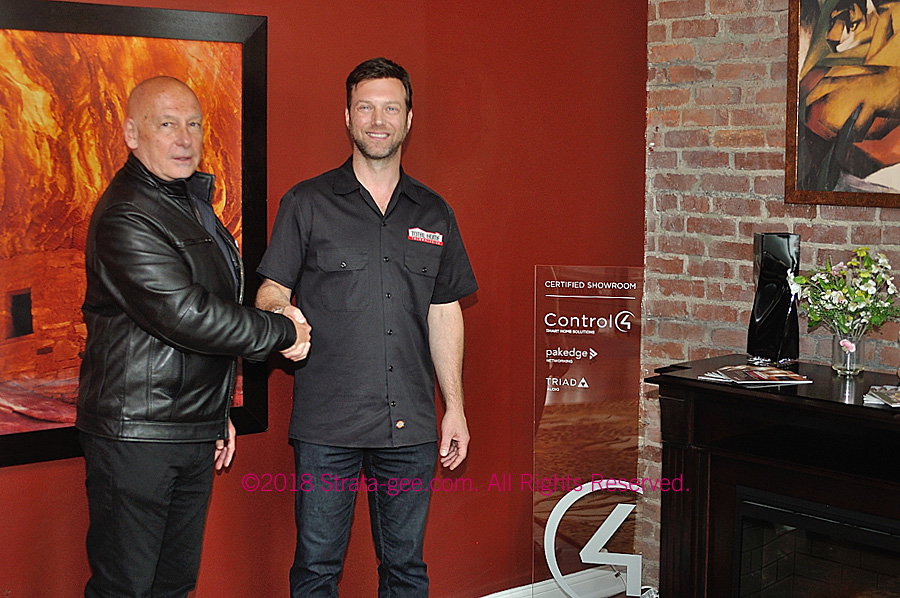 I asked Harrison, how did Total Home come to achieve designation as a Control4 Certified Showroom? He told me that Total Home has been a Control4 authorized dealer for more than a decade and has grown to be one of their most succesful dealers in New Jersey, he believes. Executives from Control4 approached him several months ago to discuss the opportunity to be a Control4 Certified Showroom.
Control4 Requirements for Total Home Technologies to Achieve Certification
Because they were already a large, supportive Control4 dealer, this opportunity made sense to them. But it wasn't just gifted to them…Total Home had to make some changes to meet Control4's requirements. These requirements included their commitment to deliver very specific set of experiences that Control4 insists that each Certified showroom be prepared to offer to potential clients. Nothing too crazy, but in some cases Total Home had to change how they demonstrated certain experiences.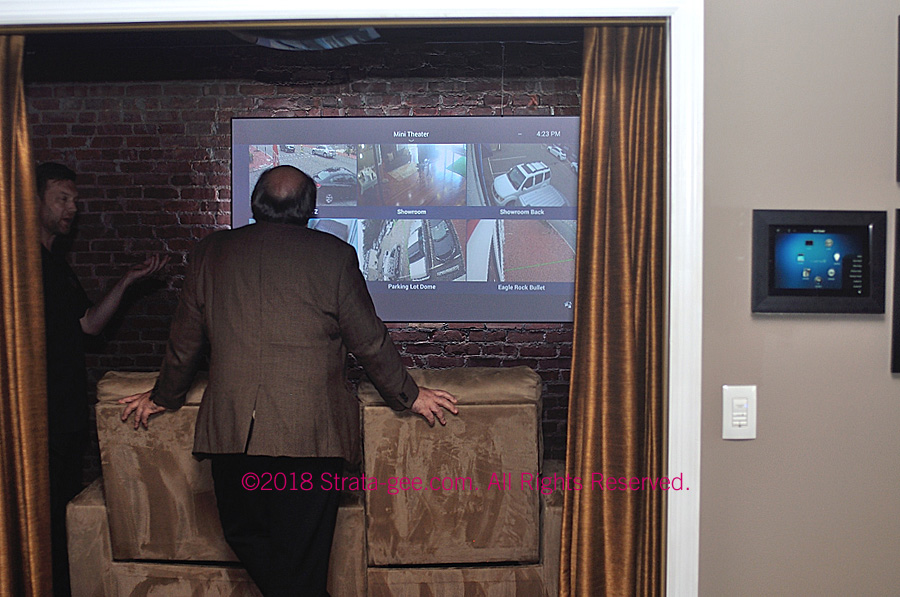 For example, Harrison said, Control4 specified the need for a certain type of demonstration of multi-room video, and a very specific way to demonstrate multiroom audio, things like that. None of these requirements presented a big problem for Total Home./
Control4 Requires Certified Showrooms to Carry All Company Brands
But one requirement did cause them to take some pause to consider. Control4 requires their Certified Showrooms to display and demonstrate all of their brands, including Pakedge and Triad speakers. Total Home was deeply committed to another brand of speakers, so this required some adjustments on their part. At the end of the day, Harrison tells us, "It's all good." He even credits Control4 with "forcing" him to display and demonstrate a Triad soundbar – a category that he had been philosophically against selling up until now.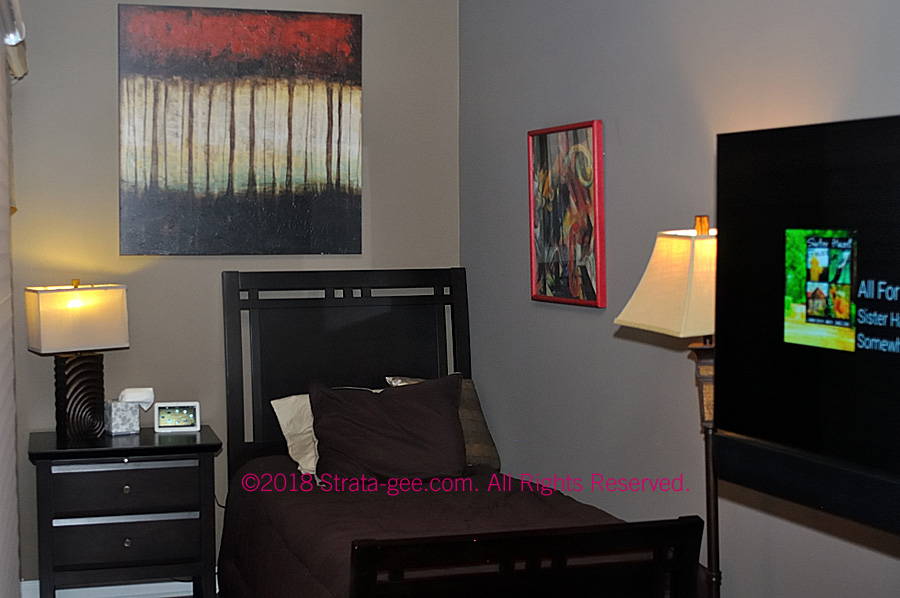 Now, however, they have found soundbars are an excellent solution for certain situations, such as a child's bedroom or other plus room where there is no need for, or space for, a more sophisticated solution.
>Click to see a full slide show with more photos from my visit to this Control4 Certified Showroom<
Custom Signage and Plenty of Collateral Material
Control4 also required that each of their Certified Showrooms have plenty of Control4 signage on display. This signage and material was supplied by Control4 to present a uniform look, and to visibly assert the Control4 branding. Most of the signage we saw tended to present showroom visitors with ideas that may not have occurred to them before their visit.
For example, at Total Home we saw a sign that said:
MULTI-ROOM VIDEO
Share your entire video library while streaming 4K video and satellite channels in every room – no need for set-top boxes and multiple video sources.
We saw another sign that discussed Smart Lighting, and there were certainly more spread throughout the showroom. In addition to that, there was a tremendous amount of collateral material all around the Total Home showroom on virtually every horizontal space. These were all about various Control4 products and systems such as a stack of pamphlets on "High Performance Automation," and another stack on "Smart Lighting That's Brilliant."
We also saw some stand-up placards reproducing some of  Control4's magazine and online advertisements, such as one promoting their inclusion of Amazon's Alexa for voice control. Truth be told, you had to look really hard to find any materials promoting any of the other brands that Total Home supports – which is, I'm sure, exactly how Control4 wants it.
What Control4 Certification Does for the Integrator
Overall, Keith Harrison told us he is very pleased about this partnership with Control4. Not only for the prestige associated with being singled out by the manufacturer as one of the top showrooms in the world (yes, the Control4's Certified Showroom program is a global one), there are real pragmatic benefits. For example, Total Home gets special discounted pricing on their demo products which helps when you're filling up a showroom.
Also, Control4 Certified Showrooms are given highlighted positioning on Control4's Dealer Locator page on their website. This is nothing to sniff at – take a look at the image below which is a list of Control4 dealers based on my zip code. Ultimately, there was a total listing of 35 dealers listed within 20-miles of my location. But I'd be willing to bet, very few consumers will get past that first four with the big, bold, red-bannered "Certified Showroom" next to their name.
By the way, two of those four dealer locations were the Total Home Technologies locations.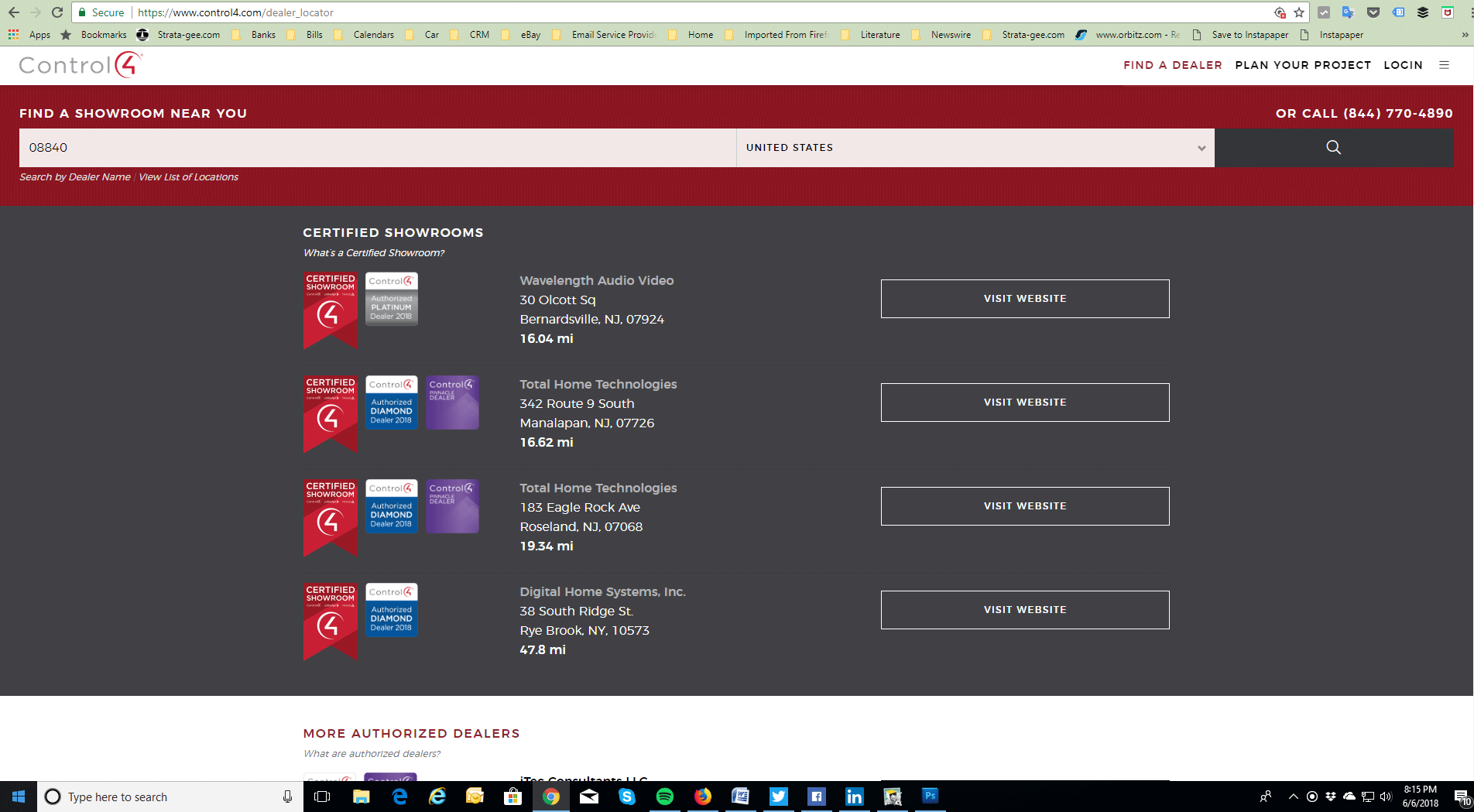 Could This Benefit Be a Game-Changer?
Harrison also told us that now, for the first time, Total Home can list an open house-type of event on the Control4 website, and Control4 will collect RSVPs for the Total Home event. This is, Keith believes, a game-changer.
"Usually, when we send out a mailer, we are just talking to our same client base…using our same mailing list," Harrison explained. "But now, by posting an event on Control4.com, we are reaching out to many more prospects thanks to Control4's global reach."
Total Home Technologies in Roseland features an excellent showroom, nicely laid out, with all major systems fully demonstrable. I have been in a lot of showrooms over the years, and this new Control4 Certified Showroom is a worthy representative of Control4's products and technologies.
However, I can't honestly say I was blown away – I've seen some astounding showrooms and experience centers in my career. But Total Home Technologies is a professional,  well-crafted showroom that pleasantly surprised me. If I were Control4, I'd be very happy to have Total Home represent my brand.
>Click to see a full slide show with more photos from my visit to this Control4 Certified Showroom<
Learn all about Total Home Technologies by heading to: totalhome.tech.
To learn more about Control4's Certified Showroom program and see their line, visit: www.control4.com.