New York manufacturers representative company Audio Associates wrapped up their 2013 Dealer Expo on Tuesday and company executives said they were thrilled with the results this year – its largest dealer event ever. Audio Associates "upped the ante" by investing in a major upgrade in facilities for the Expo this year – far exceeding an upgrade the previous year by holding the event at New Jersey's exclusive Seaview Hotel and Golf Club.
One surprise: even bad weather failed to dampen the palpable positivity of the dealer attendees…even though most were from New York's ravaged retail market…
Did the fresh and odoriferous sea air make dealers giddy? Did dealers pause and partake at the lobby bar before showing up at the conference? Did the luxurious Seaview Resort cast some kind of mystical spell on attendees? We spoke to several dealers there and heard some common – and interesting – themes…almost entirely positive.
The Expo drew a large number – and large variety – of area dealers. We saw small integration companies and large major retailers there. The list was almost a Who's Who in New York Metro electronics retailing with J&R Music, Park Avenue Audio, P.C. Richard & Son, Audio Video Systems, Adorama, Audio Den, World Wide Stereo, and many more all in attendance.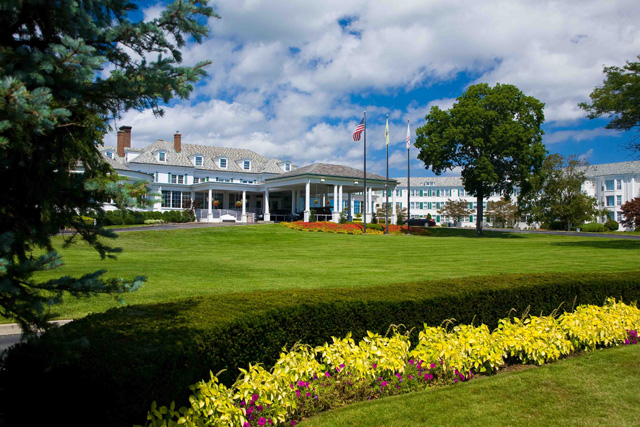 The Seaview Hotel and Golf Club has a long and rich history as one of New Jersey's most exclusive seaside resorts and retreats. Located on 670 wooded acres in Southern New Jersey on Reed's Bay in Galloway, the Seaview is only a couple of miles away from the action in Atlantic City…but feels as though it's miles away from any civilization.
Presidents, champions, entertainers & royalty…

Built in 1914 by a wealthy Philadelphian, over the years the luxurious Seaview has hosted presidents (Warren G. Harding, Dwight D. Eisenhower), PGA champions (Ben Hogan, Sam Snead), LPGA champions (Betsy King, Nancy Lopez), entertainers (Bing Crosby, The Rolling Stones, Eric Clapton, Bob Dylan), and even royalty (American actress Grace Kelley, who went on to become Princess Grace of Monaco). There are two world-class golf courses that were once used for PGA tournaments and, now, for LPGA tournaments.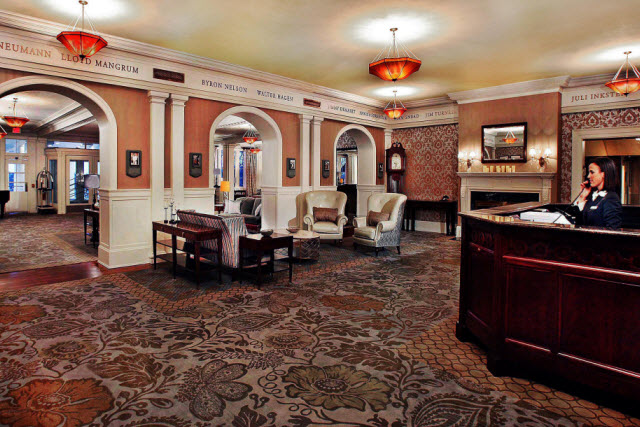 Although completely modernized, the Seaview has retained its classical good looks. Thoughtfully designed and richly detailed, one can feel transported back in time when walking the property with its royally patterned carpets, rich woodwork, and luxurious gold-plated touches and appointments everywhere.
An impactful venue…
The Seaview turned out to be an interesting and impactful venue for this event as many dealers chose to take rooms there the night before or the night of the event. Audio Associates turned the Seaview into a kind of captive environment as dealers filled the lobby bar and frequented the Grill Room, as well as other local restaurants during the two-day Expo.
Although Audio Associates hasn't yet released final numbers, it looks as though they might have slightly exceeded last years event, which – considering that massive thunderstorms brought torrential downpours causing local roads to be flooded and made the Seaview virtually impossible to get to on Tuesday – is quite an achievement. Audio Associates President Mike Lefkowits told us that even before the event ended, enthusiastic vendors were clamoring to sign up for the event next year.
Palpable positivity…
What surprised us the most, however, was the incredibly positive attitude of dealers at this event. As most came from the New York Metropolitan market – we would have anticipated a more sour disposition. The New York market has been through exceptionally tough times and there has been a substantial fallout with many dealers scaling back – or even going out of business.
One dealer told us he estimated that the market has lost about 60% of its smaller dealers (and a few larger ones, as well) over the last five years or so. While we are unaware of any statistics that verify that estimate – clearly, there has been a substantial fallout in this formerly over-crowded and insanely competitive marketplace.
Skewed…
While, in general, trade show attendees tend to skew positive (an effect we call "show-glow"), the buzz from the show floor seemed more substantial this year. We formally and informally interviewed several dealers and were surprised to hear several interesting perspectives on the state of the market, such as:
Business is beginning to pick up: When the financial collapse of 2007 hit the U.S., New York, the nation's largest financial center, got hit harder than the rest of the country. For a few years, dealers told us business collapsed…and they had to scramble to survive. After hitting bottom in approximately 2009, the market went through a protracted period of "choppiness" – one month might be reasonably good only to be followed by a horrendous month. Now, dealers are seeing more a more durable and sustainable – if anemic – recovery.
Sandy hit, and hit hard: Who says girls don't hit hard! Superstorm (Hurricane) Sandy hit the New York/New Jersey market very hard and was a cruel blow to the fragile recovery. Many dealers reported being impacted – some substantially. It is possible that some of the new business pick-up dealers are feeling is consumers replacing goods lost to the storm.
This recovery is centered in the high-end:  Several dealers told us that while, thankfully, they are seeing a modest recovery – this recovery, disturbingly, appears to only be in the high-end of the market. In other words, the middle class is still hurting…and our industry will not completely recover until the middle class recovers as well. A couple of dealers we spoke with serve the middle-market and they were the mostly negative about business conditions.
It's alive! Stereo is back: We've been saying for the last 18-months or so that dealers everywhere are reporting clear and compelling evidence of increased demand for 2-channel, or stereo, systems. Although dealers differ on just what factor is driving this demand, just about every dealer we spoke with said they have noticed this trend.
4K Ultra HDTV is really, really scary: Several dealers we spoke with are really concerned about the industry turning to 4K as the next big trend. One told us that he does not believe that the typical customer with a 40″-55″ screen will see the benefit. When dealers promote a technology that consumers don't see a benefit in – they risk their relationship with that customer. More than one dealer told us that 3D "was a disaster" for them.
Dealers really appreciate regional events like this Expo: Multiple dealers told us that events like this are really helpful to them. One dealer, for example, says he hasn't been able to get away for a CEDIA Expo or a CES for more than a year and a half. Because this event is local, it is cost-effective and, more importantly, time-effective for him to attend and see certain key vendors. Audio Associates and Ron Meyerowitz got a lot of credit from these dealers for organizing something like this for their benefit.
Finally, as you can probably tell from our report – several dealers mentioned how nice the Seaview resort was. This may have been a factor is some of them deciding to attend. However, for some it was clearly less convenient as it was much further away from dealers on Long Island, for example, as compared with previous venues in Newark, NJ.
Still, once dealers got to the beautiful Seaview…they were really glad they came!
Learn more about Audio Associates here: www.audioassoc.com.