In a recent fiscal year 2012 fourth quarter and full-year report, Nortek, Inc. showed a mixture of hit-and-miss results with fourth quarter sales dropping 5.6% to $505.4 million as compared to Q4 2011's $535.2 million. Worse yet, the company's Q4 net loss increased from last year's $800,000 to a substantial $12.5 million. These results were in spite of the fact that this year's calendar for the quarter had two more days in it than the quarter last year.
However, Nortek's overall annual results showed a brighter picture with 2012 sales increasing to $2.2 billion, up 2.8% from the previous year's $2.14 billion. Net profits in 2012 came in at $9.5 million – a substantial improvement over 2011's net loss of $55.9 million.
But one other thing came through loud and clear…Nortek's TECH segment remains troubled…
Nortek, Inc. President and CEO Michael C. Clarke was justifiably proud of the 2012 results…not-so-much for the fourth quarter. Noting that the company was in the midst of a "transformation" in which it had closely managed expenses and engaged in radical internal structural reorganizations that he euphemistically called "strategic operational improvement initiatives" (got to love corporate speak) – Clarke was practically ebullient, saying that while sales were up 3% for the year, "operating earnings more than doubled, and we delivered net earnings" as compared to 2011's loss.
Clarke also promoted the fact that the company had successfully refinanced $251 million of the secured term loan facility in Q4 and he extolled the recently announced acquisition of 2GIG Technologies. "We are also committed to investing in our business in the areas of product development and marketing to drive organic growth," Clarke added.
Two major new initiatives…
Nortek also announced two new initiatives as part of their continuing restructuring program: One is a plan to build a new manufacturing "campus" in Mexico; And the other is to outsource their warehousing to a third-party logistics company. Ultimately, these new initiatives will cause further consolidation of their existing factory and warehouse locations, predominantly in the U.S., as the company outsources warehouse jobs to an outside company – and manufacturing jobs to south of the border. According to Nortek, about 10% of their workforce will be impacted by this move.
"We expect that our strategic investments in operational improvements will significantly increase efficiency and reduce operating expenses, both in our manufacturing processes and in our administrative functions," Clarke said in a prepared statement. "A key priority for the next few years is optimizing our manufacturing footprint, distribution network, and supply chain. As part of this initiative, our plan is to start construction in the second quarter of a Nortek manufacturing campus in Mexico. We will be consolidating certain of our North American manufacturing and transferring certain products, subassemblies, and  components into this campus. We believe that, together, these initiatives will position Nortek as a globally competitive manufacturer of innovative branded products."
Lingering dark clouds…
Still, even the optimistic Clarke would have to admit there were lingering dark clouds. For example, in the most recent Q4 results (see Figure 1 below), while sales had declined, gross profits had actually increased by 1%. This increase is even more dramatic when you consider gross profit as a percentage of sales. In Nortek's 2011 Q4 results, gross profit was 28.2% of total revenues. In 2012 Q4, gross profit grew to fully 30.1% of revenues…a good number for a manufacturing company.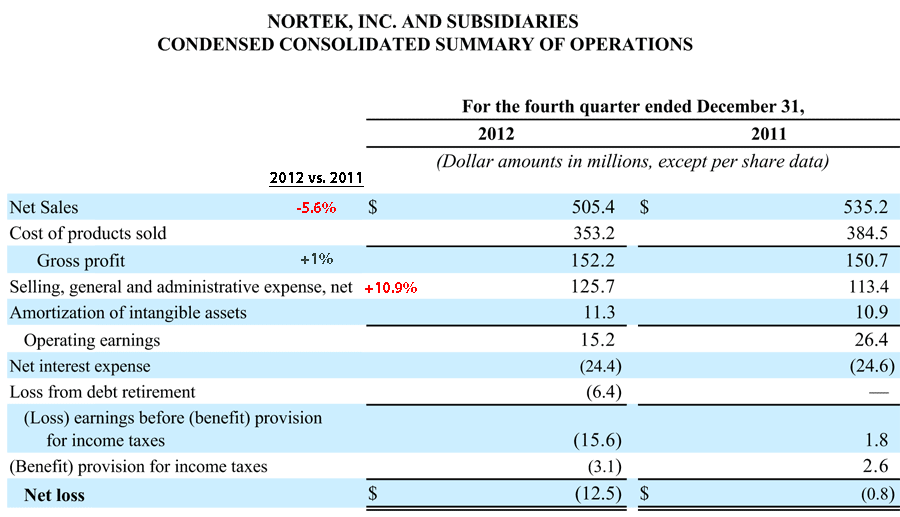 But while this gross profit growth is good news indeed, unfortunately, it was more than offset by the fact that selling, general and administrative (SG&A) expenses increased even more – by 10.9%. This means that a significant expense item grew at a pace 5 times greater than the growth rate of gross profit. Clarke says the SG&A expense growth was the result of "increased product development spending and consulting costs related to our operational improvement initiatives."
Even more significant, the conglomerate's CEO was forced to admit that gains is some segments of the company have actually been "offset by lower net sales in the Technology Solutions (TECH) and Custom and Engineered Solutions (CES) segments." Even though their TECH segment has been through substantial restructuring – like much of the rest of the company – it has not rebounded like most of those other segments have.
On annual basis, TECH segment's problems are more evident…
And when you look at Nortek's annual results, the stumbling TECH segment's problems become even more evident. The materials in Nortek's SEC filings explain the creation of Core Brands and ProAV, and how, in Core Brands case, their creation would enable them to "leverage economies of scale while strengthening its ability to invest in launching innovative technologies and a range of new marketing programs designed to increase the value, clarity and acceptance of each brand."
And yet, as we mentioned, even though this process has been going on for quite some time, the segment is still failing to see their numbers turn around yet. In fact, in a recent conference call to industry analysts, Nortek CFO Almon Hall specifically raised the continuing negative performance outlook for their TECH segment.
In our TECH segment, sales volumes in the first half of 2013 may struggle somewhat as this group works through the impact of rationalizing its product offerings in connection with the combination of certain of its businesses.
Mr. Hall's clever corporate-speak means that, after a inauspicious 2012, TECH will remain in the dumps for at least half of 2013. How did Nortek's other segments perform?
Nortek has five primary business segments. These segments are:
RESV – The Residential Ventilation segment which manufactures and distributes room and whole house ventilation and other products. Brand names include Broan, NuTone, Venmar, Best, Zephyr, and others. This segment used to be called the Residential Ventilation Products (RVP) segment.
TECH – The Technology Solutions segment is the Nortek division which most directly correlates with our industry and manufactures and distributes entertainment and security products for the residential and certain commercial applications. Brand names include Linear, SecureWireless, GTO/PRO, Mighty Mule, Niles, Elan, SpeakerCraft, Proficient Audio Systems, Sunfire, Xantech, Aton, BlueBOLT, Panamax, Furman, and others. This segment used to be called Technology Products segment.
DMS – The Display Mount Solutions segment was once part of TECH and now has been split out on its own. DMS manufactures and distributes wall mounts, desk mounts, arms, carts, workstations, and stands that primarily are for supporting display devices. Brands include Ergotron, OmniMount, and more.
RHC – The Residential Heating and Cooling segment primarily manufactures and distributes air conditioners and heat pumps, air handlers, furnaces and related equipment, accessories, and parts for the residential and certain commercial markets. Brand names (some under license)  include Frigidaire, Tappan, Philco, Kelvinator, Gibson, Westinghouse, and Maytag. The segment also offers Broan, NuTone, Mammoth, and several private label brands as well. This segment used to be called the Residential Air Conditioning and Heating Products segment.
CES – The Custom & Engineered Solutions segment. This segment manufactures and distributes custom-designed and engineered HVAC and air management products and systems primarily for hospitals, and educational facilities, as well as offices, manufacturing facilities, retail stores, clean rooms, data centers, and government buildings. Brand names include Govenair, Mammoth, Temtrol, Venmar CES, Ventrol, Webco, Huntair, Cleanpak, and Fanwall. This segment used to be called the Commercial Air Solutions (CAS) segment.
For the full fiscal year, with only one exception – each of these segments showed growth…some showed spectacular growth. For example, the CES segment, thanks to strong pick-up of a popular new product line, registered a solid 18.2% increase in 2012 sales. (Note the company restated all of the data in previous years to conform with the new segment structure.) The only exception? The TECH segment.
TECH segment sales and operating profits drop…
Nortek's TECH segment showed declines in both sales and profits (see Figure 2 above), well out of step with the other segments. The segment showed sales declines for 2012 of $32.5 million coming in at $422.7 million, down 7.1% as compared to 2011's $455.2 million.
TECH segment operating earnings declined even more coming in at $14.2 million, down $21.2 million or off a surprising 59.9% from last year's $35.4 million. Each of Nortek's other business segments showed growth in both sales and operating earnings.
According to the company's filings, the lower sales was the result of "lower sales volumes, including lower sales to a large security customer…" which is most likely referring to 2GIG, their recent acquisition which was previously a large security customer of the TECH segment. Another $4.8 million of the decline is attributed to the "closure of a certain subsidiary" which is not named.
Improved customer focus with smaller portfolio of products…
Nortek said they are "in the process of combining the operations of certain subsidiaries within the segment in order to improve overall operational efficiencies, reduce costs, and provide potential for greater revenue growth." The company says its plans will provide for "improved customer focus" with resources concentrated on "a smaller portfolio of products."
In the process of combining these businesses, Nortek says, they have identified products "that are either redundant or not competitive and, therefore, have been or will be discontinued." Because of this determination, the company booked a charge to cost of goods sold of $2.4 million in 2012 to write down inventory values. The company further says that it also booked a charge of $3.7 million to SG&A expenses for "severance and other exit costs."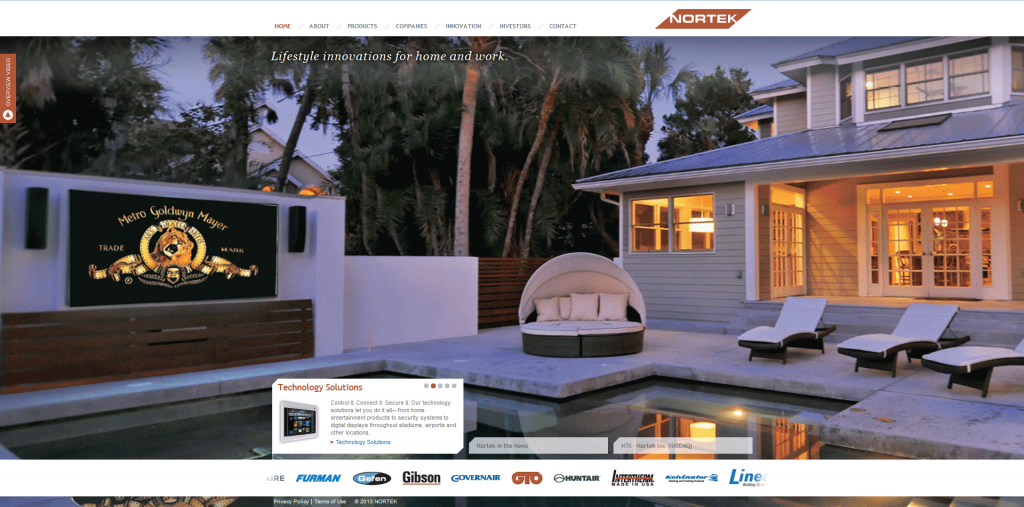 Restructuring costs to continue…
Nortek says that they anticipate having these costs continue for the near term. In their filing, the company said that they believe they will be hit with another $4.0 million-$5.0 million for severance/exit costs and related expenses in 2013.
Nortek's filing also discloses several other charges the company incurred as it sought to streamline their TECH division, such as: $3.7 million COGS charge to discontinue the development of a product that was met with "less than expected interest"; $2.4 million COGS charge related to a prior year acquisition; a $3.4 million SG&A increase related to a prior year acquisition; $2.7 million in charges related to severance and other exit costs; and $2.9 million in increased expenditures for product development. Whew!
Millions for consultants…
Nortek is a firm believer in consultants. In 2012, the company spent an impressive $5.4 million for "certain additional, third-party resources with specialization in the areas of manufacturing rationalization, procurement, logistics and process optimization." This year, the company expects to double their investment in consultants saying they anticipate spending between $10 million-$12 million in 2013.
And while the company is quick to point at profit improvements in various segments as a result of their rationalization activities – the company warns us that these activities are "medium to long-term initiatives which we expect will be completed at various times through 2015." So it may be a couple of more years before we see the TECH segment participate in the company's overall turnaround.
What especially troubles us…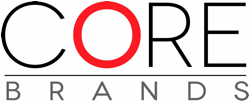 From what we heard on the analyst conference call last Friday, Wall Street seems to be generally satisfied with Nortek's results. We find the lack of traction in their TECH segment troubling. And while we're certainly not stock-picking superstars – we think the fact that the company has lost money in six out of its last eight quarters suggests that they are not out of the woods…at least not yet.
Furthermore, we are especially troubled that we're not hearing any clearly articulated, logical, intrinsically sound explanation of their TECH segment's go-forward merchandising strategy. Maybe, in their manufacturing divisions, cutting costs to spit out cheaper widgets will successfully drive overall profitability.
But in the TECH segment, Nortek has filled their stable with high-visibility, personality-linked, high-technology specialty brands. Most marketers in specialty custom integration businesses feel that pricing is rather inelastic. In other words, dropping the price a few dollars will generally not drive huge increases in sales (as it would with a mass market consumer item). Specialty buyers are typically looking for great technology, pro quality, super reliability, and ease of installation. Dealers want robust assortments that offer them better-than-average profitability.
What is less compelling…
We find that the strategy we ARE told is less compelling  – that by simply mashing brands together, cutting overhead, cutting staff, cutting the product categories of each brand, and "improving efficiency" will somehow magically produce a screamingly successful multi-branded specialty supplier. You simply can't cost-cut your way to market share success.
Multiple sources are telling us that a major announcement from either Nortek, or Core Brands,  is coming soon – perhaps as early as April 1st – that should clear up some of these issues – if not all of them. Given the performance of the TECH segment so far, we would think that the sooner they articulate a compelling, well-thought-out multi-brand merchandising strategy – coupled with a sound and smoothly running sales and distribution infrastructure – the better.
You can learn more about Nortek and its portfolio of brands at: www.nortekinc.com.
To see more of strata-gee's coverage of Nortek:
Click on "Nortek" in the Tag Cloud in the sidebar on the right. Or you can enter "Nortek" in the Search Bar on the top right of this page under the The Stratecon Group logo in the header.