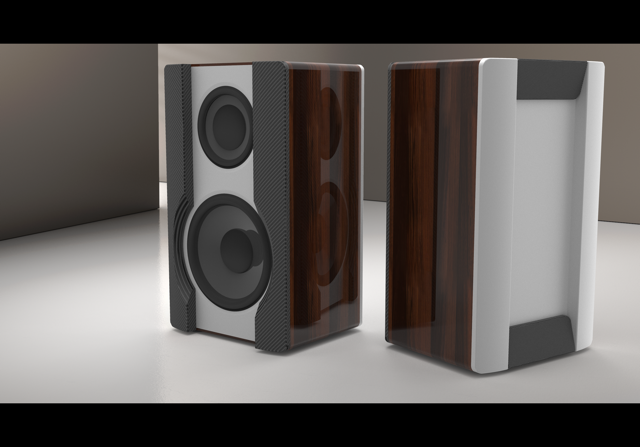 When we last visited with Velodyne, it was all the way back in 2014 when the company quietly laid off audio staff, and suddenly – without warning – fired all of their manufacturer sales representatives and their dealers. Shortly after this, the company hired a high-powered retail executive (who would go on to eventually go to prison) to launch a direct-to-consumer business. Our coverage drew the attention of then Velodyne President Marta Thoma Hall, who is wife of company founder and chief engineer David Hall, leading to an interview with her on the many dramatic changes taking place at the company. Whew! That was a lot of action in a very short period of time.
Ultimately, it appears that David Hall got bored with audio and moved on with his new prized invention – an improved Lidar (Light Detection and Ranging) sensor technology that is important to the autonomous vehicle market. According to a report by Audioholics, Ford and China's Baidu partnered to invest $150 million in Velodyne's Lidar technology and Elvis…er…Hall…has definitely left the audio building. Velodyne split into two companies (Velodyne Lidar is now a $100 million public company [NASDAQ:VLDR]) and for a time last year, it looked like curtains for the audio division.
But now Velodyne's audio division is back…
Then, late last year, news dribbled into the U.S. that Velodyne's audio division had been acquired by Mansour Mamaghani, head of Velodyne's German distributor Audio Reference, who had negotiated a deal to buy the company and relaunch it around the world. That deal was consummated on November 22, 2019 and terms were not disclosed.
Negotiations Between Hall and Mamaghani Took a Year
According to Desmond Fretz, who is the Velodyne Acoustics USA sales manager, it took a year of tough negotiations for Mamaghani and David Hall to reach this agreement. Audio Reference, Fretz tells me, has been Velodyne's largest distributor for the last twenty years, as the brand is apparently very popular in Europe.
Audio Reference received all rights to the brand name, and with it, a large amount of inventory. The company has taken the last many months to get its house in order – setting up U.S. sales and support operations, taking over all remaining existing inventory of finished subwoofers, and setting up to honor warranty on legacy products in the field. Fretz said there was a good amount of inventory, but the company has been working its way steadily to get through it.
Setting Up Operations & Rebuilding the Dealer Network
The new Velodyne Acoustics sales manager, along with his colleague Scott DeLoache (operations) are charged with rebuilding the brand in North and South America. He tells me that they really got started in earnest on this project this past Spring…yes, the Spring of COVID-19.
Fretz has spent the better part of this year trying to reconstitute the brand's devastated distribution network. I can imagine – and he confirmed – that this has been one tough project. Velodyne's previous ham-handed actions in launching direct-to-consumer (D2C) business with no dealer or rep notice pissed off almost all of their dealer network…many of whom just couldn't drop the line fast enough.
A Core Group of Dealers On Board; But Times Have Changed
Yet slowly but surely, Fretz has managed to bring on an initial core group of dealers (the website names seven dealers, but Fretz tells me it's more like ten) and is looking to add many more. It's been a tough task for sure, but Fretz remains optimistic as the company is about to launch several new models in a brand refresh that should help them regain their footing…and more importantly…their share of the subwoofer market.
Yet times have changed. This is not the same wide open market the company participated in a decade or so ago. Velodyne is credited by many to be the driving force behind the growth in the subwoofer category. Once sniffed at by audiophiles as simply big, bassy, distorted boomers that destroyed the quality of the sound of an otherwise high-performance component audio system…Hall created servo control technology that dramatically cut distortion by a factor of ten or more. Suddenly, subwoofers were accurately reproducing deep fundamentals – and not just of electric bass guitars and synthesizers, but also of tympani and tubas.
Velodyne's Servo Technology Drove Subwoofer Adoption
Thanks in part to this technology breakthrough, and many Americans thirst for the exciting sound of thunderous bass, subwoofers took off with Velodyne leading the charge. But the world has now changed. Subwoofers, initially rare, are now ubiquitous with a wide assortment of versions available from a wide variety of manufacturers and brands. Competition is tough, quality is high, and prices are relatively low. And that tough competition comes not just from subwoofer specialists – such as JL Audio and SVS – but from virtually every mainstream and audiophile loudspeaker brand who now offers their own subwoofers.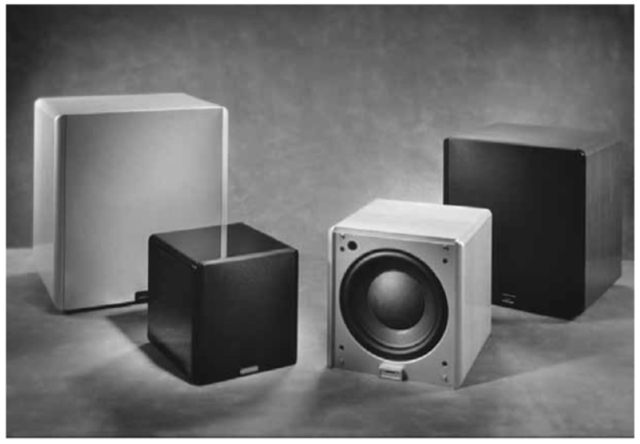 Velodyne will struggle to regain significance in a monster market of their own creation. And like Dr. Frankenstein, their own creation might kill them. The ability to regain footing will be largely contingent on their ability to innovate their way back into significance.
New Innovation Will be a Key to Success
To that end, this summer the company launched a newly updated version of their big sound/small box MicroVee subwoofer – called, aptly enough, the MircoVee MKII Subwoofer. The MicroVee MKII is meant to be a micro monster and features a 6½" woofer with two 6½" passive radiators mounted in a extremely rigid extruded aluminum cabinet that measures only 9″x9″x9.6″ and is powered by 2,000 watt Class D power amplifier featuring the company's exclusive ERS (energy recovery system).
Furthermore, in the name of innovation, the company says that it has upgraded some of Velodyne's classic technologies, such as the algorithm driving its DDCS (digital drive control system) to give you "tighter, more accurate bass reproduction." DDCS technology is said to assure linear cone movement, as well as control the driver's frequency and distortion characteristics.
New Models are Already Launching
We're excited about the new products coming into the Velodyne line. The product that we're currently most excited about is the replacement for the SPL, called the SPL-X, that will come in 10″, 12″, and 15″ versions. This is an all-new, clean sheet design, following the traditions of high output and low distortion."

Desmond Fretz, Velodyne Acoustics USA's Sales Manager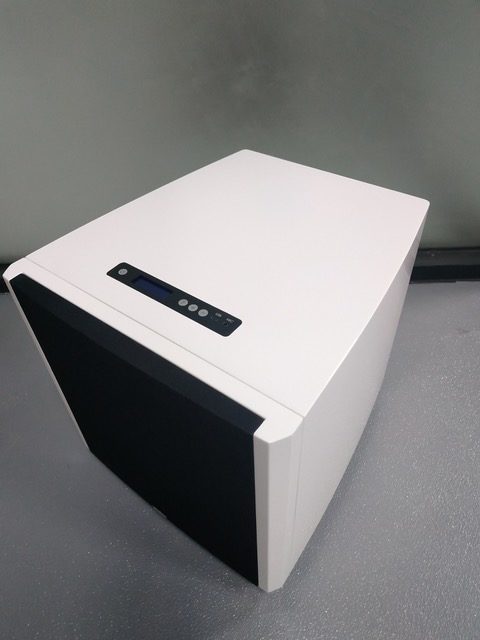 I don't have a lot of details on this new SPL-X model, but I'm told it will be available soon – in the fourth quarter of this year. The company has also launched a new entry-level design called Deep Blue with 10″, 12″, and 15″ models.
New Models Yes, But Continuity is Important Too
These new models are all being designed by Dan Wiggins, a former Velodyne engineer who worked with Dave Hall in past years. Wiggins has a deep understanding of Velodyne's core technologies and product line history – helping ensure a degree of continuity moving forward.
Also helping with continuity is the fact that many new products will be made by the same people in the same factories that Velodyne has been using for years. This should help dealers feel confident that manufacturing quality will not be compromised under the new ownership.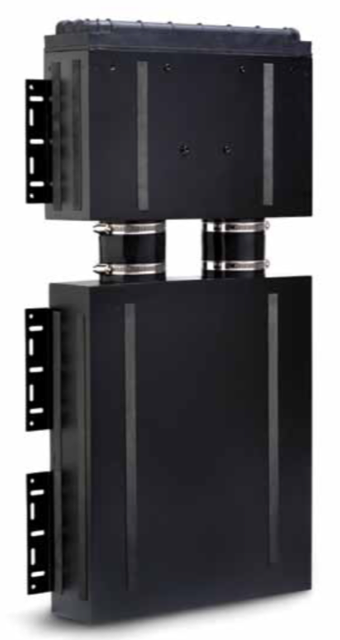 Centralized Warehousing & Service Center in N. Carolina
Velodyne Acoustics USA has a centralized warehouse in North Carolina, Fretz tells me. This facility is also where Velodyne products will be serviced as well. And in order to better take care of customers, the company has additionally authorized a number of service centers around the country to better service customers in a more timely fashion.
The Velodyne sales manager says that the company is offering competitive programs and he promises dealers that the programs will improve even more on new models going forward as they move past legacy products into updated designs.
Will Dealers Give Velodyne Another Chance?
As far as I can tell from what I heard from Fretz, the company is doing many of the right things to reassert themselves in the market. But whether dealers are ready to give the company another chance remains to be seen.
Are you interested in becoming a Velodyne dealer? Contact Desmond Fretz at (805) 428-3266 or by email at dezfretz@mac.com.
Learn more about Velodyne Acoustics at: velodyneacoustics.com.