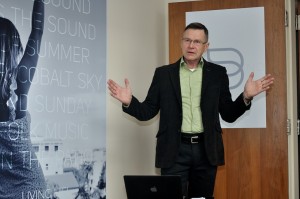 Lenbrook America held a media event last week in Manhattan where they announced the birth of a new brand of multi-room wireless (and wired) music streaming systems called Bluesound. Bluesound is designed to be positioned above brands like Sonos in terms of price and performance…but tuck underneath some of the higher-end solutions such as those offered by NAD and others. The company hopes to create a profitable step-up market for higher priced, better performing solutions in the digital domain – as once existed in the analog realm years back.
Is Bluesound the new holy grail of quality digital music systems? Or will it miss the mark?…
Acknowledging the popularity of digital streaming solutions that are rapidly proliferating today, John Banks, Chief Brand Officer for Bluesound, told reporters assembled at a trendy SoHo hotel loft that the rapid consumer acceptance of these products was largely due to their simplicity and convenience.
"But we believe that simplicity and convenience, which has obviously appealed to so many, doesn't necessarily have to equate to sonic mediocrity," Banks told reporters, adding, "That it can be simple and convenient and also be fabulous [sonically]."
Bluesound has already been placed in about 40 specialty retailers here in the U.S. The company launched the brand initially in Europe where it was said that the roll out went exceedingly well.
A new kind of limited distribution…
Lenbrook America President and CEO Dean Miller has said that the company has plans to expand the distribution of Bluesound to another 50 specialty retailers or so, for a total of approximately 100. Miller told reporters that the company planned on selecting its partners for Bluesound very carefully and this second wave of expansion would take place in 2014 after the holiday selling season was completed.
The company has also gone beyond traditional specialty retailers. Miller mentioned that one of the new dealers set up was actually a computer store that seemed to be actively involved in the digital music side of the business. Bluesound will also be sold on the Internet – although primarily through their existing specialty dealer base.
Limited Internet distribution…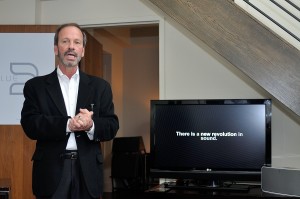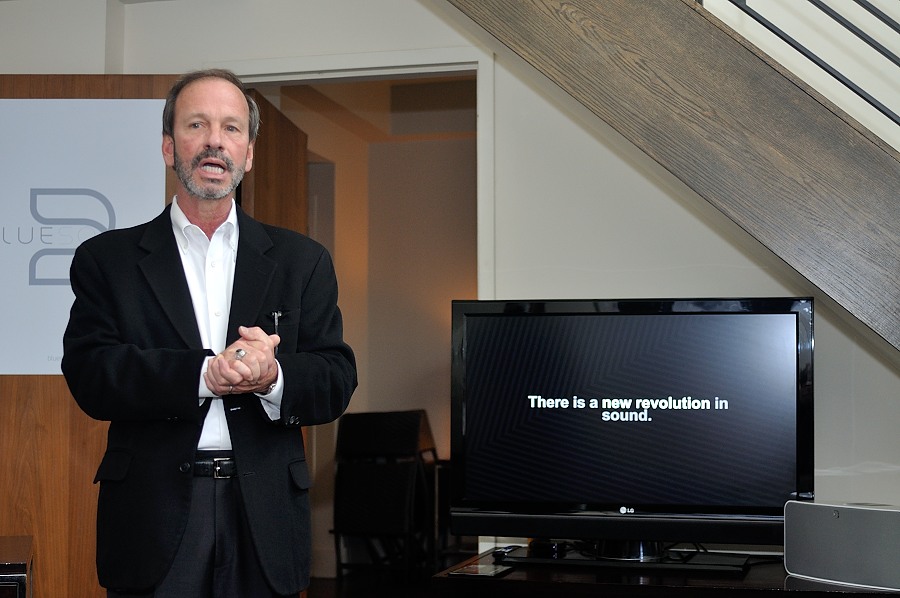 However, the company has also added Crutchfield – who also sells other Lenbrook brands – to specifically target the online community. Eventually, ListenUp and Worldwide Stereo will also offer Bluesound on their websites. The company has established minimum advertised prices (MAP) to maintain an orderly Bluesound market.
Miller also told reporters that the company is having discussions with Best Buy Magnolia locations, which it feels will add to brand visibility. Miller was quick to add that if a deal comes together with Magnolia, it would only be in the Design Center or MHT (Magnolia Home Theater) locations. "But they haven't said yes yet," Miller added.
Still, the total number of Bluesound dealers will be about a third of that of other Lenbrook brands. NAD, for example, has about 320 dealers in the U.S. The company definitely views Bluesound as a very limited distribution line.
Dealers provided a special POS display…
There is a dedicated point-of-sale display that the company feels shows the Bluesound products in its best light. They ask all dealers to utilize the display, which the company provides at no cost to them. Bluesound even sends in a team ("our Bluesound SWAT team") to assemble and set up the display for the dealer.
The Bluesound line consists of a total of five models, as well as a control App that will be available for both iOS and Android. But while some of these models may appear similar to products from other brands, Bluesound will take a higher road offering 24-bit native, all-digital signal path – in short, digital music products with a focus on better sound quality.
In fact, Bluesound says that they are the first "truly HD wireless digital music system with a premium, audiophile-grade feature set that music lovers will cherish."
The Bluesound line consists of:
Node – $449
The Node is for those with an existing audio system that want to add a portal to Internet streaming and pull in any existing digital media on their network via this simple to hook up and operate music player. The Node has no built-in power, so that needs to be provided by your existing system
However the Node does include a very high quality digital-to-analog converter (DAC) that offers 24-bit/192KHz resolution so you can stream high-definition music throughout your wired and/or wireless system. The Node can handle popular formats such as MP3 and AAC. But perhaps more consistent with the Bluesound philosophy, also handles high-resolution formats such as FLAC and OGG.
Wired or wireless network interface (2.4GHz Wi-Fi)
Line-level output – Fixed or variable
Optical SP/DIF output
USB input for support of local drives

Bluesound Vault & Node
PowerNode – $699
Add built-in amplification to the Node and you get the PowerNode. Banks referred to the PowerNode as the digital world's answer to the audio receiver. The PowerNode features a power amplifier circuitry design utilized by some of NAD's better amplifiers called the 35-bit/844KHz DDFA amplifier, which is said to maintain the purity of the digital signal path.
Wired or wireless network interface (2.4GHz Wi-Fi)
Direct Digital amplifier design
50 watts/channel at 4 ohms
Subwoofer output
USB input for support of local drives
Digitally equalized to match Bluesound's Duo 2.1 speaker system
Vault – $999
The Vault is an interesting combo product that includes a music player, CD-ripper, and a large amount of storage…or vault. And you can store a whole lot of music on the Vault thanks to its immense 1 terabyte "acoustically-quiet" built-in hard drive.
With the Vault, you can rip your entire CD collection to be served up anywhere on your network in high-resolution audio. You can either go for maximum quality converting your music into high-resolution FLAC format…or go for more capacity by storing your music in a compressed MP3 format. If you like, you can do both on the same disk…no computer necessary.
Wired network interface
1 terabyte hard disk drive storage
"Bit-perfect" CD ripper
USB input for support for local drives
Line-level output – Fixed or variable
256MB RAM
4GB flash memory
ARM Neon DSP media co-processor
Pulse – $699
The Pulse is a self-contained music system designed to let you listen to your favorite Internet radio station or other streamed digital content with either a wired or wireless connection. The speaker section was designed and tuned by Lenbrook sister company PSB and can deliver convincing bass frequencies as low as 39Hz from one 5¼-inch woofer and two 2¾-inch full range speakers.
Wireless stereo powered speaker system
Each of the three speaker drivers are powered by their own dedicated DirectDigital amplifier; total power is 80 watts
Wired or wireless network interface (2.4GHz Wi-Fi)
USB input for support of local drives

John Banks shows the Pulse
Duo – $999
Added in to the mix and completing the system, Bluesound also introduced a powered subwoofer/satellite speaker system. According to the company, the Duo has been specially tuned for the DirectDigital amplifiers used in the Bluesound products, resulting in a higher level of performance than might otherwise be expected. Duo is designed and tuned by Bluesound sister company PSB.
Compact powered subwoofer/satellite speaker system
Subwoofer features 8-inch woofer; Power is 110 watts
Satellites feature 4-inch long-throw woofers and 1-inch aluminum ferrofluid tweeters
Controller Apps – Free
Bluesound is offering a controller App in either iOS or Android versions. Bluesound designed the graphical user interface (GUI) to make using their system easy and fun. The GUI was designed for music lovers to browse and find just the music they want to hear.
The Apps feature – among other things – large album art, smart playlist management and the ability to sync two or more players for a party mode. Bluesound takes great pride in engineering an App specifically for music lovers.
All Bluesound products are available in either black or white finishes. And all models are shipping now.
A key differentiator…
Finally, Lenbrook argued that one of their "differentiators" for Bluesound is the fact that they based their system on a custom created, proprietary software operating system they call BlueOS. A Linux-based custom operating system allows the company full control over the entire Bluesound eco-system. Many feel that this is one of the secrets to Apple's success.
By controlling both the hardware and the software, the company is free to have its own look and feel. Company representatives claim this provides for uber-easy system configuration and a superlative, intuitive user interface.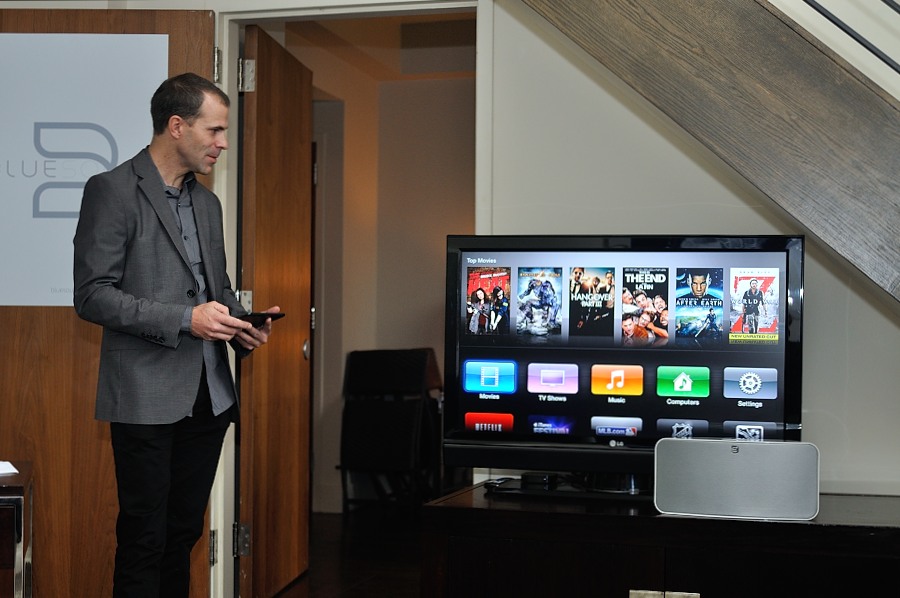 Challenging road ahead…
However, right now Bluesound faces some challenges. Most notably, companies like Sonos have a huge head start. And while a strong argument can be made for Bluesound having a superior sound – Sonos has more built-in popular Internet streaming services. Right now, Bluesound only offers one service – Rdio.
So it comes down to what consumers value most – sound quality/audio heritage (Bluesound) – or out-of-the-box Internet streaming services (Sonos or others). Bluesound says they will expand and add in more popular Internet services as quickly as they can…but Sonos is unlikely to stand still. And many people feel Sonos' sound quality is pretty good itself.
For more details on Bluesound, see: www.bluesound.com.