I know not everyone who reads this post agrees with us, and we've taken a fair share of criticism for our viewpoint, but we've been consistently skeptical of the power of 3D to drive HDTV sales. And now, after the industry spent millions (billions?) of dollars in promotion and advertising , as well as several years of intense sales effort, and probably billions of dollars in research & development – a new survey of HDTV-purchasing consumers from reputable researcher J.D. Power and Associates shows that 3D was ranked a distant last as the reason they purchased their set.
The survey held some other surprises as well…
The new survey released today – J.D. Power and Associates 2012 High Definition Television (HDTV) Report – showed that only 11% of the survey respondents said they purchased their HDTV because of its 3D capabilities. This was well behind other purchase motivators, including:
Price (75%)
Brand reputation (60%)
Positive reviews (37%)
Past experience with the brand (36%)
Quality of construction (33%)
Availability (31%)
Styling of the TV (29%)
Ease of use (21%)
3D capability (11%)
In what is a bit of an understatement, J.D. Power & Assocs. commented on the results, saying:
"While still finding its niche, 3D HDTV capability is not a leading force in purchasing a television," Sara Wong Hilton, a director at J.D. Power and Associates said in a prepared statement. "One reason is that 3D HDTVs are typically more expensive than non-3D-capable HDTVs. Additionally, in order to view 3D media, special media players, and 3D glasses in some cases, are required. The extra cost could play a role in dissuading customers from adopting the technology at this point."
Other results were less and more surprising…
Other findings from the study were less surprising. In breaking down respondents based on the technology employed in their sets, J.D. Power noted that: 41% had LCD sets, 33% had LED sets, and 19% had plasma sets. Half of all respondents (50%) had sets in the 41- to 50-inch screen size…more than any other screen size.
Most satisfied HDTV owners?…Those who own Vizio…
But what may surprise some is that…when ranking brands based on customer satisfaction…most major Japanese brands were below average, with low price leader Vizio ranking the highest in customer satisfaction with a score of 887 (out of 1,000). The survey breaks customer satisfaction down into six factors of which Vizio was ranked first if five: performance and reliability; ease of operating; competitiveness of the price paid; styling and appearance; and warranty. Sharp was ranked highest in the sixth catetory: variety of features.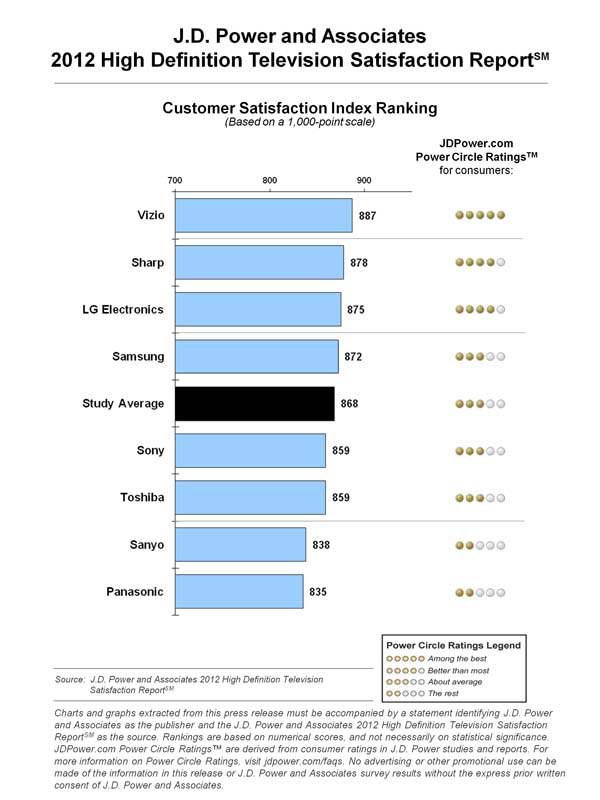 A shot across the bow…
It was interesting to see that consumers were less satisfied with four Japanese powerhouse brands, Sony, Toshiba, Sanyo, and Panasonic…rating them below average. However, Samsung and LG, both rising stars in the worldwide video market were both rated above average along with Sharp and Vizio.
This may be a bit of a warning shot across the bow of those manufacturers who scored below average to pay better attention to providing products that achieve better customer satisfaction. It may also serve to explain the shifts in global market share which over the last couple of years has favored the Korean brands of Samsung and LG.
For more information on this interesting survey, see: www.jdpower.com.