It is now late January and the Consumer Electronics Show (CES) is well into our rear-view mirror. Yes, as in other years, there has been a flood of publicity and tons of articles on gadgets introduced at the show. The show's promoter, the CEA, has already crowed about the event being the biggest ever and all seems well. Or is it?
See the warning signs that the CEA seems to be ignoring…
In our round-up of the 2012 CES last year, we noted that while there were a lot of attendees (about the same 150,000 number as this year according to preliminary results) – this was largely thanks to the fact that the CEA had opened the event up to whole new classes of industries such as the automotive industry and the appliance industry. Not your typical tech companies.
Well, that trend not only continued, but expanded this year as there were more and bigger – massive really – automotive booths and appliance exhibitions. The international showcases have also expanded their presence at this now firmly international CES with hundreds of booths selling cheap gadgets and accessories.
More booths than innovation…
Thanks to the exit of the massive Microsoft booth as well as the large Kodak booth, CES had more floorspace to share. To their credit, the CEA filled the floor, but as we noted last year – the feel of the event has decidedly changed.
But what is most troubling is that this is supposed to be the venue to launch the latest industry innovations. Except that there aren't any. Unless you count the latest iPhone case design as innovation. Or the new window cleaning robot as innovation. Or you're a big believer in 4K UHDTV resolution. But certainly no major industry-changing innovation was shown.
And, for the first time, the mainstream media…is beginning to notice…
One popular technology writer, David Pogue of the New York Times, in a sarcastic and decidedly mocking article, literally dove into the land of make-believe to try to spice up his report on what he called a "ho-hum tech show." To add some zing to his report, Pogue invented a James Bond-ish story line which he weaved into his decidedly unexcited reaction to the show and the technological innovations shown there.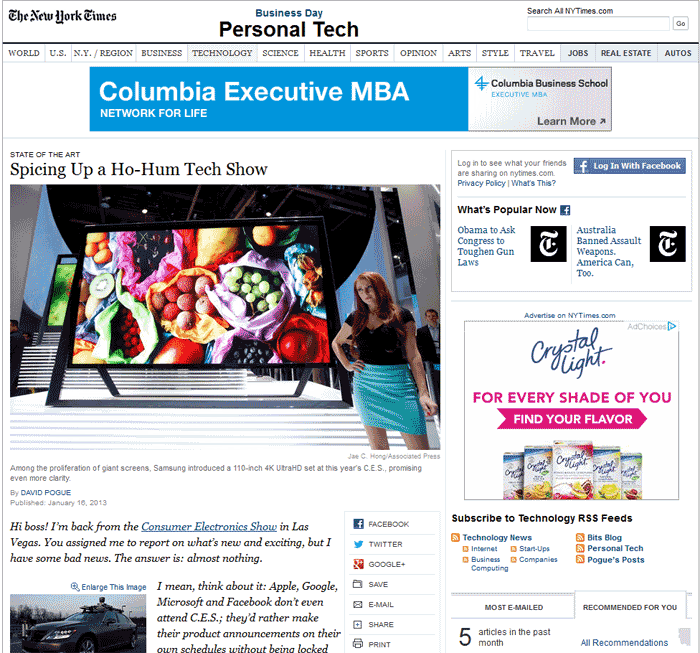 What did Pogue find in Las Vegas that was "new and exciting?" The honest answer: "almost nothing." Pogue went on to wonder "why people bother" to attend? Or, for that matter, why companies try to announce new products in their booths when their announcements will be "buried by 3,199" others?
Using our own headlines to show 'innovation'…
Pogue used actual headlines from the CES Daily magazine to demonstrate the lack of innovation at CES: "Braven Expands Bluetooth Speaker Line." "Armpocket Unveils Smartphone Cases." "Bits Ltd. Expands Line of Surge Protectors."
His sarcasm continues noting that at the show, there was: an avalanche of accessories, "row after row of Chinese manufacturers" he's never heard of, the folly of 4K, celebrity-endorsed headphones ("when did Snooki become an audiophile"), the existence of cars – not car audio – just cars on the floor, and more.
Display Central renames the show…
Norbert Hildebrand of Display Central also noted with great chagrin the change in personality of the industry's biggest show in his show wrap-up story. Hildebrand even suggested that the show should be renamed, changing it from CES – the Consumer Electronics Show – to a more appropriately titled CAS – or Cars and Accessories Show.
Hildebrand noted that the "amount of cars shown during the show was amazing." And he meant "cars" were shown, not "custom audio installations in cars (we always had those)," Hildebrand explained. Some car companies showed the sophisticated displays in their cars, or unique drive systems, but "others just showed their cars."
Amazing amount of accessories…
But as amazed as Hildebrand was on the display of automobiles, the never-ending display of accessories "was even more amazing." He went on to note that accessories "could be found in all halls." In some sections of the show "there was nothing else to see other than accessory manufacturers."
Hildebrand went on to muse that there were so many phone-, tablet-, and e-book reader-accessories shown that he can't imagine there could be anything new for accessory manufacturers to show next year. But he was otherwise underwhelmed with the amount of real innovation presented. Other than OLED (introduced last year, by the way), there really was "no new display technology after OLED even considered by the manufacturers."
A Las Vegas blog, Vegas, Inc., gets down to business…
In a blog called Vegas, Inc., writer Richard N. Velotta was blunt in his assessment of CES. Velotta noted that "some tech industry leaders have questioned the value of the city's largest convention: It has gotten too big." Velotta even called out the CEA on something we've complained about for years – the timing of the show: "They [most industry officials] prefer to do big product roll-out in advance of the winter holidays, not right after them."
And then, getting to the heart of the matter, Velotta launches this perfectly poignant paragraph:
"So will CES survive? Can the Consumer Electronics Association figure out a way to keep the show compelling? Will this big economic driver for Las Vegas go the way of Comdex in the 1990s?"
In times past, CES was where U.S. retailers lined up to buy tech innovations…
CES started as the industry's  preeminent event in which hoards of retail buyers made their annual pilgrimage to Las Vegas to cut deals for massive amounts of inventory to stuff their warehouses with the hottest, most innovative tech products to sell on their retail floors over the coming year. The focus of the show in those days was laser sharp on only those tech products for which the American consuming public had an insatiable appetite.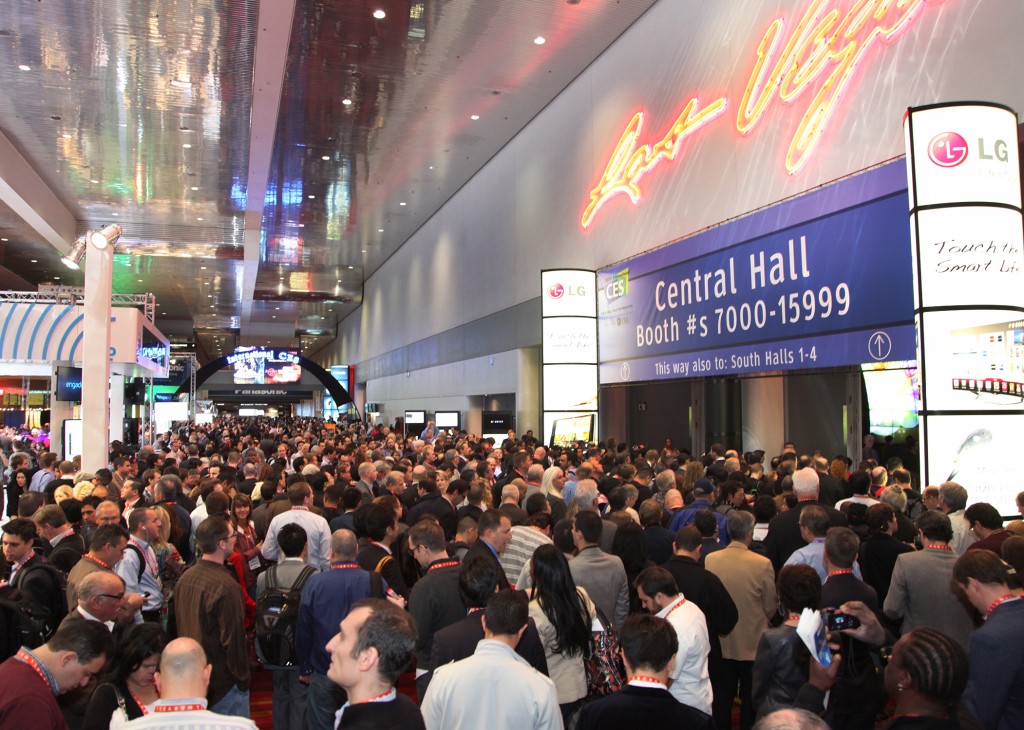 But the show's focus appears to have changed – or, rather, with multiple industries now represented and no compelling innovative products – there really is no focus.
From tech marketplace to celebrity-studded show…
Forrester Research's James McQuivey, writing for Forbes Magazine's website, was perhaps the bluntest of all the assessments – although he has a unique twist on what CEA should do with the show. Offering a simple four-point show wrap-up, McQuivey's last point was "CES is dead – long live CES."
"That's right folks, I'm declaring the demise of the largest convention in the US, the one to which more than 150,000 people flocked for now two years running. The old days of CES, wherein exhibitors reveal their big plans for the coming year and buyers haggle over prices and place bulk orders behind the scenes, has been effectively neutralized by the Internet. Exhibitors show their products online before CES and many of them even announce pricing before the show, effectively eliminating one of the key roles of CES in the old days, that of bringing buyers and sellers together to find a market price for a new product."
Non-retailers go for the show…and just the show…
McQuivey goes on to note that the show has changed. As an example, he notes that for the last two years, more and more of his non-tech clients "including banks, credit card companies, media companies and [non-electronic] consumer product manufacturers" have gone to CES.
And these non-tech companies: "They're not buying, they're not selling. They're observing." McQuivey thinks that this is a good trend. CES is no longer a tech marketplace…it's a tech showcase. He even suggests that the CEA hold a "celebrity banquet with a red carpet arrival." Done right, McQuivey suggests, they could even compete with the Oscars.
Just another advertising vehicle…
If McQuivey is right, then CES becomes just another advertising vehicle for manufacturers. If the business-side of the event continues to wither away from the tradeshow – the high cost to manufacturers to participate will almost certainly eventually filter out the bulk of the small- and medium-sized business crowd.
And as an advertising venue – CES will be too expensive for many of the larger brands as well. It remains to be seen as to whether CES – as simply a tech show – would be impactful enough for even the big boys. As more and more attendees begin to notice the lack of real innovation and stop coming…even the advertising value of this event may just – like COMDEX – melt away.
In my post from last year, I noted that I personally attended the largest tradeshow in the world…COMDEX…back in 1999. There were more than 200,000 attendees at that event and it was truly impressive.
Four years later…it was cancelled.