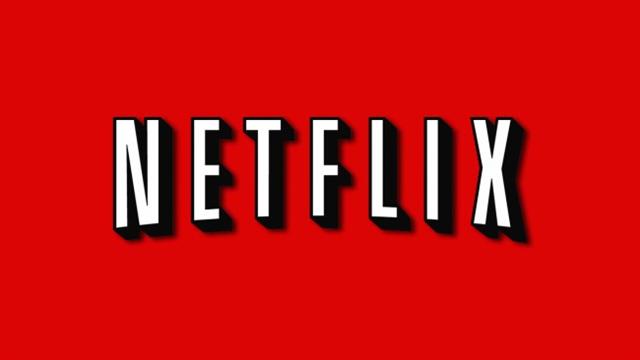 You knew they were big, but you didn't know just how big streaming innovator (and leader) Netflix really was…until now. In a bid to prove to investors they have what it takes to stave off a whole new class of streaming competitors, Netflix released some detailed numbers on their global subscription base that has Wall Street really buzzing.
See what Netflix has revealed to investors…
There are many smart industry experts who suggest 2020 will be the year that streaming services hit the accelerator and grow their market share to record heights. It is NOT a good time for cable company or satellite company executives – as their situation looks increasingly dire.
But all this talk about new streaming services from major content companies entering the arena and challenging Netflix has its investors concerned. Although the company has done very well against existing streaming challengers Hulu and Amazon Prime Video, there have been a lot of glitzy launches and announcements from stronger potential competitors like Disney+, whose Mandalorian show is earning strong reviews and who packs a lot of pricing punch at only $6/month. Disney is also offering an option to bundle Hulu and ESPN+ for a super competitive $12.99/month. That's an "In your face Netflix" package and pricing.
Soon to Enter – AppleTV Plus, Peacock, and HBO Max
Soon entering the arena is AppleTV Plus, NBCUniversal's Peacock, and HBO Max – all of whom's announcements caused quite a buzz. Add to all of these a slew of niche services including: BritBox, Boomerang, Crunchyroll, DC Universe, Plex, Shudder, Criterion Channel, Kanopy, and many, many more.
Looking at all of this, you begin to get a sense of why Netflix investors are getting nervous. Many of these companies are offering packages that challenge Netflix on price…others offer content packages that rival Netflix on content breadth and quality. And Netflix's ace-in-the-whole – original programming – has found some worthy rivals in Disney+ and others.
To Reassure Investors, Netflix Reveals the Competitive Advantage of Its Global Muscle
Investors are getting so nervous, that Netflix did something they've never done before – for the first time, they've allowed investors to look behind the curtain to see just how robust their business platform truly is. Specifically, they released regional data to show how far ahead of their competitors they are…globally. And it's an impressive showing.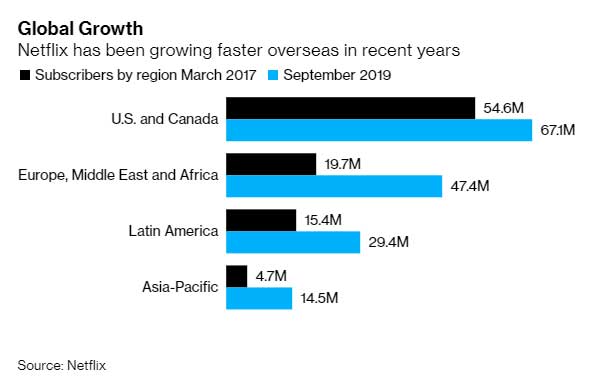 Netflix, the current streaming champion, has more than 60 million subscribers in the U.S. An impressive number…no? However, newly released data shows that the company has an even bigger base of more than 90 million subscribers outside of the U.S. and Canada!
Way Ahead of New Streaming Competitors
This 90M figure puts Netflix – as Bloomberg Business News puts it rather mildly – "well ahead of streaming rivals," including Disney's Disney+ service and AT&T Inc.'s HBO Max service which will debut in May. It also more than makes up for the slowdown in subscriptions that the company is experiencing back home in the U.S.
The company breaks their business down into four regions: U.S. and Canada…Europe, Middle East and Africa…Latin America…and Asia-Pacific. The numbers that Netflix reported for each of these regions are impressive in their own right – 47.4 million subscribers in Europe, Middle East and Africa; 29.4 million in Latin America; and 14.5 million in Asia-Pacific.
Forget Number of Subscribers, Look at Rate-of-Growth
Perhaps even more impressive than the number itself, is the stunning rates of growth the company has enjoyed in each of these regions. The company released a graph which for each region showed the number of subscribers in March 2017 and September 2019. The difference between these figures in the U.S. were reasonably impressive if somewhat modest…but the jumps in the other regions were visibly bigger.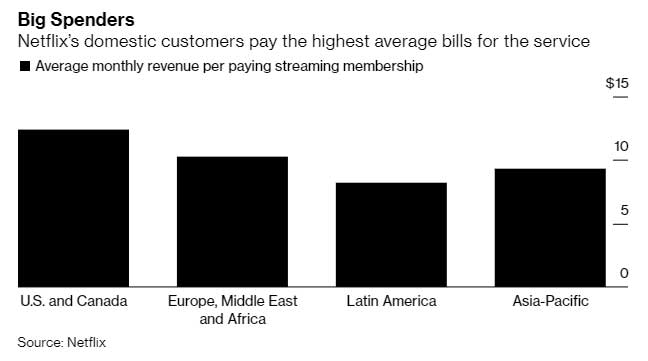 For some time now, Netflix has presented itself as a "global service" as the Bloomberg report noted. What that means is that the company has already cracked the code on how to design their offerings to be as popular – if not more popular – in all of the major cultures of the world.
A Global Exclusive Content Production Powerhouse
While other services are scrambling to match Netflix's exclusive movie and TV show production capabilities in the U.S., the company is producing more than 130 seasons of original programming in all of these markets around the world.
"A lot of these titles that are hugely impactful in the country where they're produced also tend to travel throughout the region, sometimes around the world."

Ted Sarandos, Netflix Chief Content Officer in a presentation to investors in October
It is hard to overstate the advantage that Netflix enjoys with this global business already in place…and growing. In just the last three years Europe alone has ADDED 28 million subscribers. And the report notes that the company is on pace to have its biggest gross additions yet – all as they raise their prices.
Global Users are Willing to Pay Big
EMEA customers are paying, on average, about $10.26 per month. This is the highest rate outside of the U.S.
Other impressive stats released from the company include the fact that they have a total of about 29 million customers in Latin America. This is a meaningful number as it represents about one-third of ALL Latin America homes that have broadband. That's a hefty share of the market.
Working on the Key to Another 1.5 Billion People
And while their competitors have yet to start trying to sell their services on a global stage, Netflix is testing special low-cost pricing packages in price-sensitive areas like India and Indonesia. If they can crack that code, they open the door to markets with 1.5 billion people.
I suspect that Netflix investors are just a little more comfortable, now that they've learned about this significant competitive advantage held by their favorite streaming service.
See more on what Netflix has to offer: www.netflix.com.