Security & Thermostats are Top Smart Home Priorities
Being the marketers that we are, when we heard that Houzz was going to present the results of their first ever Smart Home Trends Study at CEDIA 2016, well we put that on our schedule. At the appointed hour, we listened closely as Liza Hausman, Houzz's Vice President of Industry Marketing and Dave Pedigo from CEDIA patiently went through and explained the results – and while the results were unremarkable, they were interesting nonetheless. And, there were a couple of surprises.
See details on what the results from the Houzz study were…
Houzz bills itself as the largest website, platform and app for the home building, remodeling, and design industries. According to Liza Hausman, Houzz gets more than 40 million monthly users. (That's just slightly more than we get here at Strata-gee!)
Houzz, which has a program in which custom integrators can pay a fee to be listed on their website to receive leads for potential jobs, displayed at this year's CEDIA. And in that capacity, they partnered with CEDIA to present the results of their first ever Smart Home Trends Study. According to Hausman, they hope to continue with the survey in future years to elicit more trends.
Homeowners Talk Smarthomes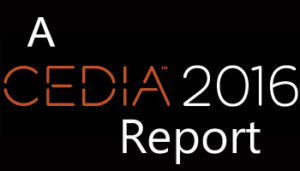 There were 1,000 participants in the study. In order to qualify to participate, each individual had to be someone who had completed a home remodel within the last twelve months, or were planning a home remodel over the last twelve months.
For survey participants, Houzz defined a smart home as one with two or more smart devices. And a system or device has smart capabilities if it can be monitored and/or be controlled by a mobile device or computer.
The first slide Hausman popped up noted that when remodeling their homes, 55% were installing non-smart device. Another 45% of respondents said they were choosing smart devices. Because this is the first such survey, we have no basis of comparison – but we'd bet if this study was done five years ago, the number installing smart devices would be significantly smaller.
Homes are More Connected…and Smarter
According to the study, Hausman says, homes are becoming more connected…and smarter.
"We also found out that renovated homes are more than twice as likely to have a smart device in them post-upgrade than pre-upgrade," Hausman told the assembled CEDIA show attendees. "So 51% would have a smart device post-upgrade, while only 20% of folks had a smart device pre-renovation."
Interestingly, the slide shows the number of smart devices installed before and after the renovation. And although the average number of smart devices installed clearly was up (0.4 devices pre-renovation vs. 1.4 devices post-renovation), the largest category was 1-2 devices (15% before, 27% after renovation).
What Homeowners Say Their Smart Home Priorities Are
Maybe the biggest surprise for us was how homeowners ranked their priorities for smart home upgrades: #1 was Lighting; #2 was Climate Control; #3 was Security/Safety; and last, #4 was Entertainment. Fully nine out of ten participants said their projects were Lighting projects. About half of that number (46%) said their project was for an Entertainment upgrade.
However, when looking at those categories in terms of those opting to install smart devices, the order changes completely: #1 is Security/Safety (25%); #2 is Entertainment (18%); #3 is Climate Control (14%); and last place is #4 Lighting (12%). So for those choosing smart home upgrades, entertainment moves up the list.
Entertainment Systems Projects – How Many are Smart?
Focusing on those installing entertainment devices, Hausman noted that TVs were the most popular item (32%) in an entertainment renovation project. This was followed by speakers (25%), video-streaming devices (13%) and music-streaming devices (11%). The percentage of those opting for smart entertainment devices was remarkably consistent 7%, which to us seems a little low.
In looking at environmental systems, a full 30% of participants said they chose to install a new thermostat or other temperature controller. Of this number 12% chose a smart device, while 18% opted for a non-smart version. Only 7% of respondents said they were installing motorized blinds or shades. Of of this bunch, only 2% selected a smart version.
Why Did They Choose Smart Entertainment Devices?
The study participants who indicated they executed or planned entertainment system renovations where asked to identify the reasons for choosing smart versions. An impressive 80% said it was to "Improve the entertainment experience." This was followed by 55% who said they wanted to "Improve my comfort or the comfort of my family." Only 27% said it was because they wanted the latest technology. And, surprisingly, only 17% said they added a smart entertainment device for the "Ability to monitor or control from anywhere" – even though this is a widely pitched feature of smart devices.
We see a similar situation when participants are asked why they chose a smart thermostat installation. In this case, 71% said it was to "Improve my comfort or the comfort of my family;" 68% said it was to "Reduce energy consumption." And while 41% identified the "Ability to monitor or control when away," only 20% said their choice was for the "Ability to monitor or control from anywhere."
But The Key Benefit of Smart Devices is NOT Why Consumers Buy Them
We noticed this same pattern with smart lighting where 59% of the respondents said they chose to go with smart options in order to "Reduce energy consumption." But only 25% said it was for the "Ability to monitor or control from anywhere," and another 25% said for the "Ability to monitor or control when away." Both of these latter options were the bottom two choices.
We're not sure why respondents aren't identifying what our industry believes is one of the key benefits to smart technologies (remote monitoring and control), but we saw it over and over in the study results. So I guess we can say that this was a bit of a surprising result.
Who is the Most Satisfied with their Smart Device Upgrade?
However, when asked to rate their satisfaction with smart technologies, those who chose the best rating ("very satisfied") were substantially higher for Smart Upgrades as compared to Non-Smart Upgrades. In fact, here Entertainment led all the categories: 72% of survey respondents said they were very satisfied with their smart entertainment devices as opposed to 43% who said this of their non-smart entertainment devices.
When asked what their greatest challenges were in selecting their smart upgrades, 38% of participants said "Educating myself about available options," while 37% said it was "Finding the right products/technology." Interestingly, only 11% said their greatest challenge was "Finding the right professionals/installers."
How Much Did Consumer Say They Spent on Their Entertainment Project
For those opting to stick with non-smart devices, Houzz asked them to describe the barriers to adopting smart devices. The top three responses are enlightening: "Just not interested" (37%); "Too expensive/pricey" (31%); and "Concerns about privacy" (23%). Reason #3 caught our attention – as our industry plunges headlong into the world of IoT, privacy is likely to become a significant challenge for consumers.
How much did study participants say they spent on their smart entertainment renovations? The largest group (34%) said they spent $501-$1,5000. This was followed by 28% who said they spent between $1,501-$2,500 on their project. Finally, 21% said they spent $5,001 and more on their smart entertainment project. These numbers seem quite low to us, at least in the realm of the CEDIA custom integration channel.
Take a Guess on Which Product Segment has the Highest DIY Component
Finally, Houzz concluded that of all of the categories they studied, entertainment rated the lowest in terms of percentage of homeowners who hire professional installers for their projects. For example, 92% of the survey participants said they turn to a professional installer for motorized ("automatic" in the study) window blinds and shades.  And 62% use a professional installer for a lighting project installation. But only 38% said they turn to a professional installer for a smart TV installation, which was the largest category in the smart entertainment category.
The slide that Houzz used to show this for the entertainment category was titled, "Greater DIY in Entertainment Installation." Indeed…
CEDIA members are invited to download a copy of the Houzz study at: info.houzz.com/SmartHomeTrends.