The news and events surrounding troubled guitar and consumer electronics company Gibson Brands, Inc. seem to be moving at a rapid pace with almost daily revelations as the company struggles to survive ahead of a massive debt due-date just a few short months away. We learned over the last few days that Gibson has sold their recently shuttered Cakewalk Inc. division and laid off staff in their famous Custom Shop operation.
See more about the continued dramatic developments surrounding Gibson…
Gibson's financial problems are now widely reported as the company has a looming debt maturation on debt totalling $520 million. We first called this out in 2017, and even questioned whether the company was plunging headlong into a potential debt default. Since our report then, Gibson's situation has only gotten shakier, as the financial results of business operations continue to deteriorate.
Recently, Gibson CEO Henry Juszkiewicz blasted out press releases and went on a bit of a media blitz in an attempt to try and counter all of the negative publicity. But just as he got started, his legs were cut out from under him as credit rating agency S&P Global Ratings downgraded the company's credit rating to a level suggesting that default was imminent.
Cakewalk Sold to BandLab Technologies
Near the end of last year, Gibson stunned the music world by suddenly shutting down Cakewalk, Inc., a popular provider of music recording software. A few days ago, BandLab Technologies, a global music brand collective, announced that they have acquired certain "assets and intellectual property" of Cakewalk from Gibson Brands. The terms of the deal were not disclosed.
In a prepared statement, BandLab CEO Meng Ru Kuok said, "We are very excited to be bringing Cakewalk Inc.'s products into the BandLab Technologies stable. Cakewalk has been an industry leader in professional music software, delivering cutting edge technology that has empowered producers and artists alike around the world for more than 30 years. We have immense respect for Cakewalk's legacy and the incredible community of people who love the brand and rely on its products in both their personal and professional lives."

You can get to the trial page on Cakewalk's website, but click to try and buy it and you're taken to the shutdown announcement.
Talk About Good News/Bad News – Custom Shop Hit With Layoffs
While this announcement from BandLab was welcome news to Cakewalk users, other more ominous news emerged that Gibson has laid of at least 15 employees of its widely regarded Custom Shop. According to a report by the Nashville Post, the staff was laid off on Monday this week from Gibson's Custom Shop on Elm Hill Pike in Nashville.
Gibson's Custom Shop hand makes recreations of iconic Gibson guitars for clients. Want a 1954 Les Paul? – the Custom Shop can build one for you. The Custom Shop also produces copies of guitars from famous guitar players…all at prices ranging up to as much as $20,000.
All Levels Hit Including Supervisors
The layoffs hit all levels of Custom Shop employees, up to senior workers – and even up to the supervisor level. The report quotes Juszkiewicz as saying the staff reductions are "part of a broad initiative throughout the company to prepare for our refinancing."According to Juszkiewicz, the reductions will leave a total of about 100 custom shop employees, some based in Nashville and some based in other locations.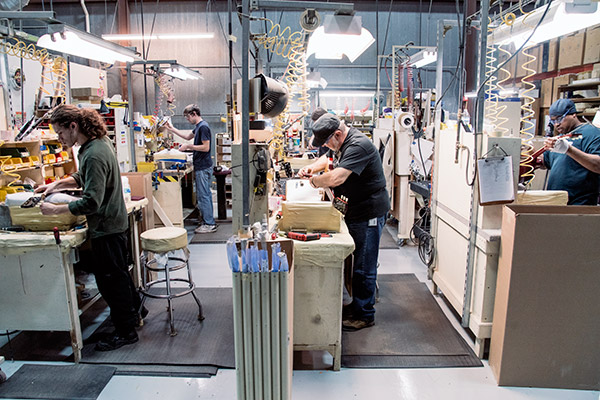 Gibson has $375 million in bonds coming due on August 1, 2018. In addition to this, they have another $145 million in debt coming due just days before that on July 23, 2018. Multiple reports indicate the company does not possess the resources to make these payments and is frantically seeking to find a new lender or investor to refinance their debt with a new $550 million debt package.
Asset Sales Were Not Enough
Since our report last year, we have noted the company embarked on a dramatic asset disposal program, selling off various warehouses and other underutilized buildings, in an attempt to raise cash. The company even sold off their iconic Memphis factory and showroom.
So far, the company has not touched their consumer electronics holdings, such as Teac/Esoteric/TASCAM, Onkyo/Integra/Pioneer, Woox Innovations (Philips accessory division), and more. However, Juszkiewicz has let it be known that everything, including the many brands in its stable, are available to be potentially sold. Given the size of their brand portfolio, this is a significant group of assets.
Absent Refinancing, Bankruptcy Likely
However, the reality is that if Gibson is unable to successfully refinance their large outstanding debt, then they will likely have no alternative but to declare bankruptcy. As we recently reported, the company's existing bondholders are anticipating a bankruptcy filing by the company and actively taking steps to prepare for this new phase of the company's existence.
Learn more about Gibson at: www.gibson.com.