Is This the Next Big Thing?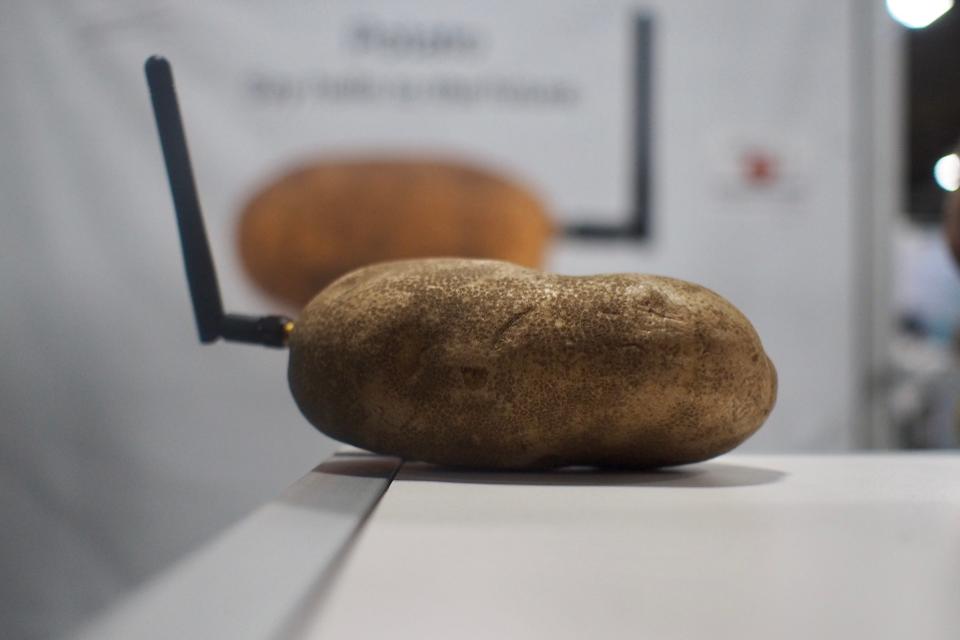 Who says the mainstream media has abandoned CES? No less than the venerable Forbes.com ran a feature story that noted an enthusiastic crowd gathered around a booth offering a dynamic presentation on an amazing new technology…a 'smart' potato. No, this is NOT a spoof by The Onion – it is real. Yes, the booth and young man promoting the smart potato was a stunt…but the article from Forbes about it is real.
Why Forbes featured a 'smart potato'…
I've noted for a couple of years now that the amount of coverage of the CES and its innovations from the mainstream mass media has declined dramatically. And even if they do cover it, it is almost as likely that they cover some silly new gadget…as they will any kind of serious major new technology story.
One place that many in the tech media focus their attention is Eureka Park, the part of the show where you'll find many new startup companies. The thinking is here is where you'll potentially find tomorrow's next-big-thing.
Is That a Potato?
And it was in Eureka Park where one intrepid tech reporter sent to the show by Forbes.com was drawn to a crowd around a booth, apparently being thrilled by a presentation of a weird looking device. It looked a bit like a…potato!
In a story titled "Somebody Snuck a Potato Into CES 2020 To Make A Scathing Point About Useless Smart Gadgets," writer Pete Pachal tells the story of perusing Eureka Park and being drawn to a small crowd apparently enthralled by a presentation from Nicholas Baldeck who was indeed holding up a potato…a potato with an antenna sticking out of it.
The NeuraSpud Booth in Eureka Park
However, the headline to this story was a little misleading. Baldeck did not sneak this potato into CES, he bought a booth space, applied – and was accepted to – Eureka Park, and was showing his "device" to anyone who wanted to look at it. He was quite out in the open about it.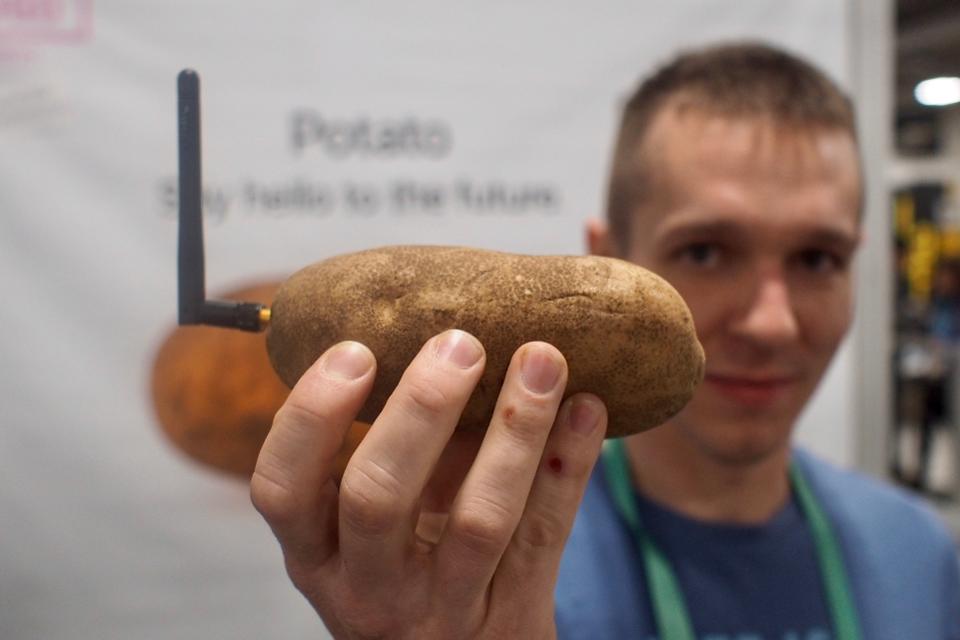 This potato, Baldeck calls it the NeuraSpud, has an antenna that pierces the skin of the potato, tapping into the vegetable's deep "artificial intelligence" and unlocking its "awesome decision-making power." When Pachal first saw Baldec, he "was regaling the Eureka Park crowd with his incredible smart product."
Making a Point about Pointless Smart Gadgets
Gaining the opportunity to interview Baldec, the Forbes reporter learned that this whole thing was a stunt. Nicholas Baldec, Pachal learned, is from France and he readily admitted that he brought this "ridiculous 'invention' to CES to make a point about the torrent of smart gadgets at the show, many of which don't really solve problems at all."
"This product has way more chance of success than 60% of the startups here. I am skeptical of this idea of 'connected everything.' Now it looks like innovation is about putting a chip into any object. I'm not sure the word 'smart' makes more sense before the word toothbrush than the word potato."

Nicholas Baldeck, NeuraSpud inventor
Electrode 'Reads' Potato Juices to Answer Questions
You have to admit, Baldeck is remarkably committed to his stunt. He told Forbes he spent about $1,000 for the booth, and another $4,000 for travel expenses, equipment and marketing. Oh and he needed a whole bag of potatoes.
The NeuraSpud, he claims, really works. The antenna is attached to a blade-like circuit board that penetrates deep into the potato and connects with the juices there. This blade, or electrode, "reads" the juices to produce answers to questions on an app. Think Magic 8-Ball…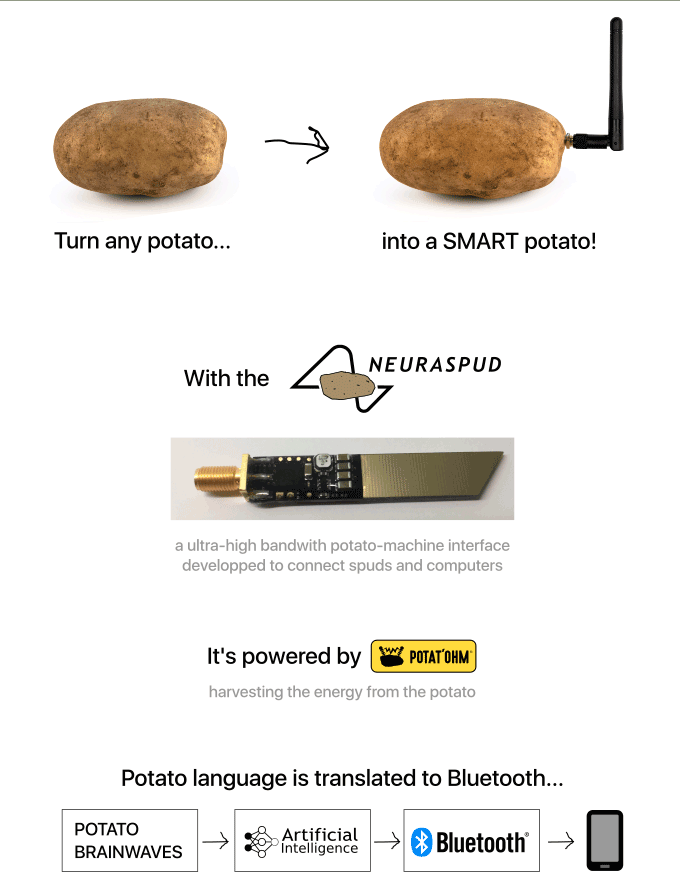 Eureka Park Rules; A 'No Comment' from the Consumer Technology Association
Forbes wondered just how all this silliness managed to get an official booth at CES in the first place. The Consumer Technology Association "declined to comment." Baldec told Forbes he's not surprised…they didn't talk to him either.
But CTA does have rules about just who can be in Eureka Park – nine of them in fact. Consider for example rule #4 – "Your product or service must be innovative with the potential to make a profound impact on the market."
It certainly seems odd that Baldeck's application passed with flying colors. In any event, Forbes' Pachal feels that Baldeck might have a good point with NeuraSpud.
"Smart Homes and smart devices are certainly not a fad, but it's also become clear that simply taking any 'analog' product and giving it a chip isn't revolutionary or even useful. For every smart breast pump on the market, there are hundreds of one-off smart gadgets that didn't take off because the complexity of having another app on your phone and another thing to recharge wasn't worth the incremental benefit.

Forbes.com
NeuraSpud Launches Indiegogo Campaign; Raises Thousands of Dollars with 53 Days to Go
The response to NeuraSpud at CES was pretty strong, so Baldeck decided to launch an Indiegogo campaign. His decidedly tongue-in-cheek campaign is also resonating. As of this writing on Wednesday, January 15, 2020 – Baldec has already raised $4,239 from 132 backers. They have set their target goal at $30,074.
Listed in the "Stretch Goals" section of the Indiegogo campaign, the company says if they instead raise as much as $90,000, they will create a potato blockchain. And if a $120,000 is raised, the potatoes will be able to communicate with each other over a mesh network.
Now that's innovation!
SEE MORE CES 2020 COVERAGE