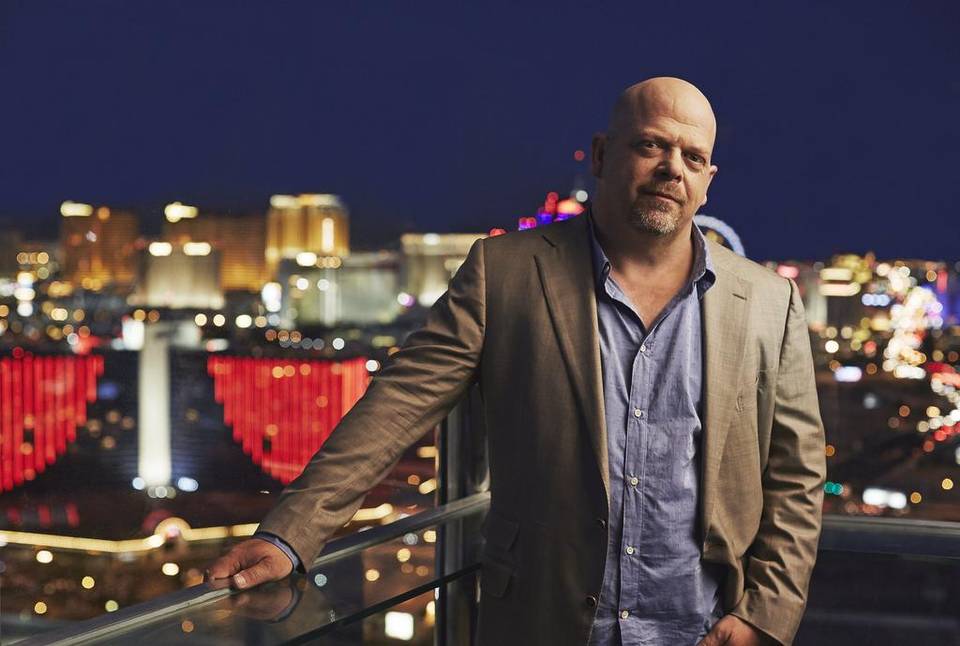 CES 2020, the big show, is about over (ending the day this was posted) and as usual there are a slew of announcements. It can be a little overwhelming with so much happening in Las Vegas, but there are some stories that flat out are just more important or interesting than others.
See my list of more interesting stories from CES…
Let me start by saying that there was little in the way of new themes this year. Much of the topics that were featured last year continue on into this year. I mentioned that there are a slew of new exhibitors this year – more than 1.500 new exhibitors out of a total of more than 4,500 total exhibitors CES says. That's a lot of new gadgets, on top of all of the other gadgets…at a show where it would be literally impossible to see it all.
Many of these, as I recently reported, stretch the concept of consumer electronics…or even tech for that matter, such as John Deere tractors and sprayers, Procter & Gamble electric toothbrushes, the Worldwide Wrestling Entertainment wrestlers, and more. But overall, the major themes of the event this year seemed to be an echo of what it was last year.
In fact, if you review my post last year titled Top Tech Stories from CES 2019, you'll see this:
"The top tech stories include – LG's rollable, bendable OLED displays, Artificial Intelligence (AI), 5G – the next generation wireless tech, 8K TVs, autonomous vehicles – both car and motorcycle, and Apple & Siri strike back."

Top Tech Stories from CES 2019
Scroll down further in this post and you'll find many of these themes repeated again this year, including the launch of an autonomous flying car – yet another big story from this year's show as well! With all this in mind, here – in no particular order – are some of the top stories from CES 2020.
Top Stories from CES 2020
---
LG Has Another Big Show; Leads the Way in 8K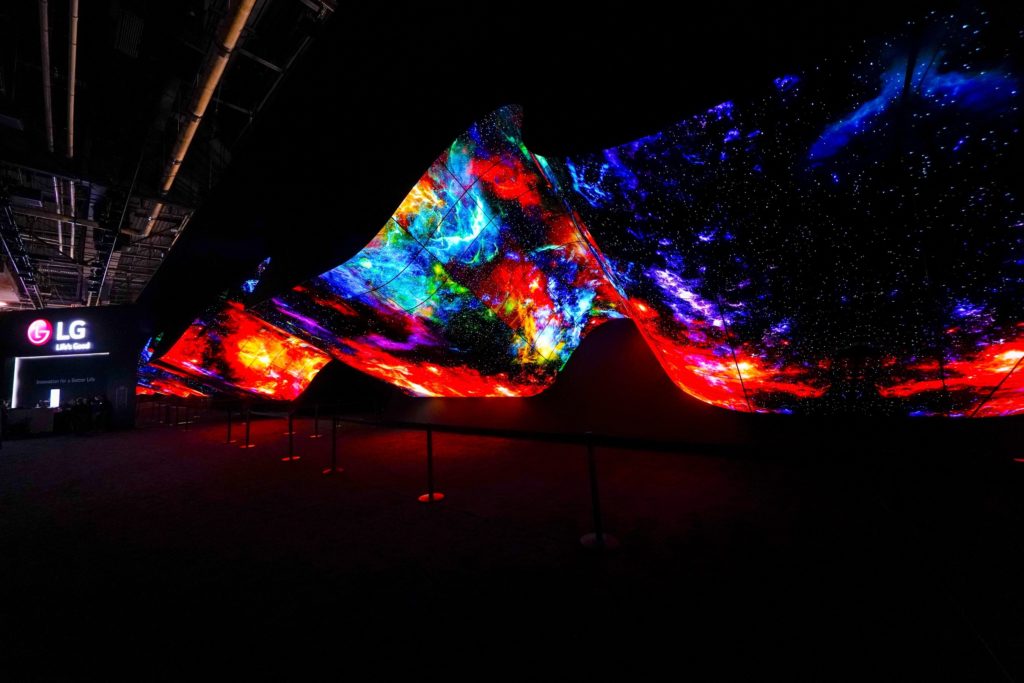 OLED Wave Display
Once again, LG wow'd the crowd with a dramatic display featuring their bendable TV technology known as the OLED Wave. LG has really perfected this flexible OLED technology which offers a stunning picture in a package that can adapt to unique forms and shapes. The OLED Wave display is made up of 200 (!) 55-inch OLED digital signage screens – 128 convex & concave, and 72 flat – featuring a mirror finish. It is a stunning display of OLED virtuosity.
LG also had their stunning waterfall display…also like last year.
LG 8K/4K OLED & NanoCell TVs
Beyond that LG, like all of the other TV makers, talked 8K – as they did at CEDIA…and as they did last year. The company is expanding their 8K TV lineup shown at CES, including eight TVs in the 77- and 65-inch class in combination with previously launched 88- and 75-inch models.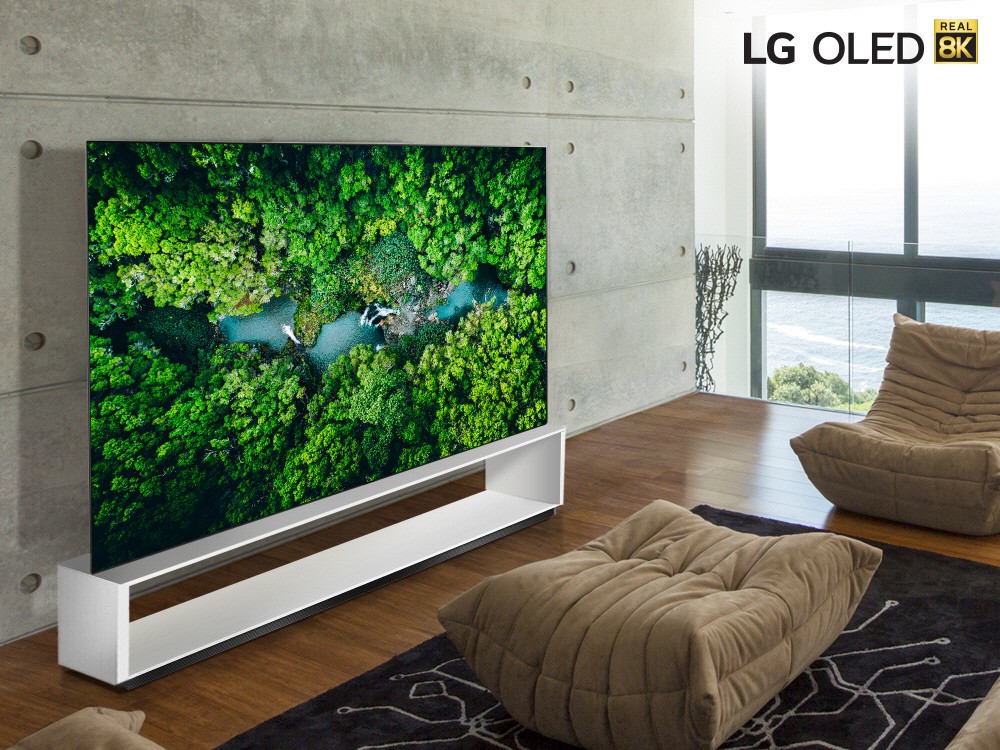 When you couple 8K resolution on an OLED panel, you get a stunning picture – at least with carefully curated 8K content. LGs extensive lineup, including the premium Signature OLED 8K TVs – the 88/77 OLED ZX – along with the LG NanoCell TVs – 75/65 Nano99, 75/65 Nano97, 75/65 Nano95 – all exceed the new official 8K Ultra HD definition as set by the CTA.
With new A9 Gen 3 processor and a "deep learning" AI-powered (did you catch that? AI or artificial intelligence, a theme from last year) 8K upscaler, these new LG sets produce the best picture the company has ever delivered. The company is also launching new 4K OLED models in their GX Gallery series. Gallery series is said to be "art-inspired" and are only about 3/4 of an inch thick. When coupled with a special mount, Gallery series models appear to be flush mount to the wall for an impressive visual effect.
Roll-Up & Roll-Down OLED TVs
Finally, let me point out that LG had their remarkable roll-up OLED TV set again this year displayed with a bit of a twist. In addition to a display of a group of roll-up TVs, LG hung some of these upside down to create a roll-down version. Apparently, it's a real thing, but it's actually the same set turned upside down, and with the large base of the TV now hanging overhead it probably wouldn't work well in all situations.
---
Samsung Declares the Dawning of the 'Age of Experience'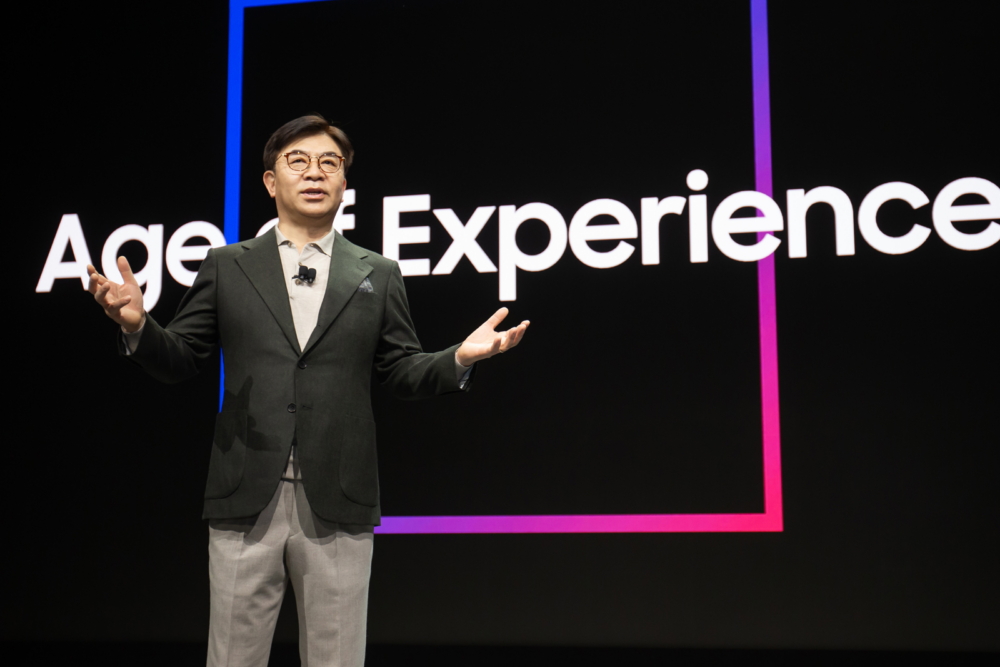 Samsung had a massive showing of new products from its many divisions – with new 8K MicroLED and QLED TVs, new portable SSDs, an impressive new 5G powered V2X (vehicle to everything) visual vehicle interface, an AR Fitness product, a little robot called Ballie that looks like…well…a ball, the smart home of the future, 5G-enabled Smart City technology, a new Samsung Health division, and much more. Many show attendees raved about Samsung's new sets as the company continues to push resolution and picture quality to new, previously unexperienced heights.
Many of us remember the era, decades ago, of free love known as the "Age of Aquarius." Now Samsung Electronics Consumer Electronics Division President and CEO H.S. Kim tells us, we are in the "Age of Experience."
"In the Age of Experience, we need to re-think the space we have to accommodate our diverse and evolving lifestyles. What makes Samsung's approach unique is the fact that we have a very clear philosophy built around human-centered innovation. We build and create to solve problems and enhance people's lives."

H.S. Kim, President and CEO of the Consumer Electronics Division of Samsung Electronics
The company says that the Age of Experience means that innovations must be "human-centric" and seamlessly combine hardware and software to create personalized experiences that "make life more convenient, more enjoyable, and more meaningful." Samsung products, presumably, offer just such attributes.
An Expanded MicroLED & QLED 8K and Lifestyle TV Lineup
Like LG and others, Samsung was talking 8K again. Also like LG, Samsung was talking about their MicroLED, QLED, and AI upscaling technologies (obviously, artificial intelligence is having, as Andy Warhol declared, its "15 minutes of fame"). There was a lot to take in, but Samsung TVs were definitely dazzling.
In addition to their 75-, 88-, 93-, and 110-inch MicroLED models, Samsung adds new 88- and 150-inch MicroLED models with their amazingly thin "infinity" design which virtually eliminates the bezel and blends the set into the wall. MicroLED panels fit together to create all new size and shape combinations to fit any space. With great picture quality and high brightness (5,000 nits), MicroLED could be the perfect solution for consumers.
Samsung's ultimate quality, however, comes from their remarkable QLED line of products. At CES, the company is showing their flagship Q950TS 8K LCD TV with its top-of-the-line AI Quantum Processor 8K with 8K AI upscaling and – have you heard this before – "deep-learning" capabilities. The Q950 features the "Infinity Screen" design with a screen-to-body ratio of 99% for an unprecedented viewing experience.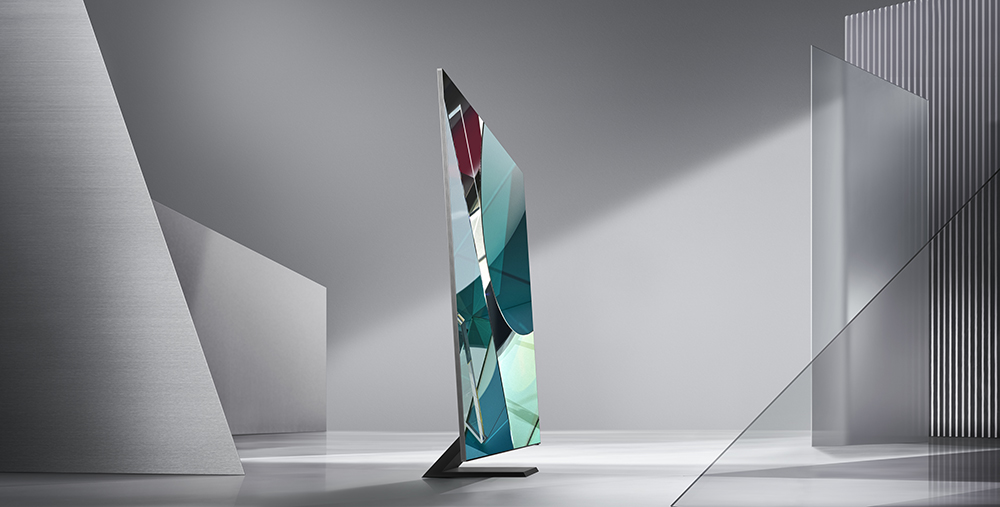 The Q950 also includes the company's sound innovations, such as Q-Symphony, Object Tracking Sound+, and Active Voice Amplifier for immersive sound with dimensional and dynamic audio.
Finally, Samsung showed their lifestyle model called The Sero. The Sero looks like a typical large screen model until you discover that you can spin it to portrait mode. This allows you to optimize the set's position depending on the content you want to watch. Do you want to stream a video you created on your smartphone to the set? It'll look better in portrait if that is how you recorded it. The Sero won a CTA "Best of Innovation" award at CES 2020.
Ballie
During the Samsung keynote presentation, CEO Kim introduced the audience to a robot they call "Ballie." I'm sure it is only a coincidence that it is shaped like a large softball, but Ballie is meant to follow you around like a new puppy everywhere you go. It detects your motion and tracks a few feet behind you – ready to assist you in whatever you need.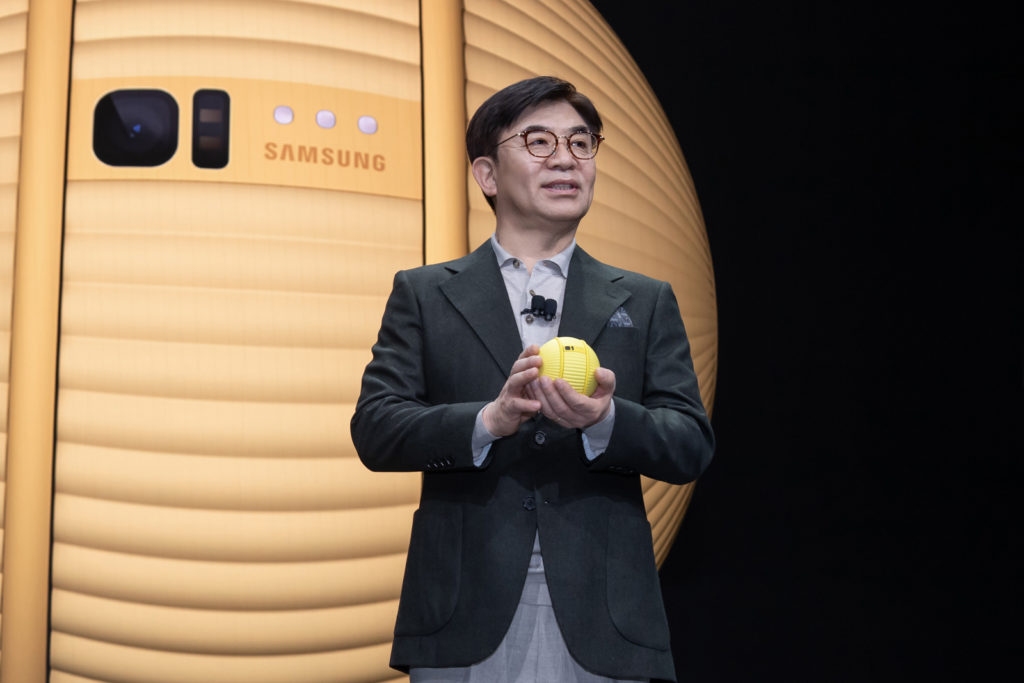 Kim called Ballie a "life companion" and suggested that it will always be with you, ready to respond dynamically to your needs. Other than following him as he walked around the stage, and responding to his verbal commands to move forward or back, we don't know the total scope of what they envision Ballie to be able to do. However, Kim said at one point, Ballie will keep him on time for his appointments.
---
AudioControl Featured in the IMAX Enhanced Booth at CES
AudioControl home cinema products are featured in the IMAX Enhanced Village display at CES 2020 in Booth 10048. Attendees could see a representation of the extensive line of AudioControl home cinema line of products including Maestro Series preamp/processors, Concert Series A/V receivers, and G4 series amplifiers.
AudioControl joined the IMAX-Enhanced program in early 2019. This program is a certification and licensing initiative that pairs the best CE products with IMAX digitally re-mastered 4K HDR content and DTS audio technologies to deliver a premium, upgraded movie experience to end-users. For AudioControl, it is the perfect compliment to their expanding premier home cinema business with the top custom integration companies around the country.
Also at CES on Wednesday, AudioControl's 12-volt division featured a celebrity visit to their CES booth #3921 from Rick Harrison, co-owner of the World-Famous Gold & Silver Pawn Shop in Las Vegas. He is also a star of the History Channel's very successful Pawn Stars show. (You can see Harrison's photo at the beginning of this CES roundup.)
Harrison showed off his 1947 Dodge Power Wagon, a remarkable vehicle in its own right, and one which includes an amazing sound system comprised of top AudioControl models, such as the 6-channel D-6.1200 DSP-enabled power amplifier. In addition to showing off his trick ride, Harrison also answered attendee questions and signed autographs.
---
New Sony 8K LED, 4K OLED & 4K LED TVs Offer Unique Proprietary Technologies
Sony launched several new TV models at CES 2020, including a new 8K LED model, two new 4K OLED models, and two new 4K LED models – all of which offer better picture quality and sound thanks to Sony proprietary technologies. The company has been very well received in the custom integration market, especially its OLED TVs, thanks to its strong brand reputation and high quality product.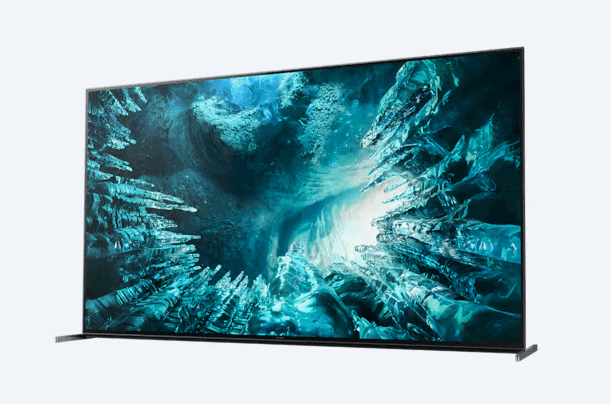 Sony's new TV models include:
Z8H: 85-/75-inch 8K LED TVs with all of Sony's top technologies including Picture Processor X1, Full Array LED, Triluminos Display, Dolby Vision & Dolby Atmos support. Most importantly, it includes the all-new Frame Tweeter technology which allows the sound to emanate directly from the screen for enhanced realism; AND it comes with a backlit remote…and much, much more.
MASTER Series A9S: 48-inch 4K OLED TV – This is a new size for Sony which says it is meeting "consumer demand for smaller, high-quality OLED options." The A9S offers best-in-class MASTER series picture quality and has all of Sony's premium OLED TV features, such as Picture Processor X1 Ultimate, Pixel Contrast Booster, their popular Acoustic Surface Audio, and more.
A8H: 65-/55-inch 4K OLED TV – Includes Picture Processor X1 Ultimate, Pixel Contrast Booster, X-Motion Clarity technology, two subwoofers to enhance the included Acoustic Surface Audio, Ambient Optimization to optimize the picture for any environment, and more.
X950H: 85-/75-/65-/55-/49-inch 4K LED TV – Sony says this model has the "best-ever picture and sound quality for 4K LED TVs." Includes: Picture Processor X1 Ultimate, Full Array LED, X-Wide Angle technology, improved Acoustic Multi-Audio sound with bi-amp system and X-Balanced speaker. Also has a Flush Surface design and a bezel-less look, Ambient Optimization and more.
X900H: 85-/75-/65-/55-inch 4K LED TV – A mid-level Full Array LED model that includes: Acoustic Multi-Audio (65-inch & above) with X-Balanced speaker, Dolby Vision and Dolby Atmos support, diamond cut bezel, Triluminos Display, works with smart speakers including Google Home and Amazon Alexa, and more.
Vision-S…The 'S' stands for SURPRISE!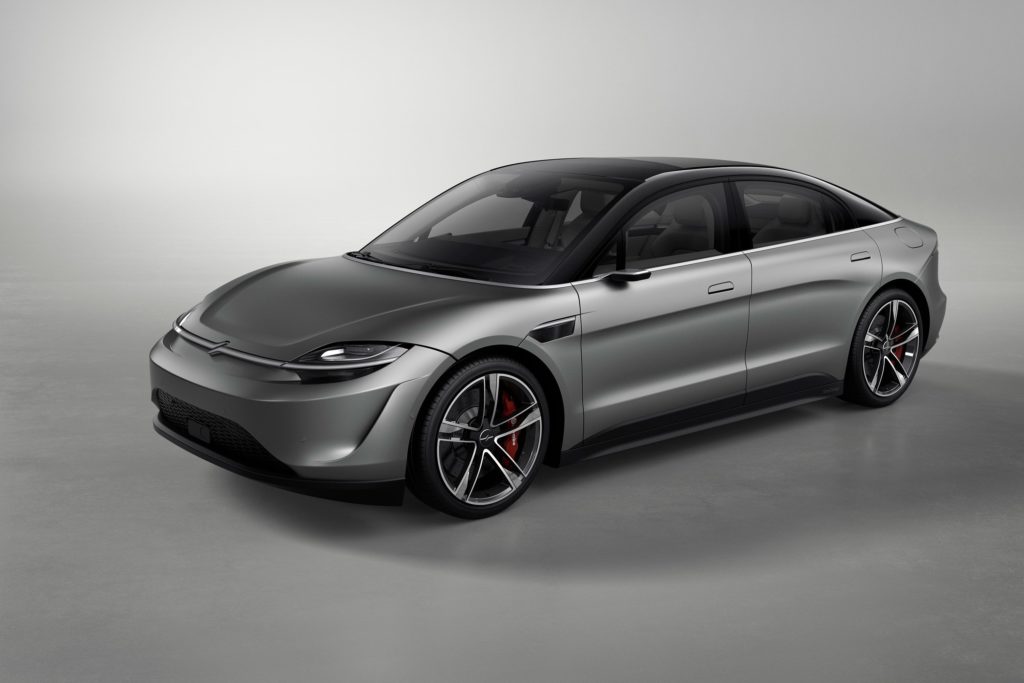 Perhaps the biggest surprise Sony had to offer at CES 2020 was their Vision-S car, a prototype that Sony created that is meant to express the company's vision of the future of mobility. There was an audible disruption from the audience at their press conference when the Vision-S rolled out onto the stage.
An electric vehicle, the Vision-S was said to have been built by the company's AI and robotics team, although I can tell you many people suspect an automaker was involved as well. In any event, the Vision-S includes 33 Sony sensors – both imaging and sensing types. Sony already sells these sensors to automakers, but they wanted to test and experiment with a full complement of them for more systemic study.
It is not a fully autonomous vehicle, although it does offer auto parking, auto lane change, and other autonomous sub-features. The concept, however, is more of a driver assist proposal. The company says it has a rockin' AV system.
---
Hyundai & Uber Autonomous Flying Taxi
I'm not sure just how real this is yet, and I reported on a similar concept last year from a different group, but Hyundai and Uber have partnered to develop a concept of an autonomous flying taxi for metro areas called the SA-1 Urban Air Vehicle. The idea is to provide increased capacity to predominantly urban transport by going to the sky rather than adding to roadway congestion.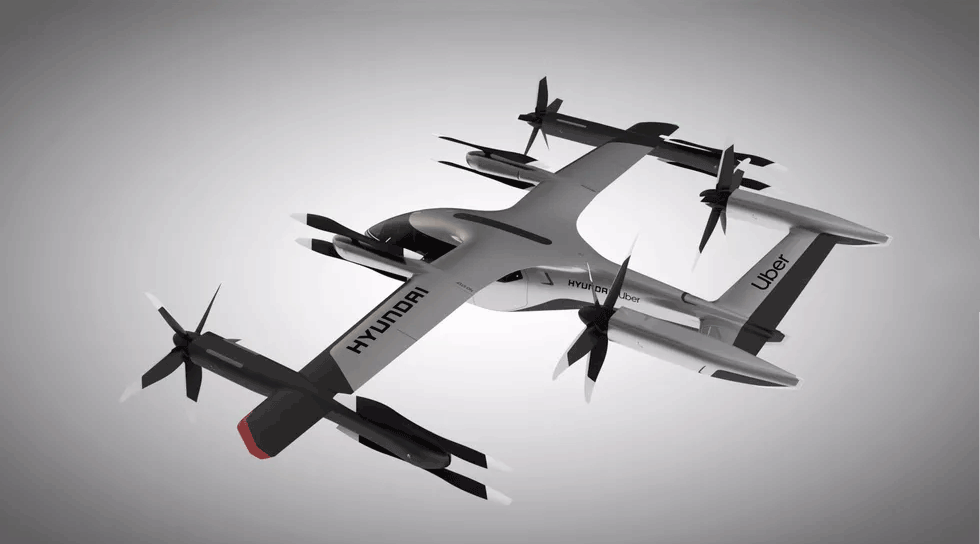 This Hyundai version looks more like an airplane than a helicopter (as some other groups' prototypes do) and has special propeller design and all -electric power that is said to make this option substantially quieter than other concepts. By the way, those propellers shift from horizontal to vertical configuration for full VTOL (vertical takeoff and landing) purposes.
With a capacity of five (including a presumably unneeded pilot…remember, this is autonomous) after taking off vertically and reaching an altitude of 1,000-2,000 feet, the propellers reposition horizontally driving the vehicle forward at a rate of 200 mph. The batteries will last about 60 miles, so the concept is more of a New York City-to-Trenton, NJ…or San Francisco-San Jose kind of trip rather than a coast to coast one. Once you arrive, your Uber car will be waiting to take you that last mile(s) to your ground destination.
Uber has partnered with multiple parties to work on this exact same project, known as Uber Elevate, including Embraer, Bell, Joby Aviation, Pipistrel Aircraft, Karem Aircraft and Jaunt Air Mobility, according to a report by CNET. Note that these are all aeronautics companies. But don't sell Hyundai short…they have prodigious manufacturing capabilities and plenty of dollars to work on a solution.
Thanks to CNET for their excellent reporting on the SA-1 story, which informed much of what you read in this SA-1 summary…