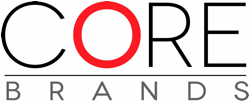 The 2012 CEDIA Expo launched with a bang for me as I previously reported when, upon entering the convention center, I was collared by a PR person who quickly walked me (without explanation) to a high-level executive for a Nortek company who felt the need to tell me – in compelling and direct terms – what he thought of strata-GEE.com's coverage of the Core Brands consolidation. (Hint: he didn't like it.) After a few minutes of somewhat hot-under-the-collar conversation, things cooled off a bit and he offered to get me together with the Core Brands management to clarify the situation.
Now we're getting somewhere…
Thursday, the day the show opened, I was able to sit down with Core Brands President Bill Pollock, and Paul Starkey, Senior Vice President, Marketing. Starkey went out of his way to make himself available for this interview and seemed anxious to talk. The tone was cordial and professional as both Starkey and Pollock sought to clear the air on what they perceived were misconceptions about the process the company was going through.
For those who don't know, Nortek, Inc., a Rhode Island-based company focused largely on residential and commercial construction related products, began a process two years ago to consolidate several of the brands in Nortek's technology solutions segment. To this end, a new entity called Core Brands was created to consolidate and manage ten brands in its TECH portfolio. These brands are: Aton, BlueBOLT, Elan, Furman, Niles, Panamax, Proficient, SpeakerCraft, Sunfire, and Xantech.
Day 1 of the show…and Day 1 of the new company…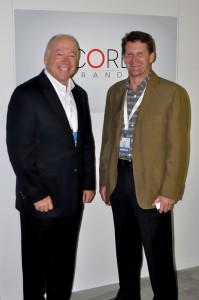 The executive team running Core Brands are Bill Pollock, President; Dave Keller, worldwide sales; Keith Marshall, channel management; and Paul Starkey, Senior Vice President, Marketing. strata-GEE.com has run several articles on the various stages of the consolidation, which caught the attention, apparently, of some of some of the company executives.
It was Day 1 of the show and the Core Brands booth was busy. I found Starkey and introduced myself. Starkey took me to a poorly-lit, back meeting room and left for a moment – only to return with Pollock.
Haven't stopped shipping…
With a quick, easy manner, Starkey – the marketing guy – was attentive and quick to respond with a well-crafted, positive phrase. Pollock seemed to be equally anxious-to-explain…but had a slightly more methodical and thoughtful delivery.
"Well the first thing your readers need to know is we haven't stopped shipping," Starkey gushed with a big smile as soon as we sat down. "We are taking orders and supporting our customers with no disruption."
Seeking to assure me that everything was under control internally, Starkey explained that the company felt the need to be circumspect in their public communications out of respect for the displaced executives who were exiting the company as a result of these changes. It was no doubt a sensitive situation given the fact that some of these departing executives were well-known in the industry, and in some cases the charismatic personification of their respective brands – and popular with their dealers, as well.
A significant amount of angst…
Still, I told the executives, the power of these brands, the popularity of some of the departing executives, and the somewhat terse public statements caused many of the employees, sales reps, distributors, and dealers a significant amount of angst. Consolidations, I told them, can be scary to your stake-holders as it feels like everything they've always known about the company is gone – and they don't know what to expect.
Interestingly, the Core Brands executives sought to distinguish the latest developments from the earlier first round of consolidation. In fact, they maintain that this isn't really another AVC reorganization at all…it's more of a Nortek reorganization.
"This really speaks to the leadership changes at Nortek with the emergence of Michael Clarke and Sean Burke," Pollack said. "We consider it an integration…rather than a consolidation."
An integration, not a consolidation…
Starkey and Pollock took exception to our characterization of the company leaving everyone, including employees, in the dark. In fact, Pollock said, there are four physical facilities for Core Brands around the county and he's been to all of them. While there may have been some earlier confusion, the company says it is now completely transparent at the employee level…any past confusion is resolved.
And besides, they told me…there's a lot to be done in a scenario like this. "You can't have it all done on Day 1," Pollock protested.
A 4-step launch…
The Core Brands President said that there is a four-step process to this integration:
Assemble the management team
Have that team create a new go-forward business plan
Submit those plans to corporate for approval
Execute those plans
Starkey jumped in and said that when all of the brands presented their business plans, something he hadn't expected immediately hit him. "It was amazing how little overlap in dealers" there were between the brands.
Little dealer overlap…
"We have like 2,300 customers and there was only about  20-30% total overlap," said an amazed Starkey. Starkey went on to say that it was obvious that they had to tear down the barriers and make it easier for dealers to access their entire portfolio of brands.
Another thing hit them as they looked at each of the ten brands – each brand had lost focus. "Most of the brands had between 600-900 products," Starkey told me. And as each brand over the years had engaged in incremental line extensions, Starkey added with a touch of irony, they each "got into areas outside of their centers of excellence."
It's not hard to see the problem…
It was not hard, the executives said, to see large areas of duplication. Pollock said this duplication was a terrible resource inefficiency on many levels. Pollock added that brands can be in similar product categories, but they need to do so more efficiently.
With each brand spending money on research and development, to create essentially the same product with minor variations, they were multiplying their corporate costs.
"Just by eliminating the R&D overlap, we'll have 30-40% added spend for the same dollars," Pollock said enthusiastically.
Key concepts…
Starkey said that the management of Core Brands is right now centering on four key concepts:
Access – They want dealers to have access to the Core Brands portfolio
Focus – They want to get brands focused on their "centers of excellence"
Less is more – "We want to do fewer things…but do them bigger."
Get pushy – They want to push resources to the field for greater support
Changes to distribution?…
I asked the execs – can you tell me what changes, if any, are planned for the distribution of the Core Brands brands?
"Decisions on distribution will be by channel management," Pollock blurted out. "But let me say this – we have brands that should be direct, and we have brands that should be distributed."
I asked Pollock about his feelings about this new position that has been thrust upon him. His background is as an entrepreneur…now he's a corporate manager – a very different type of position. Pollock thought for a second, then said convincingly:
First of all, I'm a leader – and this role really requires a leader. Second, I'm passionate about building a team. Third, I'm equally passionate about product innovation. And finally, I'm excited about getting the integration of this company right.
The challenge of maintaining brand uniqueness…
I then asked Starkey about the challenge of maintaining the individual brand identities of the ten merged brands. Without hesitation, Starkey talked about how our industry tends to "block brands."
"Dealers, for example, want to be the brand to the customer," Starkey said. But the fact is, many companies forget that products are made for the ultimate end-user, the consumer. To counter these issues, Core Brands plans on marketing their brands to consumers to make sure the brand message gets across.
Brand managers to guard brands…
To make sure that the brand identities stay distinct and true, the company has created a Brand Manager position. There are a total of ten Brand Manager positions – one for each brand. So far, seven of these positions have been filled. The Brand Managers have the primary responsibility for focusing on: strategy, priorities, and resources for their brand.
"We're very committed to not homogenize the brands," Starkey said firmly.
Added Pollock: "We have a lot of talented people who will help us to succeed."
Turning back to wrap up the topic of their marketing plans, Starkey said: "Marketing is about finding and keeping customers. And marketing is about finding and growing the 'pie'. That's our opportunity with these ten brands."
For more information on Core Brands, see: www.corebrands.com
RELATED STORIES_____________________________________________
Seeing CEDIA in a Whole New Light
Nortek Noise Continues – Xantech President Hallett Leaves the Company
Here We Go Again – Nortek Reorganizes Its Reorganized Reorganization
Nortek Financial Results Show That, Despite Best Efforts, TECH Remains Troubled
BREAKING NEWS: Nortek Reorganizes Its Reorganization
Nortek's Net Losses Continue, And Continue to Improve
Nortek's Losses Increased in 2011, But Company Says Q4 Results are Encouraging