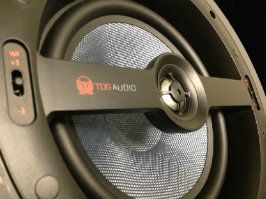 The DaVinci Group (TDG) announced that it has added new partners to its sales representative and distribution network, expanding its sales force backbone to help better serve dealers and integrators as the company continues to grow. The Ontario, CA-based company launched at the end of last year and says it has experienced rapid growth through the end of 2013. This growth continues to accelerate as the company brings more regions on board,
See which reps and distributors have joined TDG as well as what regions they serve…
TDG builds and sells products primarily for the custom integration channel under the brand names The DaVinci Group, Blue Aura and Vanguard Dynamics. The company has continued to draw attention since their launch last year thanks to a string of announcements of their many innovative initiatives.
For example, the company boasts a unique structure where their dealers…and even their sales representative companies…can become true partners and buy ownership shares in TDG. We are not aware of any other company in the custom integration industry doing that – other than large public companies.
Can a warranty program be innovative?…

Then, at the end of 2013, the company announced a really creative – and dealer-friendly – product warranty program called Warranty Plus. Not only is Warranty Plus one of the best overall warranty programs in the industry – the company sweetened the pot by offering installers $75 to reimburse them for their cost of uninstalling the defective item. This also, to the best of our knowledge, is unequaled in the industry.
Now TDG announces a significant expansion of their rep and distribution network – positioning the company for yet further expansion in 2014. According to a release from TDG, they have added 4 new sales representative firms and 8 regional distributors.
The new representative firms are:
N&S Marketing – Covering the states of Washington, Oregon, Alaska, and Northern Idaho
Cardinal Sales – Covering Kentucky, Indiana, Ohio and Western Pennsylvania
Boyle Sales – Covering Michigan
Sound Product Marketing – Covering New York State (Upstate New York)
Many of you will recognize these names as they are some of the most respected specialty electronics reps in the business.
"We're thrilled to announce these firms as part of The DaVinci Group family," Daniel Kippycash, CEO and Co-Founder of The DaVinci Group said in a prepared statement. "The rep support and relationship is paramount to us being able to provide the dealers the level of support and service we feel is needed. It's an honor for our entire team to have firms with such history and experience join our family to represent our products in each region."
Expanded distribution backbone…
Distributors are also an important part of the company's go-to-market strategy. And here, the company announced a major expansion with a total of 8 new regionally deployed distribution partners.
"Distribution is an important element for local dealers to have access to valuable services, training and product when they need it," Kippycash said. "However, there is also a fine line between protected distribution and over-distributed product lines. The DaVinci Group is working to select the finest regional distributors around the country. We are excited to have these partners on board and stocking all of the Vanguard Dynamic and Blue Aura products."
For more information on The DaVinci Group, its products, or its sales network, visit: www.tdgaudio.com.