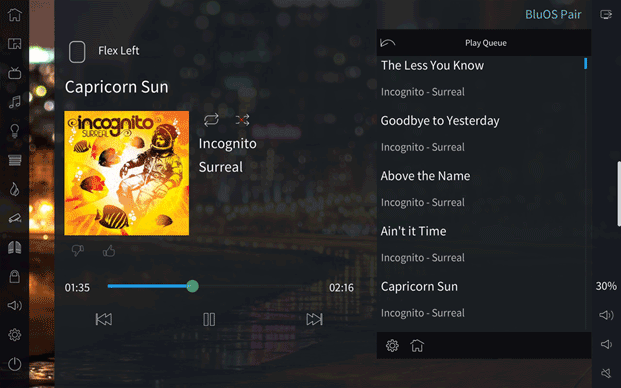 BluOS, the music management and operating system that is part of Lenbrook International, announced a couple of important integration partnerships today – and in so doing, demonstrate their growing influence as a leading premium music system user interface in the industry. The company says it has new integrations with both URC and Crestron.
Learn more about these BluOS integrations…
In today's world, there are many brands offering some form of wired or wireless multi-room music systems. While that is becoming increasingly common, what is uncommon is but a handful of them actually develop their own, proprietary operating system – and in that rare camp is where Lenbrook's BluOS squarely sits.
Initially developed for its Bluesound brand – which I wrote extensively about here and even more so here – I gave Lenbrook a lot of credit for seeking to design and manufacture a differentiated solution targeted to the higher end market – a digital native who prefers a higher quality music listening experience. The fact that this new line also came with a proprietary operating system, escaped close scrutiny…their solution seemed fine at launch. I'm not sure that those of us in the press corps at that launch gave that point as much attention as it deserved.
Expanding the Support of BluOS Operating System
Some time later, the company expanded the BluOS operating system to its other brands, notably NAD, a reliable upper mid-fi brand. This seemed logical…NAD is a related Lenbrook brand looking at the same audiophile 2.0 customer. But shortly after this development, in an off-the-record discussion with a Lenbrook executive, I was told the company was actively seeking to expand its BluOS universe to other non-Lenbrook brands.
While I was skeptical, the move made sense strategically. But would others be interested?
Two Key Integrations Expanding the BluOS Universe
Now the company has successfully delivered on two key integrations that further spread the influence of BluOS. Both of these new integration partners, URC and Crestron, have a strong and loyal following.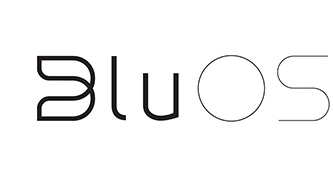 Lenbrook says that with URC, BluOS has created integrations with their popular Total Control automation platform. This integration, the company says, brings seamless control of HD audio streaming via URC's control solutions to BluOS-enabled products from Bluesound, Bluesound Professional, NAD Electronics, DALI Loudspeakers and Monitor Audio.
URC is always innovating and supporting the Custom Installation market and their most recent innovation in supporting high definition audio products completely aligns to our values. We appreciate their support and guidance on developing a robust and feature rich module that delivers what dealers and customers need."

Andrew Haines, BluOS Product Manager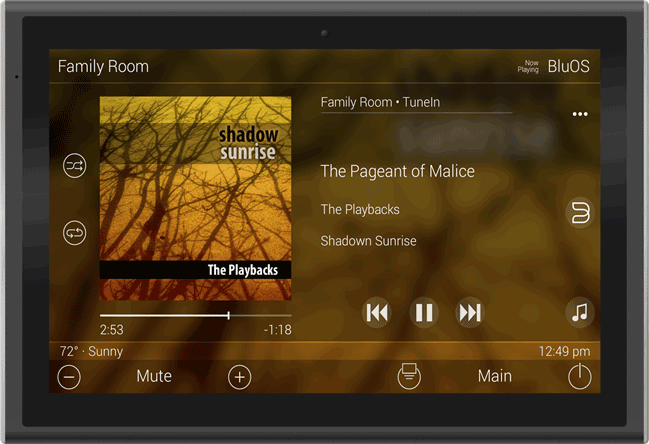 Key features of the BluOS/Total Control 2.0 module integration
Macro integration via two-way module commands and automation capabilities with Device Events
Compatibility with any Total Control or Total Control Flex system
Ability to assign a different Default Player to any/each interface
Discovery and display of all supported BluOS devices in the system
Source distribution such as a NODE2i Wireless Multi-room Hi-Res Music Streamer which can be connected as a source to HDA amplifiers for streaming throughout the entire system
Ability to generously configure and control macros and user settings…and more
The new BluOS Music Player Two-Way Moducle for URC Total Control systems is available for download in the URC Dealer Portal and at bluesound.com/downloads (and on NAD Electronics website).
BluOS Media Player Driver Gives Crestron Integrators Tools to Implement Hi-Res Multi-Room Audio
Lenbrook has also developed a new BluOS Media Player Driver, certified by Crestron, that the company says provides "…Crestron integrators a complete set of tools for implementing Hi-Res multi-room audio." With this driver, Lenbrook says integrators now have a content rich UI with full user controls like browse and search. In addition to this, this integration provides for programmatic control of the player transport, volume and preset recall.
Crestron is excited to announce availability for the BluOS updated media player integration. BluOS provides a feature-rich, audiophile quality media streaming experience that integrates seamlessly with Crestron automation solutions, providing an optimal user experience."

Ekin Binal, Crestron Audio Solutions Manager
Key features of this new BluOS Media Player Driver
Support for Bluesound, Bluesound Professional and NAD products
Automatic player discovery and static IP settings
Now playing information, playback controls, play queue management, source selection (including analog, optical, coaxial and HDMI auxiliary inputs), content browsing, searching and preset selection
Programmatic control to now playing information, playback controls and preset selection
Support for all BluOS languages
The company says that its new BluOS Media Player Driver (v1.0.1) is available for download in the Crestron Application Market and at www.blusound.com/downloads (and also on the NAD Electronics website).