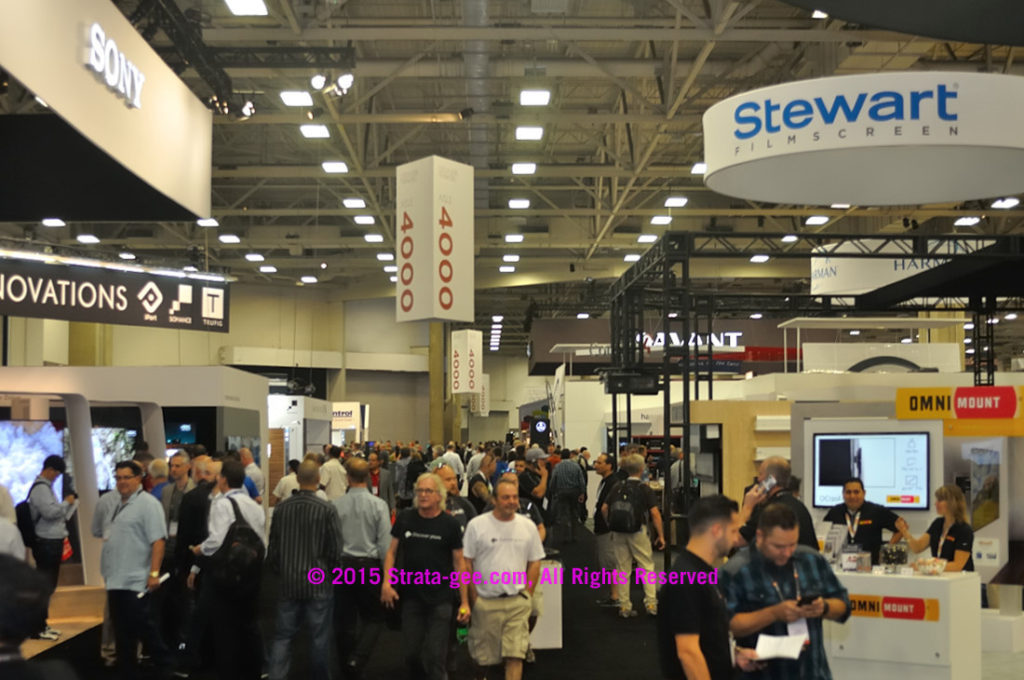 With CEDIA 2016 now over, those of us in the media are left to try and uncover the underlying themes in order to help our readers wrap their heads around just what this particular CEDIA (formerly referred to as the Expo) was all about. But this show is big enough that no one member of the media can possibly visit all booths, talk to all exhibitor executives, and experience all new models. So each of us have our own version of the themes of the show.
Read more below, to see our take on CEDIA 2016…
During our time at the show in Dallas, our impression was that attendance was strong – or at least it appeared that way. We took several photos of clogged aisles, sometimes so clogged that it was difficult to even enter certain booths. Most of the exhibitors, in our annual and wholly unscientific survey, gave attendance a thumbs up this year in contrast to last year. However, we did hear several complaints about the dramatic drop-off in attendance on Day Three (Saturday).
This was the first CEDIA show after a full year of guidance by new CEDIA CEO Vin Bruno. Bruno faced some strong headwinds in trying to pull off a vibrant and growing show – most notably, in February, his former employer…Crestron…announced it would pull out of the event this year. The biggest exhibitor with the largest booth – this had to be a blow to the organization. Eventually, Crestron came back in to the show, but only as a co-exhibitor in the Amazon Alexa booth, which was far smaller than where Creston has shown in the past.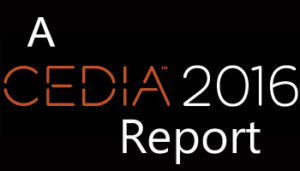 CEDIA announced attendance of 18,750 at the show this year – flat as compared to the 18,700 last year. While this is likely to be a disappointment to exhibitors, there could be a bright side to it. Considering the dramatically reduced Crestron presence, as well as the potentially diminishing effect their announcement may have had on overall attendance, the fact that attendance was flat is likely looked upon as a win by show management. We'll do a deeper analysis on attendance in a separate post.
7 Top Trends from CEDIA 2016
In any event, we will present our thoughts on the trends from the show this year – delivered David Letterman style in reverse order:
7. Video presence – and Video Screen Size – is Growing
In the dark days following the financial crisis in 2007-2008, we saw the major video brands exit the CEDIA Expo show floor. This fact frustrated many integrators, as video is such an important part of any system. Ironically, other shows – such as InfoComm, for example – seemed to be able to retain these major players.
But video is back and not just in front projectors and screens, but in flat panel TVs as well. Not only that, but the major brands even had announcements that are meaningful for the custom integration audience. First, we noted that both Sony and LG announced huge flat panel TVs – 100″ and 77″ respectively. Both looked good, but LG's 77″ OLED bore a stunningly colorful and detailed image.
Sony also announced a new front projector ("true" 4K…not "faux K"), a new line of ES AV receivers, and – perhaps most importantly – a new 4K Ultra HD Blu-ray player. This new Blu-ray player will be available in March 2017…with pricing yet to be determined.
6. 4K Here, 4K There, 4K Everywhere
Perhaps, in part because of this increased video presence, further proliferation of 4K was huge at this show. Just about every video provider was talking 4K including Sony, JVC, LG, Epson, Digital Projection, Sim2 and others. And that doesn't even count a veritable plethora of associated Ultra HD products such as 4K switchers, cables, etc.
More and more, the industry continues to deepen its embrace of the new 4K Ultra HD standard.
5. Software Solutions Abound
There is an expanding universe of software solutions for integrators. Many are similar is scope and target, but they have all apparently carved out a share of the market – although how large that share is is debatable.
Software has been a part of the custom integration channel for some time. Companies like Simply Reliable Software, D-Tools and others help integrators plan and print out an attractive proposals and plans for potential clients.
But over the last couple of years, we've watched that universe expand with newcomers like SpringDeck, Portal (formerly SupplyStream), SlatePlan, and JetBuilt. They were all at the show pitching their solution.
4. Kumbaya – Can't We All Just Get Along?
As integrators have focused more and more on their major control lines…such as Crestron, Control4, Savant, RTI, and so on…other companies have sought to have their products integrate with these control solutions. Virtually every booth listed those specific control solutions that their products work with – a real Kumbaya moment, as we all work to get along with each other. <peace>
And even major companies like Sonance and Russound point to these integration partnerships as a key selling point for their lines. And one brand in particular – Sonos – raised integration partnerships to all-new heights. More on this later…
3. Managed Services are Growing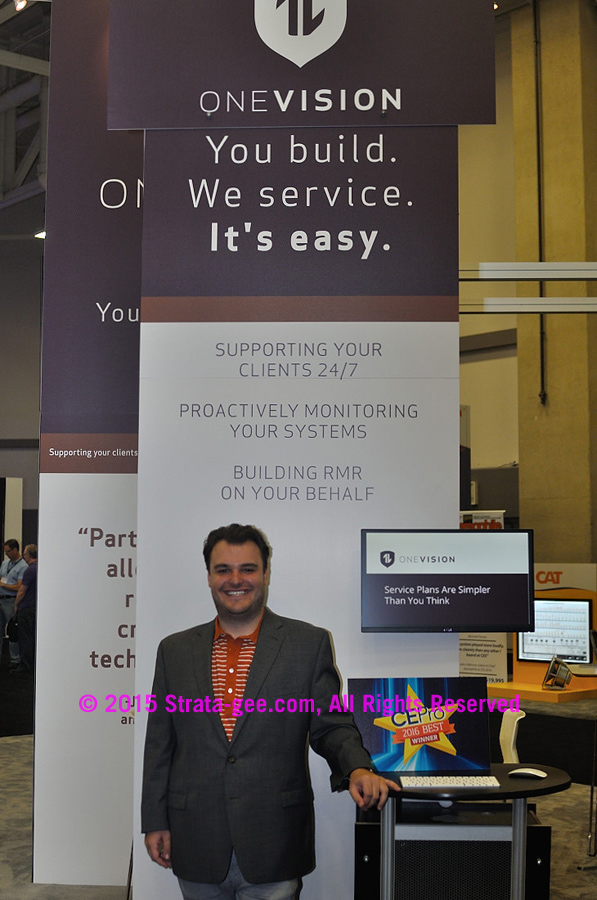 Over the last few years, we've seen the emergence of providers of remote monitoring capability, such as Ihiji. But now we're seeing the introduction of companies offering to man those monitoring stations 24×7 and provide feedback and notifications directly to the integrator.
One such company launching at CEDIA was One Vision, which will set up and monitor an integrator's installations on a white label basis – but do all of the work. They'll even share the revenue with the hands-off integrator…who, thanks to the while label service, will get to take all of the credit.
We also learned that network systems provider Access Network is in the advanced stages of planning to offer a similar – but perhaps even more complete – version of the same solution. According to what company officials told us, Access Networks will actually ultimately provide the first level of true tech support…not just monitoring.
Growth in services is likely an indicator of a maturing industry – and an area we intend to keep a close eye on.
2. The Sonos Effect
As Strata-gee readers were the first to learn – Sonos has taken a major step designed to deepen their relationship with the custom integration community. Part of the integration partners trend we mentioned in #4 – Sonos created integration partnerships with major control players Crestron, Control4, and Savant. (Strata-gee was the first in the industry to report that Crestron was an integration partner with Sonos.)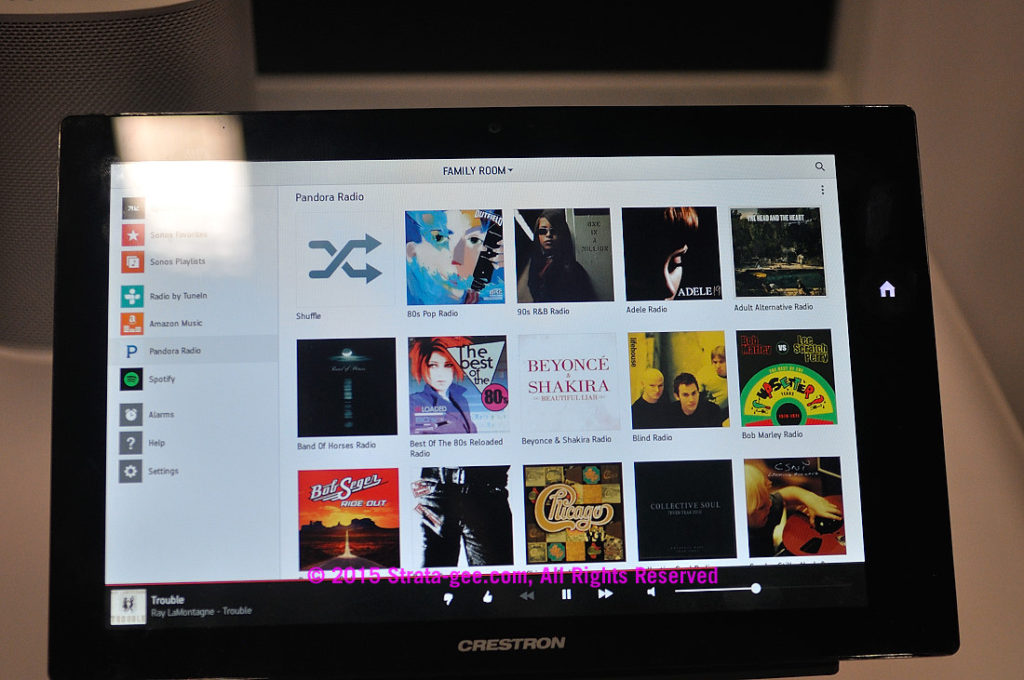 Furthermore, Sonos sources tell us this is but the beginning – many more are set to come online shortly. Actually, Sonos caused a bit of a mini-war between their integration partners – each claimed a deeper level of integration than the other.
Crestron seems to have the more credible claim in this regard, as the Sonos app can be opened on two specific models of Crestron touchscreens, opening up all of its capabilities. Most of the other integration partners have simply adopted a Sonos API that offers a more limited – but still useful – functionality.
Sonos – a brand that many considered the king of the DIY crowd – has virtually forced its way into broad adoption by the custom integration community, which initially rejected the brand. Thanks to strong awareness and demand by consumers, many integrators were forced to carry the line to better service the desires of their clients.
But now, thanks to these new integration partnerships, Sonos will likely become even more popular with CI clients.
1. The Industry Moves Quickly to Embrace Voice Control
Thanks largely to the CEDIA keynote presentation by Charlie Kindel of Amazon Alexa – as well as the announcement of several integration partnerships with top CI brands like Crestron, Lutron, Control4, URC, Bose, Philips Hue and more – certainly the major buzz at the show was voice control.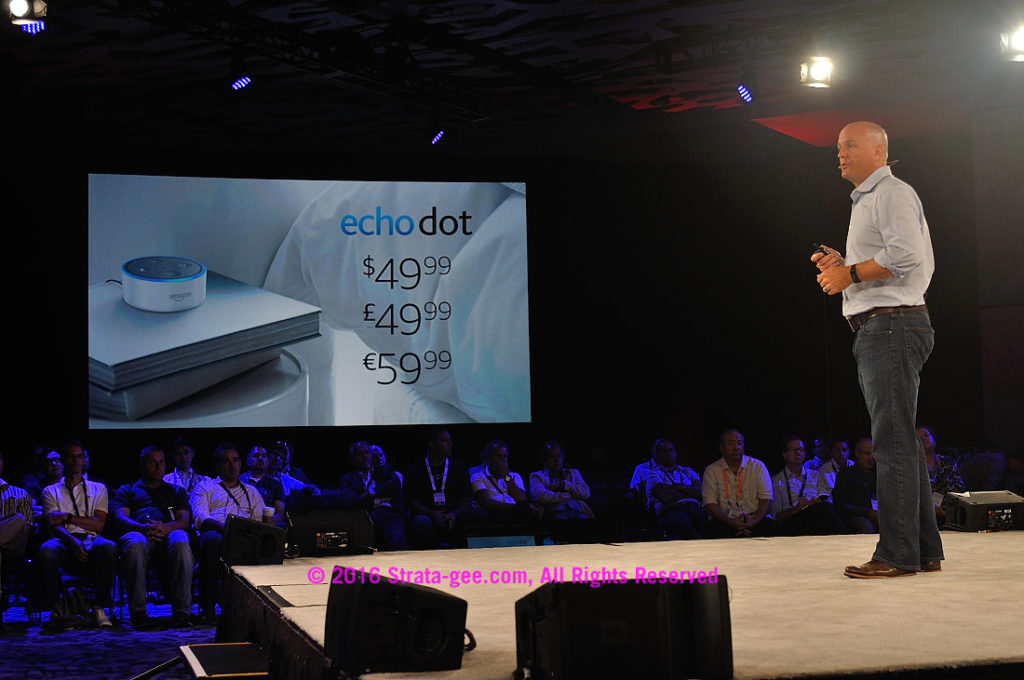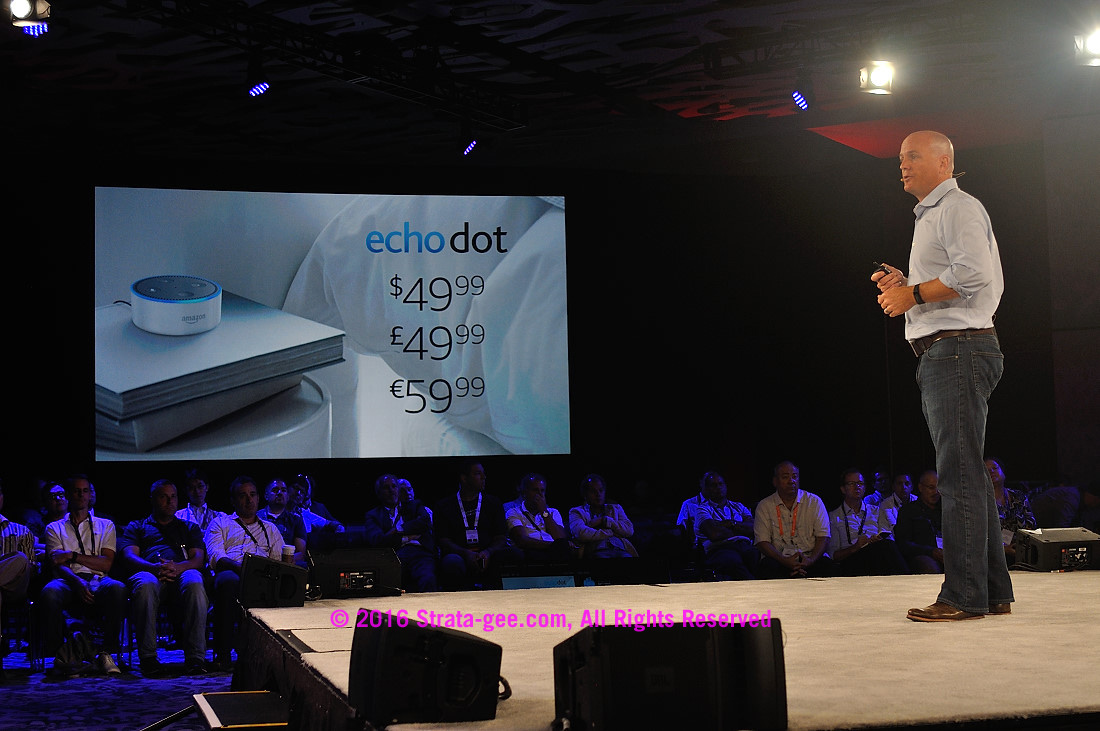 Most integrators we spoke with were either firmly in the Amazon Alexa camp ("Have you tried it? It's awesome!") – or very skeptical. However, Crestron and Lutron both participated in the keynote presentation by Amazon Alexa and seem quite enthused at the prospect.
But have they embraced a Trojan horse?