BREAKING NEWS

Mike Anderson, CEO of 3vNet announced today that 3vNet's business is being wound down and would cease shipping all products by December 31, 2013. At the same time, Anderson also announced the launch of an entirely new enterprise called Automated Control Technology Partners, Inc. which is expected to debut at the upcoming InfoComm in Orlando, FL this June.
See more details on this surprising pair of announcements…
The surprise announcement that 3vNet would cease operations likely means the final chapter of a brand that had an auspicious initial launch in 2002, went on to face a series of increasingly troubled events, met an untimely early death, experienced a resurrection (actually three resurrections), was rescued by acquisition (twice) – and now…most likely, faces certain death. But as the old saying goes, when one door closes, another opens.
Anderson is extremely excited about his new venture called Automated Control Technology Partners (ACTP), for which he is the CEO and President. ACTP, he tells us, will ultimately become an umbrella, or parent company, over a number of  brands of largely automation-centric products. Some of the brands will be partnerships or joint ventures with existing brands, some brands will be acquisitions, and some will be new internally launched brands.
What's the first brand under the ACTP umbrella? Why, 3vNet of course…
The first brand that ACTP will be the parent of is 3vNet – although its life span, as mentioned above, will be short. Anderson was not in a position to go into further details on new partners or brands to be launched under the ACTP umbrella. Right now, he tells us, they are focused on an orderly phasing out of the 3vNet line.
The announcement today – as far as timing – is a little premature for the ACTP launch, Anderson told us. But this situation was necessary as it is designed to give 3vNet dealers and integrators ample notice…and ample time to wind-down their utilization of 3vNet products in their system configurations. But why would Anderson walk away from 3vNet, a brand he put so much effort and money into.
"Well we're not though – and that's something that we felt real strong about too," Anderson proclaimed, objecting to our characterization of their walking away from 3vNet. "We didn't want to leave anybody holding the bag on anything. We want to make sure that all of the dealers are covered and that they have plenty of heads-up and lots of time to wind down what they've got, finish any work in process.

"We wanted to do the responsible thing – so we're going to honor all the warranties and that entity [3vNet] stays there and we're continuing to ship products through the end of the year. We owed it to the dealer base to let 'em know that future product development is going to be in a different direction and may, or may not be, backwards compatible with the existing technologies."
Starting with a 'clean sheet of paper'…
The main reason for the decision to close out 3vNet and launch ACTP is because Anderson and a team of engineers have developed a far more advanced automation system that takes an entirely new approach to home automation. The new concept is so radically different than any existing legacy product, that Anderson said it just made sense to start with "a clean sheet of paper."

This new approach is based on what Anderson calls an 'outside-in' concept. Outside-in means that the system concept and design is based on the end-user first – as opposed to the more common process of designing a system based on a set legacy design or technology and then having the sales team find people to sell it to. The difference, Anderson claims, is powerful.
How different will ACTP systems be?…
"What's coming is completely different," said Anderson who could barely contain his excitement on a telephone interview with Strata-gee.com. "But ten times as exciting – it's really hard not to talk about it."
We asked Anderson to explain, as much as he could, just how different the new systems from ACTP will be in concept and implementation. Would there be, we asked, any correlation to existing 3vNet technology, or is it just a total break in a whole new direction?
"At first glance, it will appear to be similar in some respects," Anderson said in a measured response. "But it doesn't take a very long look under the hood to realize it's a completely new paradigm. The whole approach we're taking to building automation is different, ACTP is an outside-in company. The whole premise is starting with the user experience and build back from there…as opposed to what the traditional automation companies do. You know they have a technology or they have a legacy that they build on, so then you shoehorn the user experience into what you have. Whereas we're starting from a different direction and the products are substantially different in scope. "
The 'how' is more important than the 'what'…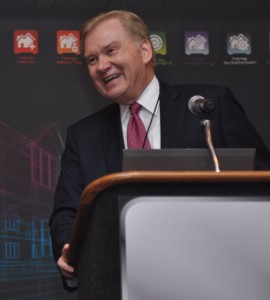 According to Anderson, this is totally different from how other companies approach the process…and the difference he feels, is critical.
"I mean ultimately you're playing music, and you're turning lights on and off, and you're raising and lowering the temperature, right?" Anderson exclaimed. "So at that level, everybody does the same thing. But how you do it, and how the user can manage it, and live with it and actually use it everyday [is the difference.] We firmly believe that the system should adapt to the user as opposed to the user adapting to the system," he concluded.
ACTP will be focused not just on the residential space, Anderson told us, but on three primary markets: residential, commercial – mostly in hospitality, and the health industry. So their approach is a little more diversified, but yet with more market-specific focus than some of their competitors.
First peek to come at InfoComm…
ACTP will be launched with a new line of products under an undisclosed new brand name at InfoComm this June in Orlando, Florida. Anderson was not in a position to share any specifics with us, but there will be physical products on display at InfoComm for integrators to see, touch, and operate. The new system concept will be fully operational.
Waiting in the wings, Anderson tells us, are some very heavy-weight, well-known brands that will be partnering with ACTP. In fact, he says that their influence is already impacting the decisions and direction of ACTP.
"We've got some very, very, very, very strong partners that are kind of driving our approach," Anderson told us. "We're talking about very big companies that are not traditional custom install companies."
Who owns ACTP?…
ACTP is a partnership of several parties. More than 50% is held by Mike Anderson…employees hold another approximately 20%…and the remainder is held by outside investors. These outside investors include private equity investors, institutional investors, and even a large customer holds a small share.
Although new products and brands start coming on board immediately – in June – the really radically new technologies and brands will roll out in approximately 18-24 months. Anderson says the future includes both all-new software and hardware. "It's pretty exciting stuff," Anderson told us. "And it will be game-changers…I'm convinced of it."
How to do it? A lot of money…and a lot of new people…
To get there required a very heavy investment – almost $3 million was invested to pursue these new technologies, products, and brands, Anderson told us. And it required an all-new staff. Other than utilizing a couple of tech support employees from 3vNet, ACTP has an almost entirely new staff…including new engineers and product development team.
"We've got engineering people in India, in Austria, in Kentucky, in Washington," Anderson proclaimed. "I've got engineering staff here [in Florida]…we've got people everywhere," he chuckled.
Anderson told us his team has been working quietly in the background for a couple of years developing this new system which he says is unlike any other system out there.
Only ACTP has the whole picture…
"Nobody's doing what we're doing," Anderson said confidently. "No one's even close…pieces of it are close – pieces of different companies are close, but no one's doing what we're doing."
The system, Anderson assures us, will be proprietary. "There will be a whole slew of patent applications coming out of our process," Anderson said. "I think I've got eight or nine new patents coming out of the development."
Perhaps seeking to head off any growing skepticism and to reassure this reporter that what we've been discussing is not just thoughts, but real products, Anderson added:
"The new products – it's not all just words…I mean we have the stuff running now. June is a pretty realistic date [to ship the first new products]. Our goal was to be shipping in June. I don't know if we're going to make that – maybe shipping by the end of June. But we have hardware designed and it's in tooling. Software's moving forward, so we're very, very close."
3vNet committed to an orderly shutdown process…
In the meantime, Anderson and 3vNet staff are committed to a smooth and orderly shutdown of the company. They want to avoid some of the messy situations that arose around past vNet shutdowns and assure dealers they will be there for many more months to assist them in transitioning out of 3vNet products.
"We will work relentlessly to continue supporting all 3vNet customers during this process and those customers can be assured that they will receive superior customer support as long as necessary," Anderson said in a prepared statement released by the company today.
Anderson also told us that no 3vNet employees will lose their jobs as a result of this decision. "For everybody that's dedicated to 3vNet, we have a migration plan in place to move them into the new product lines," Anderson proclaimed. "No one will lose their jobs."
In the meantime, ACTP is growing. "We're growing, I mean we'll double our staff this month," Anderson emphasized. "We have that much work right now."
To learn more about ACTP, see: www.actpglobal.com.


RELATED POSTS
Third Time's the Charm? Colorado vNet – Now 3vNet – Certainly Hopes So
Continuing to Ramp-Up, 3vNet Announces Its Pick for Director of U.S. Sales
3vNet Puts on a Fresh Face – Launches New Website
3vNet Announces New CB1 Lighting & Control Module and Open Sales Territories
3vNet Picks Fielder Marketing as Rep for Northern California & Nevada
3vNet Hires Training Manager and Training Company
Russound Hopes to Beat the Odds with Acquisition of Colorado vNet; But Some Question Deal
Russound Pulls the Plug on Colorado vNet