For those of you who were at the Consumer Electronics Show (CES) earlier this month: Did you see the new tablet introduced by Panasonic? Featured during the Panasonic press conference as an example of Panasonic's innovation, the company showed a new tablet computer launching it into the tablet computer fray which is dominated by the Apple iPad…with a rapidly growing Samsung with its Galaxy Note and Tab lines nipping at its heels.
But does this new Panasonic tablet have a market?…
A while back, we told you about a new tablet computer that was launched by Onkyo in Japan. We questioned its viability for a couple of reasons. First, it launched a tablet computer that – with a 20-inch screen – was the biggest tablet in existence and seemingly contrary to the portability that most want with a tablet; and Second, the tablet weighed more than 11 pounds making it easily the heaviest tablet out there – two to three TIMES as heavy as a full-fledged laptop computer.
However, to be fair to Onkyo – the target market was not the consumer market (try stuffing that into your purse ladies!) No, the company targeted the business community with a tablet designed to be hung on the wall of a conference room or board room for business presentations. We have no idea whether this tablet did well for Onkyo or not.
Jumping in with both feet…
Now Panasonic jumps into the fray, launching their own tablet that is also based on a 20-inch panel. Not only that, but Panasonic's model features 4K Ultra-HD resolution with four times the resolution of existing High Definition panels.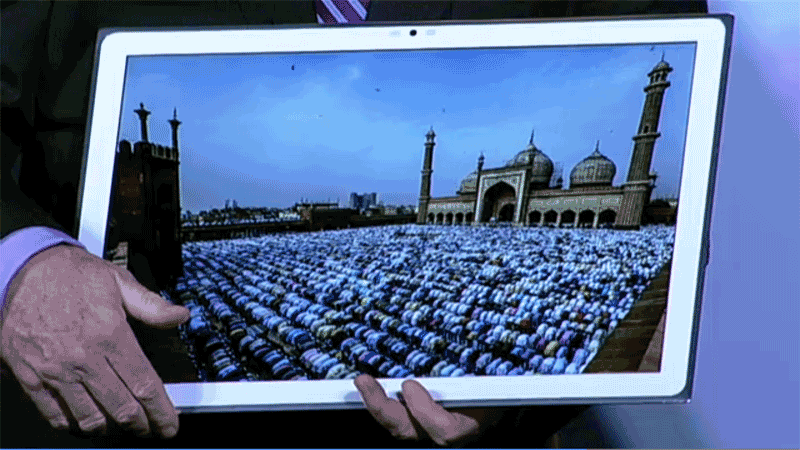 Fortunately, Panasonic was able to keep the weight down to a more reasonable 5.3 lbs. While this is still heavy, it is less than half the weight of the previously mentioned Onkyo model.
Cutting edge?…
Saying the tablet employs "Panasonic's cutting-edge digital technology," the panel is a 20-inch IPS (in-plane switching) Alpha panel. Resolution of the panel is 3840 x 2560 pixels, 9.83 million pixels (230 ppi) displaying 16.77 million colors. The tablet is a surprising .4-inch thick.
One interesting tidbit is that the LCD panel features a unique aspect ratio of 15:10. Panasonic says this shape is ideal for displaying newspaper or magazine-style pages…as well as photos.
Targeting business…
Like Onkyo, Panasonic says that they are targeting the business market with a tablet that it believes will make sense to "customers in a wide range of industries." The company says tablets offer a "more realistic and intuitive" environment than paper or displays.
The brain of this new tablet [which by the way, does not appear to have any kind of model number] is an Intel i5 3427U vPro 1.8 GHz processor. And unlike other consumer-oriented tablets, Panasonic has eschewed the mobile-centric iOS and Android operating systems in favor of Microsoft's Windows 8. Given the mixed press that Windows 8 has received, let's hope Panasonic doesn't regret that decision.
Flashy graphics and graphic flash…
Graphics are handled by NVIDIA GeForce Graphics, although the version is not specified. The base memory of the unit is 4GB, with up to 16GB available. The unit includes a 128GB flash memory drive.
Panasonic has included both IEEE802.11a/b/g/n and Bluetooth v4.0 wireless technologies. A 720P HD camera is built-in (1280×720) as well. There is also a microSD memory card slot and 1-USB 2.0 port.
Work fast!…
You'll have to work fast on this new Panasonic tablet, battery life for such a large, high-resolution screen is only 2 hours. Perhaps taking their cue from Samsung, the Panasonic tablet also comes with a stylus included. Or, of course, you can access the Electrostatic touch panel with your fingers…all ten of them at one time.
It remains to be seen if the business community will embrace this form factor over existing options. Panasonic included a usage example in their announcement involving an editorial meeting in which editors, in collaboration with their printers, viewed and made final approvals on a catalog design.
Will it work?…
However, many editorial departments can accomplish this already with existing computer technology. The primary motivation for tablet computers – in our opinion – was to offer a content viewing alternative to the small screens on most smartphones.
Key to their adoption was a form factor that allowed users to easily carry it onto an airplane in a briefcase or large purse. Tablets needed to be large enough for better content viewing but small enough to easily carry such that it was readily available.
Many sales reps are using tablets for presentations…
We are aware that many sales reps are carrying tablets to make product presentations for buyers. In this case, some may prefer a larger screen opening up usage for larger meetings. However, at some point, most presenters switch to a mobile projector or connection to an existing mounted screen.
The company has not released any pricing yet…and availability was only a vague "later this year."
For more information on Panasonic and its products, see: www.panasonic.com.