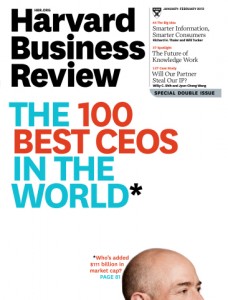 Recently, we told you about the worst CEO of 2012 (former Best Buy CEO Brian Dunn). Turnabout is fair play, and now Harvard Business Review offers a list of the 100 Best CEOs in the World as a very effective counter-point.
But were technology companies represented on this list? Can we claim some of the best CEOs in the world? Read on and see…
See the top CEOs in the world below…
Harvard Business Review (HBR), the highly respected journal associated with one of the most prestigious business schools in the United States, has published an article in their January-February issue revealing their picks for "The Best-Performing CEOs in the World." The magazine claims theirs is the only list in the world ranking the performance  of CEOs over their entire tenure.
HBR worked with professors from INSEAD, a global graduate business school, to analyze the performance of more than 3,000 CEO's in 37 countries. Unlike other rankings, the goal was to determine which CEOs were best at building and delivering shareholder value…over the long haul – not just for a quarter.
"The knock on most business leaders is that they focus on quarterly earnings at the expense of longer-term performance," said Morten Hansen, Professor of Entrepreneurship at INSEAD and also on at the University of California, Berkeley. "We wanted to shine a spotlight on CEOs worldwide who had created long-term value for their companies."
Tech – leading the field…
Five of the top 20 global CEOs are from technology companies – including the top three. The list is topped by Apple's Steve Jobs ranked as the world's greatest CEO. Jeff Bezos of Amazon.com is the number one living CEO, but number two on the list. Number three on the HBR list is Samsung's CEO, Yun Jong-Yong.
Some of the selected findings from the study were:
Under Jeff Bezos' leadership, Amazon.com has delivered returns of 12,266% to shareholders. Amazon.com has seen its value increase by $111 billion.
HP CEO Meg Whitman came in at number nine on the list, but she is the highest-ranking woman. Interestingly, she is not on the list for HP, but rather for her performance at eBay from 1998 to 2008.
The top 100 CEOs performed exceptionally well. According to the HBR research, on average, they delivered a total shareholder return of 1,385% during their respective tenures and increased their firms' market value by $40.2 billion.
Ironically, although they hold six of the top ten slots, then U.S. CEOs on average performed below their Latin American, Indian, and British counterparts.
The scoring system used by HBR incorporates not only financial performance, but also corporate social and environmental performance. The journal found several examples of CEOs "doing well and doing good" although no direct correlation exists across all examples.
To see the entire list, and learn more about the system used to grade them, see: www.hbr.org.