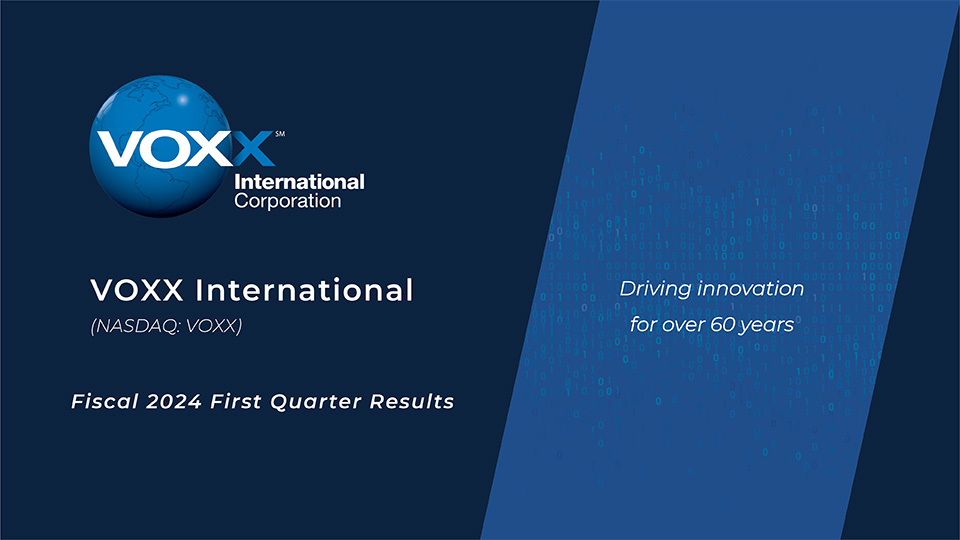 Company Touts Sequential Improvement, Expense Control, New Investor
VOXX International Corporation (Voxx) (NASDAQ: VOXX), a manufacturer and distributor of a wide range of automotive and consumer electronics products, late on Tuesday released its second quarter of fiscal 2024 financial results for the period ending August 31, 2023. These results mostly echoed those of its first quarter and the company says it is still dealing with multiple negative macroeconomic factors such as a durable drop in consumer spending, inflated retail inventories, a UAW strike, and remaining supply chain challenges. However, the results in the second quarter were slightly more moderate than in the first quarter and there was a modest improvement on a sequential basis.
See more on the VOXX Q2 results and what it says it is focused on
Voxx CEO Pat Lavelle didn't sugarcoat it, telling analysts on a conference call that the company is in a challenging business environment and that it is doing all it can to "combat everything that comes our way." While Lavelle was sanguine in describing the many challenges the company is facing, he held to a confident tone as he described his vision for a second-half improvement in results.
"Not much has changed since our first quarter remarks in July as the global markets remain challenging," Lavelle told analysts. "Consumer spending is down and the automakers are still having production issues."
Voxx Acquired Onkyo and Pioneer Audio Brands in 2021
As most Strata-gee readers are aware, Voxx is the company that in 2021 acquired the Onkyo/Integra brands (and licensed the Pioneer/Pioneer Elite brands) from the now-bankrupt Onkyo Corporation in Osaka, Japan. It sure seemed like a good idea at the time, but the post-pandemic period has changed everything. More on this later…
A theme developed in the first quarter, as I told you about in my report on the company's Q1 results – overall sales were down, CE sales were down more, and premium audio sales were down the most. While the results in the second quarter moderated somewhat, echoes of that trend continued.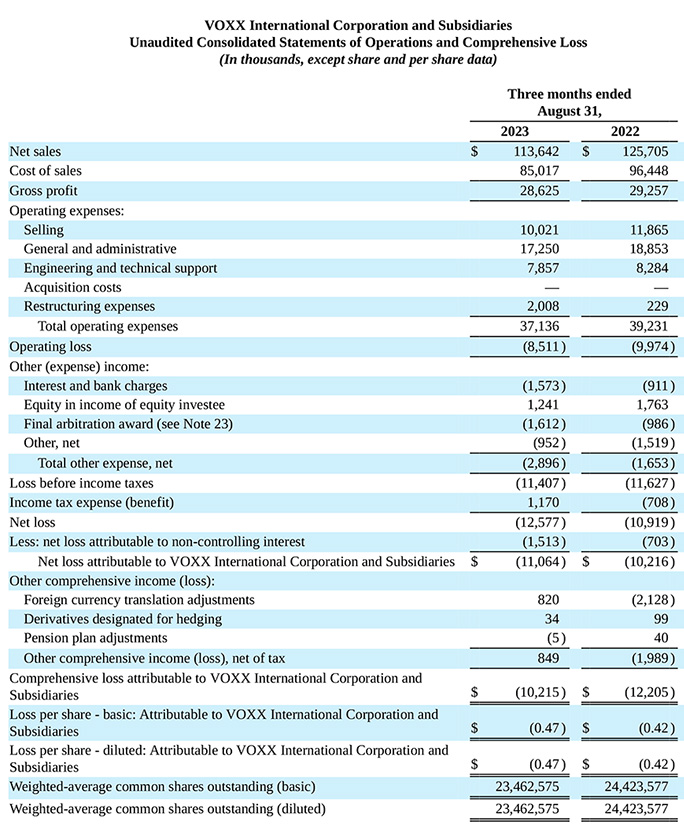 A Repeat of a Q1 Net Sales Theme
For example, overall net sales came in at $113.6 million, down $12.1 million or 9.6% from sales of $125.7 million in the same quarter last year. Of that total, consumer electronics sales came in at $78 million, a decrease of $10.0 million or 11.3%, as compared to CE sales of $88.0 million last year. And premium audio sales in the quarter this year were $53.2 million, a big decline of $16.0 million or 23.1% compared to premium audio sales of $69.2 million in the same quarter last year.
So here again is the troubling trend that we first saw in the first quarter: Overall sales declined 9.6%, CE sales are down 11.3%, and Premium Audio sales dropped a stunning 23.1%.
Profit/Loss Performance – Operating Loss Improves, But Net Loss Worsens
In terms of profits, the company is continuing to book losses. It showed an operating loss of $8.5 million which was $1.5 million better than the $10 million operating loss in the same quarter last year. This was due to the company's extensive cost-cutting restructuring and headcount reduction I told you about recently.
However, the company showed an increased net loss of $11.1 million ($0.47/share), nearly $1 million or 8.8% worse than the net loss of $10.2 million ($0.42/share) in the same period last year. Contributing to this net loss was a restructuring charge of over $2.0 million and an extraordinary payout against a negative arbitration ruling of $1.6 million.

Company Focuses on the Bottom Line
The company was successful in cutting its expenses and improving its gross margins. Lavelle was clear on this point, telling analysts, "It's the bottom line that we're focused on most." The company is on a mission to be able to turn a profit on lower sales and took extraordinary measures to trim expenses to get there.
We saw modest improvements in our business sequentially and expect to generate year-over-year growth and profitability in the second half of our Fiscal year. The extent of our growth will be very much dependent on the state of the car markets, especially now with the UAW strike, as well as consumer spending during the upcoming holiday selling season. To combat market softness, we took significant steps during the quarter to restructure our business and have reduced our operating expenses significantly. We expect restructuring and realignment initiatives to also generate higher gross margins in the second half, with more improvements planned as we move into next year. New products and programs across each of our business segments are driving our optimism, though we remain very conservative in our outlook given the state of the global economies.

Pat Lavelle, VOXX Chief Executive Officer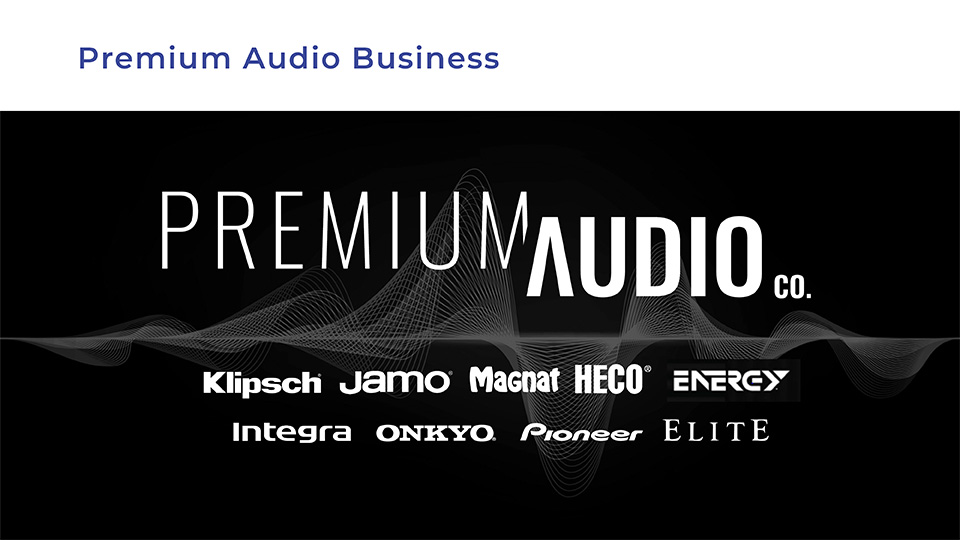 From Clear-Eyed Realist to Wild-Eyed Futurist in a Nano-Second
For most of the conference call with analysts, Lavelle was direct, clear-eyed, and pragmatic about the challenges the company was battling. But he still was able to almost instantly shift in a nano-second into a late-night infomercial marketer promising a brighter future. It was, at times, kind of confusing.
For example, at one point Lavelle told analysts, "Of course, we're mindful of any further deterioration in the economy, and we expect markets to remain hard-pressed for the next year or so."[Emphasis added] But then – in a different spot in the presentation – Lavelle said, "As we look out into the second half of the year, we expect to see top-line growth compared to fiscal 2023 and to be profitable." [Emphasis added]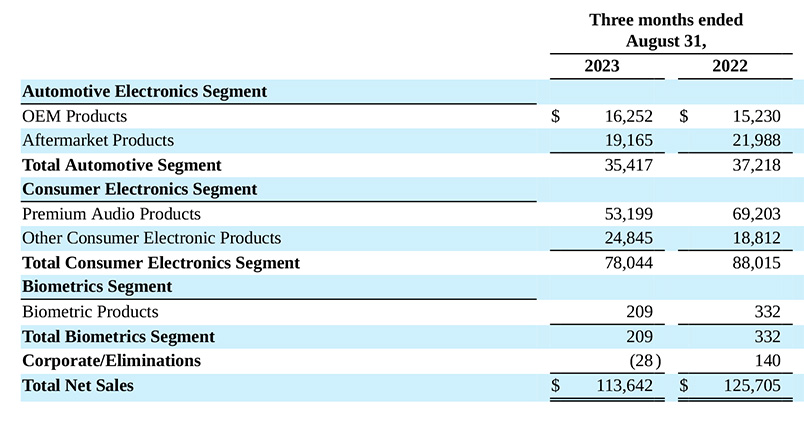 Industry-Wide Sales of Speakers are Down 'Roughly 16%'
In another case, he told analysts that industry-wide "speaker sales are down roughly 16% year-to-date," quoting data from NPD, a market research company that tracks retail sales. But then Lavelle adds that – according to the NPD data again presumably – Klipsch remains the number one speaker brand and goes on to suggest that they are maintaining or even improving their market share.
So which is it…does Voxx expect another year or so of struggle? Or are they suggesting that sales and profits will begin to grow starting now – as they are now in the second half of their fiscal 2024 year?
What's the Source of Lavelle's Optimism?
The source of his optimism for the coming growth is that the company has what Lavelle believes is a significant rollout of new products coming soon. He launched into a pitch with analysts:
Now that's the past and what's driving our optimism for growth over the next few quarters are our new products. We have retooled our soundbar offering and have a slate of new sound bars coming to market during the second half of the year. The Klipsch Flexes will be launching before the year is out – and it's the first ever product developed in tandem by Klipsch and Onkyo. Our new party speakers are doing very well and new launches are planned in the second half of the year. This is the hottest category you'll see as I mentioned on our last call. We will soon be launching our new Klipsch Music City portable Bluetooth speakers that can broadcast to other Bluetooth speakers in stereo and other speakers around the house or outdoors. Hookup is very simple as you simply stream content through your devices.

Our new subwoofers recently introduced this year are doing very well and have received excellent reviews which should help continue to drive growth in this category. And, as we announced previously, the Klipsch Reference Premiere speakers will be in the Dodge Ram EV trucks with an impressive 26-speaker sound system. This is the first entrance of the Klipsch brand into automotive and we believe this is a new area of growth as other automotive manufacturers recognize the value of the Klipsch brand.

Lavelle
Onkyo & Pioneer Continue to Struggle Due to Consumers Cutting Spending & Intense Competition
Is that gravitas…wishful thinking…or whistling in the dark? Whatever it is, this is a management that sold the vision of explosive sales of Onkyo and Pioneer products around the world. That has yet to happen and Lavelle himself makes the plausible explanation that consumers are holding back on hardware purchases right now. Well, if that is correct, then lack of consumer spending will also impact their new products as well.
In the meantime, Voxx's previous "next big thing" – the Onkyo & Pioneer brands – continue to struggle. The company revealed in its first quarter report that it had experienced a decrease in the "domestic sales of its Onkyo and Pioneer related products of approximately $4 [million] as a result of decreased consumer spending, as well as due to an increase in competition related to these products."
So what did the company report in its second quarter report? "The Company also experienced a decrease in domestic sales of its Onkyo and Pioneer related products of approximately $3.8 [million] for the three months ended August 31, 2023 as a result of a slowing of the economy, as well as due to an increase in competition related to these products."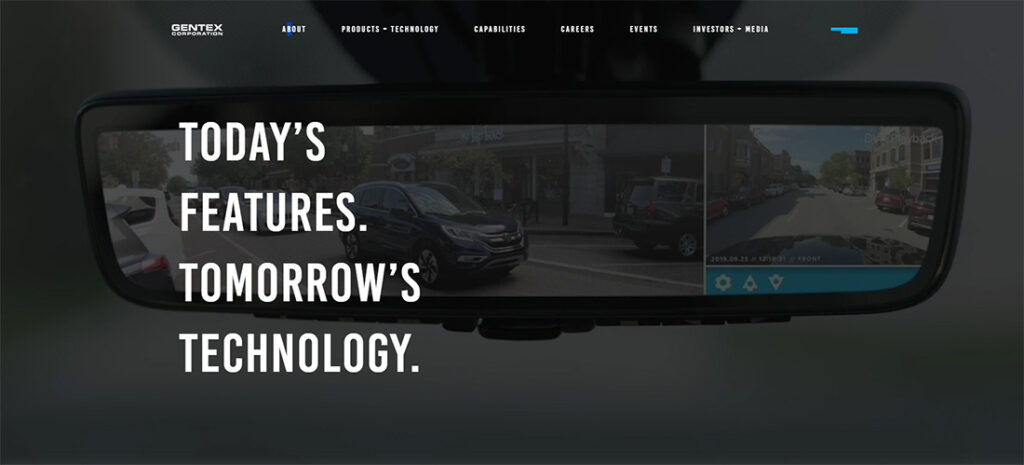 New Strategic Investor Buys In…Meet Gentex
Finally, Voxx announced that earlier this month Avalon Park International, LLC and Avalon Park Group Holding AG – two companies owned by Voxx President Beat Kahli (I know, it's a little confusing) – agreed to sell approximately 50% of their holdings in VOXX stock to Gentex Corporation, a Michigan company that does business in predominantly the automotive-related space. This transaction will take place in two tranches, the first of which involved 1.57 million shares sold for $10/share (a 32.5% premium to the current price) which closed on October 6th.
According to Gentex's fiscal 2022 annual report, it is "a leading technology supplier of dimmable devices, vision systems, sensors and advanced electronic products for the global automotive, aerospace, and fire protection industries."
The transaction for the next tranche will take place on January 5th with the final price based on a predetermined formula. Ultimately, this purchase of more than 3 million shares, combined with the more than 173,000 shares that Gentex already previously owned, will make Gentex one of the three largest shareholders of VOXX stock along with founder John Shalam and Beat Kahli.
Lavelle called Gentex a "strategic investor." Note that Gentex President and CEO Steve Downing was already on the Voxx Board of Directors.
Learn more about Voxx by visiting voxxintl.com.