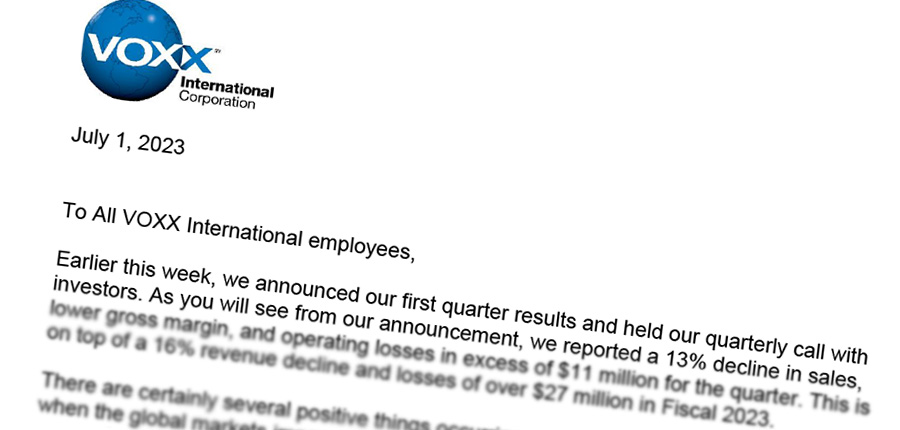 In a letter to employees earlier this month, VOXX International Corp. (Nasdaq: VOXX) CEO Pat Lavelle painted a dark picture of the economic environment the company finds itself mired in, noting its significant sales declines and mounting losses. If you were a VOXX employee reading the opening phrases of this letter, I'm pretty certain a feeling of dread would sweep over you – sensing where this communication is heading.
And you would be right, as later in the correspondence, Lavelle reveals a plan to cut "more than 150 employees" along with a series of other steps to cut costs and lower overhead. And these cuts are on top of the job cuts the company has already implemented in 2022, as it tries again to right the ship.
See more on VOXX management's missive to employees
Strata-gee has obtained a copy of a letter addressed, "To all VOXX International employees," that was signed, "Sincerely, Pat Lavelle." It is a relatively extensive 7-paragraph narrative on the challenging state of the economy, the negative impact of that economy on the company, and the necessary steps the management will need to take "to ensure the health of the company."
Getting Right Down to Business
Dated July 1, 2023, the letter skipped the typical preliminary niceties and got right down to business with a recounting of the fiscal 2024 first quarter results. As reported by Strata-gee, the previous quarter was a challenging one.
"[W]e reported a 13% decline in sales, lower gross margin, and operating losses in excess of $11 million for the quarter." As if that wasn't bad enough, Lavelle adds, "This is on top of a 16% revenue decline and losses of over $27 million in Fiscal 2023."
Not to mention as I reported, Premium Audio Company saw its sales drop -32%. Wow…that was a tough start, so Lavelle softens the next paragraph. "There are certainly several positive things occurring at VOXX and I have no doubt that when the global markets improve, so too, will our business. I am confident that due to our customer and supply chain relationships, the business we have been awarded, the modern technologies we are bringing to the market, and of course, our people."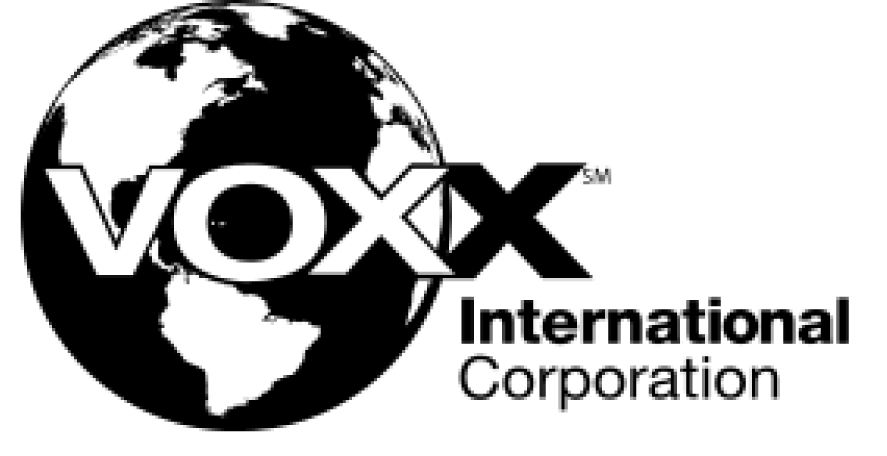 Worldwide Economies are in Distress
Then comes something a little more ominous. "However, given the current environment and what we expect for the remainder of the year, it is clear that we must take significant actions to address this new reality."
It quickly became clear that Lavelle did not use the words "significant actions" lightly. He went on to tell employees that the "worldwide economies are in distress, and it is having a major impact on our business." Yes, he noted, the company made many adjustments last year to deal with the "retail environment" and "supply chain issues" and "rising labor costs."
Lavelle Uses the 'R' Word…Recession
Yet now halfway through this year, Lavelle notes "…it is clear the global markets will continue to soften, as will certain areas of our operations." Furthermore, he added, "Virtually all economists we speak to indicate that a recession in the U.S. will follow sometime in the fourth quarter of this year or early 2024."
Accordingly, the company "…must lower expenses significantly in light of lower sales," Lavelle said in the letter. How will this be accomplished? The CEO said they "are looking at every area of our business" including "headcount, third-party contracts, supply agreements, manufacturing, SG&A and more."
Lavelle added reassuringly, "I know it is difficult and I cannot stress just how important you continue to be to the organization and the value you all provide. But as a company, and like everyone in our sector, we must move quickly to lower our costs and realign to protect our future."
This Time is Different; A 14% Headcount Reduction
Wrapping up, Lavelle noted that VOXX has survived many recessions over its lifespan. "However, we have not had to deal with the geopolitical issues impacting the global economies, inflation, higher interest rates, bank failures, credit card debt at an all-time high, and the supply chain. We have faced an unprecedented global pandemic and the lingering effects make this a unique and dangerous situation. That is why we are taking these actions."
Then, Lavelle announced job cuts that "will affect more than 150 employees worldwide." In February, the company reported a total headcount of 1,055 employees which means this is around a 14% or more headcount reduction.
Trying to 'Maintain as Many Positions as We Can'
Adding to the headcount reduction, VOXX is also taking other cost-cutting actions, such as eliminating overtime, limiting non-essential travel, and "looking at every process and expenditure to maintain as many positions as we can."
Lavelle sums it all up:
I am getting many reports of layoffs, including some marquee names. However, until I can confirm them, I'll just leave it at that for the moment.
Learn more about VOXX International by visiting voxxintl.com.