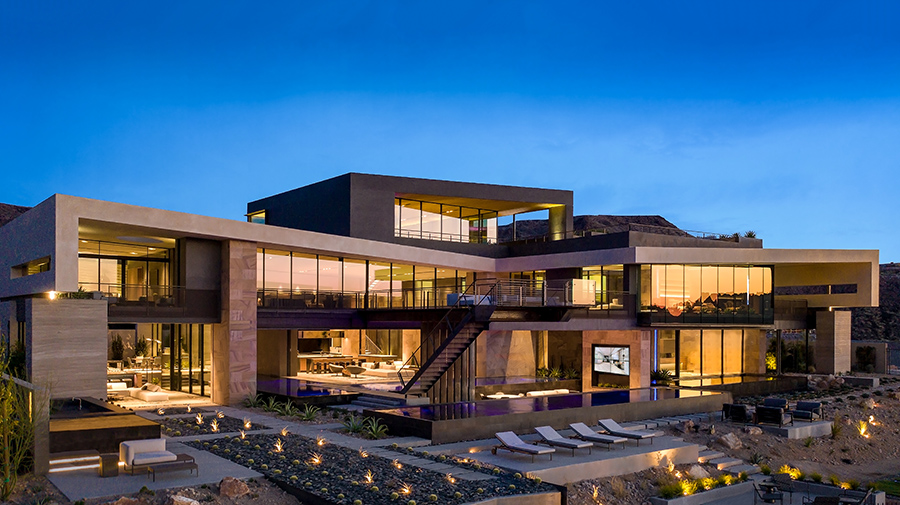 Nestled in the hills over the Nevada plains, not far from the bright lights of Las Vegas, Savant Systems partnered with design-led development firm Blue Heron and integrator Eagle Sentry to create what they call their West Coast Experience Center – otherwise known as a stunning residential home showcasing a million dollars worth of Savant technology (as well as a few technology partners). The ultra-modern home, clearly destined for an ultra-rich niche, featured a design that was – to my eyes – just stunning…and the installation is a true testament to Savant's theory that installed AV should be "hidden in plain sight."
You're going to want to see Savant's new West Coast Experience Center…
In a presentation to the media on Wednesday, Savant revealed the finished product – their all-new West Coast Experience Center that they refer to as Vegas Modern 001 [1]. It is a true work of art – with a technology backbone that is truly state-of-the-art. It was not, however, new news to the news media, as we had been treated to a video preview while it was under construction a couple of months back. But what a dramatic difference those finishing touches made!
I have already told you about Savant's East Coast (New York City) Experience Center which was totally redesigned and opened just in time for a major pandemic to hit the country and shut everything down. The company quickly pivoted and developed a compelling Zoom & video virtual showroom presentation that brought its uniqueness to life right to the screen in your home or office…or home office.
A Stark Contrast to the East Coast Experience Center
The East Coast Experience Center in New York was incredibly well thought out with dedicated areas or vignettes showing typical use cases. For example, the living room was wisely designed and dimensioned to mimic the space and layout of a Manhattan loft; the boardroom looked very financial-district-corporate like something out of the Bonfire of the Vanities, and so on. Clearly, in this case, the company would need to adopt a different philosophy, because this West Coast Experience Center, Vegas Modern, is a residence through and through.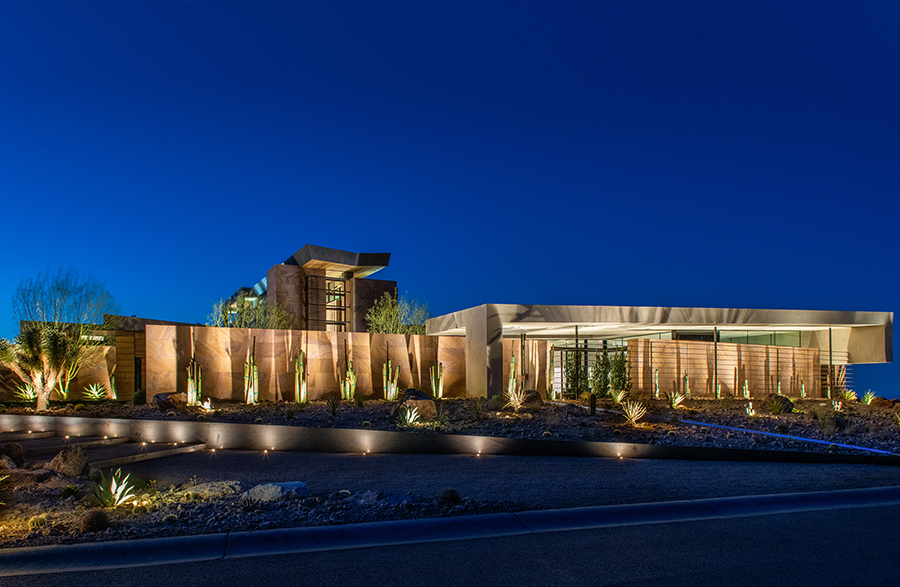 Not just any residence, mind you, but a monster 15,000 square foot home with another 5,500 square feet of outdoor living space. It is an impressive, high-end, high-design compound that would do any captain of industry proud. But the specs of this job, dear integrator, are a touch intimidating…no? There are no less than 43 zones of entertainment, including some 450 lighting loads, throughout the compound. Get your calculators out boys and girls, this is going to take some figuring…
Numbers Tell the Tale – or Rather, the Scale – of this Installation
19,000 watts of total power amplification – supporting those 43 zones of entertainment
96 Artison architectural speakers, soundbars & subwoofers throughout
28 Savant Nano PoE speakers
Audio distribution via AVB ethernet
9 independent music streams from Savant Personalized Music Service available everywhere
Video distribution by Savant 4K-over-IP – bringing lossless distribution over 10G Ethernet
35 video displays, including a…
98″ 4k LCD display and a…
175″ LED video wall
381 USAI Lighting Infinite Color+ fixtures – enhancing the health and wellness of the home
327 solar panels producing 148MWh (megawatt-hours) annually
Racepoint Energy microgrid installation for total energy control and usage monitoring
12 climate zones & outdoor heating, with Savant app control and scheduling
40 Savant motorized shades
7 fireplace features, fully controlled by Savant
22 motorized doors, fully controlled by Savant
25 Savant touch panels & Savant Pro remotes
Garage door control via Savant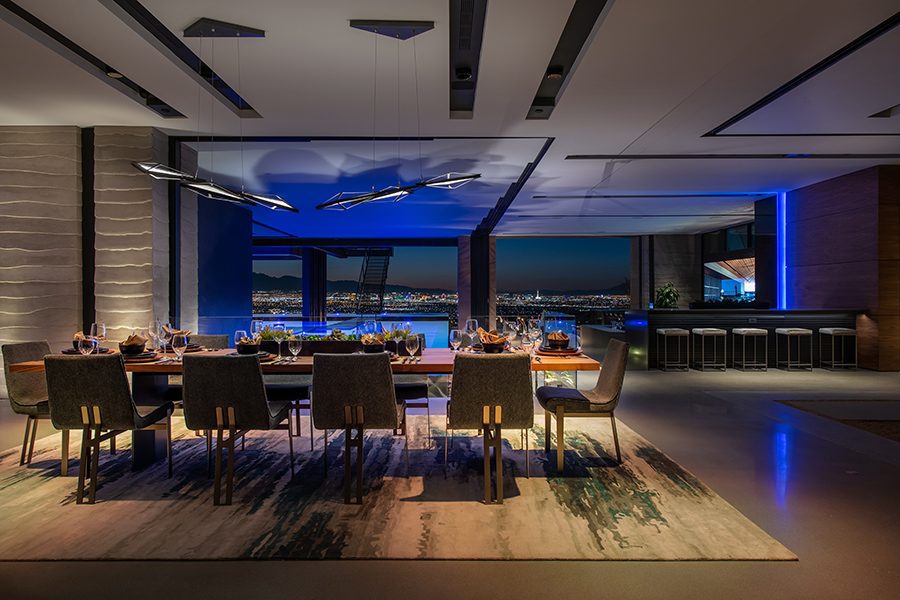 So, obviously, you can't get the whole experience of an experience center on a virtual walk-through. You tend to have to take the company's word for it that, for example, the subwoofers (that you can't see) can shake your world. But I did come away impressed, as the company had several elements of their installation that really represent where our industry is going – so I'll focus on those.
When we thought about this space and how we wanted to use it, we wanted to really highlight the experience of living with home technology. We wanted that experience to be aspirational, both in terms of the way that the home looks, but also the way that the technology is integrated into it. And we wanted to highlight where we feel smart home is right now – what's on trend in smart home and where we feel it's going in the next five years."

Blair Piersall, Savant Vice President of Sales
Shining a Light on Residential Health & Wellness
The entire Vegas Modern 001[1]installation utilizes a lighting scheme based on what Savant calls Daylight Mode. Developed in conjunction with USAI Lighting, Daylight Mode is based on the concept of in-home lighting that dynamically adjusts its color temperature and lighting levels to mimic the color changes of the sun over the course of a day. Designed to expose us to light indoors that reflects nature's light (the sun) which changes in intensity and color throughout the day, there is some scientific research to back up the positive impact on our health and sleep cycles of such a scheme. In this presentation, the media got a mini-demonstration of how that works and looks.
Basically, the lights in the home are on all day, but they are perfectly color-matched to the light streaming into the home through the various windows and skylights. To the eye, this looks simply like helping the light more completely extend into the home – for example, the sunlight coming in the window at the end of a hallway looks like it is extending further down the hallway as the lights in the home pick it up.
Later in the day, the tonality of the home lights begins to change their color temperatures, becoming especially warm (looking, not temperature-wise) to match the setting sun's more red and orange color at the end of the day. It's clearly visible and has a pretty neat effect. I guess you feel a little more like one with nature, but I can't say for sure because I do not have this experience in my home. Nonetheless, it is said to be better for your overall health with better sleep cycles and such. Definitely, it was an interesting demonstration by Savant.
And in Vegas Modern 001[1], not only does the homeowner have full control over the lighting, but they also can engage the many – some 40 – motorized shades to make sure the combination of external/internal lighting is adjusted just so.
Lighting the Drama of Daily Living
But beyond the issue of circadian rhythms and lighting wellness, the home employs dramatic lighting throughout. This home is an impressive sight to behold in broad daylight. But it is even more dramatic in the nighttime, with a well-designed lighting plan that adds drama or peacefulness throughout the home.
Take for example the photos above of the home office. Compare the daytime photo on the left versus the nighttime photo on the right. Even though they are not taken to exactly the same scale, you can clearly see where lighting makes a real contribution to the experience of living in a space like this.
One thing that struck me as they walked us (virtually) through some 17 or so room spaces, is that other than a large TV screen or touchpad here or there, you really saw none of the typical AV gear plugged into the wall or ceilings. That bit of visual trickery was the result of clever design that Savant told us came out of the architectural world. Savant Partner Blue Heron[2] created these inset channels in the ceiling that contained the lighting and most if not all of the architectural speakers – including architectural subwoofers. By being inset, your eyes never really noticed them, even as you scan the mostly white ceilings throughout the home – while the channels themselves were black.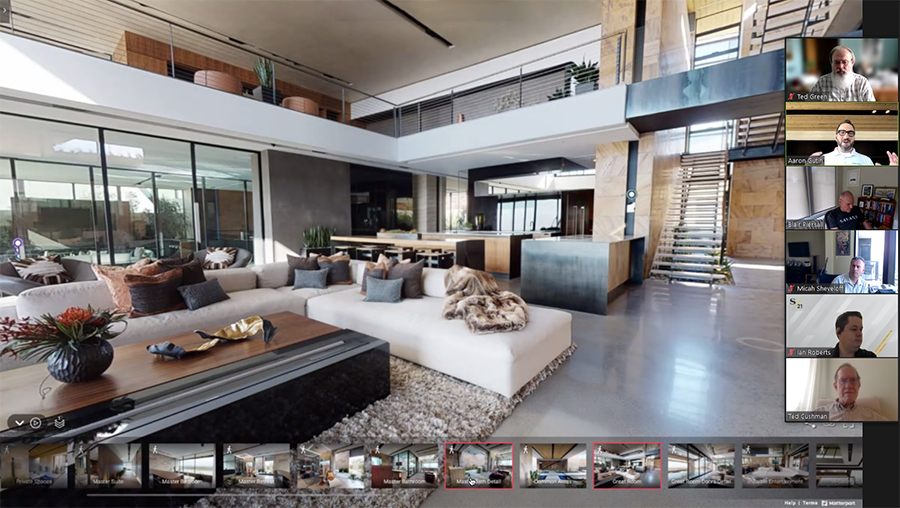 If you look at the picture above, you'll see the main living room. If you look closely at the ceiling at the center of this photo, you see a recessed black strip. Here is where they hide all of the lighting and speakers. Because it is a modern design with black window surrounds and other black accenting you almost don't notice it. Although I'll admit that once I noticed it, I saw it everywhere. But again, because it is recessed, it is quite unobtrusive. [And yes, if you look closely, I am in this photo].
When I asked about the strips, Savant's Aaron Gutin showed a close-up of one of the overhead strips. You can clearly see lights here, not so easy to see are the speakers, but he pointed out how they were able to cover the home with 96 architectural speakers and subwoofers with almost no visual impact, but great sound quality.
It's A Power Trip
Another element about this installation that sets Savant apart from many of its competitors is power. You may be aware that Savant has a close relationship with Racepoint Energy. I've written about Racepoint before when Racepoint had a booth right next to Savant's back at the 2018 CEDIA Expo. Racepoint seeks to provide homes with a major power upgrade via their microgrid technology. It is almost like having your own power substation in your home.
Fully integrated into the Savant operating system, the Racepoint microgrid brings an unprecedented level of monitoring and control to the raw power coming into your home. In the case of Vegas Modern, much of that power is provided by an impressive array of no fewer than 327 solar panels. These panels, the company says, will provide about 148 megawatt-hours of power annually.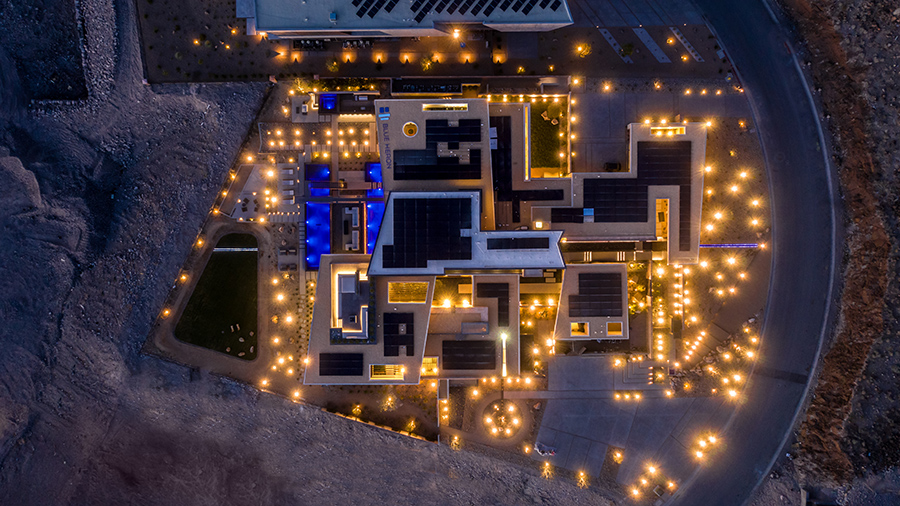 The picture above shows an aerial view of the home and surrounding property. If you look closely, you can clearly see the many solar panels on the various roof elevations. It is an impressive array that Savant executives told us was one of the largest solar installations in Nevada. It may even be the largest residential solar installation.
Finally, There's This View
There's so much to be impressed with on this project. There's a movable window wall that turns one of the outside pools into an extension of the living room, a master's retreat that feels more like a spa than a home, and much, much more. One of the more extensive AV installations I've seen, it all operates via a simple graphical Savant interface from a touch panel or even the app.
As they do with all of their systems, Savant invites the Vegas Modern 001[1] homeowners to create their own Savant scenes – it's as easy on this system as it is on a much smaller one. The Savant system design shows that even in the case of such an extensive sophisticated system…it can still be simple to use.
How Integrators Can Arrange a Tour of Vegas Modern 001[1]
Think you'd like to own Vegas Modern 001[1]? Sadly, you're going to have to think again, as this home has already been sold. According to the Savant execs, it sold for $25 million – making it the highest selling price ever paid for a residence in Nevada. Savant gets use of the facility – again their West Coast Experience Center – for three years. After that, it's the exclusive property of the homeowners.
Savant will begin offering integrators both on-site or virtual tours of Vegas Modern 001[1] starting later in July and during the second and fourth week of any month on an ongoing basis. To arrange a tour, simply email tours@savant.com.
See more on Savant and its products by visiting: savant.com.
---
CHANGES/CORRECTIONS
[1] – 7/16/21 – 1:30 pm – Per Savant, because the designation "Vegas Modern" will potentially be used on multiple homes, the "001" designation is an important identifier to Blue Heron. Although I had identified this facility as Vegas Modern 001 initially, I did not always use the 001 identifier throughout the story. So it has been added to all instances in the story, as this change does not materially impact the original version. I also removed the phrase "or just Vegas Modern" at the first iteration.
[2] – 7/16/21 – 1:40 pm – Savant asked me to make clearer that the inset channels I appreciated were created by Blue Heron and NOT Savant. While I referenced the fact that they "…came out of the architectural world…", I did not clearly credit Blue Heron directly. Since this change does not materially change the intent of the post, just clarifies it I have changed the sentence, "They created these inset channels in the ceiling…" to read as, "Savant partner Blue Heron created these inset channels in the ceiling…"