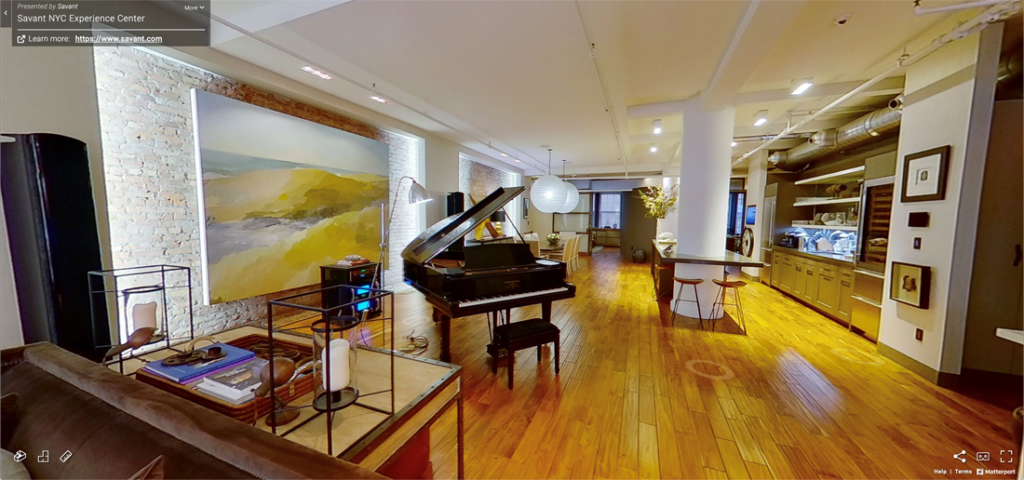 In what constitutes just one more sign that the COVID-19 pandemic will continue to have a lasting impact on how we do business for the near-to-medium-term future, Savant has come up with a cool way to cleverly optimize the showroom experience in this new difficult environment. The company was in the process of building an all-new Savant Experience Center in New York City when the pandemic hit. Then, when construction was completed, company managers looked at each other and said, now what?
What did Savant come up with? Read on…
As the U.S. deals with a new surge in infections from the pandemic, it is clear that we will all have to find new ways to safely carry on during COVID, both in our personal lives and in our business activities. And in the wake of the grand opening of their new NYC Experience Center, management at Savant needed a solution as to how to utilize this facility in this changed environment.
What Savant came up with was to turn their Experience Center into a live video studio and offer online virtual tours to all of their dealers around the globe. The goal was to design and provide a new and safe online experience that is as close to a live in-person tour as possible. Of course, that is not so easy, given that your tour visitors are sitting in their office or home office looking at a flat two-dimensional screen.
Creativity, Planning, & a Little Magic
To accomplish this goal required creativity, planning, and a little technological magic. Savant offers a wide range of smart home technologies, and for such a tour to be effective it has to deliver – as closely as possible – the actual experience that a dealer's clients will have with Savant products.
The smart home experience means different things to different people, and Savant virtual tours will enable integrators to safely utilize our amazing space as a powerful sales and educational platform. Traditionally, integrator showrooms have been a vital selling tool, and while many local showrooms have remained closed through these challenging times, we invite Savant integrators worldwide to utilize the new Savant virtual showroom as their own."

Ian Roberts, Director of Education & Customer Experience
Adding Another Dimension to Enhance Engagement
So the company increases the engagement of visiting dealers by incorporating 3D technology as part of the tour. In addition to this, the tour includes demonstrations of the key elements of Savant's various technologies and systems.
With 3D helping elevate visitors' engagement, and full demos of key systems helping to amaze and educate them, the company says that visitors feel as though they are there walking through the Experience Center and "will be introduced to the world of possibilities that make up today's smart home." Savant's Experience Center highlights all of their innovations, including a full display of GE Lighting – a recent acquisition by Savant.
Experiencing the Environment & the Slick Interfaces
A full virtual tour will allow dealers to experience Savant's comprehensive assortment of smart home solutions, such as: wellness-enhancing dynamic lighting, energy automation, a deluxe home office environment and more. And within the many lifestyle settings, dealers will further experience the variety of system interfaces, including their popular Pro Remote X2, touch panels and apps.
Integrators can bring prospective clients, or key specifiers such as designers or architects, to see for themselves the immersive Savant smart home experience.
Savant integrators can schedule a virtual tour of the company's Experience Center by contacting: nycec@savant.com.
Learn more about Savant and its solutions by vising savant.com.