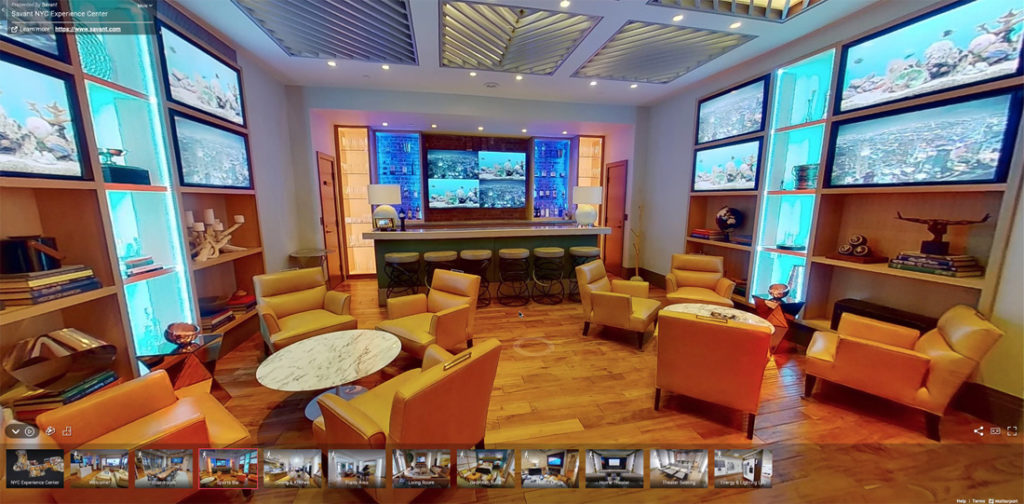 Savant Integrators Should Sign Up Clients & Prospects for a Tour Now
Just last week I was an invited guest to an event that I wasn't entirely sure would be all that exciting – yet another Zoom meeting in a year full of Zoom meetings. Or so I thought. My invitation came from industry powerhouse Savant, who wanted to host me on a virtual tour of their new Experience Center in Manhattan. Boy!…am I glad I agreed to participate….
What a delightful surprise that tour delivered…
Strata-gee first told you about plans that Savant had developed to reconceive the showroom experience in the brave and challenging new world of COVID that we are all dealing with. That article was based on a briefing by the company explaining their new showroom strategy and also a brief live, video walk-through via a handheld camera so that I could see the overall design of the completed Experience Center.
I was impressed with what I saw. But what I didn't know until last week was that, at that point, I hadn't seen anything yet!
A New Kind of Experience at Savant's Experience Center
Now, the company has a team of Experience Center guides, who work with a carefully scripted and incredibly professional walk-through of the facility that is less about the showroom itself and more about evoking a powerful visual showcase of the state of the art of the modern smart home. Offered to Savant authorized integrators and their clients, as well as members of the specifier community – Savant's Experience Center tour is a Tour de Force in its own right.
In a way, the company's new Experience Center is a bit of a reflection of the company itself, which through years of line extensions and brand acquisitions, has become one of the most fully integrated and complete brands in integration today. The breadth and depth of company's offerings is a virtual soup-to-nuts assortment for a complete smart home, including energy management, environmental controls, home entertainment, extensive lighting fixture and control options – including their latest acquisition of GE Lighting – networking, whole home automation, and much more.
This is Not Easy to Do

Beyond Savant's expansive direct branded product assortment, the company's systems also integrate with the broader world of technology solutions around them, making the potential number of system options in a Savant smart home solution almost infinite. So how can you help clients experience those possibilities in meaningful ways – especially in a virtual presentation?
Actually, that is quite a challenge…and the team at Savant have come up with a pretty amazing option. Let me just say – having gone through this tour – that if I were a Savant integrator, I would be scheduling a Savant Experience Center virtual walk-through with as many of my clients and prospective clients as I possibly could. Whether your client is just now entertaining the concept of installing a smart home system – or has already decided to do so – they will benefit from this experience in ways you can't even imagine.
'The Art of The Possible' in Smart Homes Today
Savant has mastered the ability to virtually present "the art of the possible" in the world of smart homes today.
In fact, it has mastered this demo so well that Savant Senior Vice President of Customer Operations Angela Larson told me that the company has actually received approval from the American Institute of Architects (AIA) to use this tour as an accredited smart home experience. This means that architects who take the tour will earn actual educational credits towards their certification with the AIA. That's pretty amazing.
AIA Architects Earn Educational Credits Taking This Tour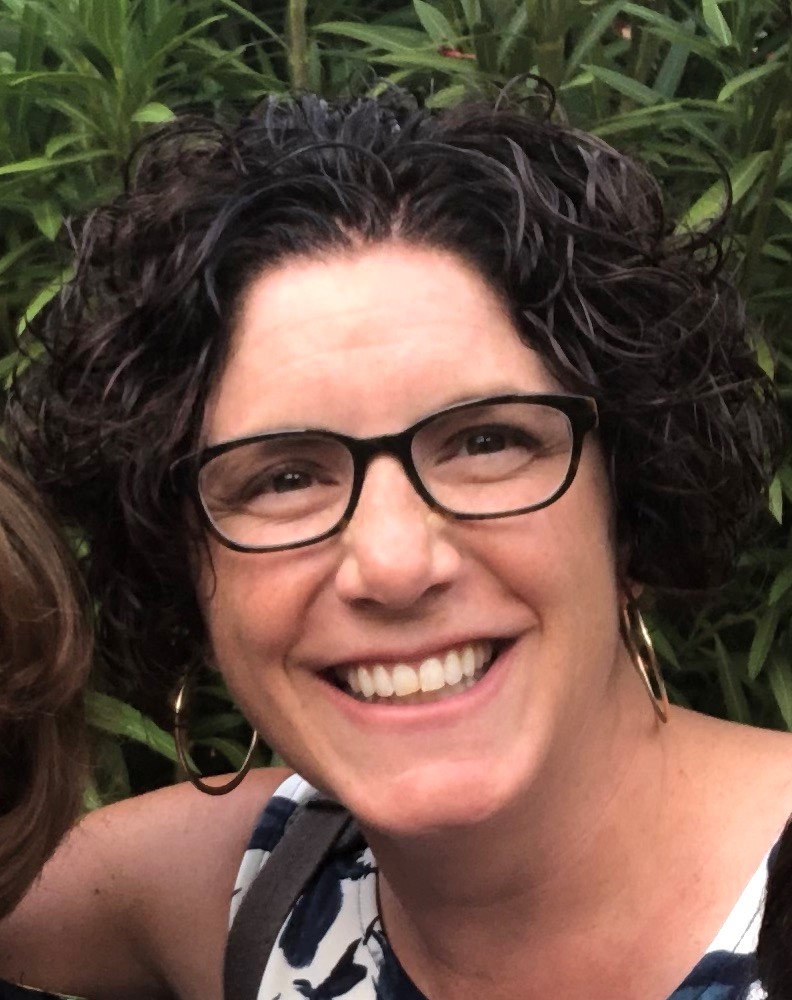 Normally we would use the tour space for a homeowner and their dealer to kind of walk them through what a smart home experience would look like, educate them on technology, and get them immersed in the smart living, smart home experience – as best we can in a virtual way."

Angie Larson, Savant Senior Vice President of Customer Operations
The company has, through some kind of magical alchemy, managed to meld together a multimedia experience with live interactive video, professionally produced spot videos on key concepts available at certain pertinent spots during the tour, and integrated a cool software presentation video that gives you a 3D feeling as though you are actually "walking" through the Experience Center itself. No boring Powerpoint presentations with endless droning narrators speaking in a mind-numbing monotone here. My experience with the tour was really quite remarkable…and memorable.
Jargon-Free Education, So Clients Can Understand Just What It Is That They are Viewing
There is a substantial educational component to the tour. This is necessary so that those taking the tour can better understand – and appreciate – just what exactly they are seeing. That was the point of many of the spot videos that when clicked on give a quick and entertaining jargon-free explanation about whatever that specific topic is at that specific point of the tour.
The tour was made to feel more real by the use of a special software tool that is embraced by the builder and realtor community known as Matterport. This offers a 3D image with visible, but not obtrusive, tools to move through the space and to place lighted graphic buttons to highlight certain features of the showroom with labels for buttons to start a short explanatory video. Also, some buttons offered definitions or explanations about a certain highlight item on the screen.
A 3D Walk-Thru with Highly Interactive Elements is Impactful and Memorable for Your Clients
As you are taking the tour, you'll sometimes notice in the image in front of you are small circular graphics on the floor that indicate where the tour guide can click to move through the scene to the next set space. It works really well and again, you feel as though you are physically walking through the space. This is not unlike a Google map "Street View" where you can literally move through a section of the map by clicking on the next circle. The Savant tour guide handles this part of the presentation, with a step-by-step progression in the presentation.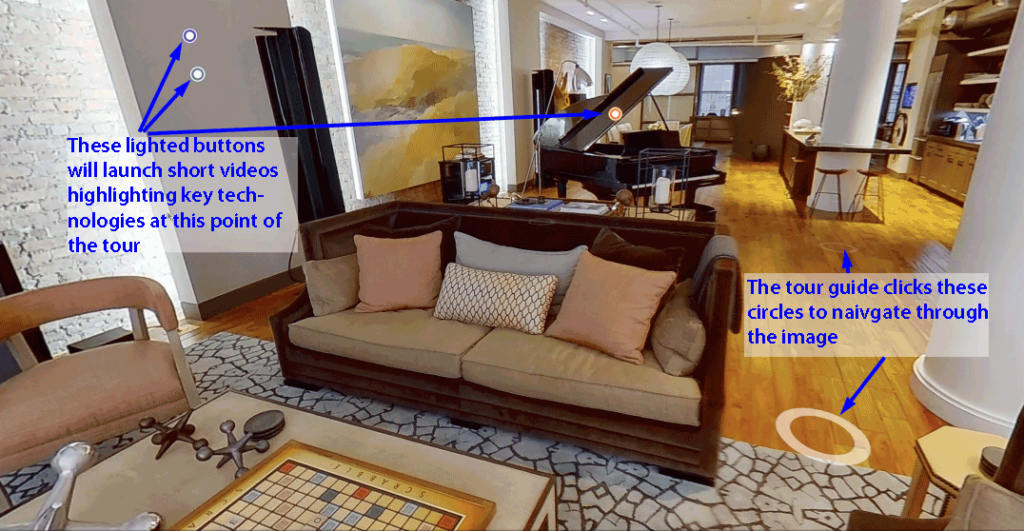 Also helping the impact of the presentation is that the tour guide can explain, for example, how you can tune the color of the lights – and then switch to a live camera and actually adjust the system you see on your screen as lights change colors and intensity. This was a little mind blowing and again added to the illusion that you were actually there physically viewing this demonstration in real time.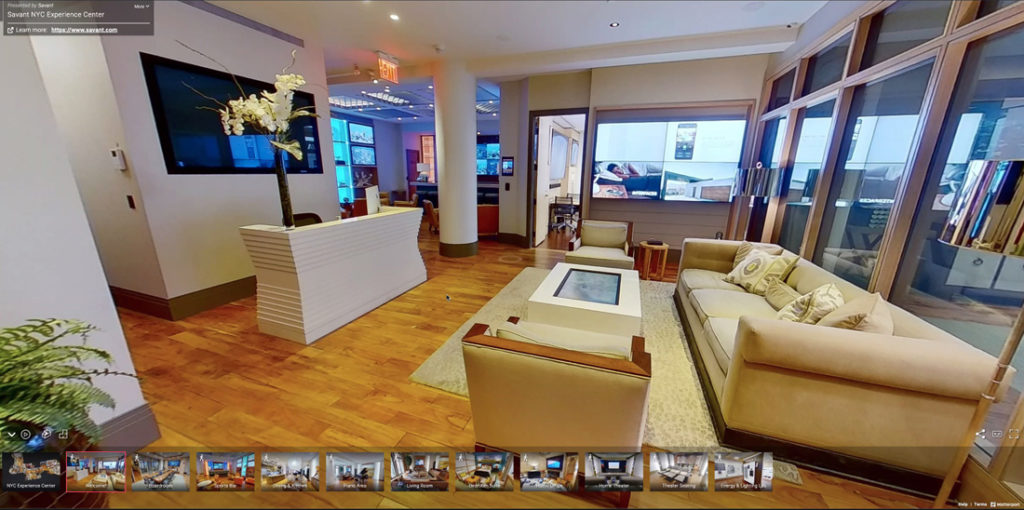 The Tour Begins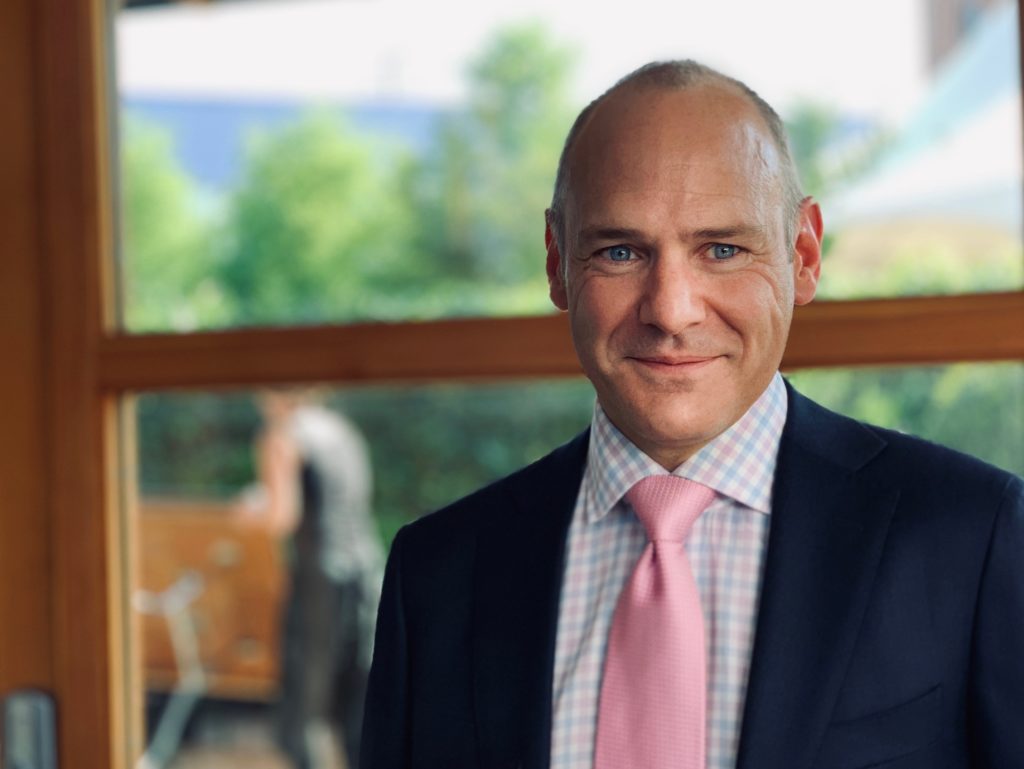 My tour guide was Blair Piersall, who is Savant's Vice President of Sales. Savant's Experience Center takes up the entire third floor of the old Singer Sewing Machine building in the trendy SoHo section of Manhattan. This building is historically significant and a great choice by Savant that adds to the overall impact of the tour. We began our tour in the foyer which is a modern, well-designed and professional looking greeting space. There is a sleek reception desk, and an overstuffed and comfortable looking sofa and chairs for those who would potentially need to wait a few moments for their meeting.
It is exactly what you would see if you were literally standing there. "Where we start the tour is where we start the tour. This is the view you get right when you walk off the elevator at our Experience Center," Piersall said.
Both Commercial/Educational and Residential Segments are Fully Displayed
Basically, Savant has divided the Experience Center into two sections: a commercial/educational side…and a residential side. From the foyer we move into the Boardroom, a space that Piersall said was his favorite section of the Experience Center. Why is the boardroom his favorite space to show? Because Piersall believes it shows off the greatest strength of Savant, effortless interoperability.
Savant is one of the few companies that designs, engineers, and manufactures the entire ecosystem. We have our audio solution here, our video solution at play here and our lighting and shading solution." And it's all designed to work together seamlessly…and effortlessly, he added.

Blair Piersall, Savant's Vice President of Sales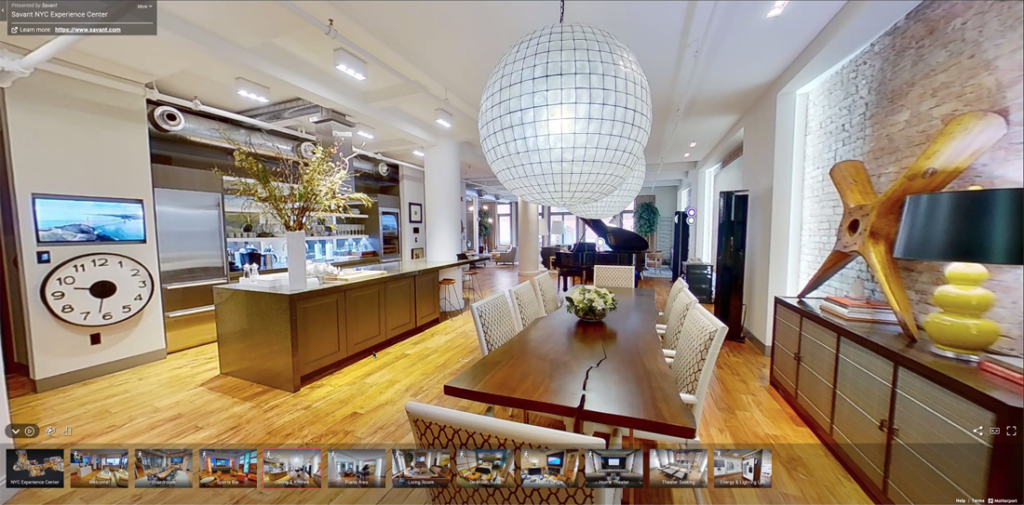 Not an Art Project – the Experience Center is Designed Like a Home You Would Want to Live In
After seeing a really cool sports bar layout (I need one of these in my home!), we moved on to the residential side of the Experience Center. Designed as an open style loft common in Manhattan, the residential side is more than 3500 sq.ft. and presents an optimized view of a smart home. By optimized, I don't mean ostentatious, or such high design that the original art dominates your attention…but rather it is designed to look much like a home you would like to live in, with all of the technological amenities of today's world at your fingertips.
We started in the kitchen/dining area – again all with a fresh and modern design. Piersall said that this space in particular is designed to look and feel comfortable to the client the minute they walk in.
The whole space is designed and engineered to really show folks how easy it is to live with this much technology. We don't slap people around with the technology. We really show how they can bend the technology to their will…not the other way around."

Blair Piersall, Savant Vice President of Sales
How to 'Bend the Technology' to the Clients' Will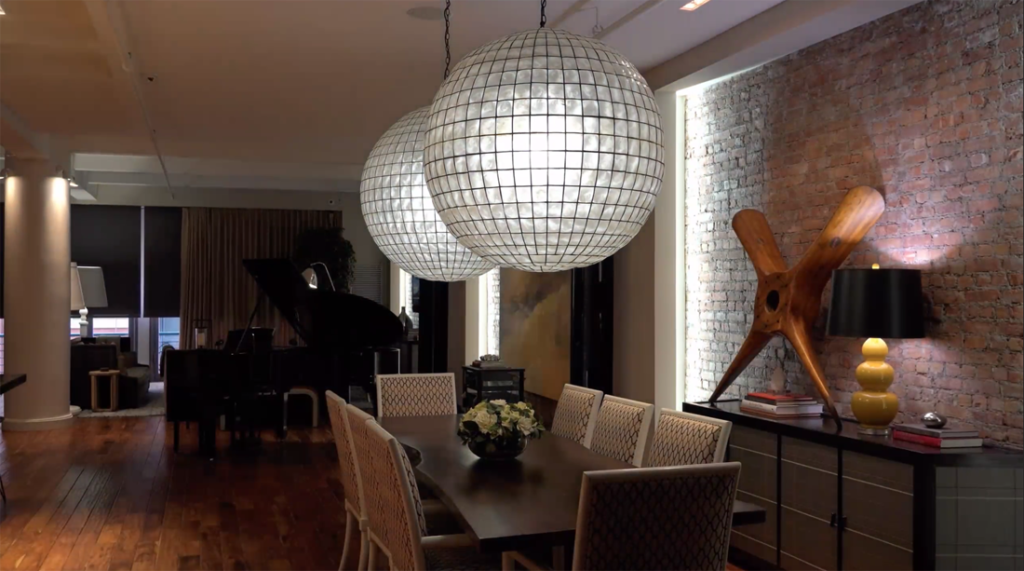 One key way they show clients how the technology can easily work for them is by demonstrating Savant Scenes. Scenes, which are like multi-step macros executing multiple functions with a single touch, are incredibly easy to set up and operate. Imagine in the first kitchen/dining image above, you have a romantic dinner planned…dinner is fully prepared and its time to set the scene.
With one button push, lighting levels are reduced, shades drop down, curtains close, attractive accent lighting is added, soft jazz music starts to play…let the romance begin! If you compare the photo in this section, to the one of the kitchen/dining area further above, you'll see how lighting makes a drastic difference to the ambiance of the dining space.
Heart of the Home with Multiple Control Options
From here we moved to a living room area. Again, well laid out with lots of comfortable furniture, this looked like a reasonable representation of everyone's primary living space. On the table in front of us were multiple input or control devices, including an Apple watch, and Amazon Alexa, and an Apple iPad. As you might imagine, this area is designed to show the flexibility in user interfaces – every user has the ability to select the form of interface that seems most logical and easy to use for them.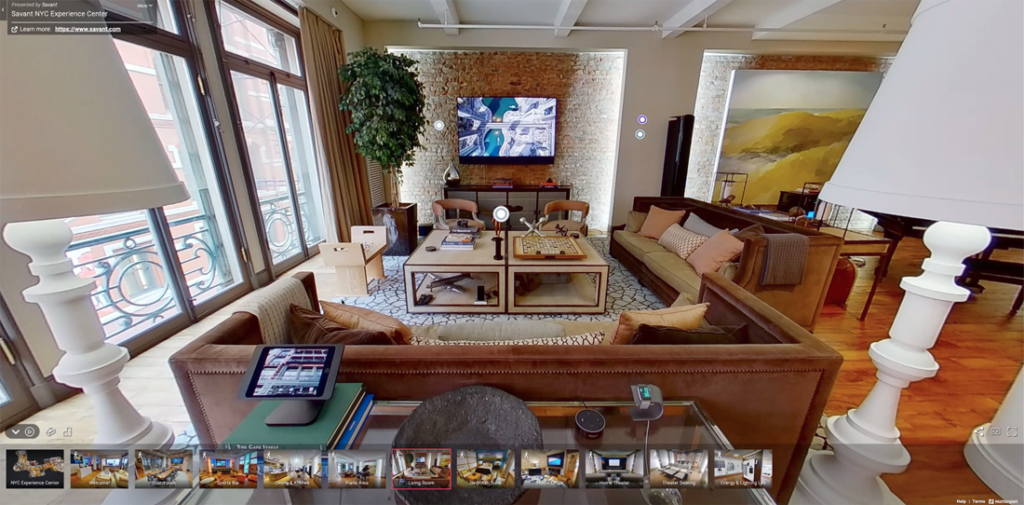 The large floor-to-ceiling windows you saw in the living room area are the only sources of natural light in the whole space. However, in addition to the existing lighting in the space, Savant installed tunable white lights, with the ability to mimic circadian rhythm. By tuning the lights to match the outside daylight you end of up a large indoor space that feels bright, energetic and natural.
How to Demo a Facility's Lighting, When No One's There
Savant lighting gives the end user tremendous flexibility, as Piersall demonstrated back in the dining area. We exited the 3D software and went to a live camera in the space while Piersall powered up the Savant app with its TrueImage interface. First he demonstrated how he can show the client the tunable white lights, by varying the white light on one of the hanging lamps so you can clearly see the difference between the two of them.
In addition to this, Piersall drew my attention to the hidden LED strip accent lighting that highlights the brick wall in the scene. Once again in real time he can show users how they can quickly and easily change the color to match or set the mood or look of the moment. In this demo, he shifted the color from a light seafoam green to a rich magenta.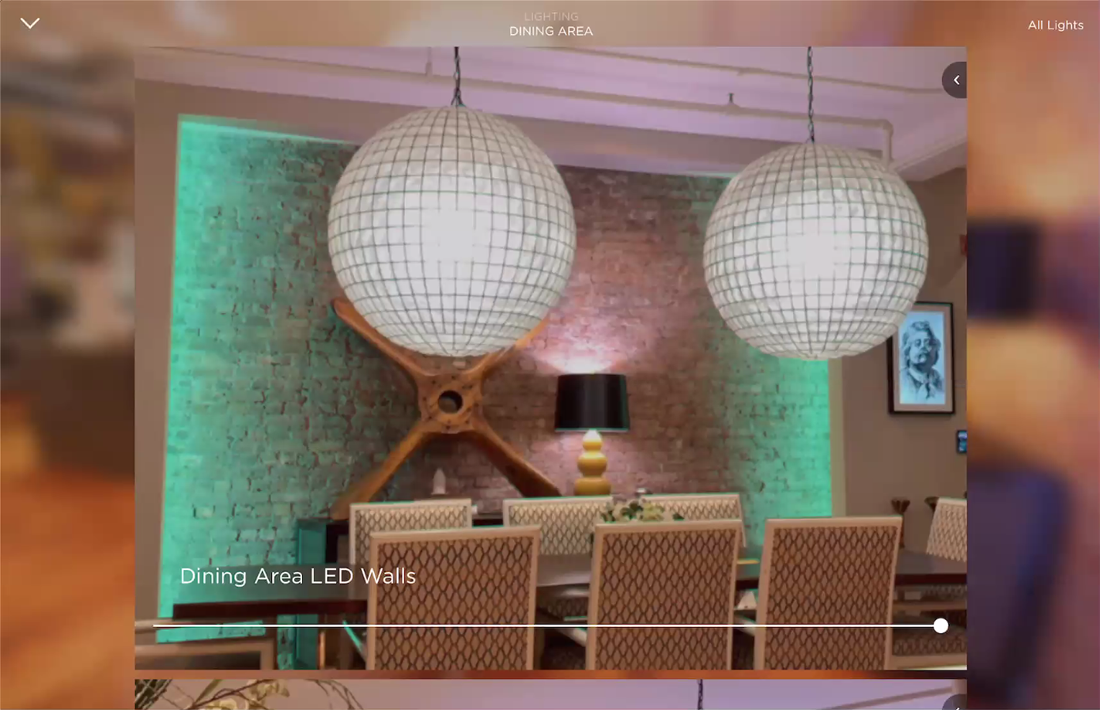 Jaws Drop and Big Smiles Ensue
This all happens in real time…because it is really happening in the space. It is another technique they use to help make the virtual viewer feels like they are there and in the moment. Piersall admitted that as he conducts this part of the demonstration, he watches the reaction of the client through the Zoom interface. Invariably, they forget they are on camera and strongly react with jaws dropping and mouths turning into big smiles.
From here, our tour diverged into an area I specifically requested – the energy and lighting lab space where we went much deeper into Savant's solutions in these critical segments. I'll save what I learned there for another post later.
Helping Dealers to Evolve Their Showroom Experience
But as far as the overall experience of the tour, it was first rate. I can see where a client can come out of this tour with the technology largely demystified with a greater understanding of the benefits of each of the elements of a smart home.
We see so many dealers that put most of their marketing dollars into their showrooms. We see the showroom experience as vital, but we also see it as evolving. So this is a way that we're trying to help dealers evolve – how to show the experience, how to get them immersed…but do it in a virtual way."

Angela Larson, Savant Senior Vice President of Customer Operations
Take Your Clients on a Tour They'll Never Forget
Savant, Larson added, is looking to make this Experience Center tour widely available to end users and their dealers. But not only that, they look to also offer it to architects and specifiers who she says rely on education.
If you are a Savant integrator and you would like to offer your client this impactful and memorable tour through a fully featured smart home, simply send your request to schedule one to: nycec@savant.com.
Learn more about Savant and its extensive line of smart home solutions by visiting: www.savant.com.