Owners of Distributor DOW Technologies Launch Integrator SMARTSolutions
For years, many Tampa, FL-area integrators relied upon distributor Dow Technologies as a valued supply partner for the technology solutions they needed to complete their system designs and installations. But not long ago, the owners of Dow Technologies acquired an integration business and merged it with their existing satellite installation business to create a new Tampa integrator they call SMARTSolutions – and now many of those same integrators say a partner…has become a competitor. And they are quite angry about it…
See more on Tampa integrators and Dow Technologies
Recently, I was forwarded an email that contained a strange and interesting story from an integrator who was obviously angry. Maybe "anger" isn't the right word. The passion shown in the email was really high, and the story it told was sufficiently strange enough, that it served to spike my curiosity. Would I be interested in looking into this story, the email "forwarder" asked.
The email was from a Tampa, Florida integrator who angrily told the story of how his once valuable distribution partner – Dow Technologies – had morphed into a competitor, in the form of an integration company they created called SMARTSolutions. To the integrator, this situation was an obvious conflict of interest and completely unacceptable.
So a couple of weeks ago, when that integrator received a telephone call from his Dow Technologies rep, he took advantage of the opportunity to inform him that his company would no longer be purchasing gear from Dow Technologies. Then, a day or two later, he received another call from the director of sales for DOW, Drew Fischer, who ostensibly called to address the integrators' concerns. But when he tried to explain his decision to Fischer, the sales manager's response seemed remarkably tone-deaf…and some of his claims – such as DOW not owning SMARTSolutions, or him not knowing who the corporate officers are – seemed really unbelievable.
The History of DOW
Launched back in 1959 as DOW Electronics, the name DOW is derived from the names of the three partners who founded the company – Doc Blower, Oscar Carter, and Bernie Wagman. It was a wholesale electronics distributor offering electronic repair parts and off-air radio reception gear to area retailers. In the mid-1990s it was known mostly as a major player in the satellite business as one of the largest DISH network distributors. You can see more on DOW's history in another Strata-gee post at this link…
In 1999, another business was launched to install satellite systems called Digital Reception Services or DRS. That company was owned by the Yodzis family, the same family that now owned DOW Electronics but was under a different corporation. Keep this in mind as we move on with this story.
Entered Custom Integration by Acquiring Shifting Sands Stereo Distributing
Because DOW was a big Sony and later Samsung distributor, they began doing more and more business with integrators who were generally too small to qualify for a direct program with Sony, but needed the brand for their installations. The integration business didn't come naturally to DOW, but sensing opportunity they began exploring ways to grow that part of their business.

In 2013, DOW Electronics acquired Shifting Sands Stereo Distributing, a custom integration-oriented distribution company that was owned by Mike Sajecki, who also owned a separate manufacturers sales representative firm. This was DOW's first big step directly into the custom integration business.
DOW today has 8 warehouse locations serving 22 states, according to their website. Market segments served includes custom integration, 12-volt, satellite, marine, and UCAAS/VOIP. They claim to offer products from 105 brands – everything from Advent – to – Zuum. Major brands offered include Sony, Samsung, Sonos, Russound, AudioControl, Alpine, Ring, Roku, Lutron, LG, and many more. See all of the DOW brands here…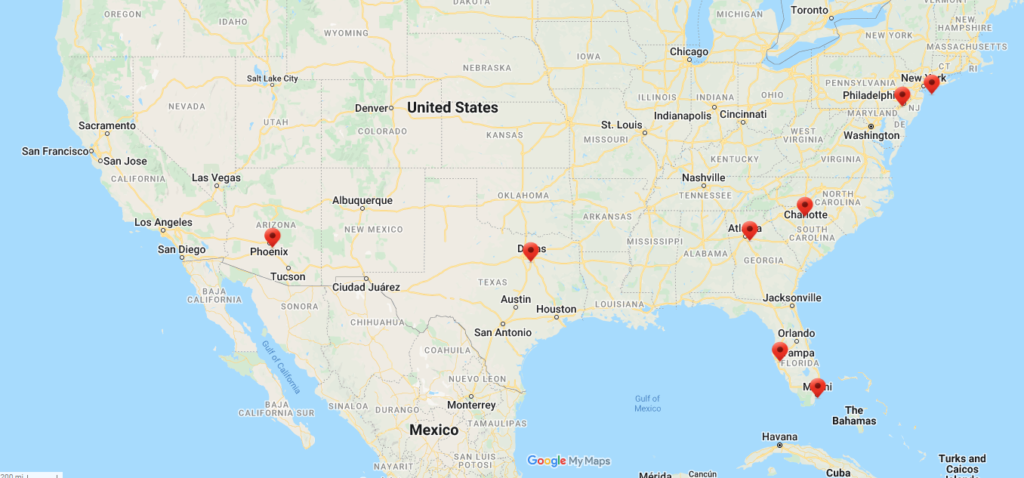 Events Unfolded to the Dismay, Then Anger, of Integrators
So how have events unfolded such that now several integrators refer to the company using expletives and have pulled their business out of DOW Technologies? Well, remember DRS? As the satellite business began to fade, the company made the decision to expand into other technology categories – shifting from satellites to cinemas…and other home technology gear.
In an email to an integrator from DOW Executive Chairman Chip Yodzis that was shared with Strata-gee, Yodzis tells the story:
SMARTSolutions is a successor company of Digital Reception Services, Inc. DRS was initially started and funded by my family back in 1999 to provide installation services for DISH in the State of Florida… In late 2017, when DRS was looking to diversfy from strictly the satellite installation business, a local integrator Media Savvy, owned and operated by Darren Thomas, approached DRS about taking over his business. We were able to consummate a deal and Darren joined DRS, and what is now SMARTSolutions, in early 2018.

Chip Yodzis, Executive Chairmand of DOW Equity Holdings, inc. and SMART Equity Holdings, Inc., in an email
Suddenly, the Owners of DOW Now Owned an Integration Business
With this transaction in 2018, the owners of DOW Technologies were now also the owners of a full service integration company initially known as DRS SMARTSolutions, eventually dropping DRS to become simply SMARTSolutions. However, none of this was trumpeted to the marketplace, it was done quietly. Multiple integrators told me that there was no announcement of the acquisition and they were completely unaware of it…until they ran up against the company in bidding for a job.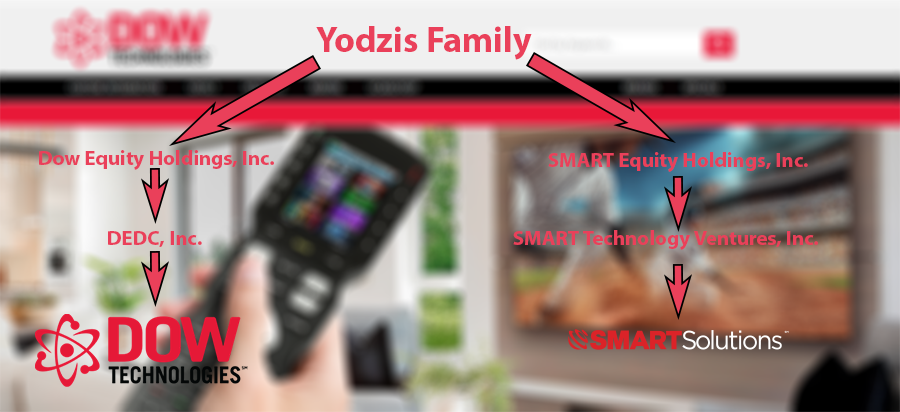 As you can see in the above graphic, the corporate lineage goes something like this: On the distribution side: Dow Equity Holdings Inc. is the corporation that owns DEDC, Inc., which is the corporation that operates as DOW Technologies. And on the custom integration company side: SMART Equity Holdings, Inc. is the corporation that owns SMART Technology Ventures, Inc, which is the corporation that operates as SMARTSolutions.
Same Owners, Same Corporate Management
They all come together under the ownership of the Yodzis family. It is also noteworthy that corporate management is largely the same on both sides – so you have the same financial ownership and the same corporate management of both entities.
Listed corporate officers for DEDC, Inc. (DOW Technologies) are: John J. Yodzis (PCEO), Carolyn D. Yodzis (SVP), John P. Yodzis (EVP), Daniel T. Carr (CFO/VP), Stephen O. Decker (VP).
Listed corporate officers for SMART Technology Ventures, Inc. (SMARTSolutions) are: John J. Yodzis (Executive Chairman, President, Chief Executive Officer, Assistant secretary), John P. Yodzis (Executive Vice President), Carolyn D. Yodzis (VP, S, T), Stephen O. Decker (VP), Daniel T. Carr (VP), Donald J. Lawson (VP), Mason R. Fischer (VP).
I confirmed all of this information on the website Sunbiz.org – the official website of the Division of Corporations for the State of Florida.
Integrators' Anger Builds
The integrator who reached out to the media was Jaret Nichols, owner of Tampa Bay Electronic Systems in Tampa, FL. Like many integrators in the area, TBES relied on DOW Technologies as a key supply partner for products used in their installations. So it was quite surprising one day a couple of years ago, when he got a call from someone who told him that DOW had gotten into the integration business. He didn't think much about it at the time, but he did begin to notice trucks driving around town marked as DRS SMARTSolutions.
Integrators are a busy bunch and there was plenty to occupy Jaret's brain, and from 2018 through 2019, he told me he really didn't run into SMARTSolutions very often. He got the impression that they focused more on the lower end type projects, such as installing Ring doorbells and the like.
Things Started Heating Up in Summer 2021
And, of course, like most integrators, 2020 & 2021 were mostly a blur, as business during the pandemic took off. Then, this past summer, he heard from a client he worked with before and who had a new project…telling him that he had a quote from this other company, SMARTSolutions.
Jaret was surprised but the client sent him the quote (without prices) which consisted of a lot of Sonos, Google Wi-Fi, and other items that he felt were at a lower level than this multimillion-dollar home project deserved. After he provided his client with a quote using better gear like Araknis networks and Control4 control solutions he was surprised to learn that SMARTSolutions requoted using the same gear – apparently the client was playing both companies off of each other. Jaret won the deal, but was now on high alert about this new competitor.
Began Popping Up More Frequently
Over time, SMARTSolutions began popping up more frequently. Jaret told me that there is a good amount of competition in the Tampa area and he has no problem with competitors who are situated in businesses much like TBES. But he was really beginning to think hard about having to compete with an integration company that is connected to the distributor who is a supplier for him, and with whom he spends a lot of his hard-earned money.
Then Allnet, part of the Snap One distribution network, opened a warehouse in the Tampa area and Jaret began to shift his business from DOW Technologies over to them. With a new source for technology that is not also a competitor, to Jaret, it was a no-brainer. Then…DOW Technologies sales team began reaching out to him over and over.
More Integrators Speak to the Situation and a Pattern Emerges; Emotions are Raw
I reached out to more Tampa integrators to get their feelings about the common ownership of both Dow Technologies and SMARTSolutions. And within their responses, I began to see a pattern emerge. The smaller integrators relied more on distributors like DOW Technologies and found the situation wholly unacceptable, but often felt forced to have to live with it. Larger integrators had a bit of a different take, perhaps because they were buying most of their gear direct from their major brands and were less reliant on distributors like DOW. But the larger integrators still complained about what they perceived was the unfairness of the advantage that SMARTSolutions has on certain major brands, where they get access to products purchased at distributor pricing.
I also noticed that the integrators' emotions were raw. It looked to me that some of these integrators felt incensed by the violation of their trust in DOW over the years. And many told me that thanks to Allnet entering the market, like Jaret they had pulled their business away from DOW.
"I think they're a piece of shit and I stopped doing business with them as much as possible," one integrator told me, not holding back his feelings. "I think that they've stepped way over the line. I've told my people to pull all purchases away from DOW."
Another integrator who focuses more on the high end echoed Jaret's comments, saying that for quite a while he didn't feel any competitive pressure from SMARTSolutions at all. But now? "I'm starting to run into them quite a bit," he admits. "But we're higher end, so it's not as big of a problem as it could be."
Still, even those integrators who can buy direct, feel that the situation is unfair. "I buy Samsung direct," one integrator told me, "but I'm not getting it at distributor cost. I think it's ridiculous that the larger brands sell to them."
"It's absolutely a conflict of interest," said Nick Jannuzzio, owner of Sound Tech AVL, about the common ownership of DOW and SMARTSolutions. "That's why I don't do business with them anymore. I buy everything from Snap One now."
DOW Answers the Objections
Note that I made several attempts to get a comment on this story from DOW management, but multiple messages left for them were not returned by the time this story was posted.
DOW salespeople appear to be well aware of the unpopularity of the presence of SMARTSolutions with area integrators and have developed several responses meant to defuse the criticism – although integrators have told me that these phrases just make them angrier. If you raise the conflict of interest objection to a DOW Technologies salesperson or executive you can expect to hear any one – or – all of these responses.
I assure you that DOW does not own SMARTSolutions
These two corporations function as totally separate corporations
DOW offers no pricing advantages to SMARTSolutions
DOW gives no preferential product allocation to SMARTSolutions
We [DOW] will let you see our invoices to SMARTSolultions to prove our statements are accurate
The finances of DOW Technologies and SMARTSolutions are kept completely separate
SMARTSolutions does not compete on price, but rather on quality, value, and expertise
Playing with Semantics
While certain of these statements may be technically correct (DOW does not own SMARTSolutions), to integrators, this feels like DOW management is playing with semantics. While it may be true that DEDC, Inc. (DOW Technologies) does not own SMART Technology Ventures, Inc. (SMARTSolutions), the Yodzis family owns Dow Technologies and they own SMARTSolutions – and that fact, in the integrator's mind, is a clear and obvious conflict of interest.
Furthermore, several integrators expressed to me that they feel the company has been irresponsible and unethical in the way DOW management and sales have handled the conflict surrounding an obvious violation of the trust placed in them by their customers…the integrators. Only when sales began dropping off, did DOW's sales staff make an effort to reach out to integrators and ask for more business. Given the circumstances, integrators felt it took a lot of gall for DOW to take that approach, and then to simply, in effect, deny there is an issue. Telling integrators that these are two different companies was, in their minds, an insult to their intelligence.
They just kind of kept bothering me. So finally I said, 'Look, I'll be honest with you. Now that all of this is out in the open, I'm not gonna buy anything from you guys anymore. This issue with SMARTSolutions has been has been kind of something I've been aware of for a while. But it's also become a bigger issue now. And I'm just I'm not interested in supporting you anymore.'

Jaret Nichols, Founder of Tampa Bay Electronic Systems, relaying when he told his DOW rep to cancel his account
DOW Technologies & SMARTSolutions: Two Different Companies?
Two different companies?…integrators huffed. "They work out of the same facility," one integrator told me…adding that the current SMARTSolutions showroom is in the DOW Technologies warehouse and was the distribution company's previous showroom.
I attempted to confirm this fact and it appears to be true. When you Google SMARTSolutions and Tampa, you are given the address for DOW Technologies. So SMARTSolutions does operate out of the DOW Technologies facility. Nichols tells me that when he mentioned this fact to sales manager Drew Fischer, he responded that DOW just rents space to SMARTSolutions. "Would you like to rent space in DOW?" he says Fischer asked him.
What Do Vendors Think?
I reached out to a couple of the brands listed on the DOW website, and what I found out surprised me. In both cases, the vendors were completely unaware of the DOW/SMARTSolutions connection. When informed of the situation and told of how some of the integrators feel about it, one of them said, "That's not a good look for DOW."
See more about DOW Technologies by visiting: dowtechnologies.com.
Learn all about SMARTSolutions at: makingtechsimple.com.