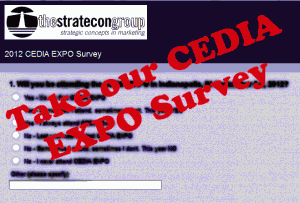 Once again it's show time! We are taking our 2012 CEDIA Expo Survey as we did last year. As you probably know, the Expo is only a couple of short weeks away and we'd like to get your insight into this seminal industry event.
The survey is short…I promise!! You should be able to complete it in only a few short minutes.
Whether you are planning to attend or not, please participate…The more readers who contribute, the more accurate the results.
Note that several questions have "Comment" boxes. If the choices in the question don't perfectly match your situation, please feel free to add a comment there. Also, towards the end of the survey, we've added a couple of open-ended questions to give you an opportunity to give us your best insight into the EXPO. We would greatly appreciate it if you would take a couple of extra minutes to share your valuable insights with us.
We will publish the results, including any significant comments, in the next couple of weeks.
Click the image above or the link here…
THANK YOU FOR PARTICIPATING!!
Ted