In a newly released study of consumer shopping trends, which like many others is very favorable to online shopping, analysts are discovering surprising data favoring brick-and-mortar retailers. Even more surprising, the study results indicate a resurgence in a preference to buy goods in brick-and-mortar retail by younger shoppers. This shocking result runs counter to other studies and has caught some analysts by surprise.
See the surprising results of this new study on retail shopping preferences…
Walker Sands communications, a PR and digital marketing company for the b-to-b channel, conducted a survey of 1,622 consumers across the U.S. on their shopping habits, preferences and views on emerging retail technology. The survey was taken in March 2017 with a detailed summary of results just recently released. It made for some interesting reading.
A marketing blog, MarketingProfs, was the first to point out that, amongst the many pages of the summary of results, a few poignant items pointed to a surprising resilience and even rebound of the traditional bricks & mortar retail business. For example, when asked – "How do you prefer to shop?" – a surprising 54% majority responded in a "Physical Store." That's right, although online shopping has come a long way, this study shows that a majority of Americans still prefer to shop for products at a physical store.
Where Consumers Prefer to Shop
Of course, online sales are also well represented, as 33% said they prefer to shop on a "Desktop" computer, followed by 8% who selected on a "Mobile Device." Also interesting, in this age of voice-control mania, only 1% said they made a purchase via a "Voice-Controlled Device" like an Amazon Echo or Google Home.
When looking at the demographic breakdown by age range of the respondents who said they like to shop in a physical store, things got even more interesting. You might expect that older generations would be more likely to select the option of shopping in physical stores, and you wouldn't be surprised. The age range that mostly identified with shopping at a physical retail store was the 61+ age group.
Here's a Surprise, Gen Z Prefers to Shop in Physical Store
But what might surprise you is that the next largest age group to show a preference for shopping in a physical store was the youngest one – 18-25. It certainly caught our eye and we dug further into the study to see if this was an outlier result, or there was further support in the results for other questions. And yes, there was further support of this result in other questions.
It didn't escape our attention that the first question we referred to above was about "shopping," not "buying." It's one thing to visit a physical store to shop, but another thing altogether to "buy" their goods there.
But Where Do Consumers Want to Buy?
We got our answer a little later in the study, when participants were asked to pick from a logical group of options to complete this sentence, "In the past year I have purchased a product…" The number one response, "In a physical store," which was selected by an impressive 83% of the respondents. This was followed by 69% who selected "Online (regular shipping)." Interestingly, another 41% said they bought online for in-store pickup…sort of a hybrid approach.
So, there it is, a majority of consumers prefer to shop – and purchase – their goods in a physical bricks & mortar store. But why?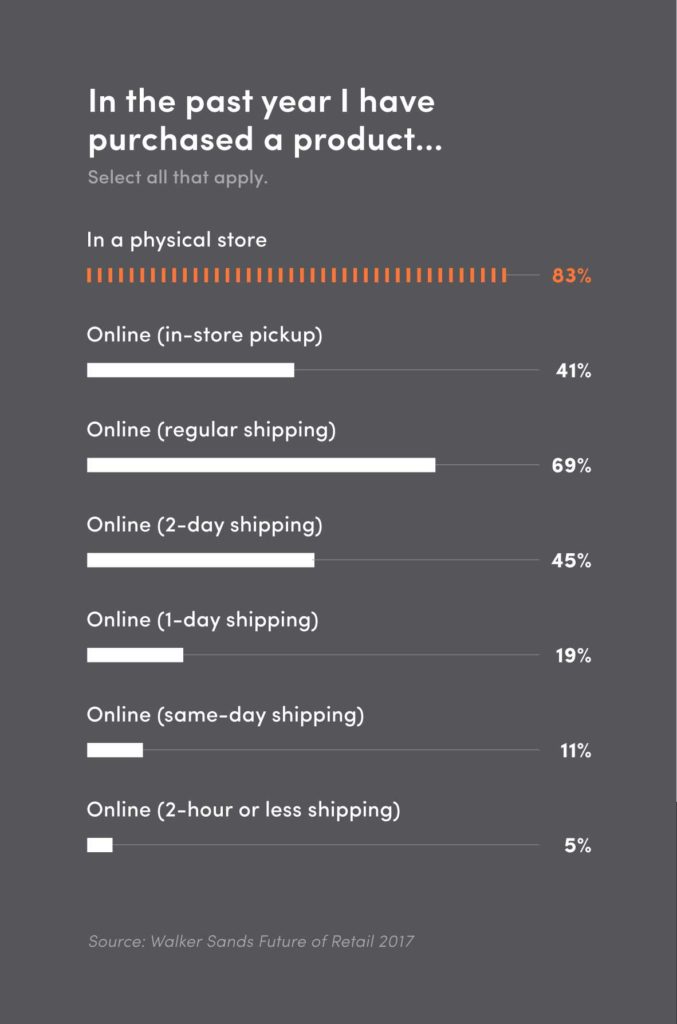 Noting that the online experience has improved dramatically, the report says that, "More than a fourth of consumers (27%) think the online experience is already better than the in-store experience, and another 15% think it will surpass the in-store experience in the next year." Still, "in-store shopping is making a comeback among the youngest shoppers," as well over "half of Gen Z consumers prefer to shop in physical stores (58 percent), putting them on par with the older consumer groups."
Craving Instant Gratification
The reason, the study suggests, is that "These newest shoppers, who grew up in the age of social media, crave instant gratification and an authentic experience from retailers." The operative word there may be "experience."
When asked what could motivate them to shop even more from physical stores, four of the top five responses from participants were decidedly about the experience, including: food and beverage offerings (30%), more personalized shopping experience (18%), live product demonstrations (18%), and special events and entertainment (17%). The top response, by the way, was exclusive discounts (64%).
Other Select Results:
Smartphone penetration has reached 78% (and tablets have reached 55% share)
More than one-out-of-four consumers own some type of in-home smart device (like a smart appliance, thermostat, or light)
68% of Americans pay for at least one digital TV service
What concerns consumers about shopping via a voice-controlled device? 38% say security, while another 33% say privacy
Fully 80% said free shipping would convince them to shop online more
84% of consumers have purchased something from Amazon in the past year
We will revisit this remarkable study more as we dig deeper as it appears to have many interesting results not only related to shopping, but in how consumers use technology.
See the MarketingProfs article on the research here... (free subscription required to see the entire article).