Eye-Popping Numbers Point to Huge Shift in Consumer Preferences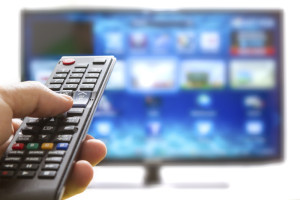 Much like the amazing growth in music streaming over the last few years, streaming TV has also seen an explosion in the number of users as well. This growth has been fueled in large part by the growing popularity of both original programming and the replay of popular shows on Netflix, Hulu, and Amazon. Now new research data predicts that in 2016 streaming TV will reach the tipping point – more than half of all Americans will watch TV programming from streaming video services.
See more on this amazing milestone…
Trend watcher eMarketer projects that 164.5 million Americans will watch streaming TV programming in 2016 – 50.8% of the entire U.S. population. This is up from up from 47.8% of the U.S. population last year, and even though the rate of growth is declining, the total is expected to reach almost 55% by 2020.
Note that eMarketer's yardstick for this analysis defines a streaming TV household as one that watches streaming TV content (also known as over-the-top [OTT] video) at least once per month. And the definition is further differentiated from homes that watch streaming movie content – a different category that they track as well.
The 800 Pound Gorilla
It is also important to realize that traditional TV still is the 800 pound gorilla of TV viewing, even for most of the OTT homes. This year, according to eMarketer's data, 205.7 million U.S. adults will watch TV programming through the more traditional means of over-the-air broadcast, cable, and satellite services.
Still, traditional broadcasters and pipeline players must be concerned. As more OTT programming options become available increasing the hours of time streaming TV content – and, as more homes become connected to view Internet TV programming – it is likely that streaming OTT programming could one day exceed traditional TV programming.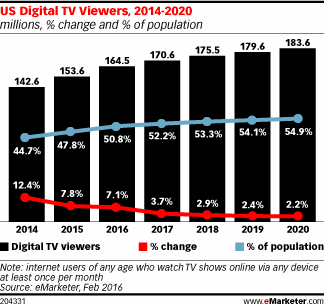 "eMarketer's latest forecast of digital TV and movie viewership points to a growing embrace of over-the-top video, partly at the expense of traditional TV," said eMarketer senior analyst Paul Verna. "This trend is driven by an expanding range of viewing devices, by favorable shifts in consumer behavior and by a flood of new content from streaming services. Netflix, Amazon and Hulu now compete elbow-to-elbow with TV networks and film studios for original programming."
All Online Video Consumption Grows
Along with, or perhaps because of, this trend, eMarketer is also predicting that OTT viewing of movie content will continue to grow as well. This year, 120.6 million Americans will watch movies online at least once per month. That works out to about 37.2% of the total U.S. population and 45.4% of Internet users.
When looking at "total digital video consumption," a concept that combines OTT TV, movies, news, and (video) ads, the numbers become even more compelling with more than two-thirds of all Americans watching this content at least once a month. And when focusing down on one group, millennials (people born between 1981-2000), we find they are voracious digital content consumers with 93.7% watching streaming video this year.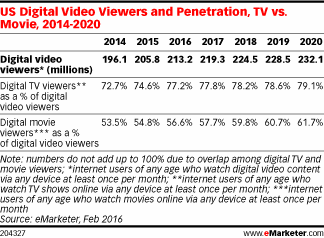 Near-Saturation Point
"Younger millennials who came of age in the YouTube era see digital video as a pervasive activity that cuts across genres and screens," said Verna. "They're among the heaviest users of smartphones and tablets, and they routinely use those devices – along with laptops and connected TVs – to watch everything from how-to clips, gaming streams, humor videos and news blurbs to sports highlights, educational content, music clips and scripted dramas."
And, as is perhaps no big surprise, equally voracious are Internet users as well. According to the eMarketer data, no fewer than 96.5% between the ages of 18-24 will stream OTT video this year. The researcher calls this "a near-saturation point."
See more on eMarketer's report here…