One month ago, on December 6th, Strata-gee launched a series of articles on recurring monthly revenue (RMR) programs based on research conducted for a cover story in the December issue of Residential Systems Magazine. That Series, called Strata-SERIES: RMR,  ran the entire month of December and into January with a total of five posts of content, plus an additional Series introduction and this Series wrap-up.
What did we learn about RMR? Much! Read on…
I'll be the first to admit that prior to the Residential Systems assignment, I did not have a deep and nuanced understanding of the issues surrounding the RMR business. Like many, I thought it was just some way to wheedle more money out of clients. It turns out that while a new revenue stream is part of the benefit of a well-conceived and executed RMR program, the bigger picture is that it holds an entire roster of benefits. Most importantly – it drives a new and deeper relationship with the client.
Mega-trend forces are converging to drive more integrators to adopt some form of RMR program. These forces will continue to build momentum and I believe we'll see the adoption of RMR programs by integrators increase over the next five years or so.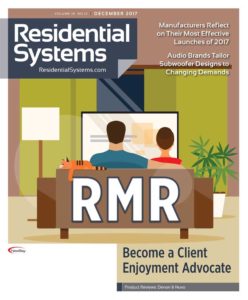 The fact is, our Strata-SERIES: RMR is but an overview to this incredibly deep subject. But, here are some of the key findings that we presented in this series.
Low Penetration Means High Opportunity – In our first installment, I mentioned how my research got off to an inauspicious start, as the first integrators that I reached out to were not engaged in RMR:"Surprisingly, the first four integrators we spoke with had either never offered any kind of RMR program…or they had tried a program and ended up dropping it…or they had an existing program, but it was not particularly successful. Most of them expressed frustration over their RMR efforts, or resignation that RMR was just not working out. With this being the case, none of them wanted to be quoted as part of this story.In doing some research, I discovered that penetration for RMR programs is pretty low…about 29% according to CEDIA's Dave Pedigo. Anecdotally, some in the industry estimated in the 30-40% range overall. Although lower than expected, this low penetration can mean there's a high opportunity for integrators to enter this segment, taking leadership of the category in their markets.
Competitive Advantage – Like CTG's Lentz, Ron Wanless of Technology Design Associates (TDA) had an ulterior motive for pursuing an RMR program – he was trying to cut company overhead by reducing truck rolls to service client's systems. Says Wanless, as he explained why they crafted an RMR program, "It was actually the ability to limit my truck rolls to a client's house. Despite the fact that I like the effect of billing my clients for stuff, the objective is – truck roll service calls typically lose money, you spend more than you can bill for."

Ron Wanless
Technology Design Associates

It took a lot of trial and error for Wanless to arrive at a program that hit the sweet spot of being low cost enough to motivate client adoption, while offering a stream of revenue to offset costs. But perhaps the biggest advantage to the Client Care Program TDA designed was being able to bill clients for remote monitoring and maintenance services. Wanless says they successfully cut truck rolls by 82%!

Finally, Wanless, like many of the integrators I spoke with, said that his program now is actually a competitive advantage in the eyes of many potential clients. They like the idea of ongoing working with an integrator that will be there to offer ongoing, after-sale system support.

With Monthly Maintenance & After Hours Support, 'I Got My Life Back' – Matt Walin of Brilliant AV has operated for years with a pretty traditional approach to integration – selling and installing stuff. Then: "We began to realize, as we kept getting calls for service needs, that there's an opportunity here." But as he investigated the costs of ramping up a full-fledged service operation, including offering 24/7 after-hours support, Walin couldn't figure out how to make the numbers work.

Matt Walin
Brilliant AV

Although he attributes some of this to the onerous labor laws of the State of California, the fact is, it can be a signficant investment for integrators, especially if they don't already have a service staff. Walin's solution was to work with a turnkey solution from OneVision to handle all of the complexities of offering ongoing service.

And one benefit of transitioning from a break-fix model, to an ongoing system monitoring and maintenance model is, fewer service calls and – in his case – an outsourced help desk: "I got my life back. Now all the after-hours phone calls go to the help desk."
That's a Wrap!
I've enjoyed bringing this series to Strata-gee readers, and a big shout-out of THANKS to Jeremy Glowacki and Residential Systems for letting us expand this content here.
Bottom line: integrators should be taking a very serious look at offering an RMR programs. Done correctly, an ongoing maintenance agreement with your clients is good for them, good for you, and helps to create your own in-house pool of demand as technology changes down the road.
And that is something that we all know is inevitable – technology is always changing – and always outpacing your clients ability to grasp the significance of. With an ongoing maintenance RMR program, you'll be right there to help them choose the best options for them.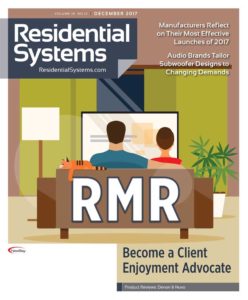 Strata-SERIES: RMR is an expanded series of articles based on my research for the cover story commissioned by Residential Systems for their December issue. Check out the original article here…or visit the Residential Systems home page here for many other great stories…