At the CEA Line Show last month, we saw a whole spectrum of exhibitors, including: 1) Unknown brands vying to get the attention of the tech press; 2) Well-known brands showing products again that have already been announced and shown; 3) And then there were a couple of surprises – well-known companies showing entirely new products or product categories. SpeakerCraft, a well-known predominantly custom integration supplier, surprised us with a new product in a new category for them…they call it Protegé.
Call it Protegé…but don't call it a soundbar…

When I first looked at the Protegé at the Line Show, I blurted out, "Hey…I didn't know you guys had a soundbar!" The looks on the faces of the SpeakerCraft staff told me that the term"soundbar" is a dirty word to these guys. "Not a soundbar," was the immediate retort. When I persisted by saying that I felt it looked like a soundbar, they invited me…politely…to take a closer look.
Notice, they said, the size and the shape of the cabinet. Hmmm, yes, it is an unusual size. The Protegé is substantially larger than your average soundbar – wider and deeper. This is a carefully tuned and crafted speaker box that is critically dimensioned to provide the optimum volume for deep bass extension from the two, downward-firing 5 ¼-inch subwoofers.


Holds its own sonically – and holds your TV…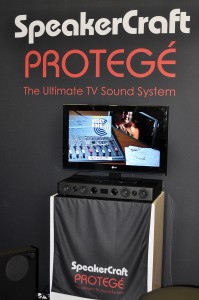 Not only that, but the internal bracing is designed to provide reinforced support such that you can place your flat-panel TV on TOP of the unit for a nice compact installation. Just how big of a TV can the Protegé safely support, we asked. The unit can handle most commercially available LCD/LED TVs and many plasmas…as long as they weigh 160 pounds or less.
The Protegé feels solid and well-made. Contained within its reinforced cabinet are: the two aforementioned 5 ¼-inch downward-firing subwoofers, four front-facing 3-inch midrange drivers, and two front-facing 1-inch silk dome tweeters.There are two ports on the rear of the cabinet porting the subwoofers; and another two ports on the front of the cabinet for the midrange speakers.
May upset your neighbors…
The engine driving all of these speakers is a Class D amp pumping out a gut-rumbling 80 watts of power – more than enough to rattle your windows…and at the same time annoy your neighbors by rattling theirs too! SpeakerCraft has also included DSP technology to generate a synthesized surround sound channel.
And if that's not enough to convince you that this isn't your typical soundbar – the Protegé also includes Bluetooth connectivity. With Bluetooth technology included, consumers can stream content from their favorite smartphone through the system – effectively allowing Protegé to serve as the heart of a complete home entertainment system.
Looking for a hidden subwoofer…
We had a chance to audition the Protegé at the Line Show. In a large convention hall, with hundreds of booths and thousands of participants – multiple sound demonstrations going on all around us, the ambient noise level is significant. This is hardly an ideal environment for critical listening.
Having said all that, the sound level generated by the Protegé was impressive indeed. Especially the amount of low-frequency energy that the unit pumped out. Watching a music video DVD with the sound cranked, I quite literally got up and walked around the system to verify that there wasn't a hidden subwoofer anywhere in our vicinity. There wasn't. Simply put, the unit pretty much rocked.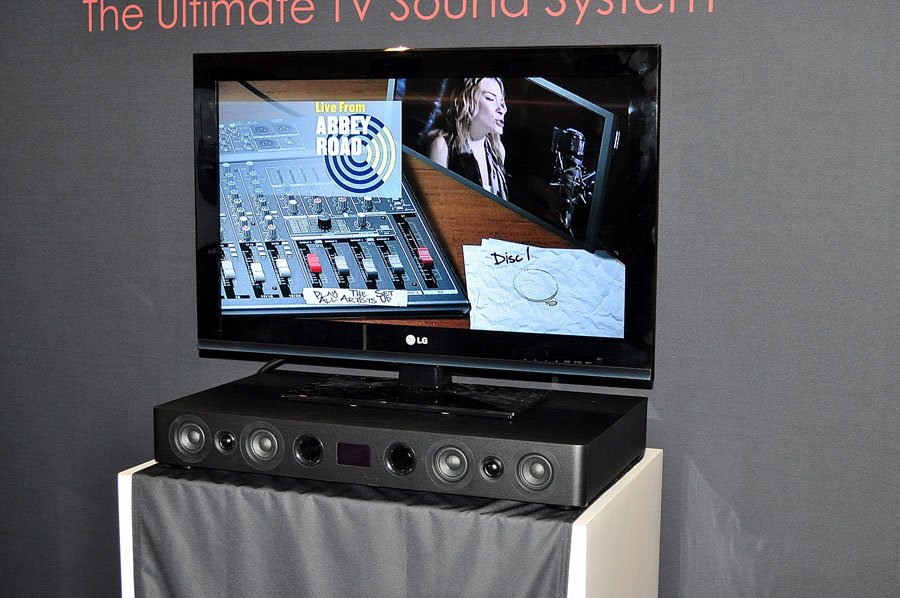 Eminently pragmatic product…
And while the environment was way too harsh to allow for any kind of fair qualitative judgment -what we were able to hear convinced us that this was a unit that warranted serious consideration.  We couldn't help think as we auditioned the Protegé that it was an eminently pragmatic product. The built-in audio of almost all TVs, including those four-digit expensive ones, is really pretty lousy. Now, consumers have a space efficient solution that in an unobtrusive package adds the sock to your rock that your factory TV audio just can't reproduce.
According to SpeakerCraft, the Protegé will ship in August. Interestingly, the selling price was not settled by the time of the Line Show. SpeakerCraft personnel told me that they expect it to be priced somewhere in the $599-$649 price range.
Considering the construction quality, design integrity, and innovative product concept, we are convinced that you should consider making this  product your sonic Protegé.
For more information about Protege, see: www.speakercraft.com.