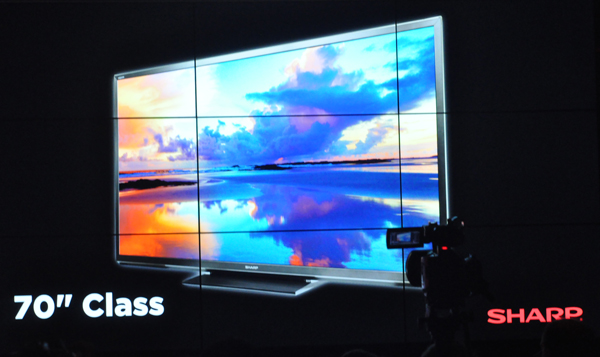 The Nikkei reported today that it has learned from unnamed sources that Sharp Corp. is about to report a surprising interim net loss of ¥400 billion (just over $5 billion). Covering the period of their April-through-September fiscal (interim) semester, this loss is 90% worse – almost double – their most recent estimate of a ¥210 billion loss…and an full ten times worse than last years interim loss of ¥39.8 billion.
How did Sharp management get their forecast so wrong?…
The key element driving this dramatic increase in net loss appears to be related to the company facing about ¥200 billion worth of write-offs related to their struggling LCD business. According to the report, the company will take charges to write down the value of their LCD panel – and "other" – inventories, draw-down deferred tax assets, and book restructuring charges…all as a result of a "severe slump" in its LCD television and panel business.
While the company's net loss will take a significant hit, it is expected to show revenues (¥1.1 trillion) and operating losses (¥130 billion) in line with their existing business forecast. The company has said it will "return to black" by the end of the next fiscal year (year ending March 2014). However, its continuing struggles to reshape its LCD business – from manufacturing large panels suitable for televisions…to producing smaller panels for inclusion in mobile devices such as the Apple iPhone – is likely to cause investors to be skeptical of this projected time frame.
TV biz is a struggle these days…
Like most of the other large Japanese television manufacturers, Sharp has struggled with a challenging economic and industry environment for their TV division. The company is really caught in a vise between the jaws of an unfavorable currency exchange depressing realizable profits – and a hyper-competitive marketplace with energized competitors largely from South Korea (Samsung, LG).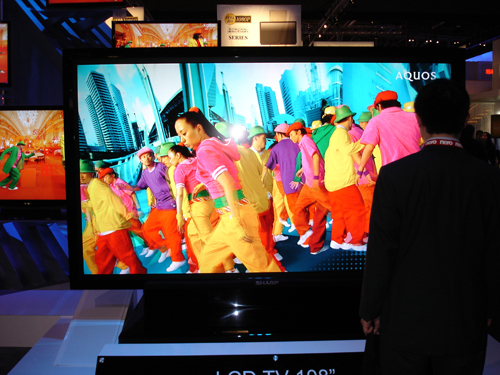 And as challenging as these operating parameters were, the situation became untenable when worldwide demand for LCD televisions began to drop. Between the poor economic environment in Japan and around the world (even in the emerging BRIC markets)…and changing consumer preference for mobile devices…Sharp was caught with the wrong products at the wrong time.
More maddening…
Perhaps making the situation even more maddening – as a leading worldwide manufacturer of LCD panels, Sharp actually has the in-house resources to address these market changes…as mobile device manufacturers have an insatiable appetite for LCD screens. But they want small LCD panels, and frankly speaking, Sharp just guessed wrong as they planned out their LCD business focusing on 60-inch and larger TV panels.
With time, they will be able to make adjustments to more efficiently meet the growing market demand for small LCD screens. The necessary internal retooling and restructuring to reposition their business to better meet market needs is the process upon which they are now embarking. But there will be significant pain…before the gain.
Delayed ramp-up…
In their first fiscal semester starting April 2012, the company experienced significantly poor factory utilization as it raced to retool for smaller panel production. At their #1 Kameyama factory in the Mie Prefecture, full-scale production did not begin until September. The target ramp-up of this plant was slated for last Spring.
Sharp's #2 plant in Kameyama – slated to make panels for tablet computers and other devices – only achieved 30% capacity during this period. Again, this was well below their projected utilization.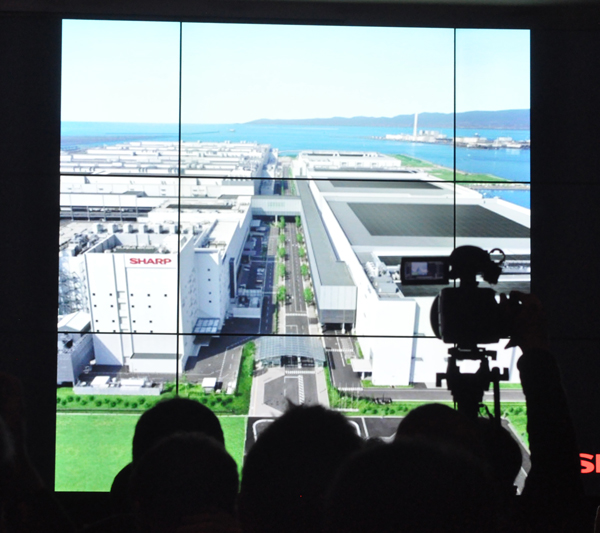 Forecast now in flux…
With the erosion of their interim results, it is likely that the company will recast their projection of a ¥250 billion annual loss for the fiscal year ending March 2013. Last year, the company booked a net loss of ¥376 billion and had hoped to make up substantial ground this year.
It is likely that the company chose to take these write-downs now to better position themselves for their turnaround and to eliminate some uncertainty about their slow turnaround. However, the company still faces significant uncertainty about its future. First, they have about ¥400 billion worth of bonds maturing by next fall…a big chunk of change. Second, their capital tie-up with Taiwan's Hon Hai – a key part of their restructuring – seems to be in trouble…or at least is taking a lot longer than anticipated.
One big win…
For Sharp's new strategy (shifting from large LCD panels for TV to small LCD panels for smartphones and tablets) to work…the company needs to find many new customers. They had a big win – getting a supply contract with Apple for screens for the popular iPhone – but this is likely not enough in-and-of-itself. Most likely, the company will need many other tablet and laptop computer makers, as well as other mobile device manufacturers, to cut deals with them to be able to achieve a sustainable level of business.
Clearly, Sharp's turnaround is still a work-in-progress.