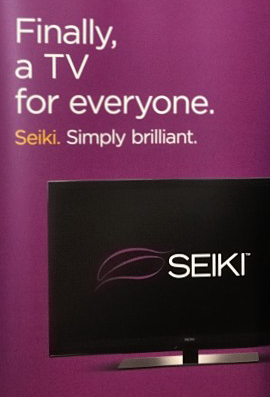 In yet another sign of an industry in transition, Chinese manufacturer Tong Fang Global – better known by the Seiki brand of A/V products it manufactures – has turned the typical industry model for introducing the latest and greatest technology on its ear. In the same show where Sharp rolls out a 70-inch 4K Ultra HDTV for $8,000, Seiki rolls out a 39-inch 4K Ultra HDTV for $700. How do they do it? Read on…
See more on this disruptive play from relative newcomer Seiki…
For many decades now, the consumer electronics industry has followed a fairly orderly and predictable model for the process of introducing the new technology into the marketplace. Based on the well-known "adoption curve" for new technologies, products are rolled out on a limited basis to be snapped up by innovators, and then early adopters who are only too happy to pay sky-high prices.
These early adopters help to build awareness and begin to drive the market for the technology which – as it gets traction – brings in the early majority. Prices tend to drop as volume increases and manufacturing becomes more efficient. Promotions increase as competitors fight for market share. We'll skip the back half of the process as it doesn't pertain to this article.
Latest technology is always expensive…isn't it?…
At CE Week, the first press event was a major Sharp Corp. press conference where they announced their 70-in 4K Ultra HDTV, selling for $8,000. The price was not really a surprise…after all, Ultra HDTV is the latest technology.
Later in the day Toshiba launched their 4K Ultra HDTV line-up with a 58-inch, 65-inch, and 84-inch models selling for $5,000/$7,000/$17,000 respectively. Again, the prices aren't a huge surprise, given the latest technology and the incredibly bloated feature-packs of these sets.
Then, the press left the press conference area and visited the show floor…and was floored by what we found upon visiting the Seiki booth: a 50-inch 4K Ultra HDTV tagged at under $1,500. Soon, word hit the floor that the company would be introducing a 39-inch model for only $700. Seiki will have at least three Ultra HDTV's by this fall including: a 65-inch (yet to be announced but coming), a 50-inch (already available), and a 39-inch (just now available). The company is considering adding a 55-inch model as well.
A different set of rules…
It soon was clear that Seiki was playing by a different set of rules…and the industry-wide roll out of 4K Ultra HDTV was going to be a different model than past roll-outs. But how does Seiki do it? What's the secret sauce that allows them to be so much cheaper than the major manufacturers?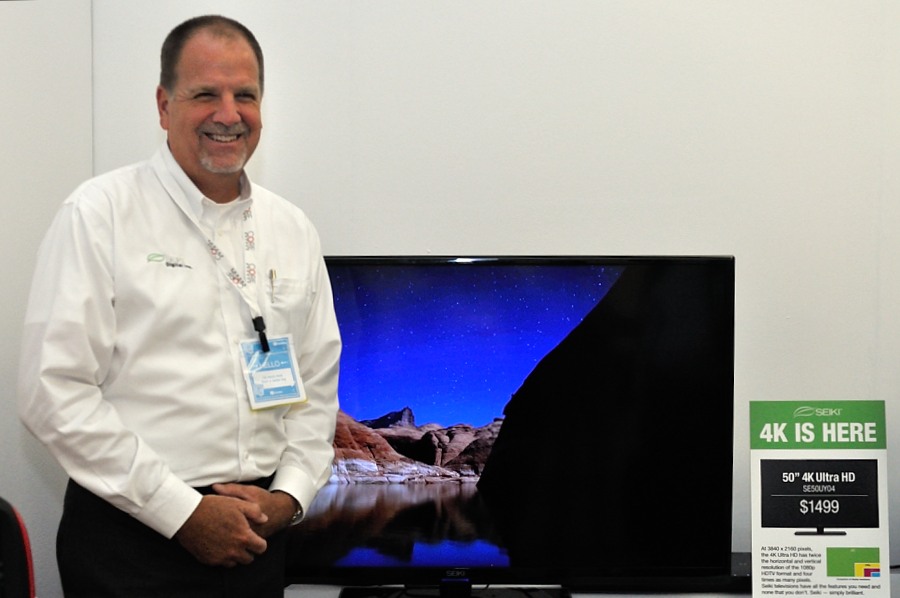 We spoke with Frank Kendzora, Executive Vice President of Seiki, who smiled as we asked the question of how – and why – Seiki was breaking the code of technology introductions.
"So, if you understand the basic premise of our brand – the tag line is 'Simply Brilliant.'" Kendzora said confidently. "So what we offer is a very basic TV – no frills, no 3D, no 'smart', no supreme bells and whistles."
A strip tease?…
So stripping out features is part of the formula for Seiki's lower pricing. But, we asked Kendzora, don't consumers want 'Smart TVs' to access Internet-based content? Aren't Americans gadget-geeks who want all the bells and whistles?
"Our theory is at the end of the day – when most people get home from work – they shut their laptops, they turn off their phones, they grab their remotes and they just want to watch TV," Kendzora said. "They don't want to 'surf the net', they don't want to 'do their email'…they just want to watch TV."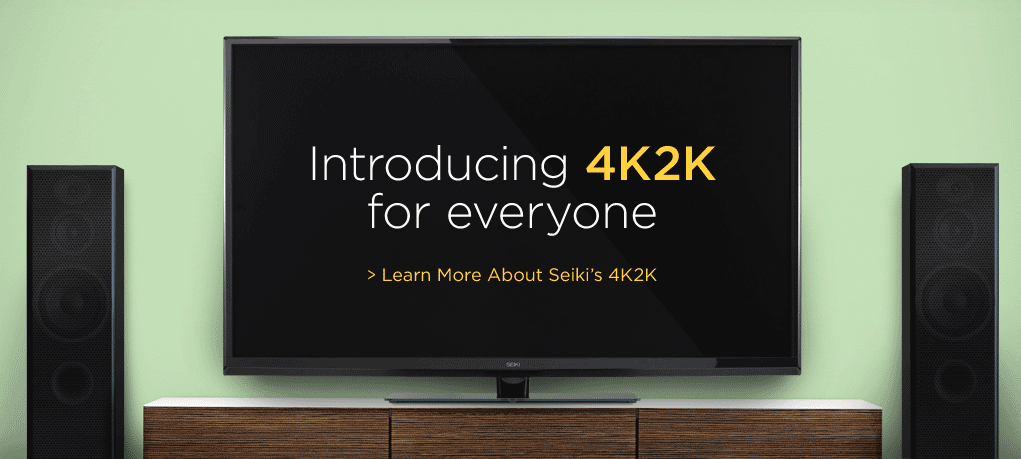 Who's research should we believe?…
Most of the major television manufacturers will tell you that their research tells them otherwise. Consumers, they say, desperately want access to content from the web, whether it be Netflix or YouTube, they just have to have it. And most manufacturers have all sorts of apps to bring games, content,or whatever right to your set.
It is only a matter of time before almost all of the major manufacturers will line up behind the "stuff it full and make it smart" camp. All except one, that is. For Seiki has clearly chosen a different path.
Happy to be the 'Ford' of the TV business…
Kendzora told us that Seiki has a lot of respect for what the other manufacturers are doing. There's room for all of them in this market, he says. But look at the automobile industry, Kendzora told us. There's Mercedes being sold…and there's Fords being sold. Both will get you from Point A to Point B. And Seiki is perfectly happy…to be the television industry's Ford.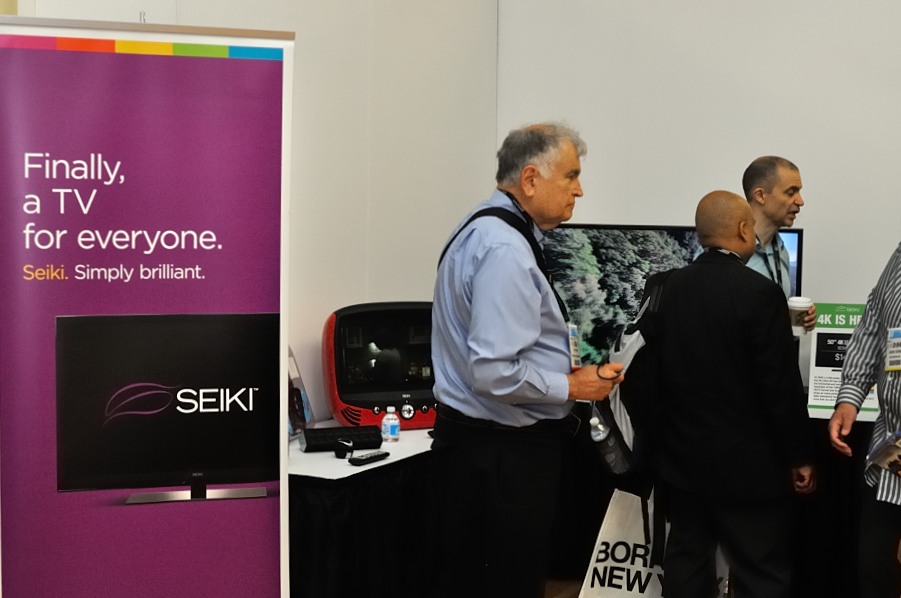 We spoke with Jim Sanduski of Sharp and asked him about Seiki. Does Sharp consider Seiki's approach harmful, devaluing the 4K technology? Or is Seiki's strategy helpful…helping to educate and build awareness for 4K technology – perhaps driving adoption for all.
Not helpful, says competitor…
"Do I think it helps? No, I don't," Sanduski said, after a very long pause. "I don't think it helps. But what it means is there is going to be a range of performance differences in the 4K category."
"All we're trying to do is broaden our market a bit and get more people introduced to a new technology," Kendzora said in what appeared to be a sincere tone. "We offer a nice product with new technology at an affordable price. It's that easy."
More to the formula…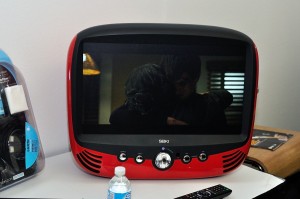 There is more to the Seiki formula for low pricing as well. Tong Fang Global is a major manufacturer of televisions in China and has been for years. They do a large ODM (Original Design Manufacture) business with a variety of other brands. This gives them a volume advantage and lowers their cost of manufacture.
And we wouldn't be surprised if Tong Fang was willing to accept a tighter margin in order to build their market share. This too is a time-honored tradition in business…especially the consumer electronics business.
High technology…low price…AND long warranty. How does that work?…
Interestingly, in contrast to their no-frills concept, the company offers a full 1-year replacement warranty. Kendzora says this is just one more thing that makes the brand "Simply Brilliant" as none of their competitors match this warranty program.
In any event, from what Kendzora tells us it seems as though they've selected a legitimate approach. And apparently, others think so as well. Seiki has already built up significant distribution including: Sears/Kmart, Amazon, Tiger Direct, H.H. Gregg, Kroger Stores (grocery and general merchandise chains such as Fred Meyer, Smith's), several HES members (sold through Expert Warehouse), and more. Seiki also has designated Almo as their national distributor.
The company is continuing to expand distribution, "where it makes sense" Kendzora assures us. Much of their expansion is globally. They are able to offer distributors a full television assortment with multiple sizes of mostly 1080p models sized from 19-inches to 80-inches.
To learn more about Seiki, see: www.seiki.com.