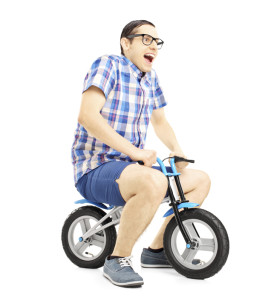 "It's been tremendous," declared Origin CEO Jeremy Burkhardt with his typical over-the-top enthusiasm, when asked how his nearly one-year old company is doing since its launch at the 2014 CEDIA Expo. "I've been on the road for 3-weeks a month for the last 12-months." And apparently, from what Burkhardt tells us, loving every single minute of it.
See more on Origin on the eve of its first birthday…
With the first birthday of Origin rapidly approaching, we reached out to Burkhardt, as well as others associated with the brand, to take stock of how the company has fared since its splashy launch at last year's CEDIA Expo – where the company rolled out an impressive roster of new products. Since then, its been a race to get the products placed with dealers and distributors, many of whom were already committed to other competitive brands.
At launch, many industry insiders we spoke with had expressed some serious skepticism about the company's prospects, suggesting that Burkhardt and crew had failed to recognize that the industry is in a different place now and not growing as fast as it had been during his first stint at SpeakerCraft. The economy and housing are stagnant, many said, and they are not in growth mode as in years past. Competitors were entrenched, some proclaimed, saying there's no room at the inn for yet another brand.
A Team Effort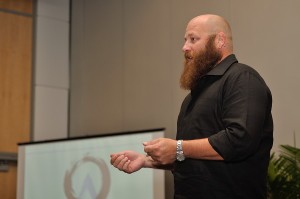 Burkhardt partnered with other ex-SpeakerCrafters Ed Haase and Ken Humphries, so it was clearly an experienced team – not only experienced with audio products, but deep experience with the custom integration industry. The group also partnered with screen manufacturer Screen Innovations who is providing a facility and some operational support. Burkhardt was quick to note that the partners fund Origin – no outside or private equity investors are involved.
With the partners' money on the line, Burkhardt felt it is just a different situation as compared to other brands. He sought to distinguish between other companies/competitors who may bring in "professional" management, but who are emotionally isolated, as compared to a company managed by the original founders.
"A lot of people have a job and then they have their real life," Burkhardt told us. "For [us at] Origin Acoustics, this is our life. You can't hire an MBA or a person who is getting a paycheck and get the same type of service, care, and value that we give our dealers. So I can only say that it would be a tough go of it if we just did this for a paycheck – this is our passion. I think passion comes from knowing that you're doing something well and caring about it. I don't know how well some of the companies out there truly care. I don't know if on a Friday night if they'd rather be with their wife at the movies…or if they'd rather be with a group of 20 dealers at a table having dinner, sharing stories. I choose to be with my dealers."
Origin is a closely held private company and that can make it hard for us to independently verify various company claims. Having said that, we have cross-checked items whenever we could.
A Matter of Months
Burkhardt told us that he has been constantly traveling, working hard on getting the line placed. This travel has been in both the U.S. domestic market and overseas in international markets. The company, Burkhardt says, has signed up "hundreds" of dealers in the U.S. and set up distribution in close to 50 countries around the world. You can now find Origin products in South Africa, Australia, Europe, India, China, Philippines, Thailand and more.
All this in just a matter of months.
"It's been awesome that, you know, the 20-years that I was at SpeakerCraft, all those relationships chose to follow and – not all but the majority – chose to follow and align with Origin and make better profits and sell better products," Burkhardt told us.
In fact, the company has been so successful, Burkhardt claims, that they've had to rewrite their plans. "We're developing products for [the 2015] CEDIA that we had on a 36-month roadmap," he said. "It's [been] accelerated 24-months."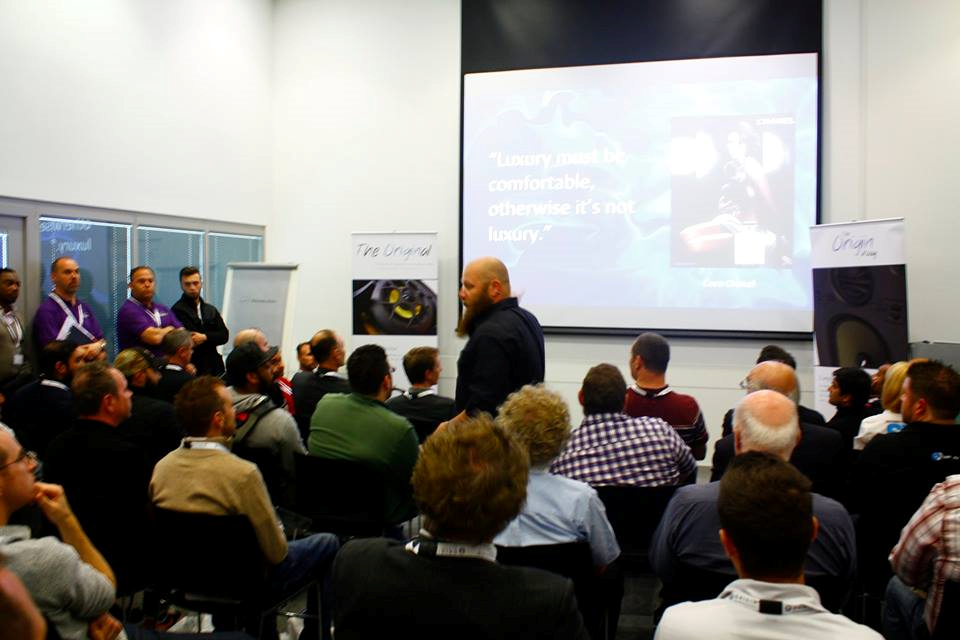 Exceeded Their Plans, 'By Far'
Overall, the CEO couldn't be more satisfied with where the company is at this point. "We have exceeded our initial launch plans by far," Burkhardt emphasized. "We did about three times the business that we expected to do."
To provide independent verification of their progress, Burkhardt called to our attention, the CEPro Top 100 Brand Analysis. "When I left SpeakerCraft, we were at 52%," he said. "Sonance is now 52% and there's a few others – I guess B&W is right below them, and then you have SpeakerCraft & Paradigm. We came in at 16% and SpeakerCraft did 19%. So we get 16 of the top 100 dealers that reported, and that was our second month in business – they reported in February. So by our second month in business, we had 16 and I think we're closer to 45 right now."
For the record, CEPro's Brand Analysis showed the top brands in the category as: Sonance (52%), B&W (29%), Klipsch (25%), Paradigm (19%), SpeakerCraft (19%), and Triad (19%). And, just as Burkhardt had mentioned, CEPro noted Origin as a fast rising up-and-comer at 16%.
But What About Profits?
So sales appear to be going well, but we were curious about the company's profit picture. Origin spent a lot of money on marketing at CEDIA and since. We also were aware of the fact that the company had run several sales promotions around the country – which can often depress profits. We asked Burkhardt: Are you profitable? Or are you not considering profits, but rather choosing to invest in building your market?
Burkhardt seemed to bristle a little at the mention of sales specials, which he sought to downplay. "I'm not sure what you're speaking of, with specials. We gave the market what it took to become dealers," he told us. "We seeded the market with our product and its been successful."
When we pressed further on the profit question, he deflected our query with more of an indirect answer, "We're ahead of our forecasts, and were ahead of our projections and we're ahead of our budget in all areas," Burkhardt said. "So we're please with our results."
Growing the Origin Family & Facilities
To accommodate their growth, the company has built a total staff of 25 people – about double their original operations plan. This group is split among three locations: an engineering center in Eugene, OR; an operations and shipping center in Austin, TX; and admin, credit & collections office in Riverside, CA. Each of these offices is run by one of the partners: Ken Humphries (Eugene), Ed Haase (Austin), and Burkhardt (Riverside), respectively.
The company expects to further expand their team with several openings in sales scheduled to be filled in the time period leading up to CEDIA Expo. "We're basically hiring every month," Burkhardt said.
The Challenge of Fighting Mediocrity With Engineering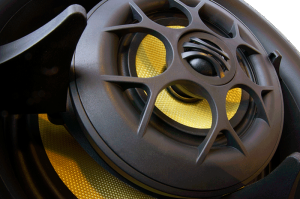 We asked Burkhardt what their most significant challenge was during this first year of their existence. Without much hesitation, he told us that it has been a real challenge to create a highly engineered line that is going up against a slew of competitors who are buying products off the shelf in China. Creating something unique is expensive and time-consuming, Burkhardt told us.
Origin started working on engineering their line a full two-years in advance of the launch. But they were still "flushing out design [issues] all the way up to when we were shipping," Burkhardt said.
"There were thousands of challenges – absolutely," he asserted. "You know, creating a new mounting system, there were literally hundreds of revisions in the product. When it came to market, it was perfect – but getting it to that point [was a challenge]."
And this challenge will continue for Origin, who is committed to fielding more unique products. Burkhardt, who has a habit of speaking in superlatives, put it this way:
No One Else Makes Their Own Tweeter
"I would say – 100% – our speakers have more parts and more technology than any architectural speaker ever created," Burkhardt declared. "So when you start doing things like creating new surrounds and new woofers and new tweeters, you open up a ball of engineering time, and effort, and costs, that other companies don't do."
Further driving his point, he added: "I can't think of any other manufacturer in the industry that is making their own tweeter. I mean most of the other tweeters out there are off-the-shelf and able to be purchased in China. And they are purchased rather effectively by hundreds of companies. But making a new tweeter or making every single part of the woofer – it's a different way of doing it. It's time-consuming and it's very expensive and it's arduous. I think that is why the dealers like it, because now it's pretty damn good. It just took a long time to get here."
Dave Donald Leaves the Company
We then asked Burkhardt about sources telling us that Origin's VP of Marketing Dave Donald has left the company (which we cover in more detail in a separate post here…) According to the CEO, the company had achieved its launch goals and was shifting into more of a sales mode. Donald, who Burkhardt says remains his friend, received from Kaleidescape an "offer he couldn't refuse" and chose to leave the company. The company has no plans to hire another VP of Marketing, saying that it has the digital marketing resources in place to accomplish its future marketing goals.
Finally, Burkhardt is talking about another big and bold presence at the upcoming CEDIA Expo – "A plethora of goodies," he promises.
"I have a feeling we'll have the largest product launch at CEDIA again – two years in a row," Burkhardt said proudly. "I think we'll have more architectural speakers in our range than any other company."
Line 'Needs to Be Sold'
There's those superlatives again. We pushed Burkhardt to give us a peek at what's coming from the company but he declined, telling us it was just too early. He did say, though, that there would be some surprises.
While we can't verify all of Burkhardt's claims specifically, we did speak with a couple of Origin reps we know who did verify that the company is doing quite well in their territories. However, we detected a slightly less enthusiastic tone from these individuals, with one rep assuring us that this line "needs to be sold."
What seems to be working for Origin, according to these sources, is that the product has interesting sales stories or "hooks" that differentiate them from other more generic in-wall/in-ceiling brands. Another factor is that Burkhardt is able to generate the feeling with dealers that this company is going to be a real winner in the market.
Origin's CEO is very good at subtly poking fun at his competitors – but his gests carry the added bite of a ribbon of truth in them. At the end of the day, dealers come away feeling that Origin is the one supplier who understands them the best.
Learn more about Origin and its products at: www.originacoustics.com.