Fully 70% of the U.S. economy is based on consumer spending, so economic and market pros watch moves in consumer sentiment closely…and so do I. In a new poll from research expert Gallup, we find consumer sentiment mixed – curiously so, considering how strong the economy seems to be at the moment.
Find out what Gallup discovered about how consumers are feeling right now…
Let me start this post by quoting Gallup directly – "Americans are ending the year feeling as conflicted about the state of the country as they were in January." The poll shows – to a remarkable degree – a deeply conflicted consumer.
How so? Well consider this – a majority of survey respondents suggested that now is a "good time to find a quality job." Fully 66% of those surveyed agreed with this thought. But at the very same time, less than a third of the same respondents said that they are "satisfied with the direction" of the country (31%). Looked at another way, that means that almost 7 out of 10 respondents are dissatisfied with the direction of the country.
A Substantial Drop Right at the End of the Year
It is interesting to note that the survey taker's feelings dropped substantially on all topics in just the last month from November to December. One of them in particular, the percentage who feel the U.S. economy is getting better, dropped a full 10% from 57% to 47%…in 30 days! And that latest reading is nearly equivalent to the number of respondents who said the U.S. economy is getting worse (45%).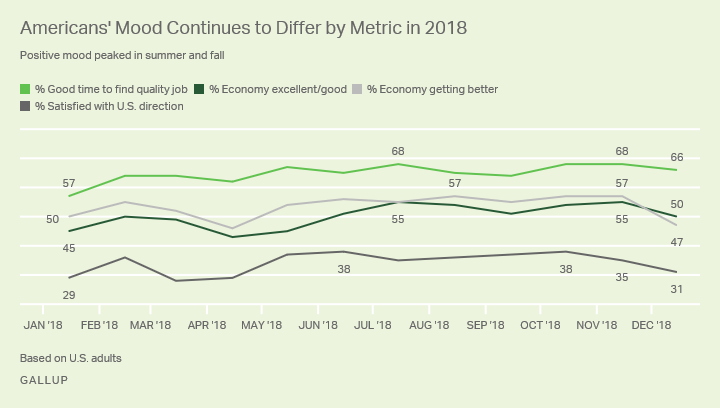 This is the first time since April that confidence in the economy dropped below a majority – a troubling reading for consumer market analysts.
Sentiment is Higher Than Last Recession (Duh!)
Gallup notes that, on the plus side, Americans in general are more positive now – even with these lower readings – than they were during the last recession (2007-2009). They also remain generally higher than the period of time that represents the recovery from that recession. Although some would say that result would be obvious, as consumer sentiment is always negative during a recession.
But the market researcher notes that some analysts are concerned that the positive sentiment has not reached the historical levels of the period prior to the last recession. So, in a nutshell, Americans feel better than during a recession – but not as good as they had before it.
Political Posture Drives Different Results; Household Income Not So Much
As you might suspect, the political persuasion of the respondent tends to influence their attitude on how things are going. Republicans, men, and whites were all upbeat about their perceptions of the economy's direction. But their counterparts were generally more negative. Independents were in the middle, as usual, but generally closer to the low end or more negative end of the scale.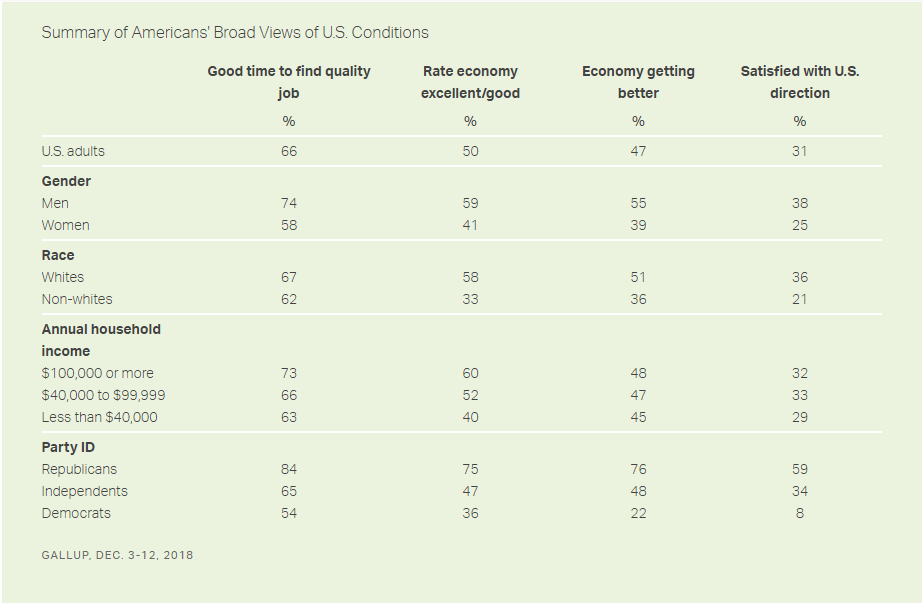 And when comparing the results based on household income, well the results were just not as divergent as you might expect. In general, respondents earning between 40,000-99,000 as compared to those earning $100,000 and more, were surprisingly close…only a few points off from each other.
The 'High End of the Subdued Level'
Gallup ends their assessment of this latest reading on consumer sentiment on a bit of a positive note, suggesting that since this last year was so "eventful" with rising interest rates, a wildly swinging stock market. a raucous Supreme court nomination, political "battles" (war?) in Washington over immigration, Democratic wins in the midterms – a reading that places public satisfaction with the direction of the country "on the high end of the subdued level" is a good thing. I guess I could see that point of view if we had reason to believe that 2019 was going to be more "normal" (whatever that is anymore).
But with political infighting likely to get even more intense in Washington with the Democrats taking control of the House of Representatives…and the 2020 election machine beginning to wind up…and the economy potentially slowing down as many economists feel is inevitable – I'm much more circumspect. Some analysts think consumer sentiment will get worse, before it gets better.
What do you think??