This week at the Alliance Expo 2012 being held in Newark, NJ by Audio Associates and their vendors, Monster (formerly Monster Cable) had a large presence with a booth that stretched down one wall, across a corner, and along another wall with an impressive showing of their product line. The Monster presence included those products for which they are best known – cables and headphones, but perhaps even more impressive than that – they demonstrated some of their new wireless technologies and systems…pointing towards a wireless future.
>>See a slide show of the Alliance Expo 2012 Monster booth here…<<
Mitch Witten of Monster cleverly roamed the Central Hall of the Expo carrying his smartphone in one hand and a device hanging from a wrist strap on his other wrist. What caught the attention of anyone in his immediate proximity was the surprisingly good-sounding jazz music that appeared to be emanating from him.
But the music wasn't emanating from him – even though with his long grayish locks he looks a little like an experienced jazz musician. In fact, those good tunes were emanating from his ClarityHD Micro – the portable device hanging from the wrist strap.
Seeking clarity…
ClarityHD is a small, portable speaker that packs quite a punch…both sonically and technologically. In a world of iPods and iPhones coupled to headphones and earbuds – Monster gives users an opportunity to listen to their favorite music library stuck in their smartphones or other portable devices…without earbuds. Whether a travelling executive who wants music in his hotel room, or a group of one or more friends who'd like to listen to a favorite artist together – ClarityHD Micro enables earbud-free listening.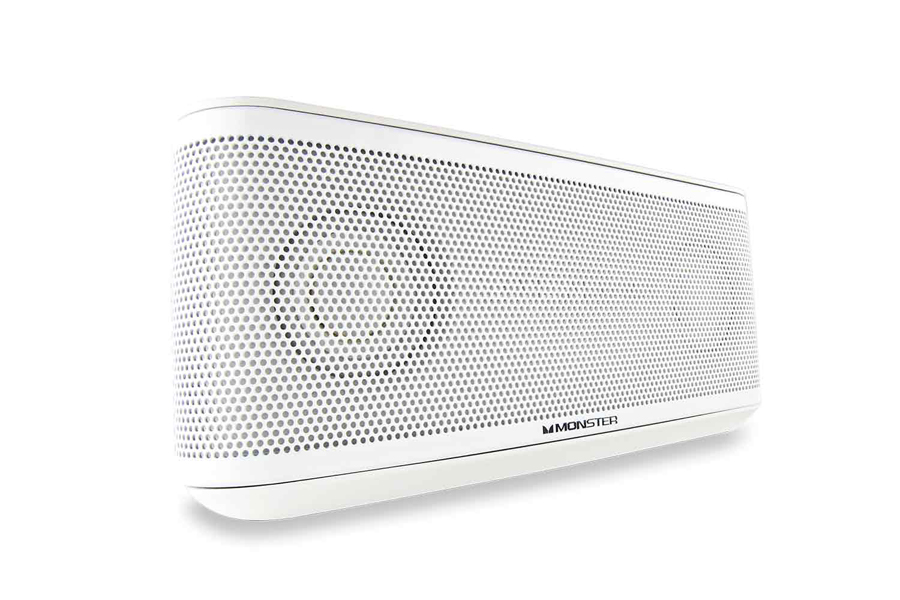 Thanks to Bluetooth technology, the connection between the ClarityHD Micro and your smartphone is completely wireless – a real convenience. And the unit also enables speakerphone capabilities. But more than convenience, the ClarityHD Micro has a quality story as well. ClarityHD Micro features the ability to process AAC and apt-X digital files for clearer and more dynamic music reproduction. So quite simply, it sounds better than MP3 files through your earbuds.
ClarityHD Micro will be available this June for a retail price of $219.99 and the company expects a "street price" of $199. Initially, the unit will be only available in black or white configurations. Eventually, the company will offer optional replacement grills in a variety of colors for an additional $20. Some of these more colorful grills, which are attached magnetically and simple to replace, were shown at the Alliance Expo this week.
HDMI cable challenge…
In addition to ClarityHD Micro, Monster also brought in a lot of test equipment to run its HDMI challenge. Dealers could bring in their favorite HDMI cable and Monster would put it to the test to see how it compared with the similar Monster model.
While we were there, a dealer brought in a 10-meter HDMI cable from XYZ company [name changed to protect the "innocent"] and watched as the Monster tech put the cable through its paces. Well, actually, he hooked up both ends of the cable to his equipment, and in a moment or two, the word "FAIL" in bold, large block letters appeared on the screen of a laptop connected to the test gear. The dealer looked surprised.
The "eyes" have it…
The tech pointed out the eye pattern on the screen of the Tektronix Digital Serial Analyzer showing it breached the test "mask." Actually the pattern didn't look like an eye pattern at all – it completely obliterated the mask – which is why this cable failed the test.
At that point, the tech disconnected the XYZ brand and hooked up a Monster 10-meter HDMI cable. Within a matter of seconds, the word "PASS" showed up on the screen. Shortly after that, an eye pattern showed on the screen of the Tektronix analyzer. In this case, the eye pattern was more easily recognizable.
However, to our eyes, it looked as if the Monster cable just barely passed the test as the wall of the "eye" was collapsing on the left side and almost touching the mask. Still, the longer the cable – the tougher the test and there was no question that the Monster cable out-performed the XYZ brand cable.
As compensation for allowing himself to be embarrassed in front of other Expo attendees, Monster gave the dealer a free gift. The dealer walked away muttering that he should have brought in his Key Digital cable, apparently thinking this would have given the Monster a run for its money.
Tact vs. tech…
While we were in this section of the booth, we witnessed another dealer complain to the Monster tech about HDMI technology [not a Monster invention.] When the tech asked, "You don't like HDMI cables?" The dealer quickly quipped, "HDMI sucks, I don't like 'plug and pray.'" New Yorkers aren't exactly known for their tact or diplomacy. The Monster tech could do no more than shrug his shoulders and move on to the next show attendee, but it was a reminder to us of how HDMI technology continues to be controversial with many installers in the field.
Overall, Monster's booth was consistently busy with attendees perusing a wide variety of products and technologies. Many of Monster's diversification into areas such as power protection and monitoring products have found their way into many specialty dealers and custom integrators hearts.
It remains to be seen if Monster's wireless products can enjoy the same support with specialty dealers and custom integrators.
For more information on Monster products, see: www.monsterproducts.com.
>>See a slide show from the Alliance Expo 2012 Monster booth here…<<