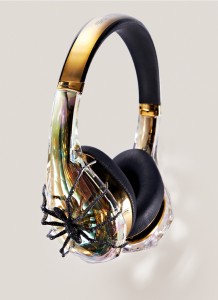 Monster Products announced late today that it has created a one-of-a-kind "crown jewel" headphone based on its Diamond Tears model as redesigned by Korean artist and jewelry designer Sally Sohn for the exclusive Harrods of London department store. The new headphones feature 5.56 carats of black diamonds and plenty of 18k gold…oh, and it comes with a hefty price tag of £20,000. That's $30,000 in good old U.S. greenbacks.
See this remarkable headphone below. Will this be Monster's tour de force? Or a tour de farce?…
The dramatic Diamond Tears Sally Sohn Edition Headphone has a striking design thanks to the artistry of Korean artist/jewelry designer Sohn. Sohn has taken the crystal clear look of Monster's Diamond Tears and embellished it with an 18k gold headband and backdrop to the crystal.
On one of the earcups, Sohn has added a large and dramatic spider motif which is encrusted with 5.56-carats of black diamonds. The effect of the overall design is a headphone unlike that from any other maker – a true one-of-a-kind.
For $30K, they must be a technical wonder too…right?…
For $30,000, one would imagine that these headphones would be a technological wonder as well – full of new, cutting edge, proprietary circuitry. Monster does tell us that this pinnacle model was "Specially tuned by Head Monster Noel Lee, the audio engineer behind the sound of Beats by Dr. Dre headphones."
We are also reassured that this special Diamond Tears edition features "Pure Monster Sound" and that it uses "Monster's latest proprietary technologies and sonic innovations." But what those innovations are, is never explained in the materials provided by the company.
Articulate and revealing…
Other than to tell us – twice, no less – that they sound "articulate, tight, and ultimately revealing" we have no details as to what these proprietary technologies are. Unfortunately, we are told more about the cosmetic design…than we are about the technological design. For those of us in the industry press, we'd like to see slightly more "articulate" and "revealing" information on the technology employed.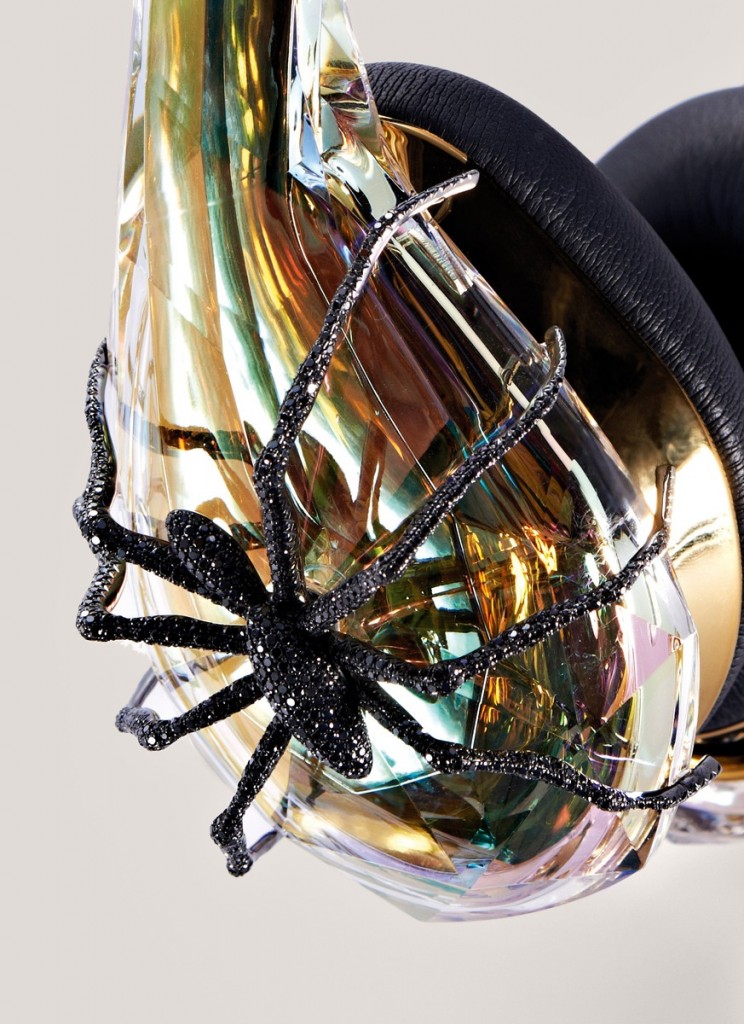 Still rebounding from Beats divorce…
Monster is still within the first official 90-days of their divorce from Beats by Dr. Dre. Ever since they learned of Beats decision not to renew the Monster contract – Noel Lee (the Head Monster) and his team have been scrambling to develop what they hope will become the next big thing.
Multiple new series of products were created in partnership with a wide variety of partners including Nick Cannon; Earth, Wind, & Fire; Miles Davis; Lance Armstrong and his Livestrong Foundation; Diesel; JYP Entertainment; Tumi; and I'm sure I'm forgetting a few others. None of these partnerships have produced the same "catching lightening in a jar" viral growth effect that Monster tapped into when it partnered with Jimmy Iovine and Dr. Dre.
Press conferences that turned into fashion shows…
At trade shows, Lee presided over a series of press conferences that turned into fashion shows as he tried to find a new magical mashup of sound quality and trendiness that will recapture the lost Beats volume – which, by the way, is reported to have been in the hundreds of millions of dollars. It's still early in the process, but so far "the thrill is gone."
Then last month, Monster announced it has received an investment from – and partnered with – Swizz Beatz. A little touch of irony there, no? Is that Beatz, pun intended? Or Beatz, pun unintended? As Forbes Magazine said, "In other words, Lee is hoping that Swizz will be the second coming of Dr. Dre."
A tough act to follow…
Maybe, but Beats has a couple of things going for it. First, it is the clear and undisputed leader in the headphone category. Second, Dr. Dre is a proven catalyst – thanks to his persuading all of his brand-name music industry friends to be seen and photographed publicly wearing the distinctive Beats logo. And finally, Beats also benefits from the backing – and serious business savvy – of Jimmy Iovine and Universal Music. That's a tough act to follow.
As one of my Internet marketing friends likes to say, "When you try to specifically design something to go viral…it never does." Mystical forces are often at play when you create something that "catches a wave" and goes viral. You can look back on it and say you did that deliberately and you knew that was going to happen…
But sometimes…you just got lucky.
>Want to read more strata-GEE articles on Monster? Simply click on "Monster" in the tag cloud in the sidebar on the right-hand side of your screen.