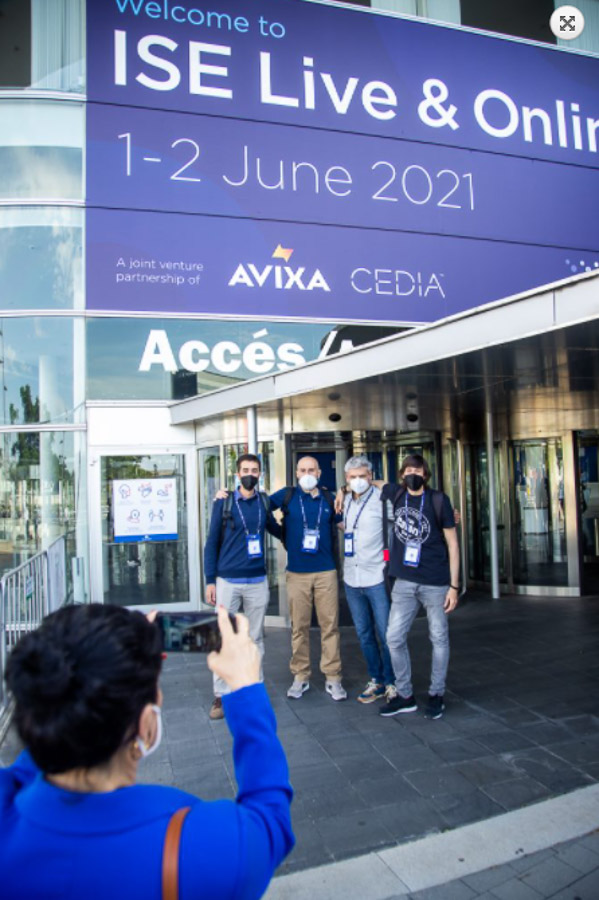 In a press release distributed Wednesday morning, Integrated Systems Events (part of Integrated Systems Europe) announced the conclusion of their annual ISE event, this year in Barcelona, Spain for the first time on June 1-2. It was a hybrid-style event, offering an online or virtual conference as well as an in-person event with exhibitors in the Fira de Barcelona exhibition center. The organizers heralded the event as helping "the industry getting back to business."
But how successful was the ISE this year? See more…
The organizers chose to hold the combination virtual and in-person event in order to boost attendance figures and to hold a meaningful tech event of influence – the first such major tech event in the wake of the waning COVID-19 pandemic. The show was originally announced as an in-person-only event, only to see its format change based on reactions from many in the industry – not the least of which were exhibitors.
Clearly, the event was impacted by COVID hangover, as many people just were not quite yet ready to face the madding crowds at airports around the world in order to travel to Barcelona. Even though ISE plunged ahead and organizers announced all sorts of COVID protocols to try and ensure attendees and exhibitor staff safety, the numbers were off dramatically from the event the previous year – let alone the 2019 event which enjoyed record attendance.
Attendance was Down…Way Down
Attendance at ISE 2021 was reported on a day-by-day basis, with a total of 1,431 attendees on Day 1 and 990 attendees on Day 2. While this totals 2,421, the organizers did not – as is their usual practice – reveal the de-duplicated actual total of individual participants, adjusting for those who attended both days. Keep in mind, this attendance number includes both exhibitors and attendees, with exhibitor staff obviously in attendance on both days.
There were a total of just 50 participating exhibitors at the live ISE Barcelona event – a far cry from the normal participation of around 1,300 exhibiting companies in a record ISE 2019.
Virtual Event Only Revealed Registration Number, Not Actual Visitors
Like many virtual events, organizers only revealed the number of registrations for the virtual event – a total of 8,000 registered. They did not provide the more accurate unique visitor totals for the online sessions.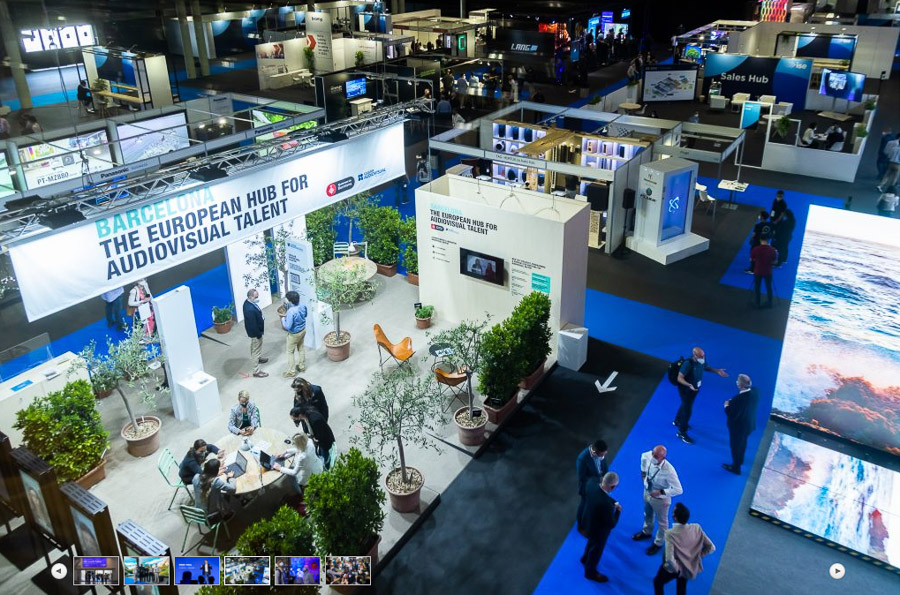 So how does this attendance compare to a more "typical" ISE event? Well at ISE 2020, held in February 2020, just as the COVID-19 pandemic was impacting world markets (including Amsterdam where this last event at the RAI exhibition center was being held), organizers announced a total attendance of 52,128 attendees. So compared to that, this year's attendance was down by more than 95% – even using their total number with duplicates included.
With Just 50 Exhibitors, Show was Over 96% Smaller Than ISE 2019
And with just 50 exhibitor stands (booths) this year, the exhibitor count is down by more than 96% as compared to the 1,300 exhibitors in 2019. (Note: I could not find a final stand count for 2020).
ISE's biggest attendance on record was at ISE 2019 where 81,268 attendees jammed the stands practically bursting the seams of the RAI. There were more than 1,300 exhibitors in 2019 which represented 56,100 square meters of sold exhibit space.
This event is important for the AV and live events industries, and for the city. It's been a 17-year journey to get to Barcelona so it's bittersweet not to make the big bang we'd hoped for our debut, but we know the value of live events for forging trust, deeper business relationships, and driving business. I hope this sends a message of confidence to cities around the world that live events can be safe and successful. We'll be back in Barcelona, with all our might, in February 2022."

Mike Blackman, Integrated Systems Events Managing Director
Was ISE 2021 Really a Success?
But with the number of exhibitors down 96% and the number of attendees down more than 95%, was ISE 2021 really a success? Well, judging from the comments of a couple of players, you'd think so.
DAVID LABUSKES, CEO of AVIXA – "It was wonderful to welcome the AV community back together and we get to do it again at ISE London, June 23-24!"
GILES SUTTON, Interim Co-CEO of CEDIA – "The live show provided attendees with the opportunity to engage with the industry and network amongst colleagues and friends – something that we have all missed out on recently. The positive atmosphere that was felt in and around the show floor was a sign that both exhibitors and visitors were pleased to be back."
Keep in mind, that Labuskes and Sutton represent the two partners that own the ISE event, so some excess of positivity is to be expected. However, there were several other comments by exhibitors, local politicians, and others all extolling the event.
Access Content from ISE 2021 & Register for ISE London
ISE is making the virtual content from the Barcelona show available online through the end of 2021 at: digital.iseurope.org.
There is one more live ISE event, as Dave Labuskes mentioned above, coming up on June 23-24 in London. Like Barcelona, it will be both a live event and a virtual event. This time – there's a pub on-site. That should help draw attendees!
Want to attend the London event? Register now at this link…
For 2022 ISE returns to Barcelona, and to its normal February timing.