52% of Americans Say Having a Smart Home is at Least Somewhat Important to Them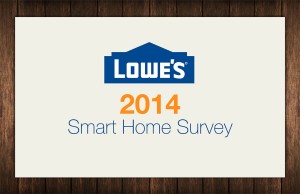 In an new study on consumer attitudes about smart home technology, we find some interesting insights. Some seem logical…while others are a bit of a surprise. We were surprised to find out that more than half of all Americans feel that having a smart home is at least somewhat important to them. And 21% – more than one in five Americans – said having a smart home is very or fairly important to them.
Do consumers want a pro to install their smart home tech? Or will they DIY it?…
The 2014 Smart Home Survey was conducted by Lowe's in conjunction with Harris Poll in mid-July of this year among 2,088 adults aged 18 or older. The sample was weighted to bring the panel in line with proportions with the overall U.S. population.
As we mentioned in our subhead above, more than half of Americans say the idea of having a smart home is at least somewhat important to them. Not only that, but 62% of Americans say security & home monitoring are the top benefits of a smart home system.
Security & home monitoring are top priorities…
The second highest perceived benefit of a smart home system as ranked by Americans taking this survey was 46% who said: To monitor activity around their home when they are away. This was followed by 40% who said the main benefit was "cut costs and save money on energy bill."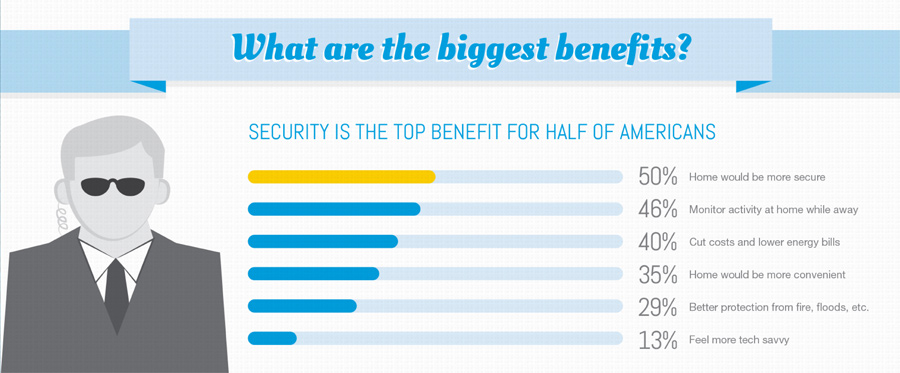 Interestingly, only 35% said that smart home technology "would [help their home] be more convenient overall." But 13% said it would make them "feel more tech savvy."
On one hand, a blow to integrators…but on the other hand, maybe not…
But in a bit of a blow for integrators, a solid 50% of Americans prefer a do-it-yourself (DIY) system with no recurring monthly fees. Only 21% say they would prefer to have a professionally installed and monitored system with a monthly service fee. Of course the key there may be the issue of cost as 56% of Americans "cite cost or fees as the most important deciding factor in purchasing consideration."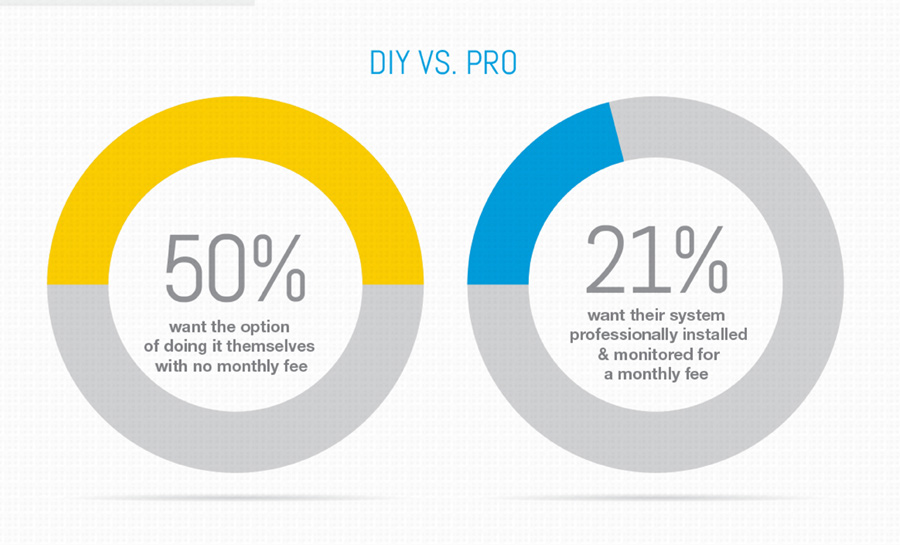 When the survey respondents were asked if they would prefer to operate their system by an app on their phone, or by a dedicated in-home system display – the results potentially indicate an opportunity for integrators. Only 5% of respondents indicated they only wanted to control the system by app. More than three times as many – 16% – said they would prefer to control the system via an in-home display.
And a whopping 50% said that they would like to use both to control their smart home systems. Generally, the need for an in-home display could require the services of a professional installer.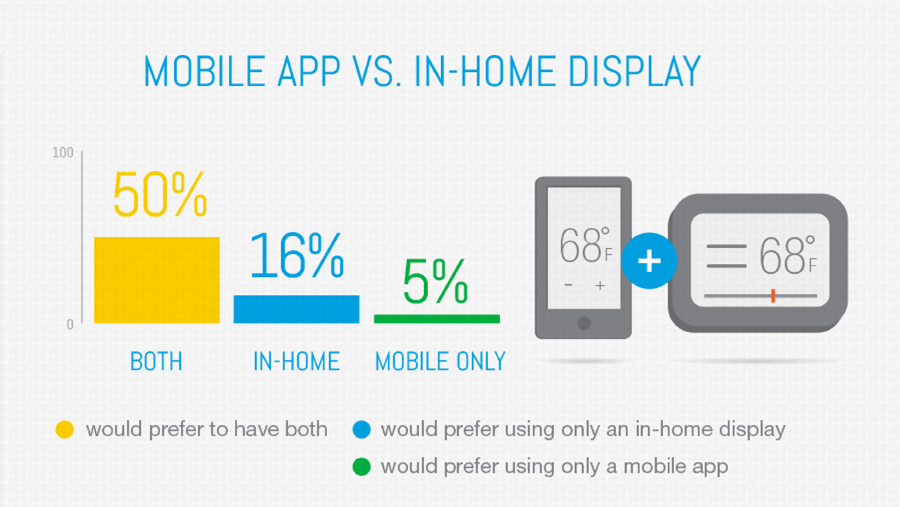 Taking the concept of a couch potato to a higher level…
In a result we found somewhat humorous, 70% – that's 7 out of 10 Americans, folks – who own a smartphone or tablet wish that they could use it to control something in their homes "without getting out of bed." And just what exactly is it that they'd like to be able to do from bed, you ask?
44% wish they could control temperature by turning on/up the heater or air conditioner
39% want to turn on the lights from their smartphone/tablet
27% want to start their coffee pots (I hear that!)
17% would like their system to let the dog out
"In general, American feel positively toward product that will make their homes safer, more energy efficient and easier to manage," said Kevin Meagher, Lowe's vice president and general, Smart Home. "It is added evidence that the smart home and Internet of Things are here to stay."
Next step in automation?…
When asking the survey respondents what they wish smart home systems could do, 49% said they would like their home to be at the perfect temperature when they walk through the door at the end of the day. And 37% wish their lights would automatically turn on as they approach. Another 27% said they want their doors to unlock automatically when they arrive.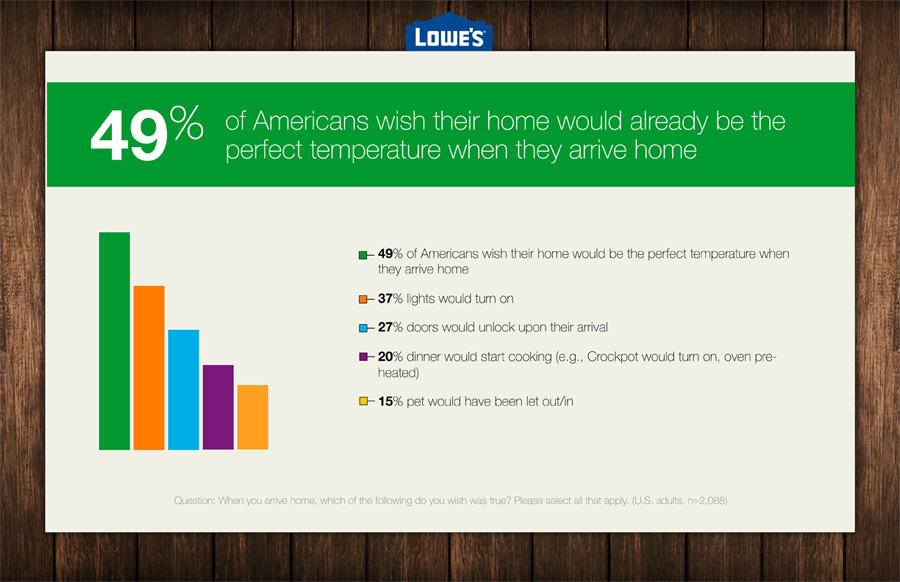 The survey doesn't indicate what the survey takers' awareness is of what is available now. Some of these "wishes" are already possible today.
What technology would you like from the Jetsons?…
In another humorous section of the survey, Loew's asked, "Which futuristic feature from The Jetsons' home would you want most today?" The winner…by a big margin….36% of Americans said they want Rosie the Robot (automatic housekeeper). Another 19% said they like that "automatic meal machine" where you push a button and get a complete meal.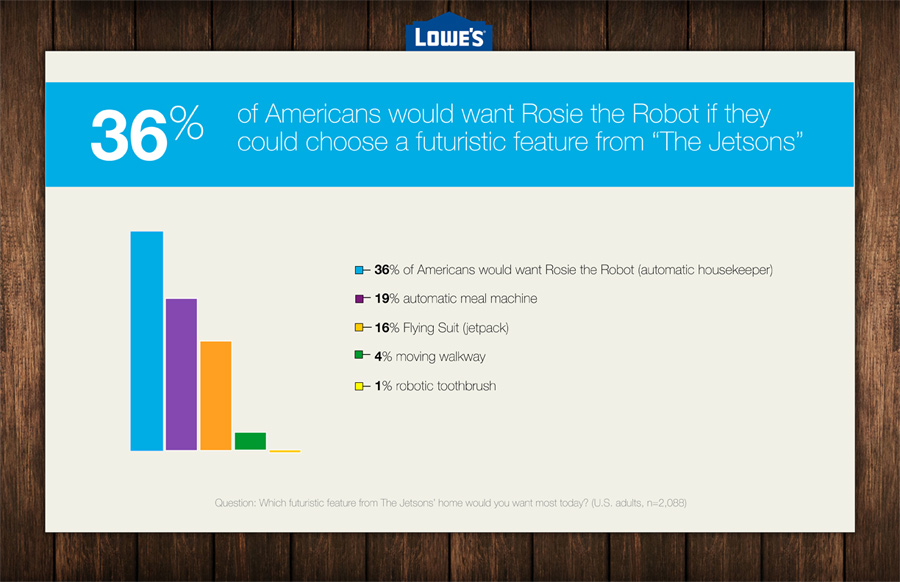 Surprisingly, only 16% said they would like the Flying Suit (jetpack). That would have been much higher on my list!