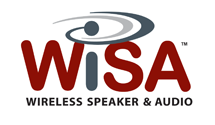 The Wireless Speaker and Audio Association (WiSA) announced on Tuesday that it has signed up several new members and a couple caught our eye – Gibson Guitar Corp. (now Gibson Brands) and Onkyo Corporation. Also joining the organization are loudspeaker manufacturer Dali and Australian distributor Amber Technology who markets a line of speakers called Accent Digital.
Who is the WiSA and why would Onkyo and Gibson join? See more below…
According to the release distributed by WiSA, it is "an industry group dedicated to bringing reliable, high-performance, interoperable, wireless, surround sound audio products to the home theater market." WiSA says these new brands have joined the organization to help it "advance its mission."
Wireless audio, of course, has been around for many years. However, the quality of performance was generally below the standards necessary to garner widespread support from brands looking to supply higher-level performance.
Interest in older analog solutions waned…
Interest in wireless waned in the late 1990's and early 2000's as existing systems were problematical and as the industry remained dedicated towards standard wired solutions preferred by the dealers and custom installers for both quality of performance and reliability of installation. Still, there  has always been a latent demand from the mass market for the convenience of wireless.
Over the last decade or so, more intensive development of wireless solutions began to have a meaningful impact as digital systems with new algorithms offered dramatically improved performance from these cable-free setups. And consumers were getting more and more comfortable with the concept of wireless as they installed wireless routers for their home network systems.
In consumers' comfort zone…
Also, consumers are getting very comfortable with streaming solutions and as such, demand has been strong for systems such as Sonos and others. Between wireless freeing consumers from what some feel is the tyranny of cables, along with easy streaming solutions from smartphones of favorite content, some feel wireless could be the Holy Grail of a reinvigorated mass market business.
"Through the WiSA Association, members are able to provide a solution to the growing market requirements by offering interference-free, wireless HD digital audio products that are easy to set up and interoperate with other compliant CE devices like HDTVs, set-top boxes, gaming devices and more," said Jim Venable, president of the WiSA Association in a prepared statement. "The trends in the industry coupled with consumer demands for quality, ease of use, and convenience reflects the reasons for the surge in WiSA membership and why many well-known speaker companies, CE companies, ODM/OEMs and even a guitar company [Gibson Guitar] are getting involved with the Association."
WiSA says they deliver a better solution…
WiSA has created a set of technology standards to deliver a system that operates "reliably" in the 5.2-5.8GHz frequency spectrum. WiSA-compliant systems can deliver 24-bit uncompressed audio at sample rates to match the content from 32-96k samples per second. It is, the association says, true theater quality sound.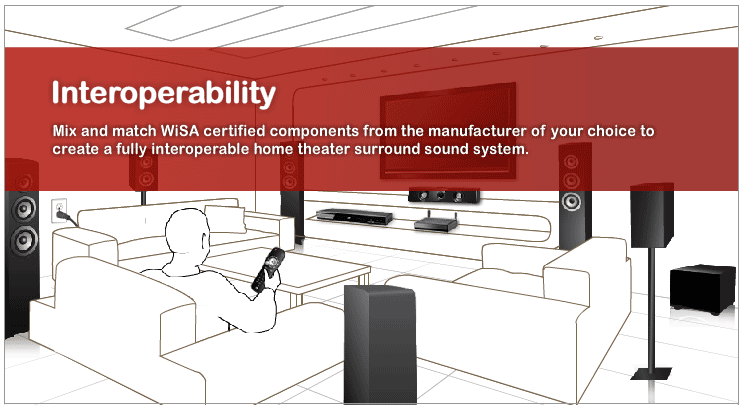 And, addressing the complaints many have had with previous wireless systems, WiSA says that there is a "robust" error detection and recovery process for uninterrupted enjoyment of your wireless system. Also, WiSA systems boast an easy installation process – far superior to wired systems.
No need for the expense of a professional installer…
From the WiSA website: "There are no speaker cables, connections, or speaker-to-amplifier matching required. Unlike traditional home theater systems, a WiSA-enabled system can be quickly set up by the average user without the expense of hiring a professional installer."
WiSA-compliant systems also feature an automated set-up routine accessed from either a system's  On-Screen Display or via a mobile device's touch panel. The system is "smart" and "learns" the position of loudspeakers and automatically adjusts the system.
Components must play nice together…
The WiSA Association mandates interoperability, so any equipment displaying the WiSA logo will work with any other WiSA-compliant component. And WiSA systems are scalable, offering anything from a 2.0 to a 7.4 full home theater setup.
"Delivering high quality wireless audio speakers, A/V equipment, and other CE products which can interoperate with each other is a high priority for us and ou7r customers," said Munenori Otsuki, president and chief executive officer of Onkyo Corporation in a prepared statement. "We look forward to working with the WiSA Association to deliver game-changing products that will finally give the consumer the high-definition wireless audio experience they want for their home theater."
The association's website lists several other members including Anthem, Definitive Technology, Martin Logan, Pioneer, Paradigm, Sharp, Klipsch, Polk, GuoGuang Electric Company, Ltd., Hansong, Silicon Image, and more.
For more information on the WiSA Association, see: www.wisaassociation.org.