Finding themselves at the crossroads of two struggling industries – consumer electronics and traditional publishing – Source Interlink Media, the owners of both Home Theater and Sound & Vision magazines, has decided to merge the two properties into one entity. The combined entity will be known as Sound & Vision – apparently leaving the Home Theater name plate to the annals of history.
This pivot point provides a sad demarcation in a once vibrant competition. See more below…
The official announcement of the merger was made on Monday. The announcement did not contain a lot of details other than to say that the merged entity would use the "all-encompassing" Sound & Vision name because "we can more easily address the new ways in which consumers use their entertainment systems."
Most in the industry we spoke with were not too surprised. When Source Interlink Media (SIM) acquired Sound & Vision from previous owner Bonnier Corp. in May, many had speculated that just such a transition may be in the works.
A name that limits…
Apparently, SIM had decided that the Home Theater name had become too limiting. Consumers were interested in many other forms of electronics beyond just their home theaters. The more expansive Sound & Vision brand gives them more room to move…and to report on any form of electronics that tickle the consumer's fancy, such as mobile devices.
It is hard, however, not to view this move as yet another indicator of an industry that can no longer support multiple magazines covering the component audio/video segment of consumer electronics. Many we spoke with called this merger emblematic of the trends impacting the overall industry.
Two industry drivers – but NOT audio or video…
Even the Consumer Electronics Association (CEA) at last month's CE Week event noted that the two major categories driving the overall consumer electronics industry are tablet computers and smartphones. Take these categories out of the numbers – and the rest of the industry is declining.
In an ironic twist of fate, this merger announcement took place on the same day that TWICE Magazines' Joe Palanchar ran a blog piece titled Celebrating The Resurrection of Component Audio which referred to [at the time] unreleased CEA data that seems to suggest that component audio is on the rebound. Apparently, this rebound was too little too late for these two journals of the component A/V industry.
Good news for advertisers?…
Sound & Vision publisher Keith Pray suggested in the prepared statement that this merger was good news for advertisers. Advertisers, he says, "will enjoy benefits like the strongest industry print circulation, a growing digital, interactive version of the magazine and an abundance of digital apps."
"Advertisers will find that Sound & Vision's reach is unrivaled in the industry," Pray says.
Unfortunately, with less competition, advertisers will also likely find themselves subject to higher advertising rates. And there will no doubt be significant layoffs as the combined group now has twice as many employees as they will likely require moving forward.
It's 'all very cryptic'…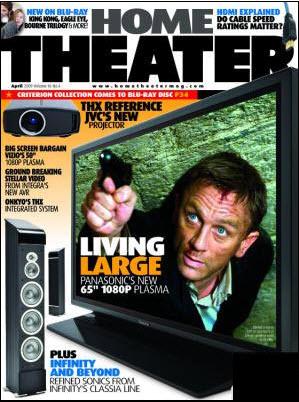 So far, there has been very little in the way of specific details released about the new company. One insider we spoke with the day the decision was announced said that even for those directly involved, the situation was "all very cryptic." However, more than one source told us that those employees associated with Home Theater were sitting in a better position than those associated with Sound & Vision.
The expectation from our sources was that almost all of the Home Theater employees would be retained with maybe a couple of the Sound & Vision staff being kept on board. All of the others will be dismissed after the October issue which is in the process of being created now.
Staff changes begin…
Our sources also tell us that Mike Mettler, Sound & Vision's Editor-In-Chief was terminated last week. Also dismissed was Sound & Vision Technical Editor Al Griffin. Ironically, earlier in his career, Griffin had been an editor at Home Theater magazine.
Rob Sabin, former Editor-In-Chief of Home Theater has been named to head the new Sound & Vision. Sabin is a former Sound & Vision Executive Editor and says the magazine will be completely redesigned.
"Bringing these two entities together has the effect of putting virtually all of the industry's most noted experts in one place," Sabin said in the prepared statement. "We will be ramping up our product review program to cover more gear across a wider range of categories and under the Sound & Vision name we can broaden our audience while continuing to support the serious audio/video enthusiast with the depth of coverage they've come to expect from Home Theater."
It will be interesting to see how Sabin and his team format the new entity as the two previous magazines had distinctively different editorial approaches with unique personalities – even though they covered a very similar beat…the audio/video enthusiast market.
Several attempts were made to reach company executives or its press representatives for confirmation and comment, but our calls were not returned by the time this story was published.