A new survey from Ipsos/Axios had lots of interesting details about how Americans are feeling at this unique juncture in time, as states begin to reopen their economy, with a commensurate rise in cases of coronavirus. As many readers may know, this is an area…consumer sentiment…that I try to keep tabs on, as 70% of the U.S. economy is based on consumer sentiment.
And one piece of this research jumped off the page and grabbed me by my throat – 8 out of every 10 Americans worry about a second wave of the coronavirus (COVID-19).
See how consumers feel about COVID-19 now
Yes, we've watched protesters march, mostly maskless, in state capitols across the country demanding that the governors in those states cancel stay-at-home orders and restart their economies. While the economic hardships of COVID-19 are unprecedented…and painful…getting our population past the pandemic and healthy is crucial to a sustainable recovery.
In this epidemic, consumers had to face the double witching of health insecurity and economic insecurity. And for those Americans over age 60 or with any kind of underlying health condition, there is a third factor – mortality insecurity.
Consumer Concerns are Rising
The report notes that 81% of Americans are concerned about a potential second wave of the deadly coronavirus, of which 56% say they are either extremely (30%) or very (26%) concerned, with the remainder saying that they are simply concerned. Furthermore, 64% say that returning to their normal pre-coronavirus life represents a large or moderate risk. That reading is up 7% from the same question in a survey just one week before this one, when 57% said this.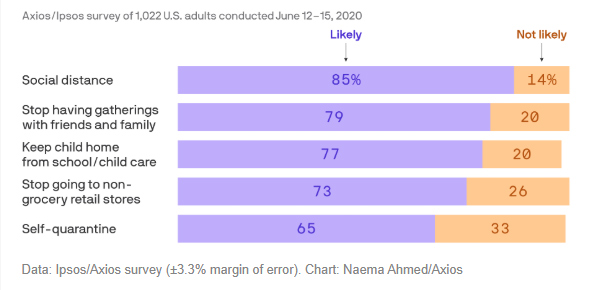 The survey also discovered that if consumers determine that we are in a second wave, they will take it upon themselves to take action, such as engage in "social distancing, dial back shopping and keep kids out of school." [See chart above] They won't wait for the governor to tell them to do this either.
Response Varies Depending on Ideology
As in everything these days, there is an ideological divide in these results. Fully 81% of Democrats say they'll self-quarantine if there is another wave of coronavirus. Less so with Republicans, of whom 49% say they will self-quarantine if COVID-19 revisits us again. [Government health officials actually say the country is still in the first wave of COVID-19.]
How recent is this data? This survey of 1,022 adults was conducted on June 12-15, 2020 – just days ago – and has a ± 3.3% margin of error.
Reports of Infection Increases as States are Now Reopening
What appears to be driving this rising concern among Americans is the many reports of a rising number of cases around the country in states that have aggressively reopened their businesses and activities and abandoned some or all of their restrictions. In many cases, these moves are made in contravention to advice of health experts.
Why does this any of this matter? Simple…when consumers are scared or nervous, they tend to cut their discretionary spending. Basically, they don't buy anything beyond necessities. Somehow, a rockin' home theater seems to diminish in importance…when you're worried about getting sick or dying.
So a positive direction in consumer sentiment is crucial in restarting our economy. This poll suggests that road is likely to be a long and bumpy one.
See more of the results of this survey at this link…