Then Custom Electronic Design & Installation Association (CEDIA) today released attendance data from last week's Expo in Indianapolis, IN and it was a mix of good news and bad news. Let's get the bad news out of the way first. Total attendance at the event came in at 16,900, down 4 percent from last year's attendance of 17,600. This figure is also the lowest recorded attendance since 2001, coming in 1.8 percent under that year's attendance level of 17,200.
But is there a silver lining?…
The press release from CEDIA claimed that non-exhibitor attendance actually increased 4 percent from last year even though the overall numbers are off and the number of exhibitors increased slightly from 444 last year to 450 this year (about a 1 percent increase in exhibitors). We have reached out to CEDIA to clarify this apparent discrepancy.
Perhaps the organization can take some solace from the fact that the pace of decline is finally beginning to moderate. Last year, attendance was off an alarming 15 percent from 2010's reading of 20,700 attendees coming in at 17,600. By comparison, this year's drop of 4 percent seems modest.
Trade shows as a marketing tool…
Still, as exhibitors struggle with marketing budget declines – trade shows are sure to be continually re-evaluated as a marketing tool as they typically are the highest cost per lead generated compared to other forms of marketing. In this hard analysis, CEDIA's Expo is hardly the only casualty – CES has struggled to drive their attendance by bringing in new categories of exhibitors such as appliances and auto manufacturers…and EHX, once offering two shows per year for integrators, this year dropped the event altogether. (Next year, EH Events will launch a new seminar-style event to replace it.)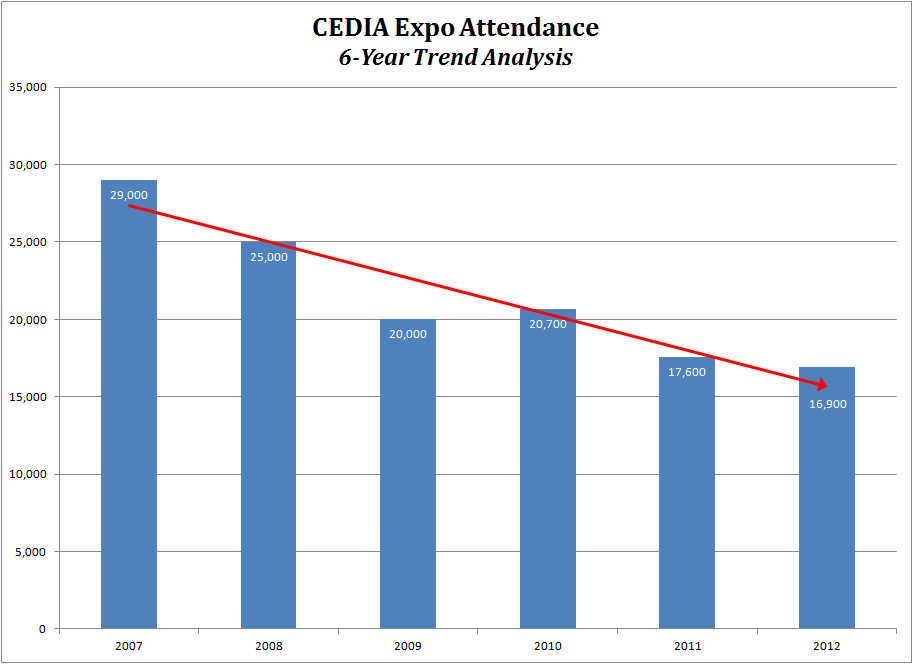 According to CEDIA, more than 80 new products debuted at Expo from their 450 exhibitors. The organization also noted that of the total attendance, 15 percent were first timers.
Not just products – attendees were electric…
CEDIA also claimed that exhibitors and attendees were defined as "electric", "high caliber", and "rock-solid." The trade group's press release quoted from exhibitors such as Sean Goldstein of Crestron ("We were thrilled…"), Michael Bridwell of Digital Projection ("The dealers that are here are better educated…"), and Rob Fisher of ME Products ("Our booth traffic has been outstanding…").
The organization also quoted from attendees such as Peter Cook of Automation Design & Entertainment ("…a lot more cool, rock-solid technologies on the floor…") and Aaron Hemp of INC Systems ("I focused on attending as many courses as I could…").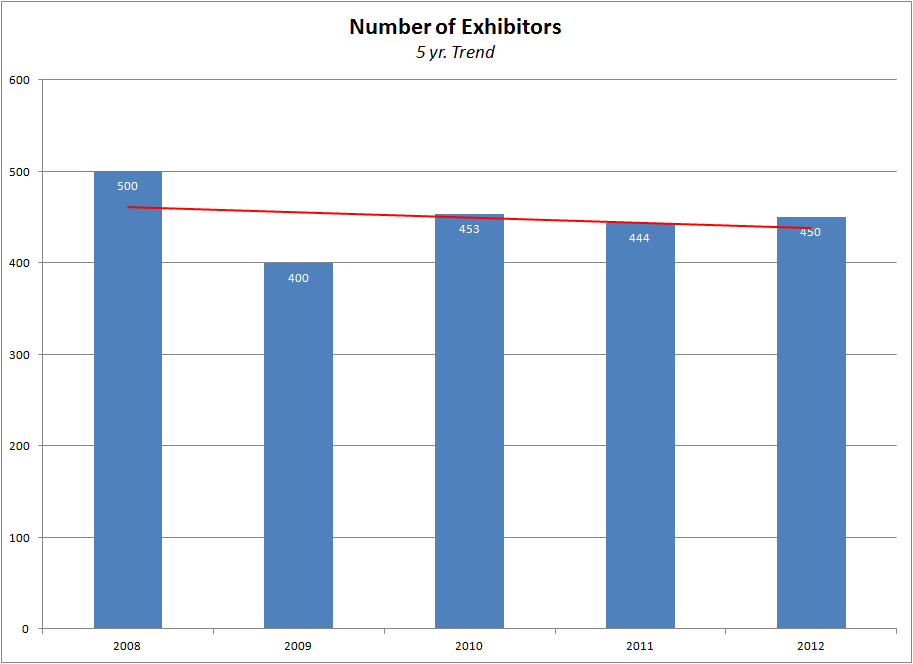 Was the show's energy "muted"?…
In fact, in our informal survey of exhibitors, both at Expo and after, several told us that they felt this year had a different "feel". One exhibitor told us he felt that the overall energy was "muted" or "less intense" than in years past. To be fair, we had a few exhibitors who stated that they felt the "quality of attendees was good" and exhibited a "get down to business" type of attitude.
But we heard more suggest that, as one long time exhibitor told us: "There wasn't a lot of excitement this year."
Wide, uncrowded aisles…
When told of the announced attendance, one exhibitor told us that he felt the number was inaccurate and the actual attendance was substantially lower than that. He apparently agrees with one exhibitor at Expo who told us he believed attendance dropped more substantially, pointing to wide – and uncrowded – aisles.
The signs of a drop in attendance were hard to miss. Restaurants had tables available every night of the show – and at almost any hour. And one exhibitor noted – wryly – that it wasn't hard to find a food vendor and a group of tables to sit down at to hold a meeting on the main exhibit floor. Some pointed to the very wide aisles and missing booths around the edges of the floor as signs of decline.
The best option for CI…
Still…many told us that they will continue to attend CEDIA Expo as there is no real alternative for the CI industry. CES, although claiming attendance increases this year, appears to have lost some momentum with the specialty side of the business. Several attendees and exhibitors say they have chosen to opt out of CES which has resorted to adding new product categories such as appliances and automobile manufacturers to try and boost attendance figures.
"It's [CES] so big – you just get lost in there," one CEDIA exhibitor told us.
International attendance helps exhibitors…
More than one CEDIA exhibitor told us that the level of international attendees – especially overseas distributors – has increased over the last few years and that this fact has increased the value of the CEDIA Expo for them as they can meet with their foreign partners at this show. It is unclear just how many attendees came from overseas, but CEDIA says attendees came from 71 different countries.
The announcement from CEDIA of an attendance decline did not surprise us and we said so in a post that was published before the organization released their final numbers. Likely a result of a shrinking industry – not to mention a continually sluggish economy – until residential construction turns around more substantially…or consumer preferences swing back from tablets and smartphones to component A/V entertainment networks…this downward trend is likely to continue.