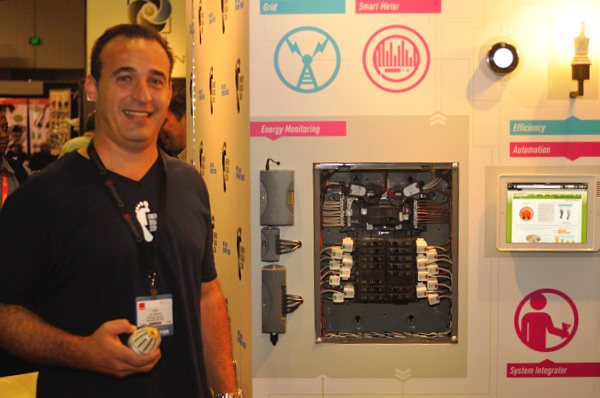 Sometimes the best ideas are the simplest. When I ask business owners and executives to tell me why they started their business, you'd be surprised at the mushy gobbledy-gook I'm often offered in response. So when strata-GEE.com readers at the CEDIA Expo pointed me in the direction of the Energy Squad booth – I was skeptical. Was this another tech head playing with toys who'll be here-today and gone-tomorrow?
Boy was I in for a surprise…
I approached the Energy Squad booth with fairly low expectations. Then I met Jonathan Stovall. Stovall, founder of the Energy Squad, is young, enthusiastic, energetic, and…smart. When I asked him why he started Energy Squad, without a moment's hesitation he offered me an enthusiastic answer. And it was an answer that made sense.
Stovall launched Energy Squad based on his experience with his other company – Bethesda Systems of Bethesda, MD, an integrator in both residential and commercial markets. Bethesda saw an opportunity to focus on the green energy niche – under-served, even ignored, by their competitors.
It'll cost you – a lot – to say 'no'…
They came up with a great presentation in which they could show commercial businesses how much it cost them NOT to install energy-efficient LED lighting systems and other energy monitoring and control products. According to Stovall, there are all sorts of utility company incentives for commercial enterprises to upgrade their operations to more energy-efficient devices.
By calculating the savings from the high-efficiency lighting – along with the incentives – Stovall was able to show customers how they would have to PAY thousands of dollars over time by NOT upgrading. By the time he was done with his pitch (complete with custom created graphs and charts showing the actual out-of-pocket cost in dollars to not upgrade), the client had no choice but to move forward with the project.
Selling was the 'easy' part. Executing the installation – that was the 'tough' part…
But that is where the real challenge for Bethesda Systems began. According to Stovall, it was a daunting process for him to acquire the products, systems, controllers, and support that he needed to complete his eco-system installations.
Why? Because there was no easily available source of supply for all the items he needed to complete the installation. He was forced to spend hundreds or thousands of hours seeking out sources, procuring pieces and parts, obtaining the shipments…and – most importantly – the support.
There just had to be a better way…
It occurred to Stovall, there had to be a better way. If only he had a source of supply optimized to provide these products and support to the custom integration community – we'd be talking big business! And that…in a nutshell, is why the creation of Energy Squad made so much sense.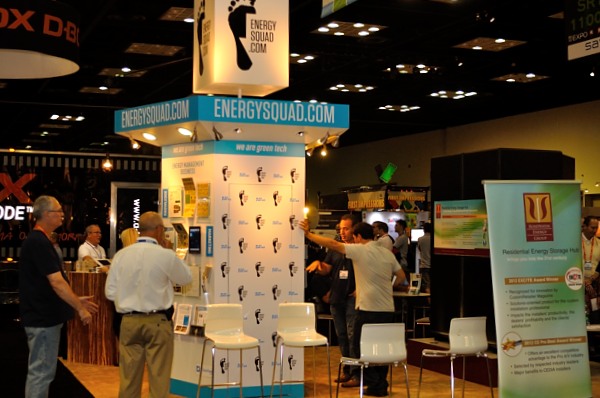 By launching Energy Squad, Stovall is providing integrators a one-stop-shop for green technology products and support. Integrators can take advantage of all of the homework he has done to assemble the right combination of products, technologies, and support systems to forge into a whole new…and profitable…business line.
Low awareness equals high opportunity…
Stovall shared with me that he is amazed at how low the awareness is among today's integrators of the tremendous profit opportunity that green technology offers. Perhaps because of the situation he faced – the lack of a cohesive source of supply and support – many integrators have no idea of just how much they could profit from an involvement in the eco-biz. And, as an integrator himself, Stovall knows what these guys are going through.
"These guys need to evolve their business," Stovall said emphatically – and knowingly. "There is such a great opportunity for them in green technology."
It's easy with only a little education needed…
Stovall also told me that LED lighting is an easy addition to the typical integrators "bag of tricks." With only a little technology specific education, any integrator can begin designing and installing LED lighting systems that will save their customers substantial money over time.
"They're not light bulbs," Stovall exclaimed. "They're devices." And integrators know about devices.
Stovall showed us some of the assortment that Energy Squad will be offering, including a very cool looking water-cooled LED light bulb. The distributor plans to offer integrators a wide range of products including energy monitoring and control systems; electric vehicle chargers; LED lighting systems; home automation systems; HVAC; and more.
To learn more about the Energy Squad, including what types of products, programs, and services they can offer to help get your business into the green technology market, see www.energysquad.com.