For Owner of CEDIA Expo, There's Trouble in Emerald City

Emerald Expositions' stock nose-dived 19% in early afternoon trading last Thursday as the company released its third quarter fiscal results and announced that David Loechner has resigned as the company's President and CEO. Current CFO Philip Evans takes over as Interim President and CEO.
What's going on at Emerald Expositions?…
On the face of it, Emerald Expositions Events, Inc. (EEX) released reasonable numbers that were, for the most part, in line with analyst expectations. Revenues increased 2.7% to $103.1M as compared to revenues of $100.4M in the same quarter last year.  Net income was up 8.9% to $20.9M versus $19.2M in 2017.
But signs of trouble brewing were clearly evident. First of all, the company admitted that its results were degraded as a consequence of an under-performance by a couple of their larger shows: NY Now and ASD. Although they expressed confidence that the corrective actions they were taking – which were not specified – are "beginning" to take effect, it appeared to have a chilling effect on some of the financial analysts who questioned executives about this fact during the Q&A session.

Emerald's CEO Resigns
Here is how the conference call with analysts started, with CFO Evans turning the call over to CEO David Loechner.
"As we announced this morning, with the agreement of the Emerald board, I have made the decision to resign as President and Chief Executive Officer of Emerald, effective a week from today," David Loechner announced on a call with analysts this morning. After reviewing some of his accomplishments over the last eight years or so – including their recent public offering – Loechner added, "There is more to be accomplished, and I believe a change in leadership will allow the portfolio to achieve its full potential."
The resignation of Loechner was a surprise. The announcement he was referring to was in a press release that was circulated Thursday morning along with their fiscal third quarter results. No reason was offered for this sudden resignation, other than in a prepared statement from Loechner who said only that "this is the right time for me to retire from Emerald." But  two elements of this announcement seemed strange: First, normally, in public companies a transition for a position as important as the CEO is planned for months or even years in advance, with its approaching date announced months ahead of time to mute the impact of it. But, to my knowledge, no such advance warning was given.
Something Strange about This Resignation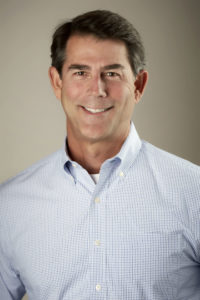 The second strange element of this sudden resignation is that a CEO transition of a public company is usually stretched out over a long period of time, during which the replacement – who most often has already been chosen – is worked into the position under the guidance of the old, retiring pro. Loechner, we learned from the public announcement, will be gone within a week. Loechner's resignation is effective November 8, 2018. He will remain under contract…but only until the end of December.
This announcement does not pass the smell test. Even if there was some personal reason for the need of this hasty exit by Loechner, their highly professional PR people could come up with a statement that would provide some level of explanation for this rapid transition.
[You can read the entire announcement of David Loechner's resignation from Emerald Expositions here…]
Back to Q3 Results
But I digress, let's get back to EEX's Q3 performance. Of interest to Strata-gee readers is the fact that EEX said they were pleased with the performance of a couple of their shows during the quarter, including Outdoor Retailer Summer Market and…tada!…CEDIA. In particular, Emerald CFO Philip Evans, now the company's Interim President and CEO, said that CEDIA had revenue growth in the low double-digit percentage range. Other than this, there is no way for us to track this and independently verify it – Emerald does not break out performance by individual shows normally.
However, Emerald did provide rough revenue ranges for their various shows. On this chart, we find CEDIA listed in the $5M-$10M bucket. According to past IRS Form 990's filed by CEDIA, we know that the show generated around $6.5M in revenues in 2016, so Emerald's classification seems to make sense.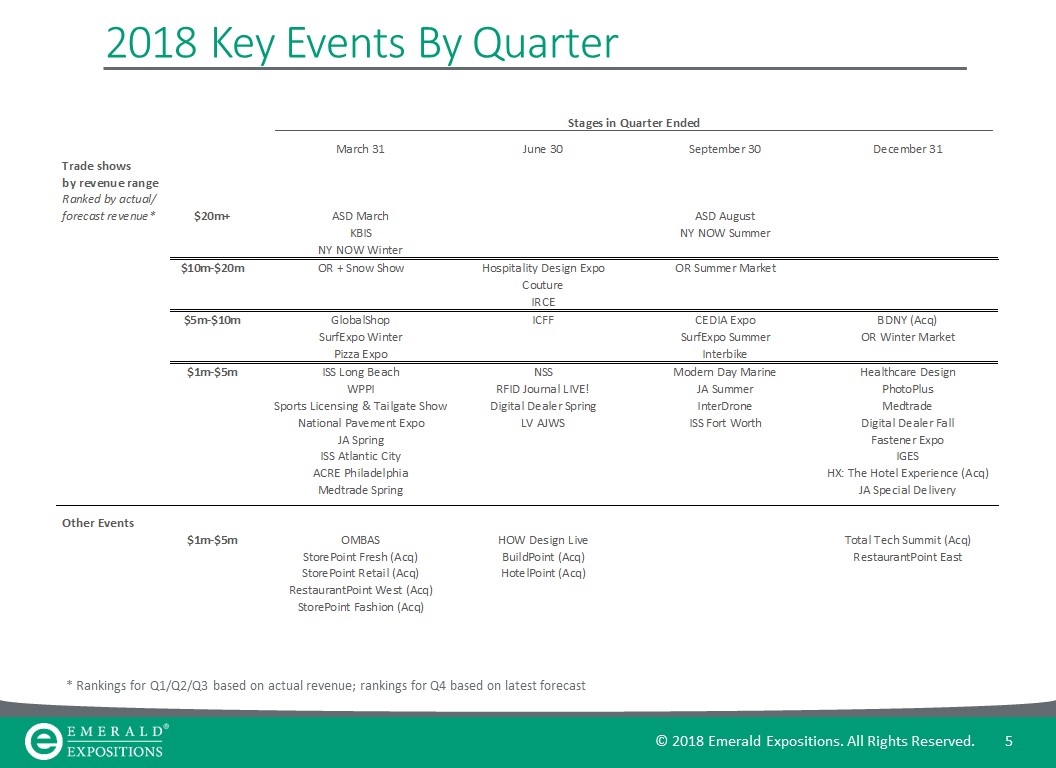 Incidentally, Emerald also listed the Total Tech Summit, a show they acquired when they purchased CE Pro and three other magazines from EH Publishing a couple of months ago. In this case, this show was listed in the $1M – $5M bucket under "Other Events."
Why Did Investors React So Negatively to These Announcements
But in a review of their Q3 shows, we begin to get a sense of why the market reacted so negatively to Emerald's quarterly results.
"The August edition of ASD experienced a low single-digit percentage revenue decline versus the prior year edition," Evans said. "Importantly, and as David mentioned, this performance included an improved revenue trajectory versus the ASD show held in March as our initiatives started to take hold. As part of our ongoing show improvement initiative, we have added new private label and on-trend sections to the show which were well-received by both exhibitors and attendees."
Then Evans turned his attention to another big show for Emerald, NY Now, which ran in mid-August.
"As we anticipated when we presented our second quarter earnings, [NY Now] declined in revenue by a low double-digit percentage versus the prior year's edition. Performance was mainly driven by the home section of the show, which includes home furnishings, tableware, and textiles. The other two categories of the show – lifestyle and handmade – increased only modestly in revenue."
Evans said they are pleased with the new brand leadership they have put in charge of the NY Now show – including new leaders for sales and for marketing. Emerald says they have "ramped up investments in the show's improved attendee experience and improving the exhibitor return on investment." Their team, Evans promises, will continue to improve on these initiatives.
Small Shows: Increases…Big Shows: Declines
The news of the performance downturn of these shows is important because both of these shows are in the highest revenue bucket for Emerald – 20M+ in revenues. Single- and double-digit declines here are hard to offset with their other lower revenue shows.
Of the 2018 edition of the CEDIA show, Evans said, "We were able to build on the success of last year's event and began to adopt more of Emerald's approaches and practices into the show. Revenue increased by a low double-digit percentage over the prior edition, and we're excited about the show's move to Denver next year which has historically been a particularly popular venue with the industry."
Other shows in Q3 also had problematic results – including Surf Expo Summer, which last year had been impacted by hurricane Irma. There were no weather issues this year, but Emerald says that "residual trepidation" contributed to a high single-digit revenue decline this year. They expect to see a "return to modest growth next year."
Finally, Interbike, another show held this year in Reno (after many years in Las Vegas), revenues "declined at a double-digit rate." The company is reviewing feedback "to decide whether to adjust our strategy for the show going forward."
More Bad News: Two New Show Launches Failed  and Were Cancelled
The company also launched brand-new shows during the quarter, including: Active Collective (New York), and "co-located" a new American Hand Crafted event in Orlando alongside their Surf Expo show. Evans said these new events met with pre-launch expectations.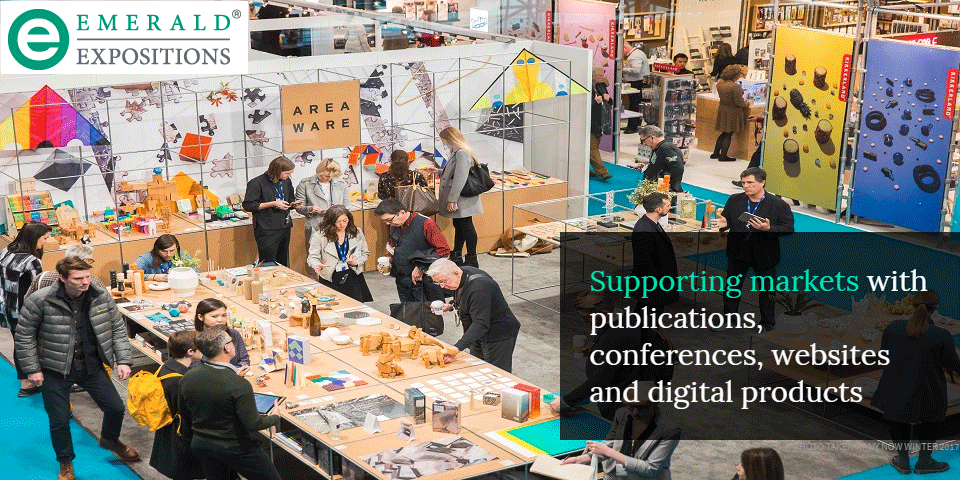 Yet another negative impact for the quarter, analysts learned, came from two failed launches. Evans had to admit that Emerald had to cancel the launch of two other shows planned for the quarter including the Brand Authority Summit and National Pavement Expo West. These shows "did not make it to market." Evans brusquely noted that these two events "did not gain enough market traction to be successful first events." The company has "deferred their launches" to give more time to "prepare the markets." Translation: these two shows were cancelled.
Purchase of CE Pro was to 'Strengthen [the] CEDIA Expo'
Evans noted that they had "acquired a leading 'hosted buyer' event and a portfolio of prestigious 'technology intelligence products' from EH Media." He is referring to their acquisition of CE Pro, Commercial Integrator, Security Sales & Integration, and Campus Safety. With this purchase, Evans told analysts, they ave gained "exclusive content" and "seasoned industry leaders." They also got "strong supplier and buyer relationships that will strengthen CEDIA Expo, as well as our design brands."
The total revenue of this package of properties acquired from EH Media is broken down as: 25% Events / 50% Digital Revenues / 25% Publications. These properties have grown revenues "strongly" over the last few years, including robust growth in their hosted buyer event and digital revenues. Emerald expects to leverage their digital revenue expertise which they will use to improve the results of their other marketing services portfolio.
Emerald also acquired another show, known as BDNY…Boutique Design New York, an independently owned top 250 trade show. With that acquisition, they also got a couple of other subsidiary shows under the BDNY umbrella as well.
For both of these acquisitions (BDNY and the EH Media properties), the total investment by Emerald was about $73 million. The two acquisitions are expected to generate $30 million in revenue and $8 million in adjusted EBITDA for the full year 2018 on a pro-forma basis.
Emerald Admits: Apples-to-Apples Comparison Shows Revenues Actually Declined
In prepared statements, Evans noted that the company enjoyed $6.5 million in "Other Income," which was largely made up of insurance payments offsetting lost revenues from some of their shows due to hurricane Irma. Then he noted:
"If the amount had been recognized in revenue, and adjusting for show scheduling difference, our third quarter 2018 revenues would have decreased by $1.1 million or 1.1% versus the as-adjusted period last year."

Organic revenue – revenue which takes out the effect of recent acquisitions and is considered a gauge of how the company is doing with ongoing operations – was down $3.1 million or 3.1% versus the same quarter in 2017. Organic revenue for the trade show "portfolio," showed a decline of 2% over last year.
Expenses Were Higher Than Revenues on New Acquisitions in Q3
Reported revenue included $2 million of revenue from acquisitions, including a hosted buyer event staged by Connecting Point Marketing Group (acquired Nov 2017), and also the digital and publishing revenues connected to the portfolio of brands acquired from EH Media.
Adjusted EBITDA (earnings before interest, tax, depreciation,  and amortization), a widely used, but company-specific gauge of profits, was $51.6 million versus $52.9 million for the same period a year earlier. This represents a decrease in profits of 2.5% or $1.3 million. This decrease in profits, Evans told analysts, was largely due to "a slightly unfavorable show mix," and a "negative adjusted EBITDA contribution from acquisitions in this quarter, as their SG&A and Direct Costs exceeded their revenues."
Analyst's Tough Questions Drilled Down on Key Points
After the conclusion of their prepared statement, Evan opened up the call for analyst questions. Right from the first question, it was clear that analysts were concerned by what they were hearing. David Chiou of Bank of America Corp. asked whether the company felt that "these headwinds" the company was experiencing meant that it would not be able to hit its overall target of 3%-5% long term growth.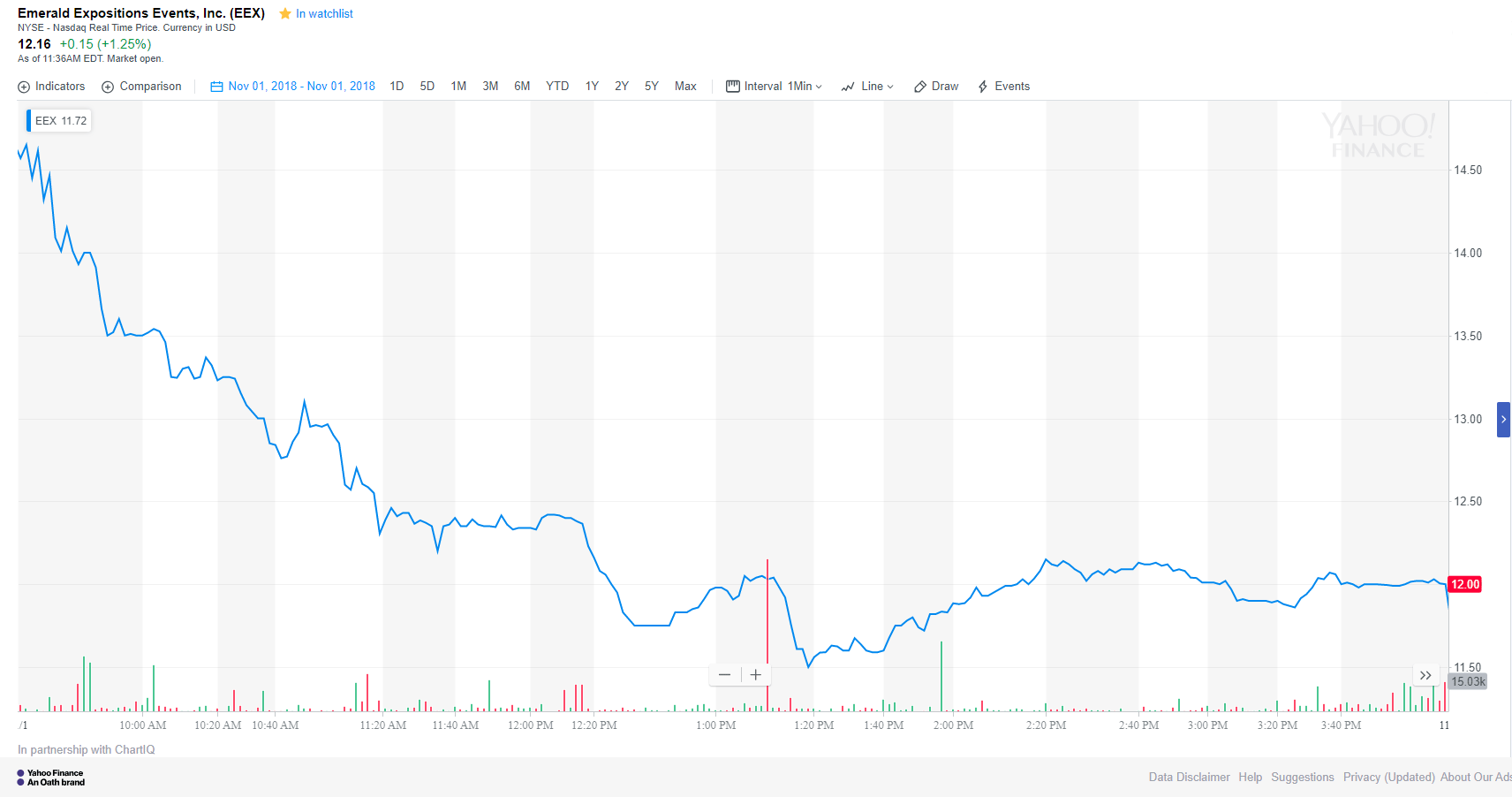 A very fair question given the company's results, yet Evans basically deferred comment, saying they were just now into 2019 budgeting. Given that reality, and the fact that they had a couple of more shows coming up that will help give them a better idea of what to expect –  he said he couldn't answer that right now. "We're still in a learning phase for next year."
How Should Analysts 'Reconcile all of This' Underperformance, Citibank Asks
This was followed by Peter Christensen of Citibank who immediately wanted to review the revenue declines of $7-$10 million, plus the show cancellations of $1.5-2.0 million and asked how analysts should reconcile all of this. Was this underperformance variance exclusively because of the underperformance of Surf Expo and Interbike, Christensen asked.
Evans answered that it was a combination of variables that contributed to the variance of revenues as compared to pro forma estimates. In a bit of a rambling response, he pointed to Outdoor Retailer, Winter Market coming in "smaller than we put in [to their guidance estimate]" with revenue shortfall of "a couple of million." It was true, Evans admitted, that Interbike was not particularly consistent with their expectations; they were disappointed that Surf Expo "didn't pick up closer to the end of the cycle;" and "We had a little bit of additional softness in publications." Overall, Evans conceded, "it was the launches, [ and Outdoor Retailer] Winter Market that kind of tipped us towards the bottom."
Christensen went on to drill down further for details on the trends for their other shows, such as the NY Now and the ASD shows, as well as other shows, clearly looking for more details on whether there are further problems or concerns to that analysts needed to consider down the road.
'Generally, We Feel Pretty Confident' but 'Sometimes, You Don't Get It Right'
Ryan [last name not clear], an analyst with Barclays, was curious about the issue of the new show launches. No doubt his interest was piqued given the news that two new show launches in Q3 failed. "Are those specifically assumed within guidance? When you put up the official guidance, how should we think about what's baked in terms of new show losses…"
Evans, hemmed a little here as well. "I mean, in general, we have things we include, and we have things that we don't include," he said in a bit of a non-answer. "You know, we have a track record of launches, and generally, we feel pretty confident… It just so happens that we had a high level of confidence in both of these and for a number of reasons," including the fact that they ran into several exhibitors telling Emerald that they had "budget issues" and would not be exhibiting. So Emerald decided to pull both of these shows back to "give people time to budget…to include them in their 2019 or 2020 [plans]."
Summing up, Evans added: "Generally, we only include those ones that we have a high confidence level in…and sometimes, you just don't get it right."
'You're Talking About Some of These Shows with Double-Digit Declines…'
While that was undoubtedly an honest statement, it seemed to slightly unnerve the analyst, who went on to ask – "You're talking about some of these shows with double-digit declines, is there any sense that people are pulling back on show spending given, either uncertainty or just business trends aren't picking up as they hope?"
"Not that we're seeing," Evans replied quickly. "The issues we see are very show specific, category specific, industry specific…and not anything general that we're seeing more widely. I think we understand and have our arms around what we need to do. I think we've identified those things, we have the strategies in place, and we just need to execute against them. I don't think that there's anything kind of broader that's worth noting."
Not willing to let it go at that, the Barclays analyst drove down even deeper, asking Evans to explains "Could you remind us how the business typically performs in downturns…just kind of revenue, profitability, those kind of things?"
Can Take 'a Few Cycles' to Fix an Underperforming Show
Evans indirectly answered that by saying that the company has diversified its holdings and has leading shows in multiple industries, so it should do better in a downturn that most.
Robert W. Baird & Co. analyst Nick Mehta asked Evans to explain what they're doing to improve their shows and how quickly performance of those shows will reflect the improvement. Evans noted that both ASD and NY Now shows are large events and any corrective actions will take time to be fully in effect, perhaps after a few cycles of the show.
Goldman Sachs: Inflation, Tariffs, and What 'Would You Have Done Differently?'
Katherine Tait of Goldman Sachs, had three, now pressing, questions for Evans:
"We've been seeing a lot of data about the pickup in inflation generally, particularly in terms of wages, etc.- just wondering if you could talk to the impact of that on your cost base and if you're seeing any signs of that coming through in terms of your negotiations with venues, etc."
"I think you've commented before about not expecting much impact at all from any trade tariffs…is that still the case, and that you're not seeing that impact coming through in any of your forward bookings at the moment?"
"Finally, taking a step back and looking at the performance over the last quarter, is there something that you can point to that perhaps you would have done differently? I mean when you think about the sort of difficulties that we've seen with some of the later shows, do you think that driven mostly by a lack of investment historically…or is it mostly related to market trends?"
Mostly, Evans downplayed any impact from her first two questions. However, in somewhat halting language, he attempted to offer a soft mea culpa on the last question.
"I think if we're honest, we would say yes – [ideally] we would have anticipated some of the moves and some of the issues in the home section particularly of NY Now earlier. It's a long convoluted story that we don't have time for – but you know there were things that happened before we acquired the business…decisions that were made that really affected the trajectory of that, and we probably should have stepped in earlier and made some changes. So we're a little bit in catch-up mode there.
"I think from an ASD perspective, there's a lot of category driven drivers there and I think we need to keep developing new categories, keep being efficient and bringing in attendees. But I think we've identified what we need to do and we're executing the team – the team's strong in both of those shows – and we're moving ahead."
While Emerald's stock rebounded slightly after these announcements, it was still well off its pace heading into Thursday. Perhaps, investor intend to wait until they see an improved performance. At least, that was my impression after listening to questions from analysts on the call which were tough and probing.
Learn more about Emerald Expositions at: www.emeraldexpositions.com.