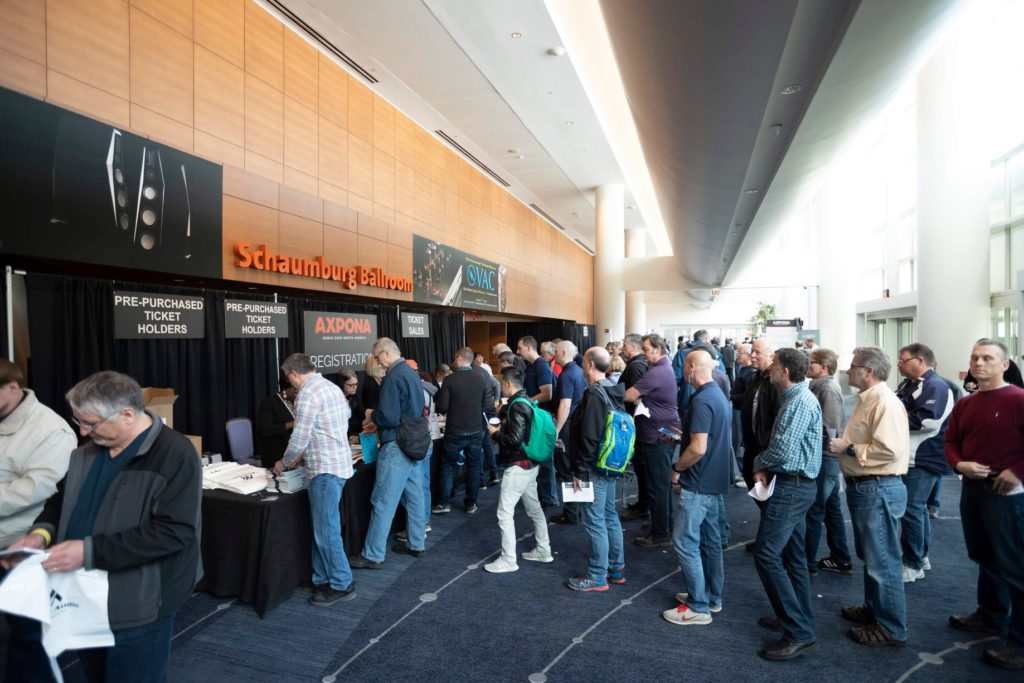 Compiled by Bill Leebens
UPDATED – All Dates and Status Info Updated – For the most part, when it comes to audio shows, either trade or consumer, 2020 has been a bust. Thanks to the COVID-19 pandemic, with one exception – the Florida Audio Expo in Tampa, FL in February – all other events were cancelled. So what does that mean for 2021? Guest poster Bill Leebens has compiled a list of top audio shows for 2021 showing their current status…
See today's status for 2021 shows…
UPDATED 2: April 2021
Below is the current known status of the top 2021 audio shows, as of this writing. It goes without saying that this list will undoubtedly change as time passes. But at least we can get you started as you look at your calendar for next year with what we know now.
We are not suggesting that this list includes ALL shows, only those that we believe are among the most popular. If you know of other events that you feel should be included on this list, feel free to list them in the Comments section below. Be sure to include the dates it is scheduled to run and the status of the event.
Dates & Status of top Audio Shows in 2021 – (See UPDATES below at
**

)
CES January—Virtual
NAMM January—CANCELLED
Finest Audio Show Zurich 1/9-10 CANCELLED (High End Society, Munich producers—was High End Swiss)
UK Hi-Fi Show-2020 Postponed, not cancelled—no dates announced yet for 2021
Florida Audio Expo February—CANCELLED for 2021
CanJam NYC 2/20-21
SXSW 3/16-20—

All Virtual

Moscow Hi Fi & High End Show 3/19-21—

>Rescheduled to November 12-14

Montreal Audiofest/Salon Audio Montreal 3/26-28*—

CANCELLED

CanJam Singapore  3/27-28—>Rescheduled to August 21-22
CanJam Shenzhen 4/3-4—>Rescheduled to August 28-29

[NEW]

ISE Barcelona June 1-3—

Virtual & Local Events

[NEW]

THE Show Los Angeles June 11-13
CanJam Chicago 6/19-20
Melbourne Home Entertainment Expo 7/9-11—

>Rescheduled to November 19-21

CanJam London 7/17-18
Pacific Audio Fest 7/30-8/1

CANCELLED

until 2022

Hong Kong High End Audio Visual Show 8/6-8
Axpona 8/27-29 Rescheduled> 10/29-10/31 (Updated 3/3/2021)
CEDIA Indianapolis September 1-3

In-Person Event

Tokyo International Audio Show 9/?—Rescheduled to November 5-7
IFA Berlin September 3-7
**High End Munich September 9-12 CANCELLED for 2021,

Next in 2022

CanJam SoCal 9/11-12—

>Rescheduled to September 25-26

Rocky Mountain Audio Fest RMAF October 8-10
Toronta AudioFest* October 22-24
Shanghai International High-End Hi-Fi Expo November/days not set
Audio Video Show Warsaw November 5-7
Capital Audio Fest November 5-7
[

NEW

] The UK HiFi Show LIVE! *November 23-24* (Reported dates, awaiting official confirmation)
[NEW] The New York Audio Show December 3-4
CanJam Shanghai December 4-5
** – New show status change
I would like to thank Bill Leebens for compiling this list for the benefit of Strata-gee readers. The listing here is accurate as of the date of this posting and is subject to change without notice.
Be sure to see Bill Leebens latest Guest Post where he discusses several issues surrounding audio shows in the industry called: Theme Song for 2021 Audio Shows? Maybe 'The Sound of Silence.'
---
* LIST UPDATES
11/20/20 – Montreal AudioFest/Salon Audio Montreal changed from Cancelled to TBA (To Be Announced) by show promoter
11/20/20 – Toronto Audiofest added per show promoter
4/27/2021 – High End Munich show cancelled for 2021, next event in May 2022